Liverpools unvergessliche Saison
Die turbulente Saison des englischen Klubs fand ein vorhersehbares Ende, als sie an der Anfield Road eine deutliche Niederlage gegen Real Madrid hinnehmen mussten. Liverpools Champions-League-Kampagnen wurden immer wieder von Vereinen aus Madrid vereitelt. In vier der letzten fünf Spielzeiten trafen "The Kop" in der K.-o.-Runde entweder auf Real Madrid oder Atletico Madrid und blieben mit einem Gefühl des Grolls zurück. Die einzige Saison, in der Liverpool in der K.-o.-Runde der Champions League auf keines dieser Teams traf, war die Saison, in der sie das Turnier gewannen (2018-19).
Es gibt kein Wunder
Mit einem brüchigen Glauben an ein Comeback ging die Mannschaft von Trainer Jürgen Klopp in das Achtelfinal-Rückspiel der Champions League. Wenn ein Team bereit war, das Blatt im Bernabeu zu wenden, dann war es Liverpool. Wie viele vorhergesagt hatten, ließ der Pressing- und Angriffsstil des Clubs aus Port City gegen Carlo Ancelottis Real Madrid erneut nach.
Erstmals seit 30 Jahren hat Liverpool im Achtelfinale der Champions League so deutlich verloren. Sie schieden in dieser Saison aus dem Wettbewerb aus, nachdem sie von "Los Blancos" mit einem Gesamtergebnis von 2-6 in zwei Spielen eliminiert worden waren. Real Madrid spielte im Rückspiel vorsichtig und konnte nur ein Tor erzielen, hauptsächlich weil sie an der Anfield Road mit 5:2 gewonnen hatten.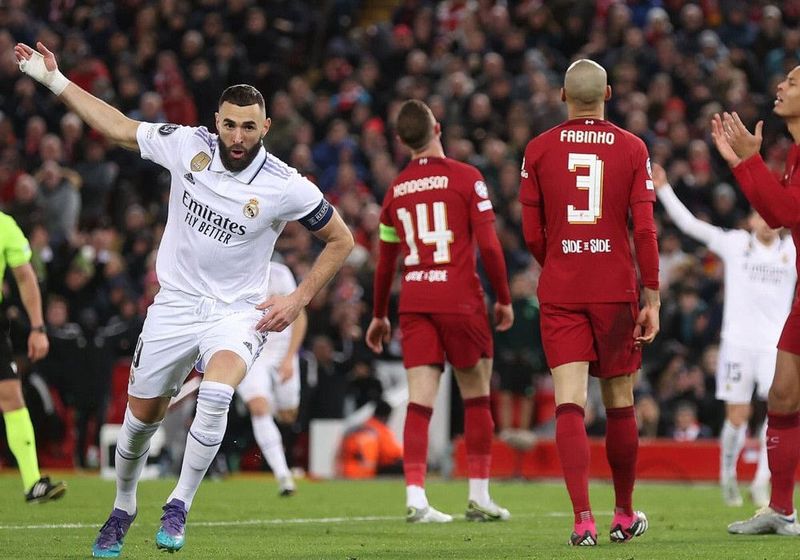 Liverpool war in dieser Saison in einer instabilen Form
Liverpool gelang einst ein bemerkenswertes Comeback, nachdem es im Halbfinale der Champions League 2018/19 gegen Barcelona mit 0: 3 verloren hatte. Zu diesem Zeitpunkt war Klopps Team jedoch auf ihrem Höhepunkt und sie spielten das Rückspiel an der Anfield Road, getragen von der leidenschaftlichen Unterstützung ihrer heimischen Fans.
Real Madrid hingegen ist eine ganz andere Sache. Die Mannschaft von Trainer Ancelotti spielte einen pragmatischen Fußball und dominierte das Spiel komplett. Wenn die spanischen Giganten beim 0:2-Rückstand gegen Liverpool im Hinspiel nicht geschwankt haben, wird es ihnen schwer fallen, ihren 5:2-Sieg im Rückspiel zu verspielen.
Dem Rückspiel fehlte jede spannende Punktejagd, da Real Madrids Pragmatismus und Nüchternheit die Hoffnungen der Gäste auf ein Comeback erstickten. Trainer Ancelotti weiß, wie wichtig es ist, durch die unvorhersehbaren Nächte des europäischen Fußballs zu navigieren. Es ist 18 Jahre her, als Liverpool Ancelottis AC Milan im unvergesslichen Champions-League-Finale in Istanbul berühmt machte.
Diese "fantasievolle Istanbul-Nacht" wird den Liverpool-Fans für immer in Erinnerung bleiben, als ihre Mannschaft ein wunderbares Comeback hinlegte und nach einem 0:3-Rückstand im Elfmeterschießen ausgleichen und gewinnen konnte. Trainer Ancelotti sagte einmal, dass dies einer der Albträume sei, die er während seiner gesamten Karriere nie vergessen habe. Diese Erfahrung veranlasste den italienischen Strategen dazu, das Achtelfinal-Rückspiel der Champions League mit einer emotionslosen Haltung anzugehen.
"Los Blancos" verteidigte stark und wartete auf eine Gelegenheit zum Konter gegen Liverpool. Es war ein langweiliges und vorhersehbares Szenario, aber Real Madrid ist ein Team, das sich auf solche Taktiken spezialisiert hat.
Liverpools Probleme
Sich selbst verlieren
Das aktuelle Liverpool-Team ist weit entfernt von dem, das Barcelona vor vier Jahren gegenüberstand. Sie können nicht mehr das Niveau des leidenschaftlichen und offensiven Fußballs aufrechterhalten, das sie in ihrer Blütezeit gezeigt haben. Diese aktuelle Version von "The Kop" wirkt träge und leblos.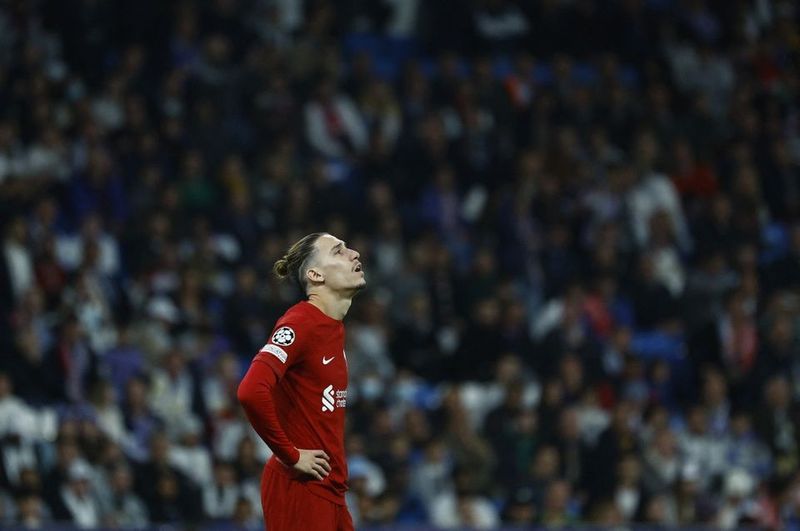 Liverpool kann seine Form nicht mehr halten
Nur drei Tage vor der Niederlage im Bernabeu verlor Liverpool gegen Bournemouth mit 0:1. Obwohl Trainer Jürgen Klopp seine besten Stürmer aufstellte, hatte Liverpool immer noch Mühe, sinnvolle Chancen zu kreieren, und es fehlte während des gesamten Spiels an Inspiration. Infolgedessen scheinen sie keine große Gefahr für den amtierenden spanischen Meister darzustellen.
Nur Salah ist nicht genug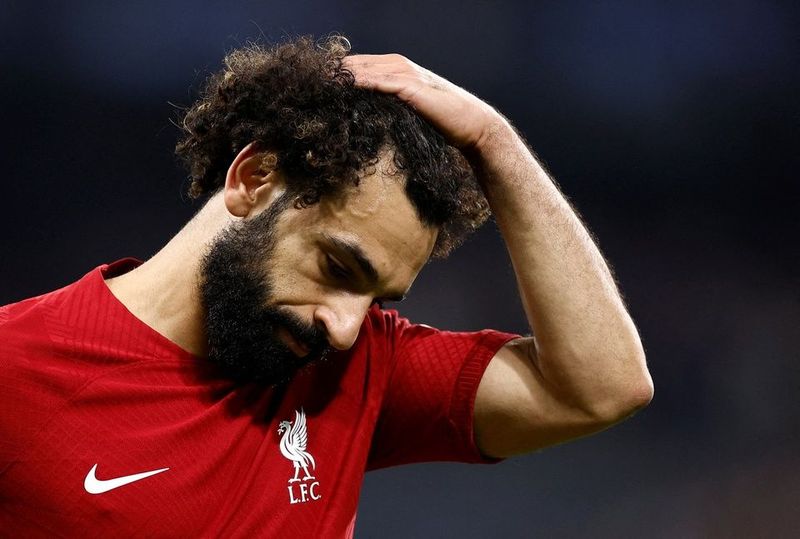 Salah konnte Liverpool bei der 0:1-Niederlage gegen Real Madrid nicht helfen
Darwin Nunez und Diogo Jota sind beide in Sicherheit, sodass Mohamed Salah allein das Team nicht retten kann. Im Gegensatz zu Roberto Firmino zeigt Cody Gakpo Unreife. Die individuelle Verschlechterung der Offensivspieler von Liverpool ist ein Symptom für ein größeres Problem.
Trainer Klopp ist machtlos
Trainer Klopp tut sich in dieser Saison schwer damit, sein Team zu begeistern. Der lebhafte und leidenschaftliche Fußball, der zu seinem Markenzeichen wurde, ist verschwommen, und die Abwehr von Real Madrid hatte im Rückspiel kaum Probleme, mit Liverpool fertig zu werden. Ihre Spielweise ist zu eintönig und vorhersehbar geworden.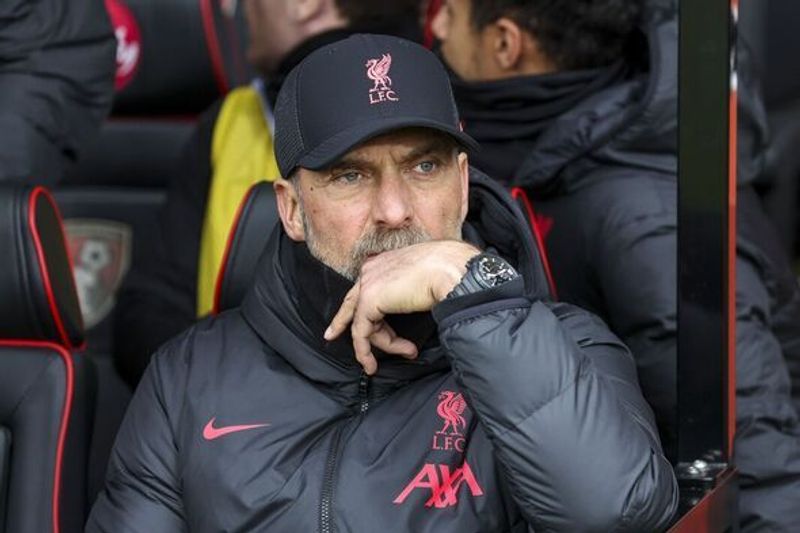 Trainer Klopp
Klopps achte Saison in Liverpool wird wahrscheinlich traurig enden. Der Fokus des Teams wird sich nun darauf verlagern, sich für die nächste Saison einen Platz in der Champions League zu sichern. Wenn "The Kop" am Ende der Saison nicht unter den Top 4 der Premier League landet, könnte Klopps Zukunft im Verein in Frage gestellt werden.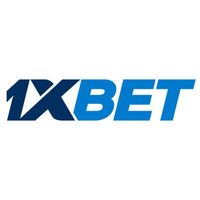 100% bonus on the 1st deposit up to 100$
Looking for a great way to kickstart your online betting experience? Look no further than 1xBet, where you can enjoy a fantastic 100% bonus on your first deposit of up to $100! With this amazing promotion, you'll have double the funds to play with when you sign up and make your first deposit.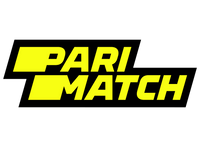 WE DOUBLE YOUR FIRST DEPOSIT - TOP UP $100, GET $200!
Take advantage of our Parimatch promo and double your first deposit! Simply top up your account with $100, and we'll give you an extra $100, for a total of $200 to play with. Don't miss out on this fantastic offer!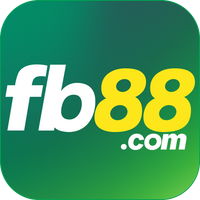 Enjoy 100% Bonus upto 100$
Looking for a great way to boost your online gaming experience? Look no further than FB88! For a limited time, we're offering an incredible promotion that's sure to put a smile on your face. When you sign up and make your first deposit, you'll receive a 100% bonus of up to $100!