Höhepunkte von Southampton vs. Tottenham: Eine spannende und dramatische Darbietung von Hin- und Her-Scoring
(Southampton 3 - 3 Tottenham Highlights, EPL-Ergebnis) lieferte ein spannendes Spiel in der englischen Premier League, das sechs Tore und einen herzzerreißenden Moment in der 90+3-Minute für eine Mannschaft sah.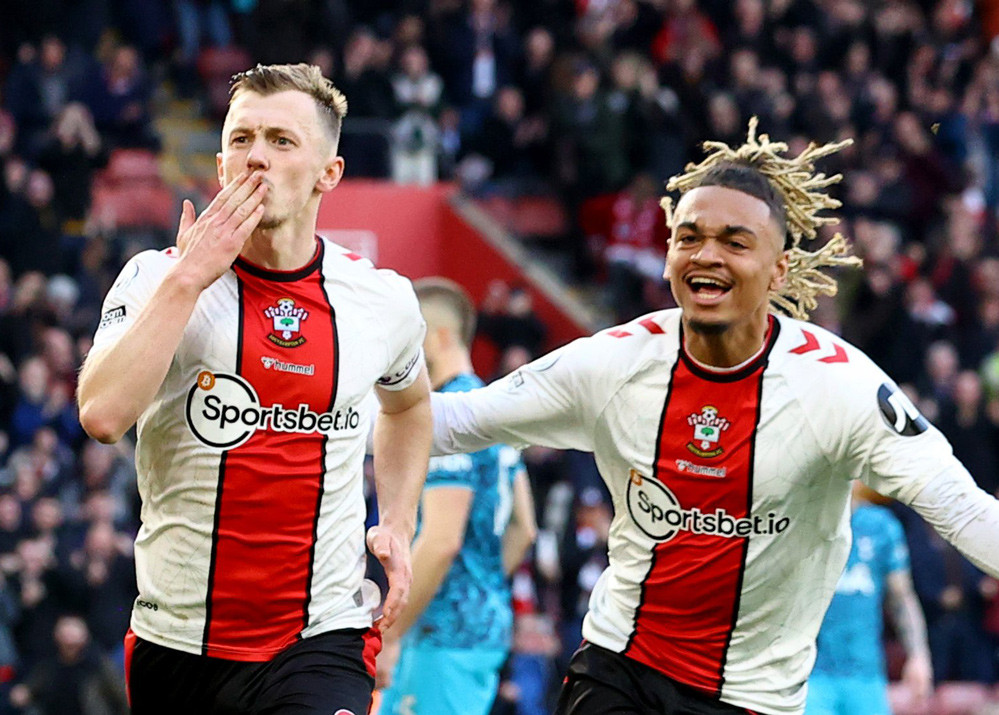 In der 28. Spielwoche der Premier League lieferten Southampton und Tottenham ein spannendes und dramatisches Aufeinandertreffen von Toren.
Tottenham begann das Spiel mit Angriffsabsicht und hatte in der zweiten Minute eine frühe Chance, aber Son Heung-Mins Schuss war nach einem großartigen Pass von Porro, der Southamptons Verteidigung durchbrach, nicht genau genug. Nur eine Minute später antwortete Southampton mit zwei aufeinanderfolgenden Schüssen, die Tottenhams Tor erschütterten.
Southampton 3 - 3 Tottenham-Highlights, EPL-Ergebnis:
In den nächsten Minuten tauschten die beiden Teams Schläge auf das Tor des jeweils anderen aus. In der 18. Minute hatte Southampton die einmalige Gelegenheit, den ersten Treffer zu erzielen, aber Walcott scheiterte im Eins-gegen-Eins an Forster. Die erste Halbzeit wurde verletzungsbedingt unterbrochen, was sowohl Southampton als auch Tottenham zu zwei erzwungenen Auswechslungen zwang.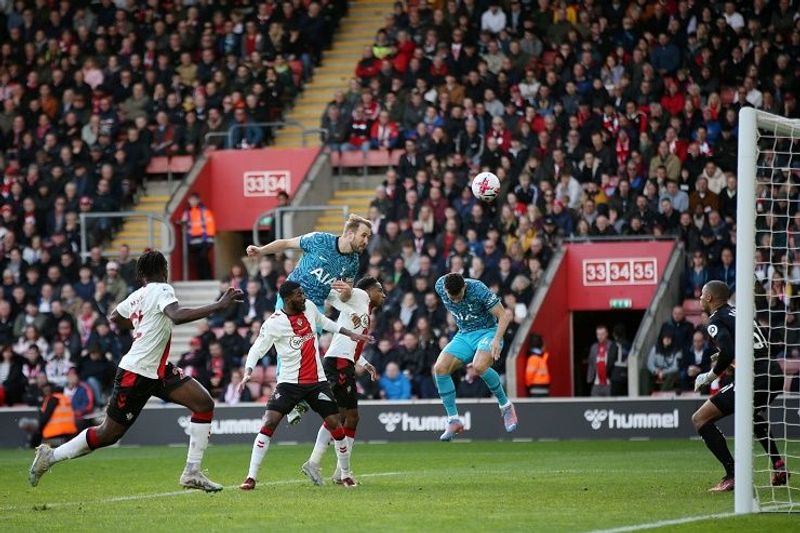 Kane traf, konnte Tottenham aber nicht zum Sieg verhelfen
Es schien, als würde die erste Halbzeit torlos enden, bis Son Heung-Min in der Nachspielzeit die Sackgasse durchbrach und Porro mit einem Linksschuss ins Netz traf. Dieses Tor verschaffte Tottenham den Vorteil in der Halbzeit.
Southampton fand in den ersten Sekunden der zweiten Halbzeit schnell den Ausgleich, als Walcott über die Flanke raste und den Ball überquerte, damit Adams eingreifen konnte. In der 65. Minute köpfte Kane aus kurzer Distanz ein, um Tottenhams Führung wiederherzustellen.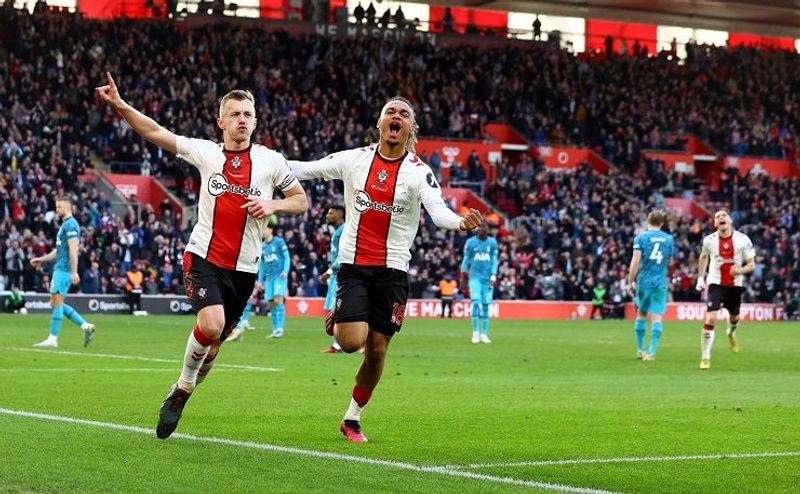 Southampton hielt Tottenham trotz zwei Tore Rückstand zu einem bemerkenswerten Unentschieden.
In der 74. Minute baute Perisic Tottenhams Führung mit einem schönen Bodenschlag aus, aber drei Minuten später erzielte Walcott sein zweites Tor des Spiels, um Southamptons Hoffnungen auf einen Punkt am Leben zu erhalten.
Das Drama steigerte sich in den letzten Momenten des Spiels. Southampton erhielt in der Nachspielzeit einen Elfmeter, nachdem Pape Sarr von Tottenham Maitland Niles im Strafraum gefoult hatte. Ward Prowse trat vor und verwandelte den Freistoß ruhig, um Southampton einen wertvollen Punkt im Abstiegskampf zu sichern.
Tottenham verpasste nach einem Unentschieden die Chance, in der Premier-League-Tabelle auf den dritten Platz vor Manchester United vorzurücken. "The Rooster" hat nach 28 Spielen derzeit 49 Punkte, einen Punkt hinter United, aber zwei weitere Spiele absolviert.
Endstand : Southampton - Tottenham 3:3 (Halbzeit: 0:1)
Ziele:
Southampton: Adams 46', Walcott 77', Ward Prowse 90+3' (Elfmeter)
Tottenham: Porro 45+1', Kane 65', Perisic 74'
Startaufstellung:
Southampton: Bazunu, Walker Peters, Bednarek, Bella Kotchap, Perraud, Ward Prowse, Lavia, Elyounoussi, Armstrong, Walcott, Adams
Tottenham: Forster, Romero, Dier, Lenglet, Porro, Skip, Hojbjerg, Davies, Richarlison, Son Heung Min, Kane
Spielstatistik: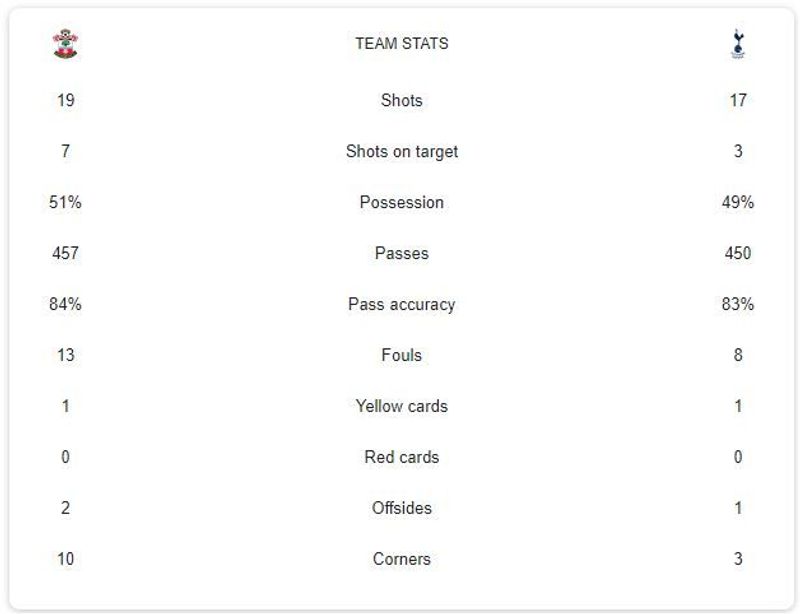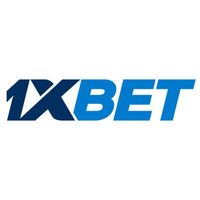 100% bonus on the 1st deposit up to 100$
Looking for a great way to kickstart your online betting experience? Look no further than 1xBet, where you can enjoy a fantastic 100% bonus on your first deposit of up to $100! With this amazing promotion, you'll have double the funds to play with when you sign up and make your first deposit.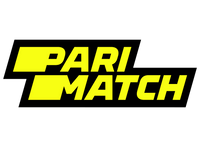 WE DOUBLE YOUR FIRST DEPOSIT - TOP UP $100, GET $200!
Take advantage of our Parimatch promo and double your first deposit! Simply top up your account with $100, and we'll give you an extra $100, for a total of $200 to play with. Don't miss out on this fantastic offer!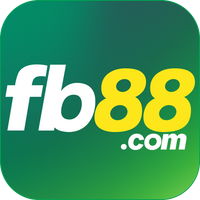 Enjoy 100% Bonus upto 100$
Looking for a great way to boost your online gaming experience? Look no further than FB88! For a limited time, we're offering an incredible promotion that's sure to put a smile on your face. When you sign up and make your first deposit, you'll receive a 100% bonus of up to $100!