Champions League Highlights: Summary of 11 teams who qualified for Round of 16 after Matchday 5
Before Matchday 5 took place, 4 clubs including Juventus, Bayern, Ajax, and Liverpool had been confirmed to enter the Champions League's Round of 16 early. In 2 recent days, the names on that list have been added a lot after decisive wins. There was a total of 11 clubs that officially passed the UEFA Champions League's group stage. Who were they and how were their results? Let's check them out with us now!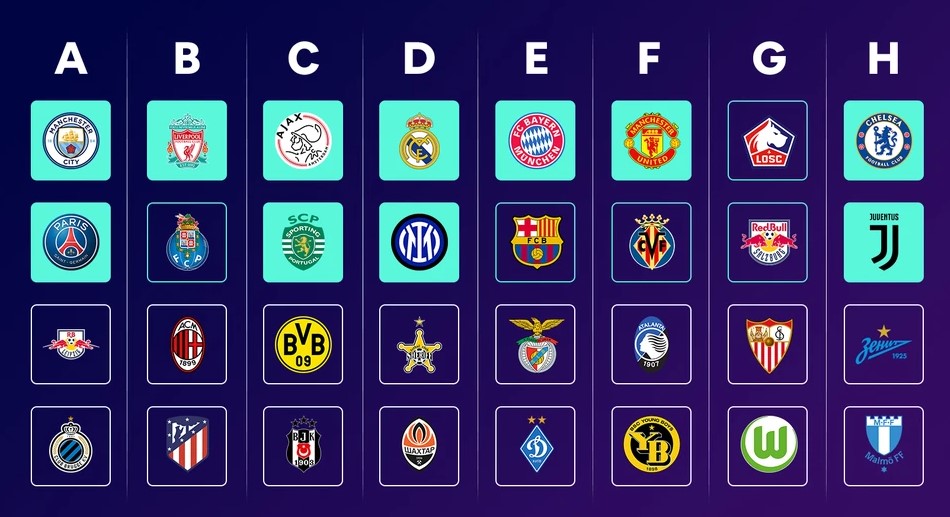 1. Manchester City (Group A's 1st)
Just some hours ago, the decisive match to earn the top place of Group A between Manchester City and Paris Saint-Germain took place aggressively. The Etihad home team had a persuasive 2-1 win over the visiting team with goals from behind of the game from Raheem Sterling (63') and Gabriel Jesus (76') to top the group with 12 points. Their result was 4 points far ahead of PSG's so that they haughtily entered the Round of 16 as the winners.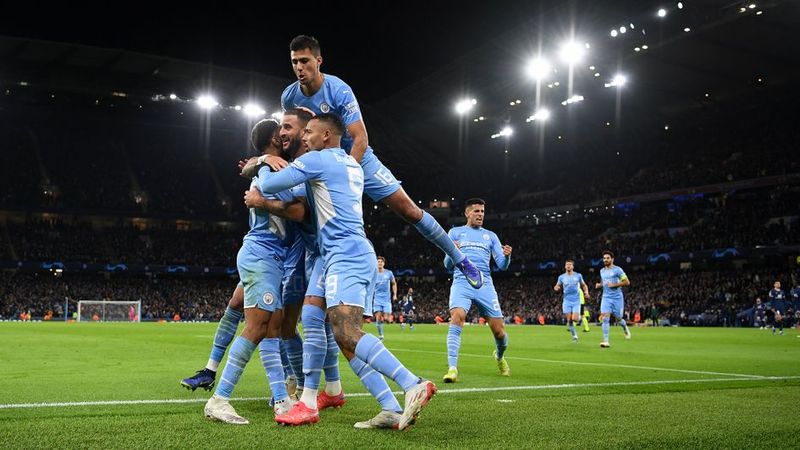 Man City 2-1 PSG
2. Paris Saint-Germain (Group A's 2nd)
Despite losing against Man City regretfully, PSG also did not have to worry about their fate after the match. On another side, RB Leipzig humiliated Club Brugge with a 5-0 win so that PSG became the second-ranked team at Group A with 4 points above the third team Leipzig when the group stage remained only another game. The French team also immediately joined Man City to qualify for the Champions League's round of 16.
3. Liverpool (Group B's 1st)
Jurgen Klopp's squad were arranged in a group which was estimated the most difficult this season. However, they proved their overwhelming strength with full-of-impress performances over Milan, Porto và Atletico Madrid. They were one of 4 teams winning all the 4 first matches in the group stage to qualify early before 2 rounds. On matchday 5, they finished excellently with a 2-0 win against Porto thanks to the beautiful goals of Thiago Alcântara and Mohamed Salah. The Reds are one of the most brilliant candidates for the champion title of the 2021 UEFA Champions League.
4. Ajax (Group C's 1st)
The reigning Eredivisie winners are the team owning the second-most goals (16) only behind Bayern Munich's (19). They are the first Netherlands club in history who won all 5 matches in the Champions League's group stage. They have just won 2-1 against Besiktas thanks to the double of Sebastien Haller. With this achievement, Haller is now the co-leader with Robert Lewandowski in the race for the Champions League's top scorer award this season.
5. Sporting Lisbon (Group C's 2nd)
The Portugal representatives shocked all the football world when thrashing Borussia Dortmund with an amazing 3-1 win without any lucky penalty. They are now having only more 3 points than Dortmund but they can still preserve their second place because of overwhelming sub-indexes rather than the other lower-ranked clubs.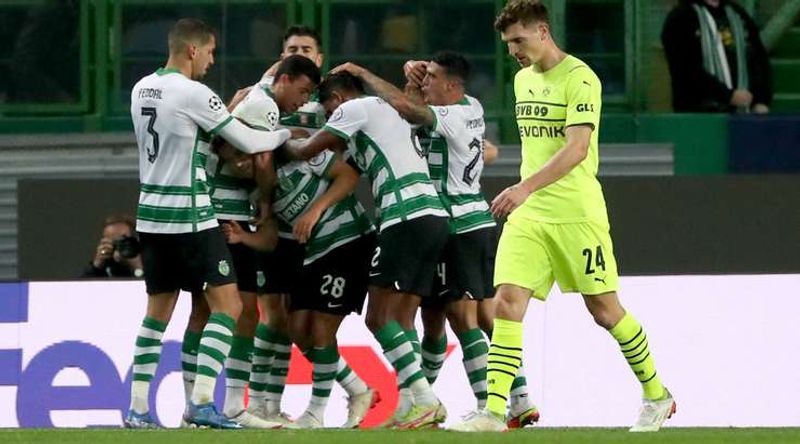 Sporting Lisbon thrash Dortmund
6. Real Madrid (Group D's 1st)
The Royal Madrid Football Club proved that their previous loss against Sheriff had just been an accident. On matchday 5, Carlo Ancelotti's squad met no difficulties when playing at Bolshaya Sportivnaya Arena. David Alaba, Toni Kroos, and Karim Benzema respectively scored into Sheriff's domain without letting them have any conceded goals. Obviously, the La Liga giants easily got the ticket to the next round of the Champions League competition.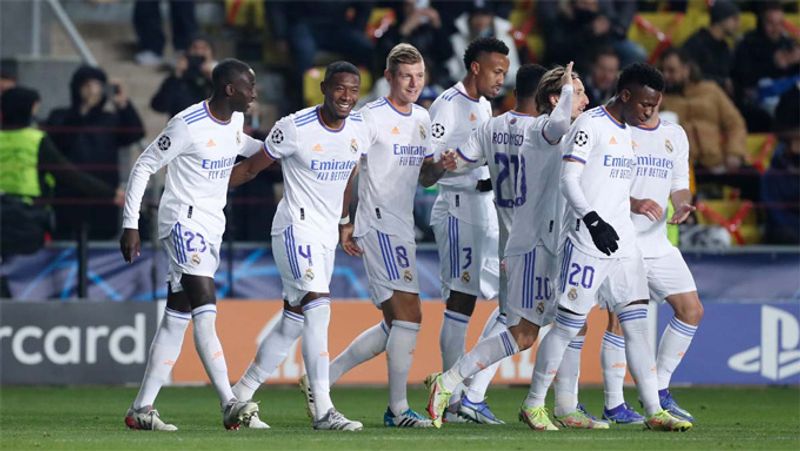 Sherrif 0-3 Real Madrid
7. Inter Milan (Group D's 2nd)
Inter Milan had a pretty tough game against Shakhtar Donetsk but they controlled the match well in the second half to gain the 2-0 win afterward. Both goals of the team were made by Edin Dzeko, who is at the age of 35 but is still one of the main keys of the Italian club. In addition, that Real Madrid beat Sheriff in the later game helped Inter to become the runners-up of Group D. No matter how the result of the game between Inter Milan and Real Madrid on matchday 6 will be, both teams will definitely attend in the round of 16.
8. Bayern Munich (Group E's 1st)
Robert Lewandowski high form (9 goals after 5 games) in this competition helped Bayern remain their impressive achievement when never being eliminated at the Champions League's group stage. They have won 2-1 against Dynamo Kyiv to preserve their unbeaten run with perfect 15 points after 5 games played. The defending Bundesliga champions will host Barcelona with their most comfortable spirit while Blaugrana will have to try hard and hope not to be relegated to the Europa League next season.
9. Manchester United (Group F's 1st)
The results of the Red Devils this season were thanks to the wonderful performances of the Portuguese duo Cristiano Ronaldo (6 goals in 5 matches) and Bruno Fernandes (6 assists in 5 matches). On the 5th matchday, Man Utd tried their best to win 2-0 over a strong team like Villarreal in the last minutes. They are now back to the Champions League's knockout stage after a season of having to play in the Europa League.
10. Chelsea (Group H's 1st)
The reigning Champions League winners also did not let themselves be inferior to other teams. They reclaimed their glory in the 4-0 win against Juventus on matchday 5 to top Group H. The Blues got the same 12 points as the Old Lady but they had better sub-indexes so that the opponents from Turin had to stay the second.
11. Juventus (Group H's 2nd)
Being conceded 4 goals in the game against Chelsea without scoring any goal was really one of the worst failures of La Vecchia Signora in their Champions League's history. They lost their top place in Chelsea's hands so that they can meet some disadvantages in the next round of 16's draw. Anyway, Massimiliano Allegri's squad will definitely not allow themselves to stop the race soon.
These are all 11 clubs who qualified for the Champions League's round of 16 this season. The 5 remaining names will be decided after matchday 6 finishes on December 8th and 9th.
Do not ignore the latest information about this most prestigious European club championship on Betimate every day!