Erling Haaland: the last perfect missing piece for Man City to conquer the Champions League title?
After the departure of the legend Segio Aguero after the 2021-22 season, Manchester City and their manager, Pep Guadiola, have always had a thirst for a top-class striker who can scored plenty of goals, bringing winning to the team. However, with the appearance of Erling Haaland, who is currently considered one of the two best players in the world, alongside Mbappe, this nerve-racking issue will be resolved.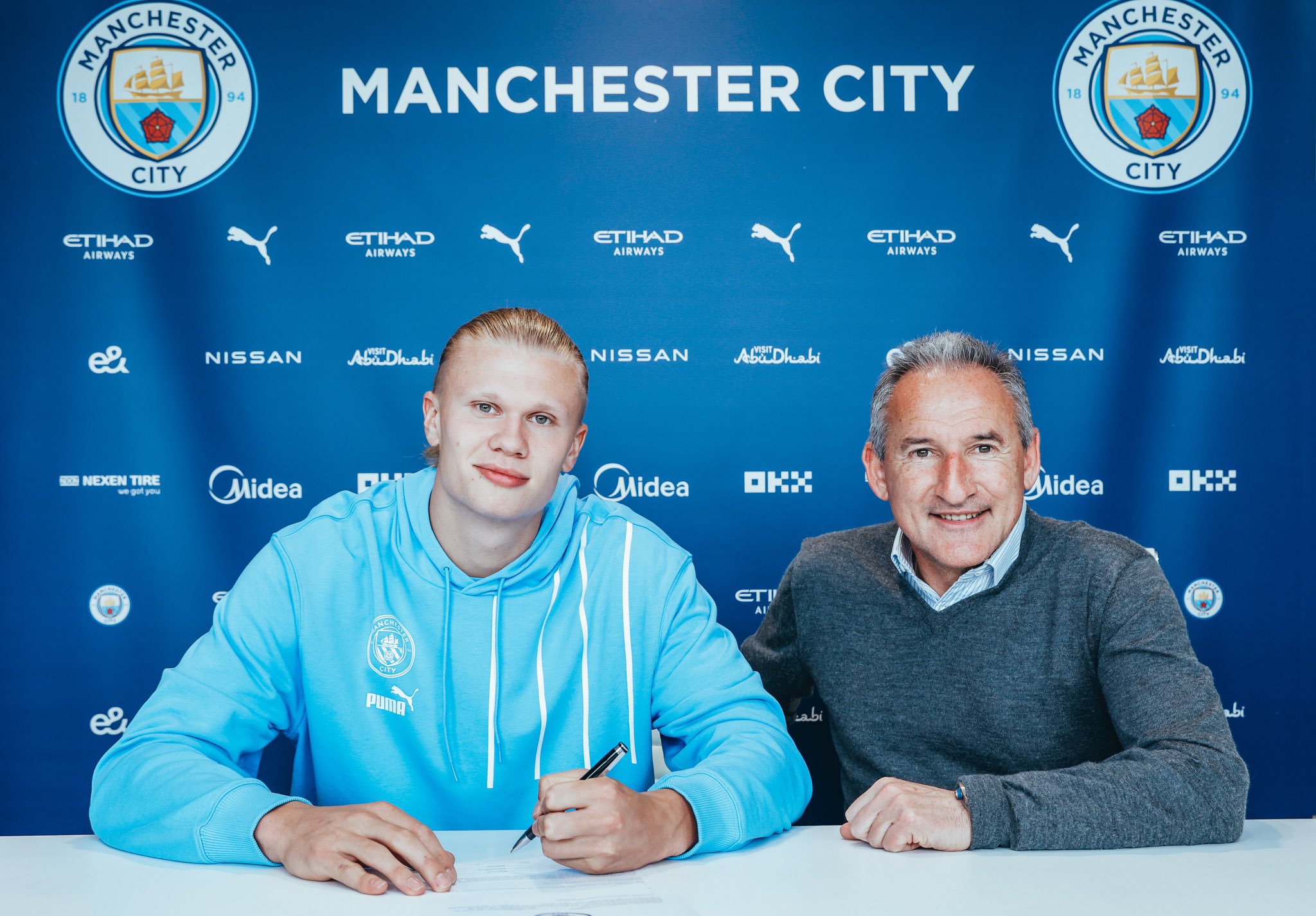 What has Haaland achieved when playing for Borussia Dortmund?
Despite the fact that he is just 22 years old, Halland has gained a lot of reputations for his incredible achievements. In Borussia Dortmund's shirt, the Norwegian strikers made scoring goals as easy as a piece of cake. He usually got the better of Bundesliga and Champion League's Defenders to score tremendous goals. To be specific, in just 89 matches for Dortmund, he scored incredible 86 goals and provided 23 assists in all competitions since his first debut on January 18, 2020. In terms of trophies, he won the German Cup in the 2020-2021 season with BVB.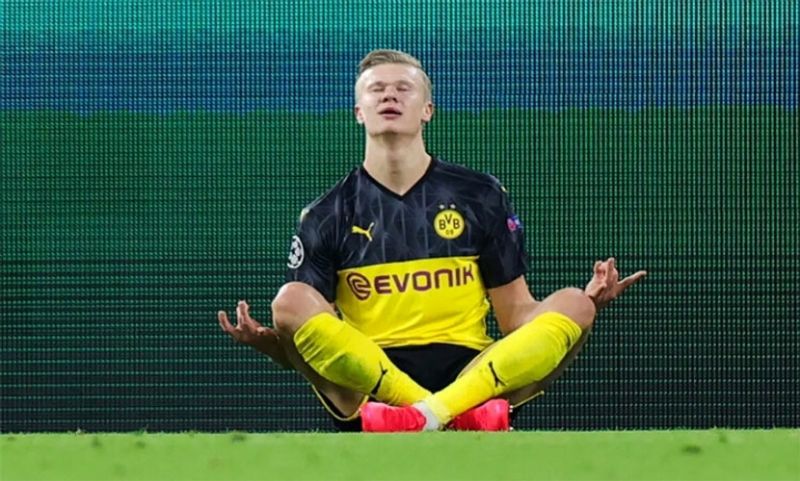 Halaand's celebration after destroying PSG in the 1st leg UCL(2019-20)
Will Haaland be able to fill Sergio Aguero's Boots?
What El Kun did for Manchester City is incredibly unbelievable. Aguero became the club's all-time top goal-scorers with 257 goals in 284 games for City, winning five Premier league titles, an FA cup, and six league cup in a 10-year period. In The Citizen's mind, he is a real legend. Therefore, the pressure for the Norwegian striker will be enormous. But contrary to that belief, the new man City forward insisted that he didn't feel any any pressure and would accept challenges: "Like I have been doing my whole career, try to enjoy every single minute, every moment, try not to think too much. Overthinking is not a good thing for every human being. I just try to relax when I can and work hard."
Since Aguero left the club, scoring has caused sleepless nights for Pep Guadiola. Even though the squad still have scored a lot of goals and produced good attacking displays, in some important games, City still lacked a quality striker who could score crucial goals to seal victories in some important games. The most quintessential example of this problem would be the match against Real Madrid in the UCL semi-final last season. Numerous opportunities were created, but many of them were missed. Consequently, they suffered a humiliating 6-5 defeat in the extra time after the two-leg tie.
Will Haaland be the answer to this? Yes and no, because Guadiola has consistently adhered to the play concept, which emphasizes high possession and high pressing, throughout his career. Therefore, Haaland has to operate well with his new teammates to adapt to his tactical philosophy. However, it is not fortuitous that he is regarded as one of the most sought-after strikers in the world. The Norwegian forward has good physicality to thrive in the Premier League. He is also versatile when usually working really hard off the ball and dropping deep to collect the ball. These qualities are what Pep is looking for and he will definitely appreciate what Haaland has offer.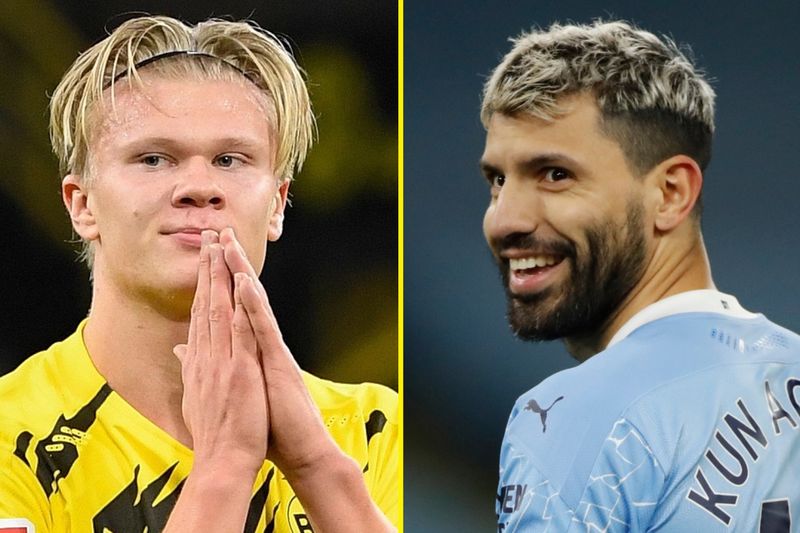 Haaland and Aguero
Will Haaland help Man City win UCL tittle?
Manchester City have been desperately looking for their moment of Champions League glory. Erling Haaland's appearance would ignited The City's fans' desire to take the trophy to the Etihad. The arrival of Erling Haaland will help Man City tackle the scoring problem that has prevented the Citizens from lifting the Champions League trophy for so many years. However, matches in the greatest tournament in the world are always unpredictable. Everything can happen, so we cannot say exactly whether Man City will be the champions or not.
Everything we can do is to follow all the best UEFA Champions League Predictions right on our page.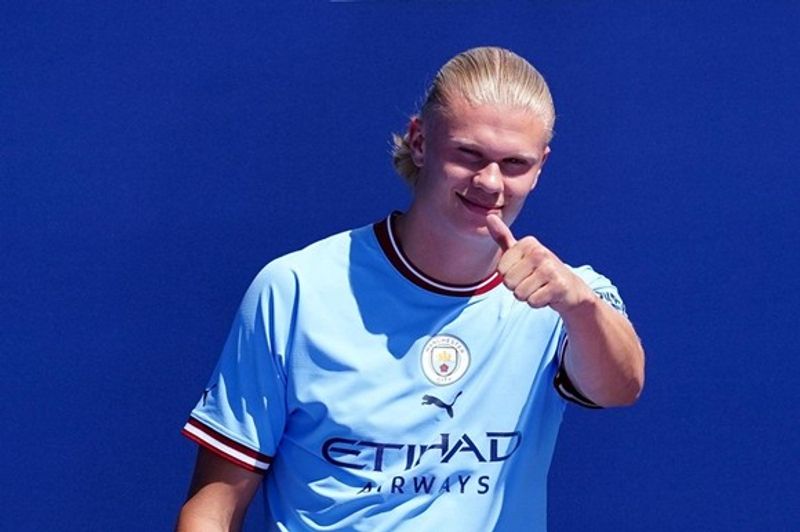 Halaand is welcomed by City's fans
Some more information about Erling Haaland
Who is Erling haaland
Full name: Erling braut Haaland

Date of birth: 21th July, 2000

Place of birth: Leeds, England

Height: 1.94m

Location: Striker

Current team; Manchester City
Erling Haaland's honours
Red Bull Salzburg
Austrian Bundesliga

:

2018–19

,

2019–20

Austrian Cup

:

2018–19
Borussia Dortmund
Norway U17
Individual
Eliteserien Breakthrough of the Year

: 2018

Austrian Footballer of the Year

: 2019

Austrian Bundesliga Player of the Season: 2019–20

FIFA U-20 World Cup Golden Boot

:

2019

]

UEFA Champions League

Breakthrough XI: 2019

Bundesliga

Player of the Season:

2020–21

Bundesliga Player of the Month:

January 2020

,

November 2020

, April 2021,

August 2021

Bundesliga Rookie of the Month: January 2020, February 2020

Bundesliga Goal of the Month: September 2021

Bundesliga Team of the Season:

2020–21

,

2021–22

ESM Team of the Year

:

2019–20

IFFHS Men's World Youth (U20) Team

: 2020

Golden Boy

: 2020

Gullballen

: 2020

Kniksen's honour award

: 2020

Norwegian Sportsperson of the Year

: 2020
UEFA Champions League Squad of the Season:

2020–21

UEFA Champions League Forward of the Season

:

2020–21

UEFA Champions League top goalscorer

:

2020–21

UEFA Nations League

top scorer:

2020–21

FIFA FIFPro World11

: 2021
Reference Sources