Juventus vs Paris Saint-Germain Match Preview – November 2nd - UCL
In the last round of the UEFA Champions League group stages, Juventus will host PSG at home in the context of having been eliminated. The Serie A giants have had a wretched campaign, but they still have to try for a win to reinforce a ticket to the Europa League.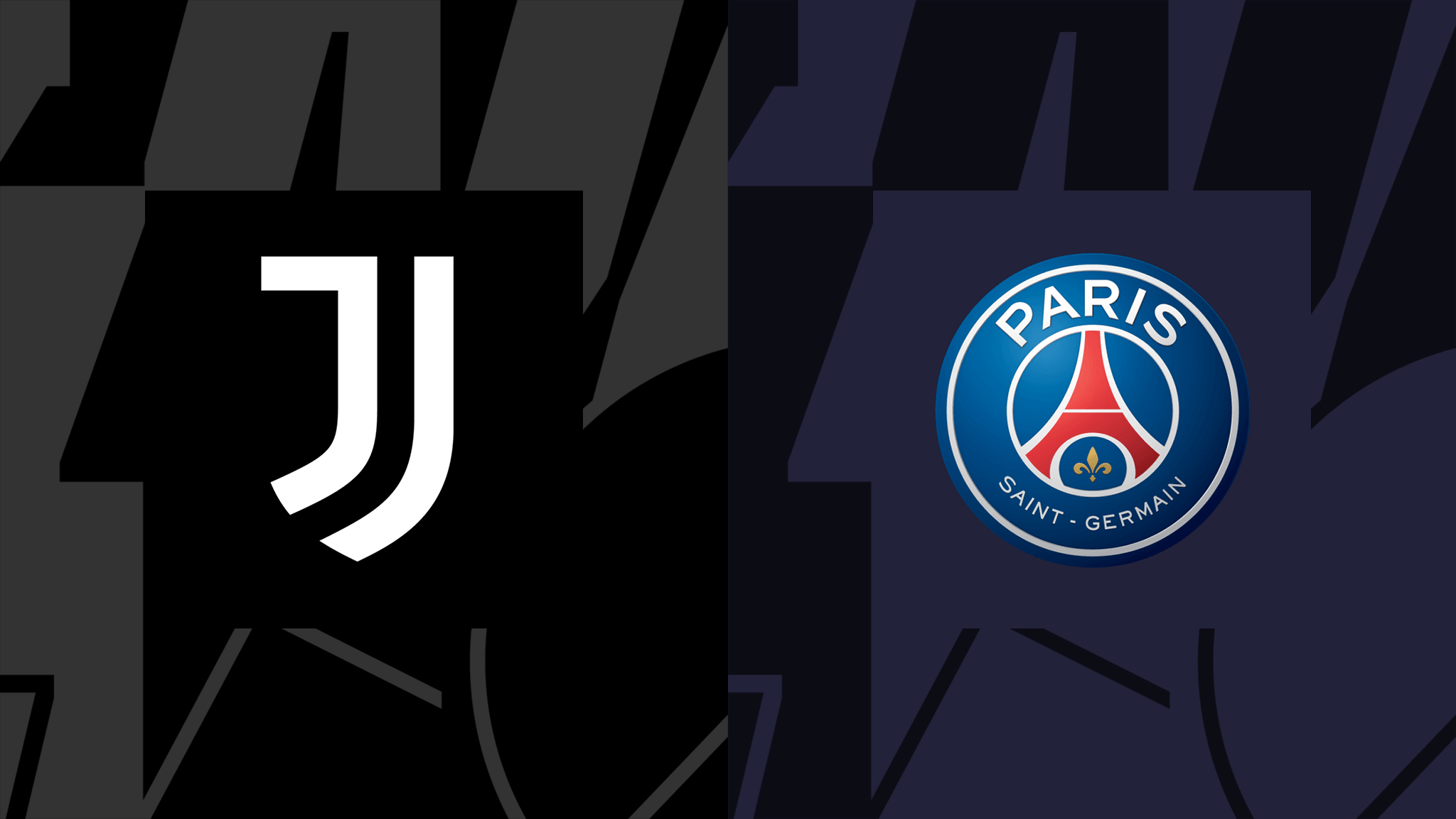 Juventus last 5 games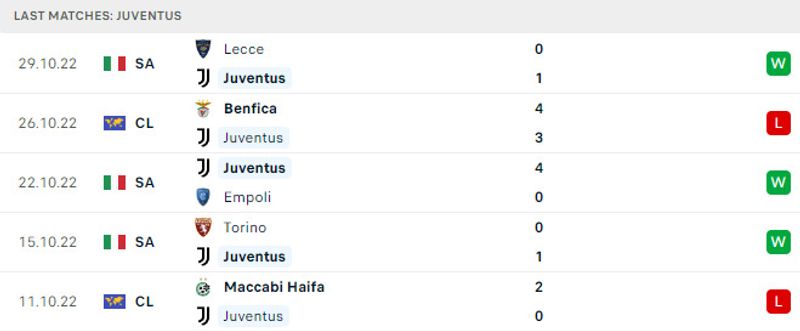 Juventus still performed poorly in their recent matches. In their last five games, they only won three and had to suffer two defeats. Notably, both of these defeats occurred in the Champions League, with one being a humiliating 2-0 loss to Maccabi Haifa.
Although this season has not been half-passed, it can be said that this is the worst season for Juventus in the past 5 years. At Serie A, they have lost their appearance as a giant when they can easily be defeated by weaker opponents, even if they are playing at Juventus Stadium. Their under-par performances have pushed coach Max Allegri's squad to 7th place in the Serie A tables.
In the Champions League this season, Juventus seems to have become a mediocre team when they only had 1 victory in 5 played matches. The rest are all embarrassing losses against opponents in Group H. After a 4-3 defeat to Benfica in the 5th round, The Old Lady were eliminated from the UCL group stages for the first time since the 2013/2014 season. This has made many Juventus fans angry and they want Juventus board to sack coach Max Allegri.
With a lot of disappointing performances again and again, plus a rather chaotic internal situation, there is no certainty that Juventus will have a successful match when having to host a team that is in high form like PSG. However, the home team will need to try their best to get the victory to finish the group stage in 3rd place, thereby winning a ticket to the play-off match for the Europa League knockout round.
Paris Saint German last 5 games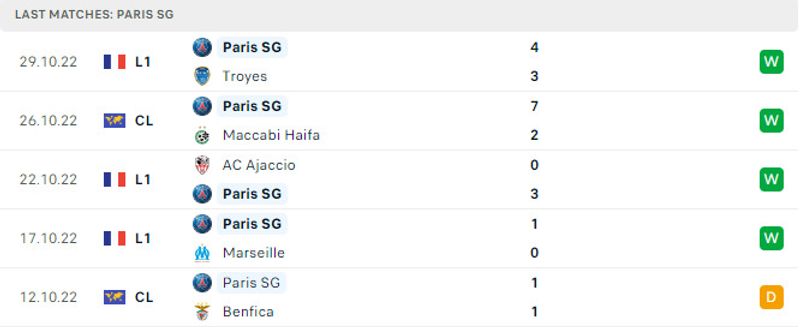 In contrast to the home team, the guests from Paris are having a great season thanks to the brilliance of the genius Lionel Messi as well as the top attacking players in the world like Neymar or Mbappe. They are unbeaten in their last 5 matches, in which they have won 4. Paris Saint-Germain is also one of two clubs still unbeaten in Europe's top five national championships this season, demonstrating the reigning Ligue 1 champion's exceptional strength.
There is not too much to talk about PSG's performance in the domestic league because for a long time, football fans can easily guess the portrait of the Ligue 1 champion right from the start of the new season, and none other than "the rich man" in France. PSG is still leading the league with 5 points more than 2nd place and it seems that the opportunity for other opponents to surpass them is very difficult.
In the Champions League this season, Messi and his teammates are still in good form. They are currently top of Group H but have the same 11 points as the chasing team, Benfica. Therefore, PSG will certainly want to win a victory in the final round of the group stage to reach the knockout stage in the first place of Group H, so they can avoid having to encounter difficult opponents early. Therefore, the away team is likely to play with their strongest squad and will not show Juventus any mercy.
Last head-to-head matches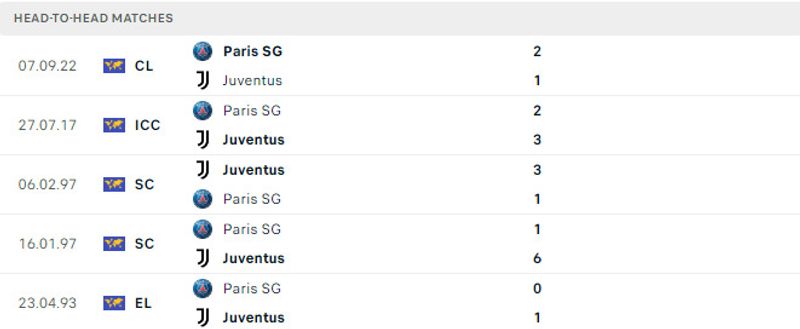 It can be said that Juventus and PSG do not have too many opportunities to meet in official tournaments. As a result, the head-to-head results of both sides are primarily from the past century, when Juventus dominated representatives from France.
The last time the two teams met this season, PSG won with a score of 2-1 with two goals scored by Kylian Mbappe. And in this rematch, PSG's attacking players promise to have an explosive game if they still maintain their current form. This also means that Juventus defenders will certainly have a tough match.
Juventus team news
It has been confirmed Paul Pogba will now miss the World Cup due to injury, which obviously comes as a fresh blow to Juventus as well as France.
Dusan Vlahovic is also missing for Juve due to an adductor problem and Weston McKennie and Matia Soule are unavailable too.
With Marley Ake, Leandro Paredes, Angel Di Maria, Gleison Bremer, Mattia De Sciglio, Federico Chiesa, Samuel Iling-Junior and Kaio Jorge all missing as well, a suspension for Danilo has come at the worst possible time for the Old Lady.
Manuel Locatelli is available again, though.
Paris Saint-Germain team news
In stark contrast to the home side, PSG have a clean bill of health as they head to Turin, meaning coach Christophe Galtier may opt to rotate his side.
Marco Verratti is available again after suspension, but Neymar is banned after he picked up his third booking in the competition last week.
Predicted line-ups
Juventus (3-5-2): Szczesny (GK); Bonucci, Gatti, Sandro; Cuadrado, Rabiot, Locatelli, Miretti, Kostic; Kean, Milik
PSG (3-4-3): Donnarumma (GK); Marquinhos, Ramos, Kimpembe; Hakimi, Soler, Verratti, Mendes; Messi, Mbappe, Ekitike.