Aguero Barcelona: Kun Aguero announces his retirement from football
Sergio Aguero tearfully announced his retirement at Barca on Wednesday, sharing that he was "proud" of his career. This was a tough decision with the 33-year-old forward when he had to stop his dream to deal with his arrhythmia.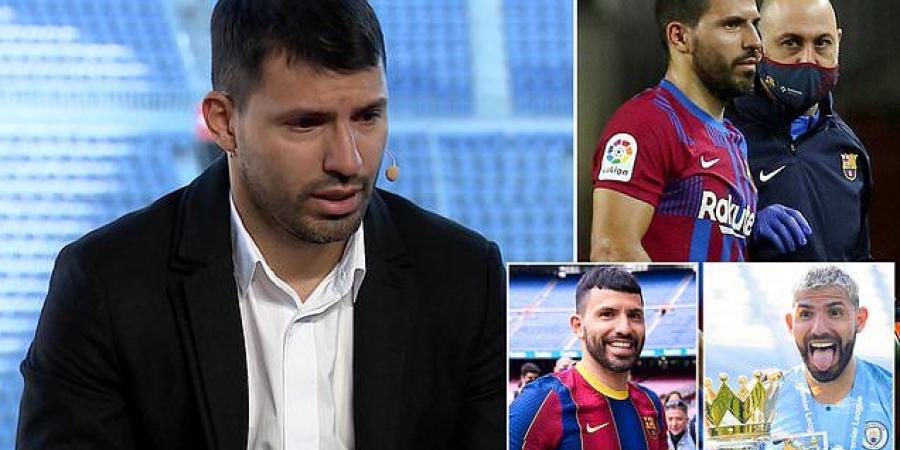 El Kun retires from football
In an interview at Nou Camp, Barcelona yesterday, Sergio Aguero officially announced his retirement from football due to his heart issues in front of a star-studded football audience.
"I have decided to stop playing football, it is a very difficult moment", he stated. "I decided around 10 days ago after having done everything possible to have some hope of playing on... but it wasn't to be. It's taken me time to digest it". El Kun explained that his serious heart issue (arrhythmia) prevented him to continue playing.
He then confirmed that he was ok after all but still had something regretful "I'm OK now but the first few weeks were hard." Kun was also proud of things he had had with football: " I'm proud of my career, very happy. I always dreamed of playing football, ever since I first kicked a ball at the age of five. I leave with my head held high."
Aguero joined Barca the past summer as a free agent. However, problems of injuries and the heart issue made him have no more opportunities to contribute his ability for the Catalant giants. The Argentine had only 5 games playing for Blaugrana and scored 1 goal in the El Clasico derby against Real Madrid on October 24th.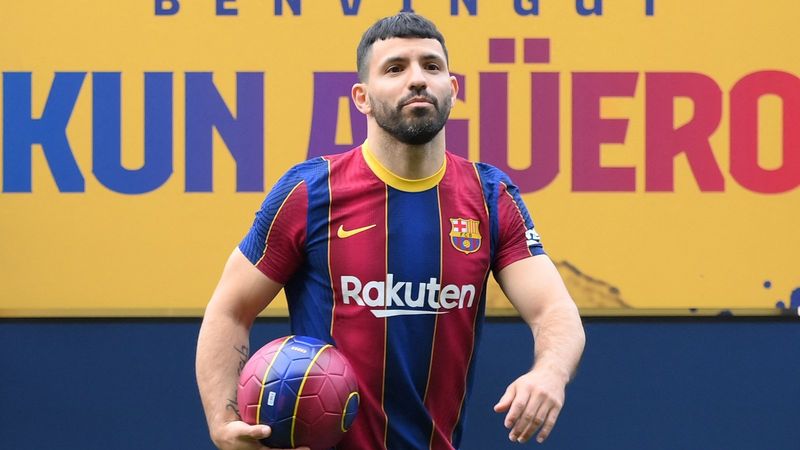 Aguero joined Barcelona after leaving Man City
Sergio Aguero started his senior career with Independiente in 2003. He then joined Atletico Madrid and Man City. During 10 years playing for the Citizens (2011-2021), Kun gained the most successes with 4 Premier League's titles and a series of other prestigious awards. He also became the player who scored the most goals in the club's history (260 goals). In the Argentina national team, he also got the golden Olympic medal in 2008 and Copa America 2021 title.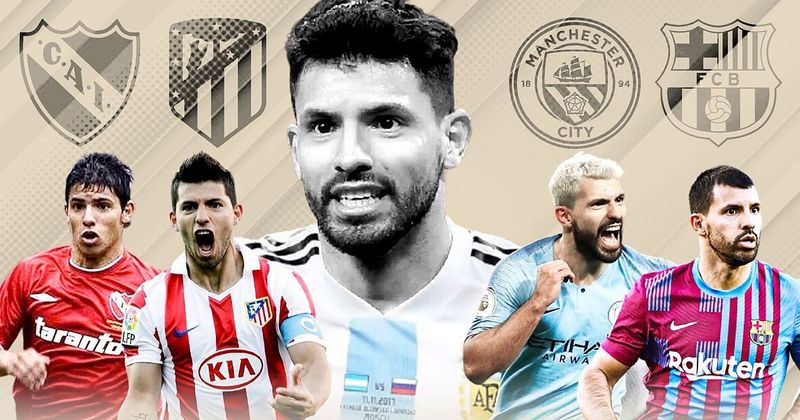 Aguero's career
Kun Aguero's Career
Aguero began his senior career at Independiente in 2003 and was soon on the radar of many European giants. In the summer of 2006, Atletico Madrid reached an agreement to bring him to Metropolitano Stadium. In 5 seasons of wearing Rojiblanco's shirt, El Kun scored 101 goals after 234 games. Together with the team, he won the 2009-10 Europa League, 2010 UEFA Super Cup and reached second in the 2009-10 Copa del Rey.
In 2011, Kun Aguero signed a new deal with Manchester City. This decisive transfer changed the Argentine forward a lot, making him become one of the best players in the Premier League. He was one of the main keys to helping the Citizens to win the most prestigious titles in England. During 10 years serving for the club, El Kun had had 8 times become the top scorer of the team. He was also the foreign player who scored the most goals for Man City with 184 goals in 275 matches. Aguero gained a total of 15 different titles, including 5 Premier League's titles, 6 League Cups and 3 FA Community Shield titles.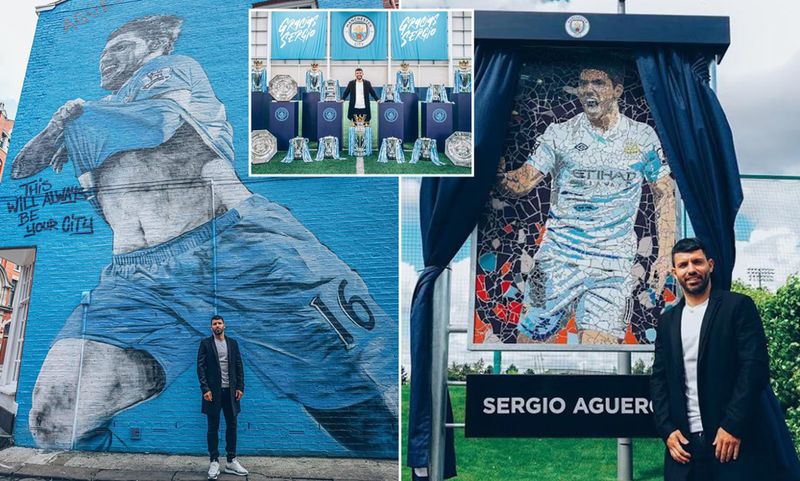 Man City tribute Aguero
However, the 33year old forward did not have a happy ending with the City. There was not any renewed contract between man City and Aguero so he decided to move to another destination. Kun came to Barcelona with the hope to reunite his best Argentina friend Lionel Messi and gain more titles with the Spaniard club. However, Barca was in serious crisis and had to say farewell to their legend Messi.
Later, he got an injury, leaving away from the club's matches for some weeks. After coming back to his good status, he could also play 5 games and score 1 goal for the team. In the drawn game against Alaves on October 30, Barcelona's number 19 fell down and was immediately taken to hospital after experiencing chest pains and breathing difficulties. He was first diagnosed to be out of games for 3 months but everything became worse and he decided to stop his professional playing career.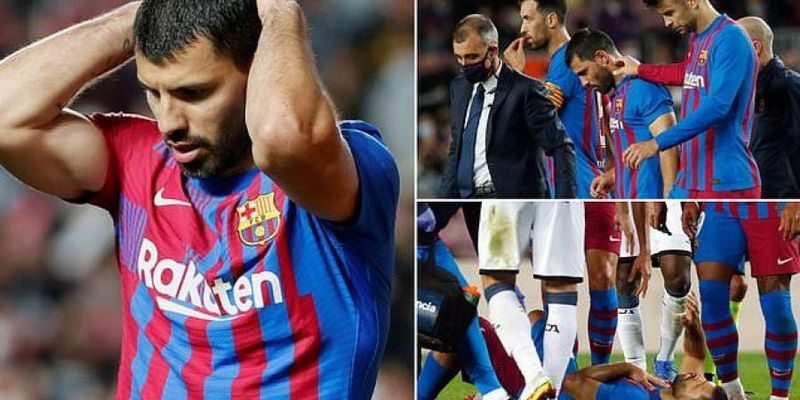 Aguero got a heart issue in the match against Alaves
Kun Aguero burst into tears in the interview. Barcelona leadership, Kun's old teams, many other football legends and all fans felt regretted and wished him the best in the future.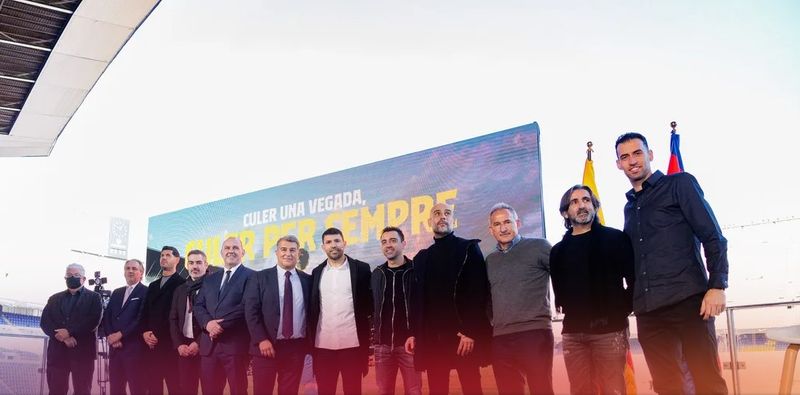 Aguero in his retirement day
Reference Sources
fcbarcelona.com

mancity.com