Ajax FC table 2021-22: An opportunity for their fifth Champions League title
Ajax are considered one of the strongest clubs from the Netherlands and they are also proving their ability in European football. The result in the first stage of 2021-22 is very optimistic, so let's see what Ajax have achieved and what are the chances for them in this season by reading our article.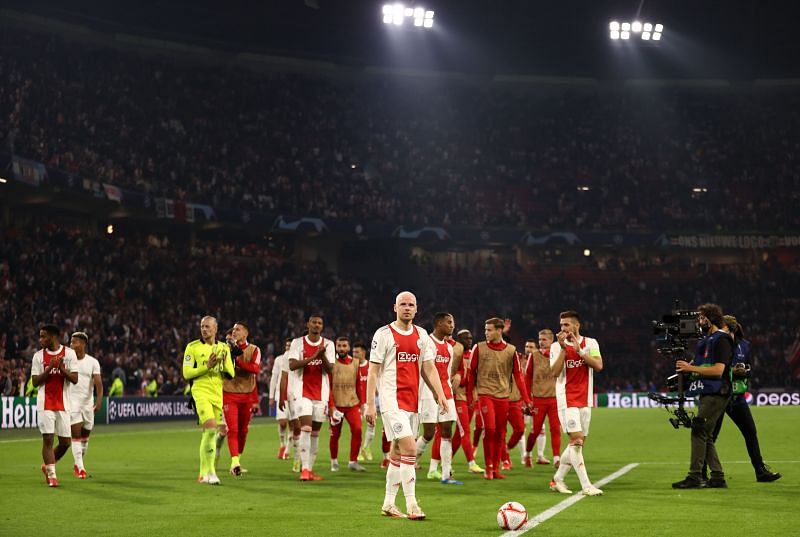 Preseason
Ajax have had a great start in the 2021-22 preseason. They won five games, drew three, and lost only one match. The first friendly game was also a big win for Ajax against another Dutch club Koninklijke HFC with a 6-0 score. The second win was another home game against SC Paderborn with a 4-1 result for Ajax.
Ajax even defeated Premier League club Leeds United with a surprising result 4-0. They also had a great result in a match against one of the giants of European football from Germany, Bayern Munich. In general, with their performance, Ajax are relatively confident to step into the official 2021-22 season with four major competitions, as mentioned below in the following section.
Overall
The 2021-22 season has started for two and a half months. With four major competitions, Ajax have completed one, are playing in two, and are going to have their first KNVB Cup match in late 2021.
The 2021 Johan Cruyff Shield is an annual cup for the winner of the Eredivisie and the KNVB Cup from the previous season. The winner will be determined just after only one match. Ajax finished their 2020-21 season as the champions of both these competitions, so they met the runner-up of the Eredivisie, PSV. The game was held in early August 2021, and Ajax ended up as a losing team with a big loss of 0-4. PSV performed out of expectation in that match. Four goals were scored by three players, Noni Madueke with two first goals in the second and 29th minutes, Yorbe Vertessen in the 76th minute, and Mario Gotze in the 89th minute.
2021-22 Ajax League table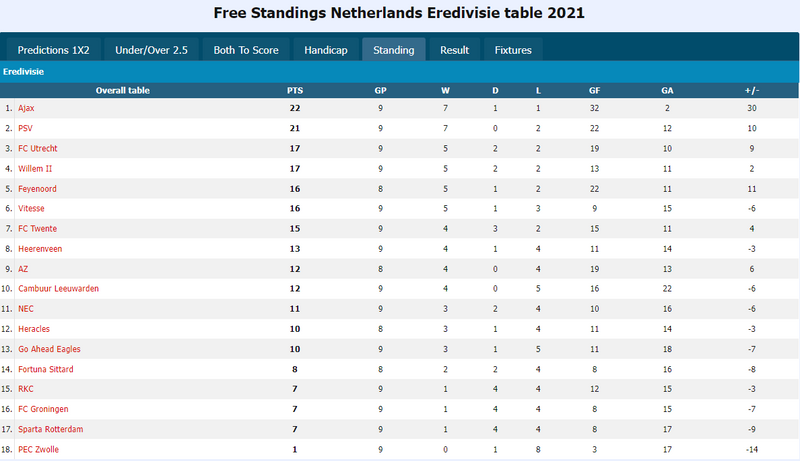 Ajax League table 2021-22
Ajax has completed their first nine matches in the 2021-22 Eredivisie. The result seems to be very optimistic, with seven wins, one draw, and one loss. This is currently the best result so far of the tournament, leading to their first standing in the league table.
However, it is not a surprise at all as Ajax are considered the most successful club in the Eredivisie with the most titles (35 titles including the most recent 2020-21 trophy). They have 11 more titles than the second-ranked club PSV Eindhoven. It has been all big wins against their opponents. The first matchday was a 5-0 win against N.E.C, the matchday 3 was another 5-0 win against Vitesse, the five next matches were big wins without conceding any goal.
Notably, on matchday 5, Ajax surpassed SC Cambuur, which is considered an underdog and interior to Ajax, by a 9-0 win without much effort. All the players coordinated very smoothly. The proof is that there were eight players who scored in this match, from the 16th minute with the opening goal from Jurrien Timber throughout the match with the last goal belonging to David Neres in the 84th minute.
The only loss was a home game against Utrecht. It seemed to be an unlucky match for Ajax and both clubs as there were no goals scored until the 77th minute. Django Warmerdam brought three points to FC Utrecht.
2021-22 Ajax Champions League's group stage table

Ajax Champions League group stage table
Ajax have won four Champions League titles, including three titles in a row (1970-71, 1971-72, 1972-73) and the last one was in the 1994-95 season. However, they are performing greatly in the 2021-22 season and hopefully, Ajax have another chance to win their fifth Champions League title after a long time of waiting.
By winning the 2020-21 Eredivisie, Ajax qualifies for the group stage of the 2021-22 Champions League. They are in Group C together with Borussia Dortmund, Sporting CP, and Besiktas. The Dutch club won all first three matches and are leading Group C with a surprising 11 goals and one conceded goal.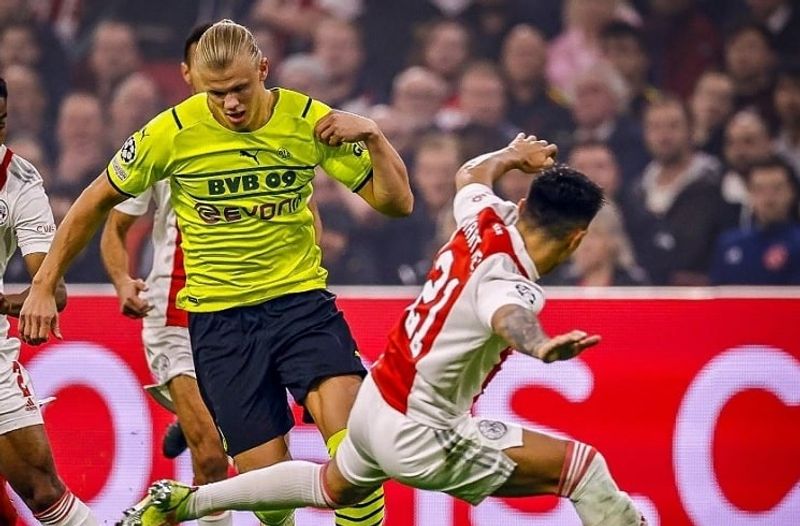 Ajax vs Borussia Dortmund
References
Wikipedia
Betimate.com