Arjen Robben: The Netherlands football legend announces his retirement at 37
On Thursday, 15 July 2021, Arjen Robben announced his retirement, ending a glorious career for two decades. The Dutch football great is considered one of the best wingers of his generation. He had played for PSV, Chelsea, Real Madrid, and Bayern Munich before rejoining his youth club FC Groningen and finishing his career here.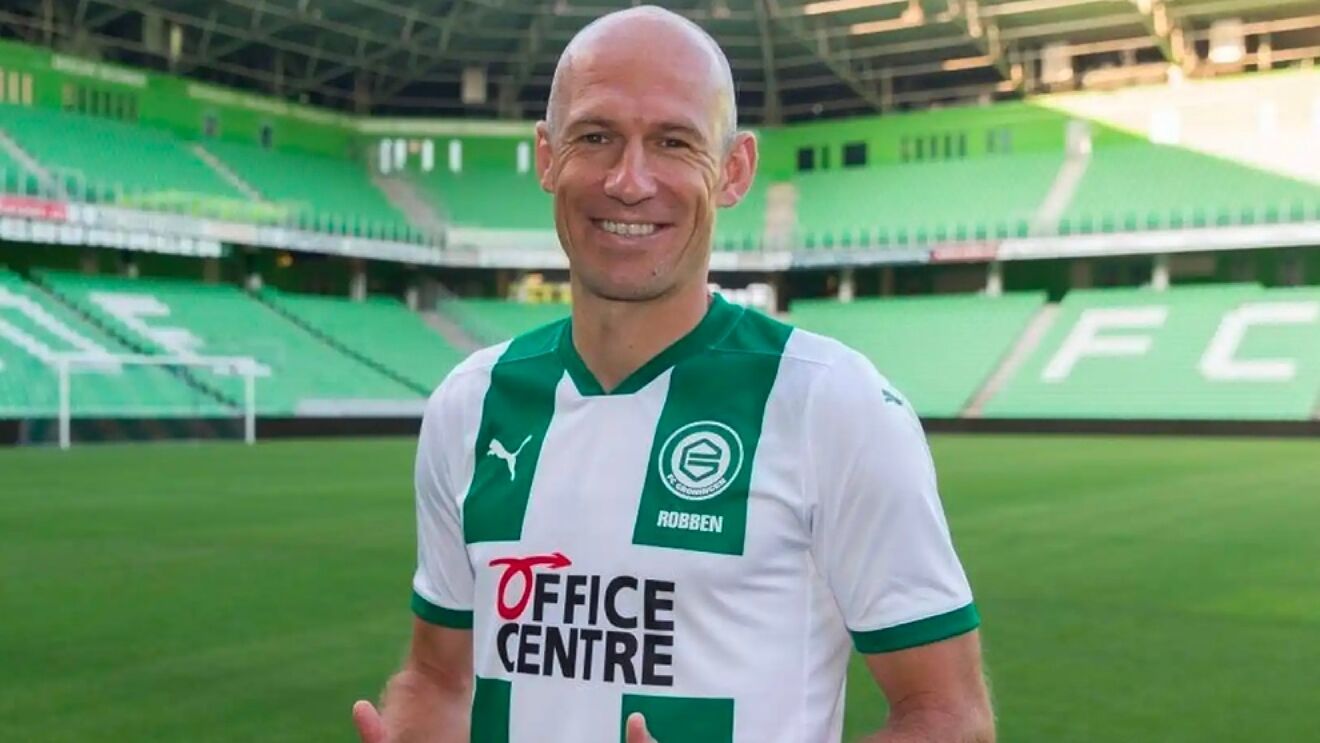 Arjen Robben retires for the second time
On Twitter, Arjen Robben has officially informed his retirement and sent the best thanks to his supporters. Some of his shares were: "Dear friends, I have decided to stop my football career. It was a difficult decision. I want to thank all of you for the warm encouragement you have given me."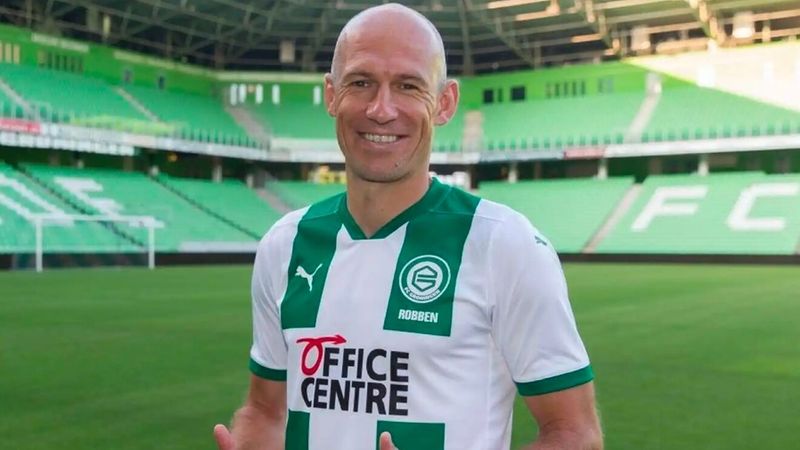 Arjen Robben announces his retirement
This is the second time the Dutch legend to announce his retirement. Before that, he decided to stop his professional career after saying goodbye to his 10-year club Bayern Munich in 2019. However, he then returned to FC Groningen (the Netherlands) where he started his playing career in 2020.
Unfortunately, it was not an ideal time. Robben suffered a heavy injury that made him play for the new team only for 28 minutes last September. In the 2020-21 season, the Dutchman participated in 7 matches without any goal. Robben said on Thursday that he had to come to the honest conclusion that the number of his match minutes had been disappointing...The football heart wanted to continue but the decision to quit was fair and realistic.
In his past playing time, Robben had an illustrious career. After leaving his homeland club Groningen in 2002, he played for the most famous European clubs named PSV, Chelsea, Real Madrid, and Bayern Munich. He won countless titles, including 2 Premier Leagues, 1 La Liga, 8 Bundesliga cups, and 1 Champions League. As for his Netherland national team, Robben had 96 appearances and scored 37 goals. He was one of the members who finished second at the 2010 World Cup and third at the 2014 World Cup.
More

Information about Arjen Robben
Who is Arjen Robben?
Arjen Robben was born in Bendum, Netherlands on the 23rd of January in 1984. He is a Dutch former professional football player who played as a winger. His dribbling abilities, quickness, ball control, and long-range shoots have earned him a reputation as one of the best wingers in the world in his prime.
Arjen Robben Groningen
Robben was trained at vv Bedum( 1989-1996) and Groningen (1996-2000) when he was a child. In November 2000, he was added to the Groningen first team by manager Jan van Dijk in an away game against Twente. However, he could not play until 3 December 2000 against RKC Waalwijk. He proved the strength of the Groningen youth academy when being named Player of the year for his first season. In his second year at the club, he played in 28 matches and scored 6 goals.
Arjen Robben PSV (2002-2004)
Robben was transferred to PSV after the 2001-02 season for a fee of €3.9 million. In his first PSV season, he played 33 games and scored 12 goals. He was awarded "PSV co-player of the year" with striker Mateja Kežman. However, he got injured later and missed several games.
At PSV, Robben had:
Eredivisie: 2002–03

Johan Cruyff Shield: 2003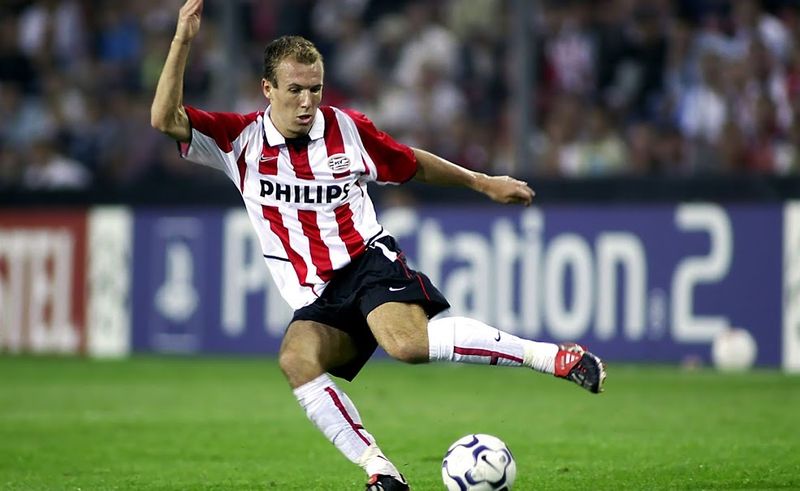 Arjen Robben at PSV
Arjen Robben Chelsea (2004-2007)
Chelsea bought Robben with an offer of €18 million and PSV agreed. He demonstrated himself as a crucial player at the Blues.
He helped Chelsea a lot in their wins with:
Premier League: 2004–05, 2005–06

FA Cup: 2006–07

Football League Cup: 2004–05, 2006–07

FA Community Shield: 2005
He also owned a sequence of individual awards named:
Premier League Player of the Month: November 200

4

PFA Team of the Year: 2004–05 Premier League

ESM Team of the Year: 2004–05

Bravo Award: 2005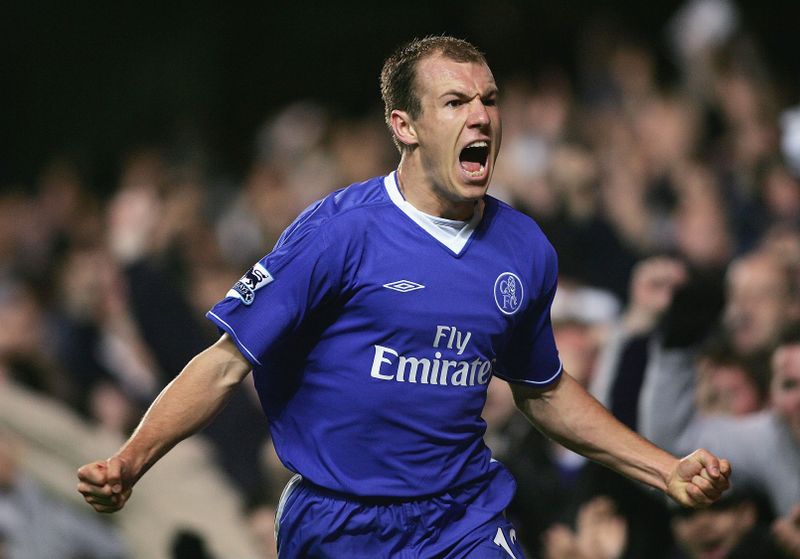 Arjen Robben at Chelsea
Arjen Robben Real Madrid (2007-2009)
Robben signed a five-year contract with Real Madrid on August 22, 2007, for a reported sum of €35 million. In 2008, Robben was a key player in many Real Madrid matches, making his famed runs down the left side and soon establishing himself as a first-choice left midfielder, making 28 appearances and scoring five goals in his debut season. He had a La Liga title and a Supercopa de España cup with Los Blancos.
After the signings of Cristiano Ronaldo and Kaká, Robben's key role was reduced. Real Madrid then accepted a bid of around €25 million for Robben from Bayern Munich.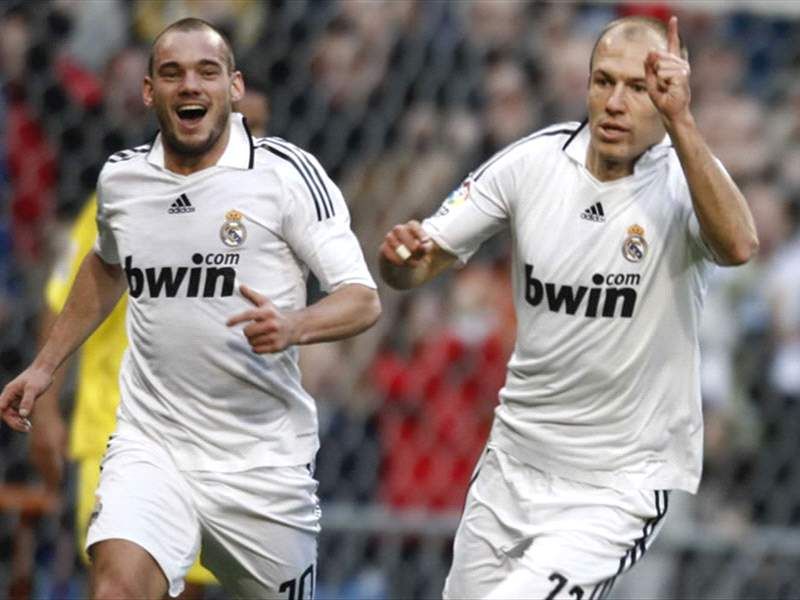 Arjen Robben at Real Madrid
Arjen Robben Bayern Munich (2009-2019)
Robben served his longest career for Bayern Munich FC. During 10 years, he and his teammates gained a lot of achievements:
Bundesliga: 2009–10, 2012–13, 2013–14, 2014–15, 2015–16, 2016–17, 2017–18, 2018–19

DFB-Pokal: 2009–10, 2012–13, 2013–14, 2015–16, 2018–19

DFL-Supercup: 2010, 2012, 2016, 2017, 2018

UEFA Champions League: 2012–13

UEFA Super Cup: 2013
In addition, he was also named:
Goal of the Month in Germany: January 2010,

March 2010, April 2010, February 2013

ESM Team of the Year: 2009–10, 2014–15

VDV Bundesliga Player of the Season: 2009–10

The kicker Man of the Year: 2010

Footballer of the Year (Germany): 2010

UEFA Best Player in Europe Award: 2013 (4th place), 2014 (3rd place)

UEFA Team of the Year: 2011, 2014

UEFA Champions League Team of the Season: 2013–14

FIFA Ballon d'Or: 4th place 2014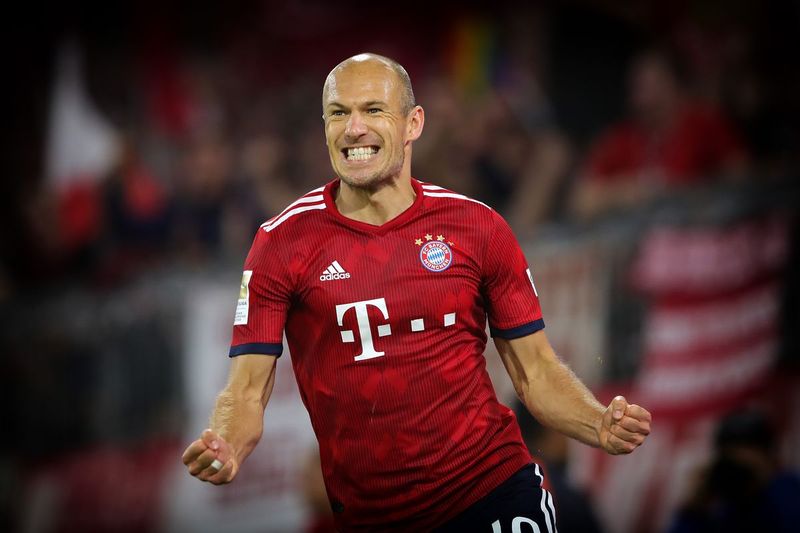 Arjen Robben at Bayern Munich
Return to Groningen
Robben declared his return to the game on June 27, 2020, by joining FC Groningen, the club where he began his career, in an effort to help the squad recover from the COVID-19 failures. After much deliberation, he decided to retire on July 15, 2021.
International Career
FIFA World Cup runner-up: 2010 and third place: 2014

FIFA World Cup Bronze Ball: 2014

FIFA World Cup All-Star Team: 2014

FIFA FIFPro World XI: 2014

FIFA FIFPro World XI 4th team: 2013, 2015

Dutch Sportsman of the year: 2014
Reference Sources
Betimate.com

https://en.wikipedia.org/wiki/Arjen_Robben