Coach Robbie Neilson updated about Craig Gordon's serious leg injury.
Hearts are dreading the worst for their goalkeeper and captain Craig Gordon after getting a serious leg injury in the 2-2 Premiership tie with Dundee United.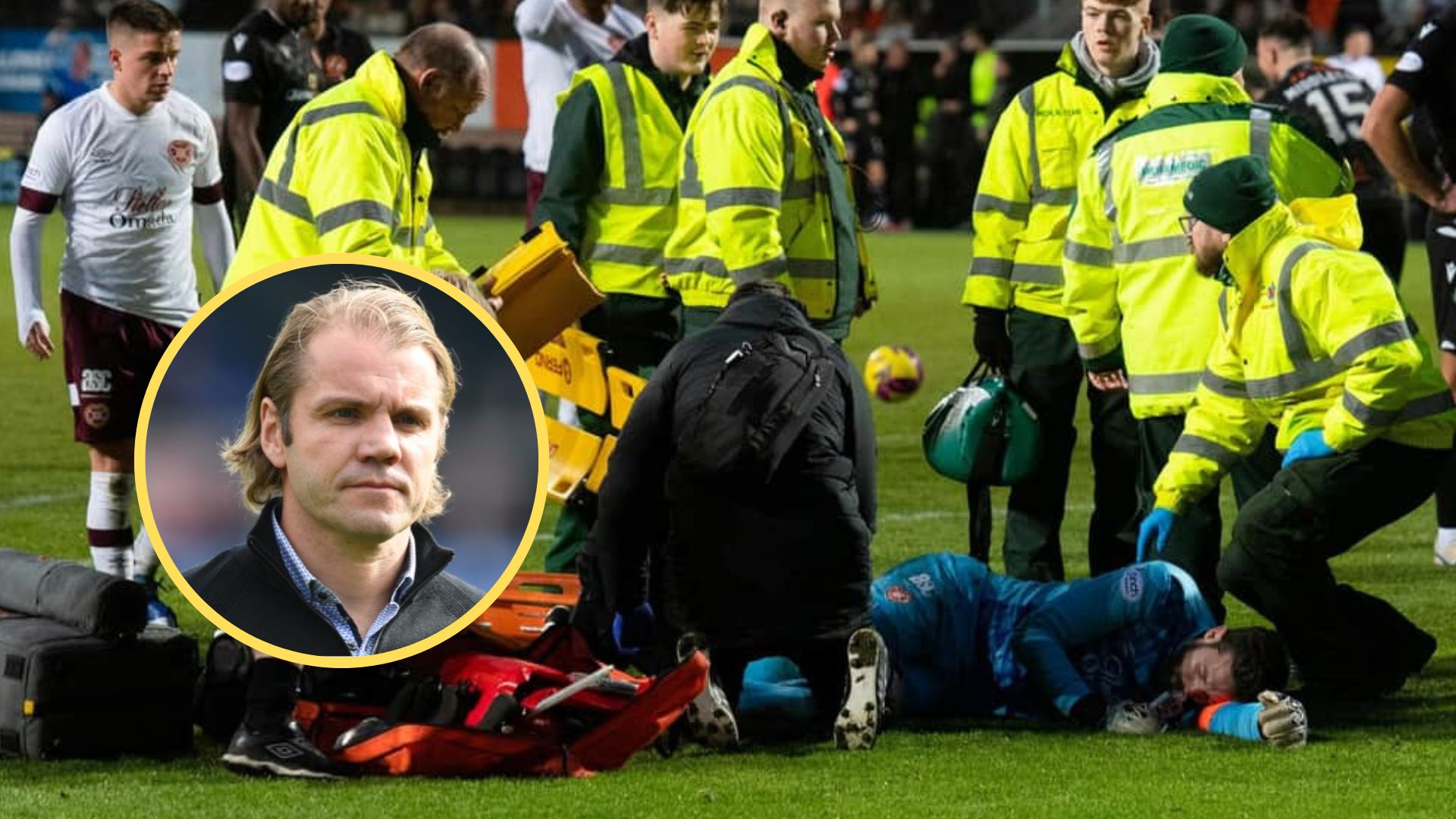 Scotland internationalist Craig Gordon sustained a serious injury in last night's match against Dundee United, requiring oxygen and being stretchered off the field. Upon review of VAR footage, Referee Colin Steven rescinded his initial decision to award penalty for incident prior to confirming that Hearts manager Robbie Neilson had admitted Gordon into hospital. A full diagnosis is expected within 24-48 hours.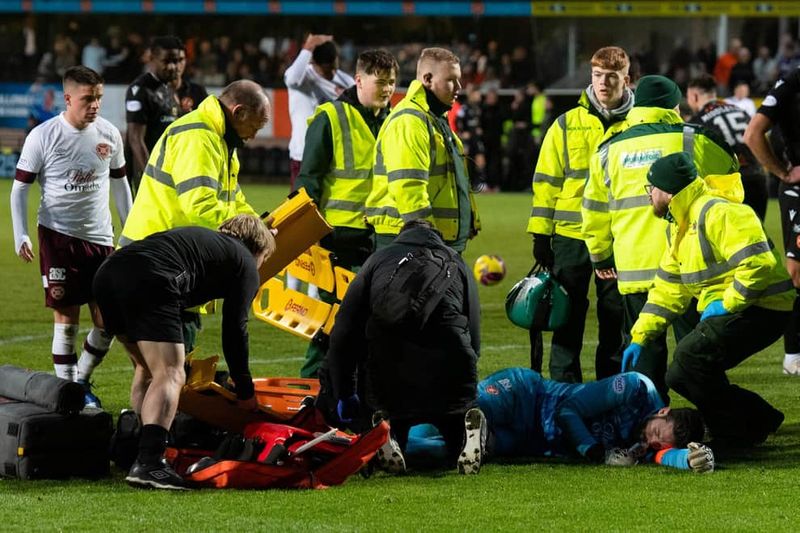 Craig Gordon got a serious injury against Dundee United.
"Craig's probably the one we are really worried about," said Neilson, the Heart of Midlothian's head coach. "It doesn't look great but I'm not going to speculate on it. My thoughts are with him at the moment.
"Halkett is walking about, which is pleasing. We thought it was quite a bad one but it seems to have settled down. We'll need to get a scan and have a look at it. I think he just jarred his knee. Kingsley got a knock, it looks like concussion, so we will need to do the protocols and see where he is."
Neilson was greatly astonished by the referee Steven and his decisions throughout the match. Notably, two penalties were reversed - Gordon's incident as well as Arnaud Djoum from Dundee United suffering a highly controversial handball charge. In stoppage time an apparent tender foul allowed Hearts to draw level leaving Neilson dumbfounded at the final whistle.
Neilson's take on the match penalties was one word: "Shambolic". His assessment of Cammy's infraction in particular echoed this sentiment, as his hand placement and body positioning constituted a violation. On top of that, Neilson deemed Craig's penalty "astounding" and thought their own call at the end should not have been given - ultimately dubbing some decisions made during the game highly questionable.
Liam Fox, manager of Dundee United, acknowledged the contentiousness of Hearts' penalty decision. He noted that "the final one was a bit soft," prompting his surprise at the lack of review. Despite being unable to recall specifics with regards to Arnaud and Craig Gordon's penalties, he strongly suggested they were both undeserved based on what he had seen thus far. "I thought the first one with Arnaud wasn't a penalty. The one with Craig Gordon, I was too far away to get a proper view of it so I would have to go back and have another look at it," he said.
This match was an electrifying affair, with Hearts having to make a substitution just six minutes in when Halkett collided with Gordon from Middleton's pressure. With three left-footed defenders making up their backline, the Jambos appeared off balance and fell behind on 20 minutes due to Fletcher outmuscling Rowles after Behich delivered a teasing long ball that still found its way into goal despite grazing of the post on route.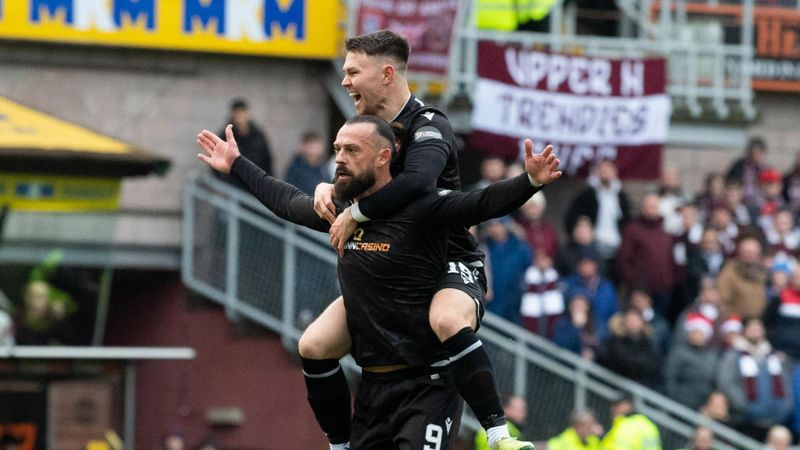 Steven Fletcher opened the scoring for United.
Kingsley was the next victim of injury during Hearts' match, going off on 39 minutes after suffering a head-on collision with Djoum. However, their resolve remained undiminished; moments later they found an equaliser courtesy of Cammy Devlin's pass to Michael Smith who effortlessly placed it in the bottom corner. Determining whether or not Djoum had handled within penalty area consumed referee Colin Steven for much of stoppage time as he consulted VAR footage and eventually settled upon letting him go free due his arm being deemed in natural position at that moment.
After some solid work by Glenn Middleton, United had a great start to the second half. Dylan Levitt scored on 47 minutes, and on 71 minutes, Gordon and Fletcher clashed, earning United a penalty. When initially viewed, it did not appear to be a spot kick since both players were prone on the ground. After Gordon was carried off the field of play in a leg brace and Fletcher followed suit, the referee was once more called to the monitor to revoke the award.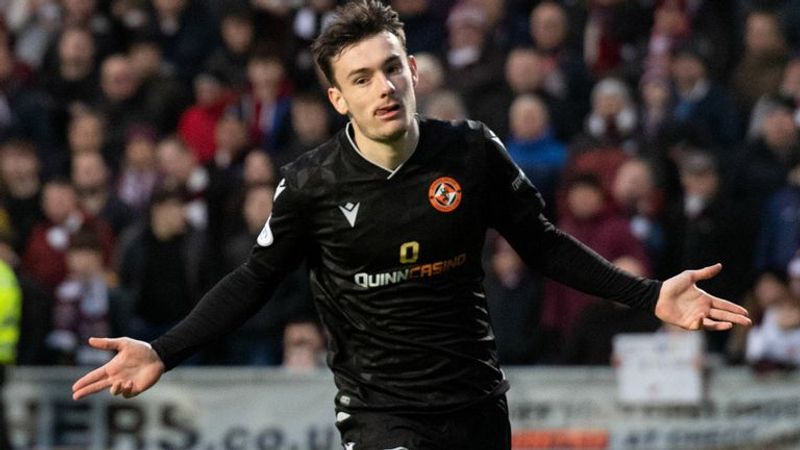 Dylan Levitt helped United take the lead in the 47th minute.
As the game dragged on, Hearts never gave up, and in the 94th minute, Steven pointed to the spot once more after Ross Graham pulled Lawrence Shankland back after a cross into the penalty area. The award appeared to be soft once more, but this time there was no VAR review, and Shankland's 15th goal of the season sent Mark Birighitti the wrong way to save a point for the Jambos.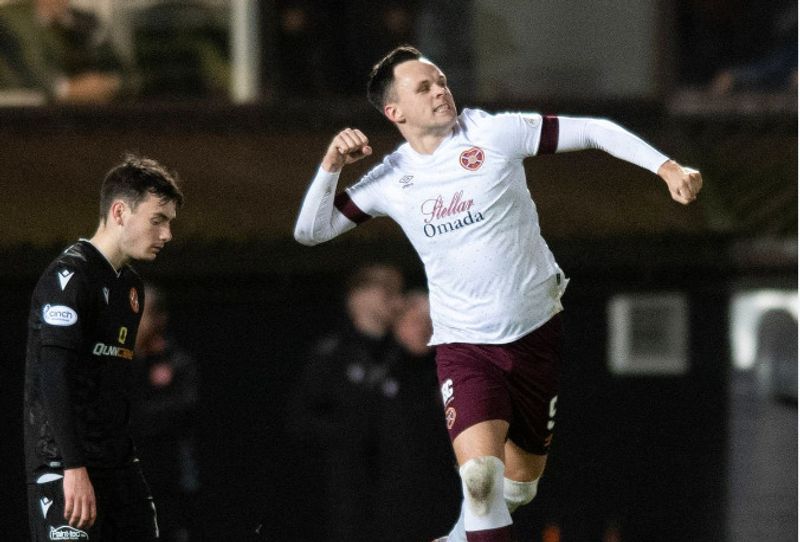 Lawrence Shankland celebrated his 15th goal of the season.
While Dundee United remains at the bottom but is now only two points from safety, Hearts are currently tied for third place in the league on points with Aberdeen. If they defeat the Staggies at home on Wednesday night, they may pass 11th-placed Ross County, while Hearts are in Perth playing fifth-placed St Johnstone.