Cristiano Ronaldo wins the Alipay Top Scorer Trophy at Euro 2020
Although Christiano Ronaldo and his Portugal national team were eliminated from the Round of 16 at UEFA Euro 2020, he has finished as the Top Scorer of this European tournament. Cristiano Ronaldo wins Euro 2020 Golden Boot
Christiano Ronaldo won the Euro 2020 Alipay Top Scorer Award on Sunday after the Euro 2020 final between Italy and England had finished. The 36-year-old striker ended on 5 goals and 1 assist for Portugal. He had the same goal with the Czech Republic striker Patrik Schick but finished out in front thanks to his better assist figure. Portugal team could not defend their champion title this season but Ronaldo's achievements were still impressive.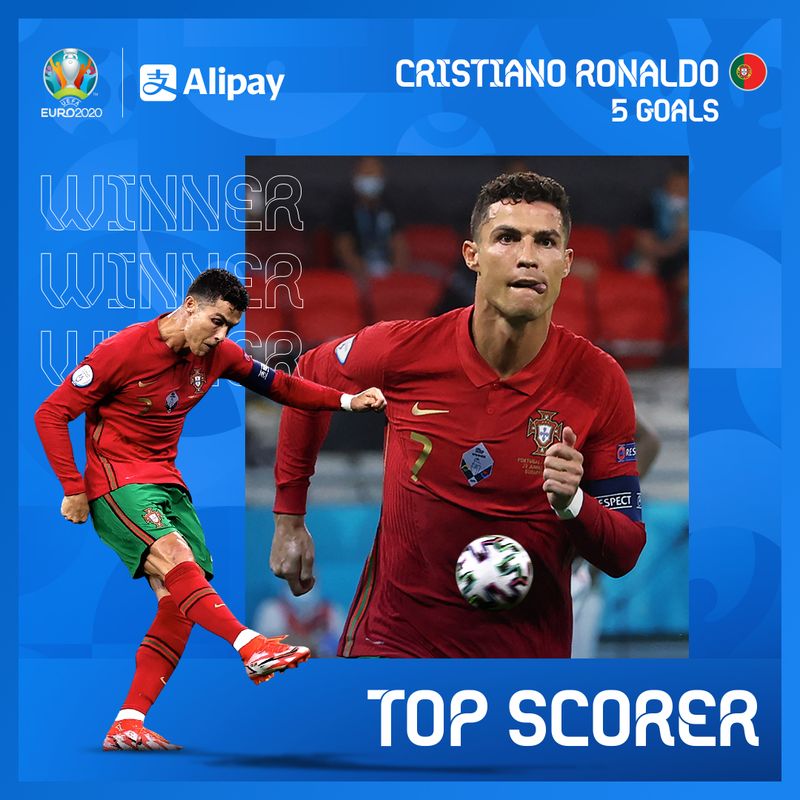 Cristiano Ronaldo wins the Alipay Top Scorer Award at UEFA EURO 2020
In detail, Ronaldo had his first goal at UEFA Euro 2020 with 2 goals in their 3-0 win against Hungary on Matchday 1. That was also the time he made a new record as the first player to score in 5 Euro finals and he became the oldest player to score in Euro finals. Portugal's captain continued his performances with 1 opening goal of the 4-2 loss to Germany on Matchday 2 and 2 goals from the penalty spot in the 2-2 draw with France on Matchday 3. With his last two goals at Euro 2020, he scored 109 goals in total for his country and equalized the world record set by former Iran forward Ali Daei.
Here below is the list of Alipay Top Scorers at Euro 2020
Euro 2020 Alipay Top Scorers
Something you should know about Cristiano Ronaldo
The name Cristiano Ronaldo has been widely known all over the world, even with people who do not know much about football. Who is he and why is he famous like that? Let's check out with Betimate immediately!
Who is Cristiano Ronaldo?
Cristiano Ronaldo dos Santos Aveiro was born in Funchal, Madeira, Portugal on 5 February 1985. He is a Portuguese professional footballer who currently plays as a forward for Juventus at Serie A and captains the Portugal national football team. He is often called CR7 which is the combination between his abbreviated name and his unchanged shirt number.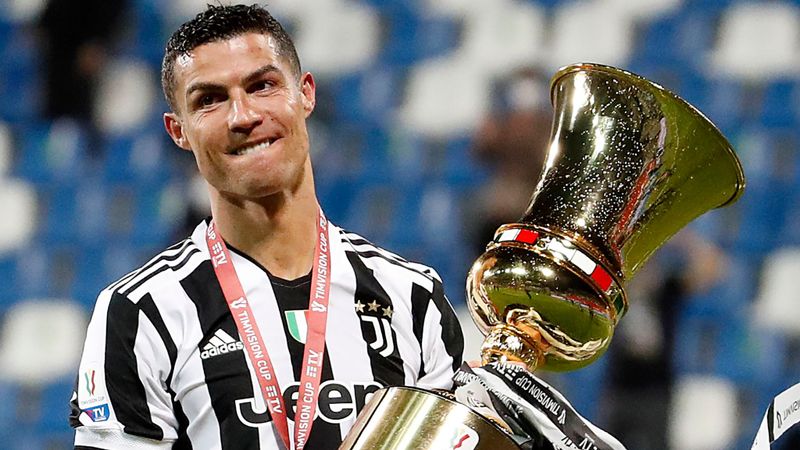 CR7 plays for Juventus
Christiano Ronaldo's club and national team's career
Ronaldo is often considered one of the greatest footballers in the world. He won 5 Ballons d'Or and 4 European Golden Shoes. Both of them are records for a European player. In his career, he has won 32 major trophies, including 7 leagues titles, 5 UEFA Champions Leagues, 1 UEFA European championship, and 1 UEFA Nations League.
He is also holding records such as:
Most international goals (109 goals, tied with Ali Daei)

Most goals (144) and most assists (42) in the Champions League

Most goals in the European Championship
He is one of few players making over 1,100 professional career appearances and scoring over 780 official senior career goals for his club and country.
Being a genius player, he has played for the most famous clubs in the football world such as Sporting CP (2003-03), Manchester United (2003-2009), Real Madrid (2009-2018), and Juventus (2018-2021). He is always one of the most important players who has helped the clubs to win the highest titles when having him in their line-ups.
Christiano Ronaldo Sporting CP
Supertaça Cândido de Oliveira: 2002
Christiano Ronaldo Manchester United
Premier League: 2006–07, 2007–08, 2008–09

FA Cup: 2003–04

Football League Cup: 2005–06, 2008–09

FA Community Shield: 2007

UEFA Champions League: 2007–08

FIFA Club World Cup: 2008
Christiano Ronaldo Real Madrid
La Liga: 2011–12, 2016–17

Copa del Rey: 2010–11, 2013–14

Supercopa de España: 2012, 2017

UEFA Champions League: 2013–14, 2015–16, 2016–17, 2017–18

UEFA Super Cup: 2014, 2017

FIFA Club World Cup: 2014, 2016, 2017
Christiano Ronaldo Juventus
Serie A: 2018–19, 2019–20

Coppa Italia: 2020–21

Supercoppa Italiana: 2018, 2020
Christialno Ronaldo Portugal
UEFA European Championship: 2016

UEFA Nations League: 2018–19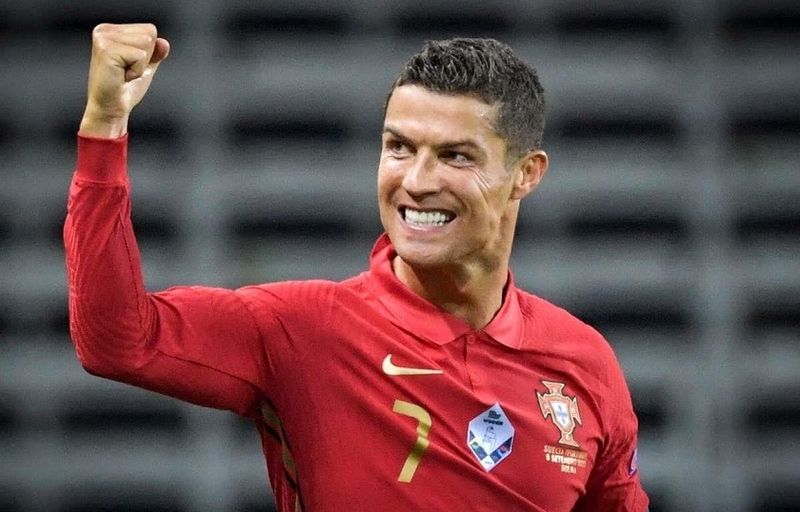 Ronaldo at Euro 2020
Besides his achievements with clubs, he has also owned numerous individual awards that helped him become one of the most worthy players in the world.
FIFPro World Player of the Year: 2008

The Best FIFA Men's Player: 2016, 2017

PFA Portuguese Player of the Year: 2016, 2017, 2018, 2019

European Golden Shoe: 2007–08, 2010–11, 2013–14, 2014–15

La Liga Best Player: 2013–14

Serie A Most Valuable Player: 2018–19

Serie A Best Striker: 2020–21

Capocannoniere

: 2020–21

Golden Foot: 2020

Ballon d'Or Dream Team: 2020

So on.
He is often compared with Lionel Messi because of their similarities in talents, awards, and even life. Christiano Ronaldo net worth as of 2021 is about $500 million, making him one of the richest athletes in the world.
Reference Sources
Betimate.com

https://en.wikipedia.org/wiki/Cristiano_Ronaldo