Will Arsenal continue to be the top team in the Premier League in 2022/23?
Arsenal is at the top of the Premier League table after 17 matches. Many football fans and experts speculate on the possibility of them winning the Premier League in 2022 or 2023.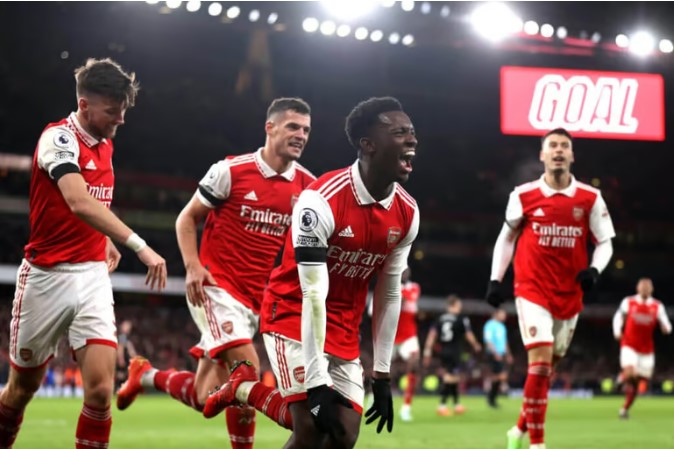 History
History about clubs that were on top of the table after 17 matches
After 17 games, Arsenal has demonstrated that they are deserving of their position atop the Premier League. This season, they enhanced their capacity for game management, the cohesiveness of their press, the significance of their positional rotations and fluidity in possession, the speed with which they react when they concede goals, and the strength of both their offensive and defensive set pieces. Arsenal supporters have been cautiously optimistic as expectations have grown over the course of the season, and it is impossible to overlook the fact that they are five points in front.
Arsenal is on the top of Premier League after 17 matches
Only a small number of title races have been immortalized in Premier League legend for the suspense of "the chase." Although Manchester United's 1995–96 title win over Newcastle United stands out, clubs blowing leads from this point on have generally become less common than they were in the 1990s.
Only four times in the first 10 seasons of the Premier League did the team with the best record after 17 games go on to win the championship. Two teams finished in second place, two in third, one in fourth, and one in sixth place (John Gregory's Aston Villa in 1998–99, the furthest a team has fallen from a top-of-the-table position after 17 games in the Premier League).
In the previous 10 seasons, the team that finished in first place after 17 games won the league seven times. Only Liverpool (2013–14 and 2018–19) and Manchester United (2020–21) have failed to win the championship from that spot throughout this time. However, in each of those three seasons, the significance of points in addition to position has emerged, with a one-point difference between first and second in the other two seasons and a zero-point difference in the first season if games in hand are taken into account.
Even though Manchester City won the title despite having a one-point lead at this point in the previous season, the victors have frequently had a wider margin in the previous ten years. In 2017–18 and 2019–20, City and Liverpool were 11 and 10 points ahead, while Manchester United and Chelsea trailed by six and two points, respectively, in 2012–13 and 2016–17. In 2014–15 and 2015–16, Chelsea and Leicester City were three and two points behind City, respectively.
So it's hardly surprising that teams that get out in front quickly have won championships in recent years. Even if Manchester City defeated Chelsea, Arsenal's then-five-point lead would still be a respectable one because the average lead at this time in all Premier League seasons is 3.7 points.
Arsenal's history from this position
Arsenal previously topped the standings after 17 games. During this point in the seasons of 2002–03, 2007–08, and 1996–97 (Arsene Wenger's debut campaign), they also held the top spot. Strangely, none of Arsenal's three Premier League championships occurred during these years.
In each of these previous campaigns, a minor point differential cost Arsenal. Their biggest deficit was two points in 2002-03, and their smallest was just one point in 1996-97 and 2007-08, the last season in which a team that had been first after 17 games finished outside the top two.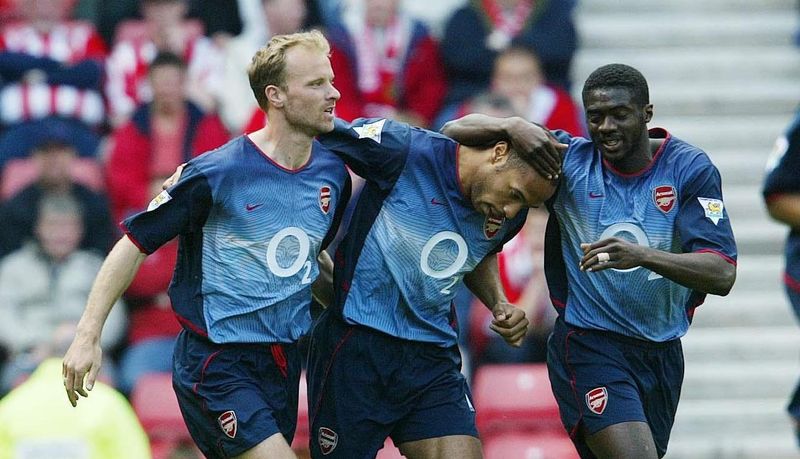 Arsenal 2002-03
Arsenal typically lost points toward the end of the season when they were being pursued. Even in the Invincibles' championship-winning season of 2003–04, they experienced a stretch of five draws in seven games (during which they were crowned champions at White Hart Lane). For the record, after 17 games in that season, Manchester United was in the lead.
Even though they have three times won as the chasers (in 1997–98, 2001–02, and 2003–04), similar patterns could not hold true for a fresh team of players headed by a new coach.
The truth is that this is Arsenal's strongest league season to date. Only seven times in the history of the league has a team's point total after 17 games been equaled or surpassed, with the Liverpool and Manchester City seasons of 2019–20 having the narrowest points differential between first and second.
This is a fantastic opportunity for Arsenal, even when keeping in mind that all of their title victories have come after being down by a point after 17 games. Making use of their current buffer is crucial because they have never had one at this point in a Premier League season.
Rivaldo's opinion
Three teams still have a shot at winning the Premier League championship this year, according to Brazilian icon Rivaldo. He thinks teams like Arsenal, Manchester City, and Manchester United can still win the English Premier League this season.
"The Premier League is back and running after the World Cup, and Arsenal is steady at the top of the table, trying to claim a title for the first time since 2004. Anyway, there are still about twenty matches to go in the season, and a lot can still happen, especially when you've got big rivals such as Manchester City or Manchester United."
In this situation, what should Arsenal do?
Gabriel Jesus arrived at the World Cup with a knee injury.It is a serious loss for Arsenal. The Brazilian's ability to make an impact across the width and depth of the pitch improved not only the frontline but the entire team.
However, their front three, including Gabriel Martinelli, Eddie Nketiah, and Bukayo Saka, had excellent performances from the beginning of the season. They all scored against both West Ham United and Brighton & Hove Albion.
Despite the fact that the team didn't play poorly in the goalless draw with Newcastle, they could not have the full three points. However, they must avoid allowing the disappointment of losing points to serve as the catalyst for a downward trend.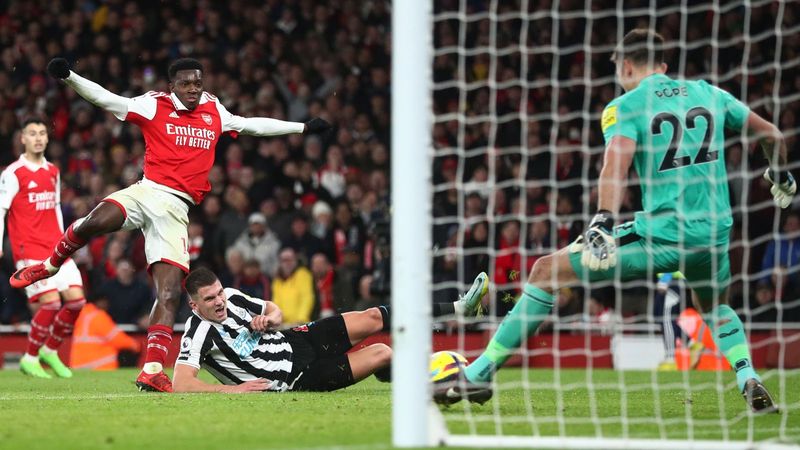 Arsenal could not win against Newcastle in the last match
Les Ferdinand, a member of the 1995–96 Newcastle club that fell short of winning the championship, raised an intriguing argument during his pregame commentary on Tuesday night's game. The main thrust of his argument was that Newcastle grew sloppy. They believed they would win their next game following a loss, but that belief was the beginning of a snowball effect.
Arsenal could not win against Newcastle, but they cannot continue their downward trend. The 11 days between the Newcastle game and their subsequent league match against Tottenham Hotspur should be to their advantage, but they cannot assume that their current standing will hold.
There are still 21 games left in the season, which is a sizable portion of the schedule even without including FA Cup and Europa League games. With the return of Emile Smith Rowe and any January acquisitions, the themes that have sparked their season must be maintained and expanded upon.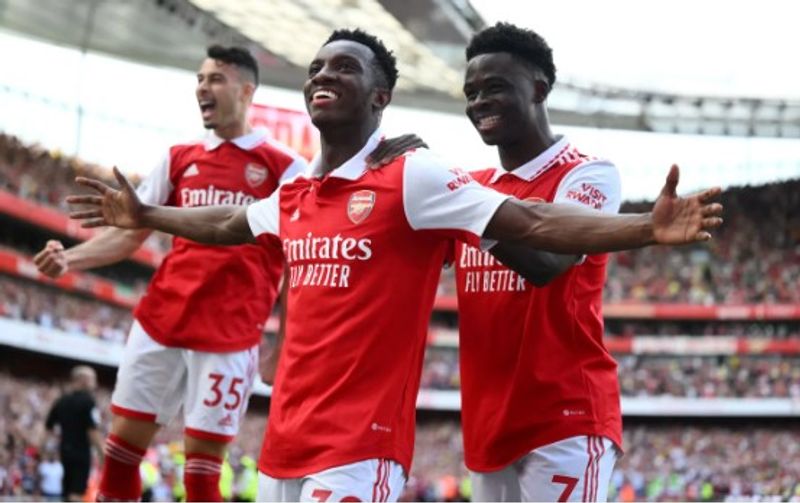 Arsenal had great chance to become champion of Premier League
Arsenal should be able to hold on and win their first league title in 19 years based on recent experience, but as the season progresses, some fans' minds will be preoccupied with thoughts of those missed opportunities.
For Arsenal, the positive momentum will be the most motivating factor in their quest to become the Premier League's next champions after the 2003-04 season.