Aston Villa results 2021: Being eliminated right from the first match of the FA Cup
This is definitely not a season for Aston Villa. They didn't win any title and failed to go further in the FA Cup because of the elimination right from the first game. Let's figure out Aston Villa results in other competitions and see if their future could be brighter or not.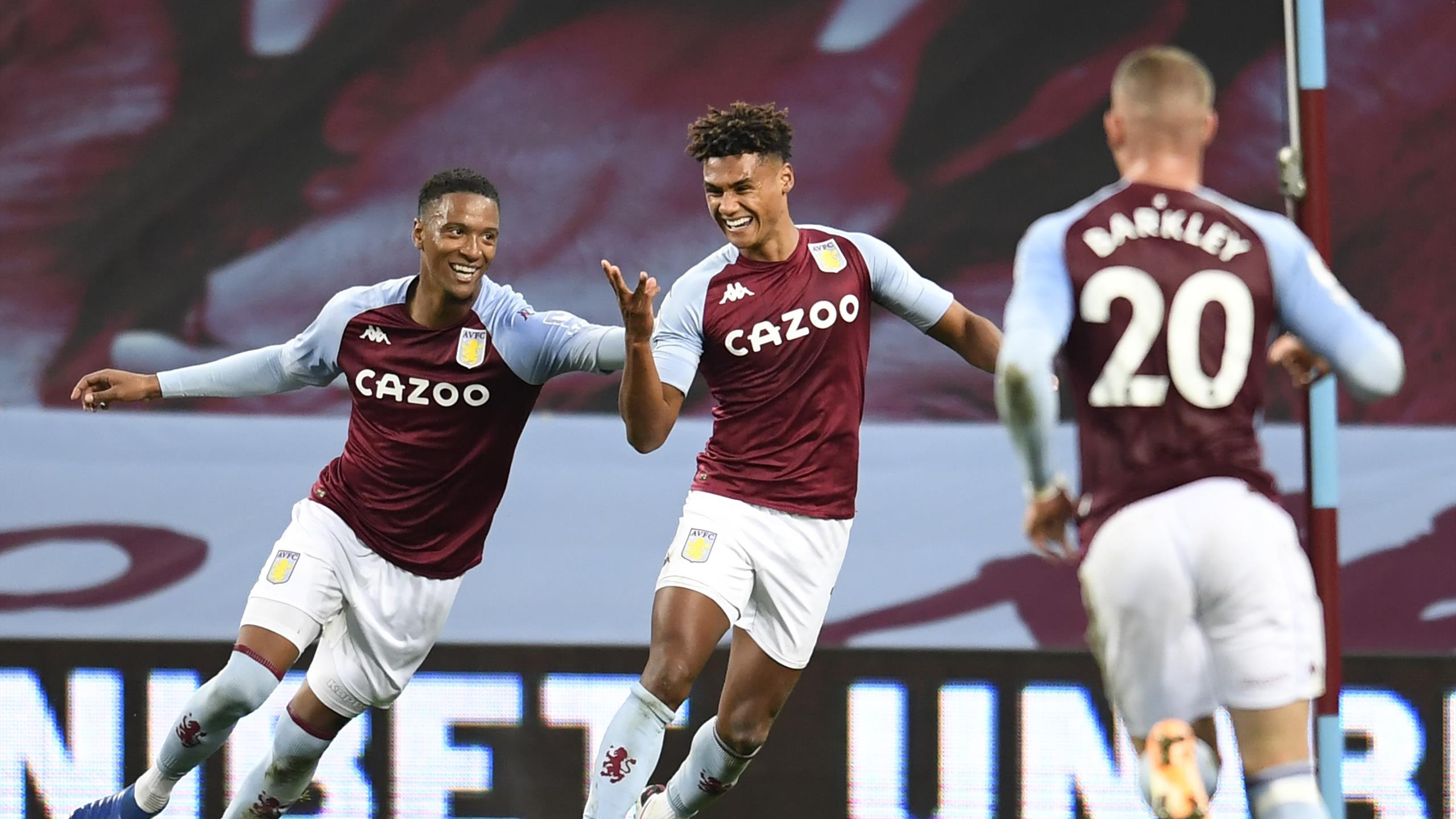 Some facts about Aston Villa
Before summarizing what Aston Villa have achieved within the recent season, let's grasp some information about the background of this professional English football club in the first section.
History of the club
Aston Villa Football Club is a professional football club based in Aston, Birmingham, England. They are also known as The Villa, The Lions (which are featured on their badge), or The Claret & Blue Army (which refer to their home kit color). The club has a rich history of almost 150 years of existence. They are also one of the founding members of the Football League which was founded in 1888 and the Premier League in 1992.
Aston Villa used to play at Aston Park within the first two years from their inception, and then at Wellington Road in the period of 1876 to 1897. Since then, they have played at Villa Park, which is the largest stadium in the English Midlands, and the eighth largest stadium in England.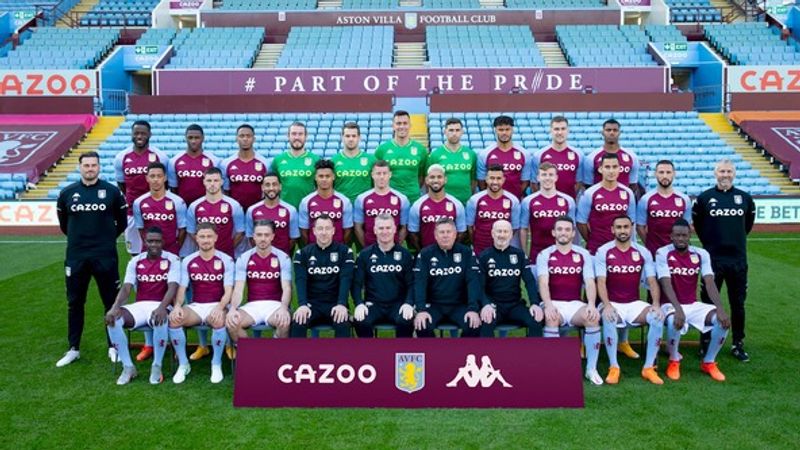 Aston Villa squad
League achievements
Aston Villa F.C. is one of the only five English clubs (along with Liverpool, Man United, Chelsea, and Nottingham Forest) that have won the European Cup, which is the UEFA Champions League we know today. They have also won a total of seven First Division and FA Cup titles, five League Cups, and one European Super Cup. For further details about the seasons when Aston Villa have won these aforementioned competitions, let's take a look at the below section:
1. Domestic
League Titles
First Division / Premier League:
Champions (7): 1893–94, 1895–96, 1896–97, 1898–99, 1899–1900, 1909–10, 1980–81
Second Division / First Division / Championship:
Champions (2): 1937–38, 1959–60

Play-off Winners (1): 2018–19
Third Division / Second Division / League One:
Cups
FA Cup:
Winners (7): 1886–87, 1894–95, 1896–97, 1904–05, 1912–13, 1919–20, 1956–57
League Cup / EFL Cup:
Winners (5): 1960–61, 1974–75, 1976–77, 1993–94, 1995–96
FA Charity Shield / FA Community Shield:
Sheriff of London Charity Shield:
2. European
European Cup / UEFA Champions League:
European Super Cup / UEFA Super Cup:
Intertoto Cup:
What are Aston Villa results in the 2020-21 season?
Overview
The 2020-21 season of football has closed and Aston Villa didn't win any title. They played in three major tournaments, the Premier League, FA Cup, and EFL Cup.
Premier League
In the 2021 Premier League, Aston Villa finished in 11th place, which is not a surprise as their highest position in this competition so far was ninth in the 2010-11 edition. The Villa obtained 55 points eventually, after Everton in 10th place with 59 aggregate points and above Newcastle United with 45 points.
In 38 matches, they won a total of 16 games, including seven at their home ground and nine away. There were seven tied matches, giving Aston Villa seven points accumulated. Notably, on 4 October 2020, in the match against Liverpool, one of the giants in English football, Aston Villa successfully won by 7-2 as the final result.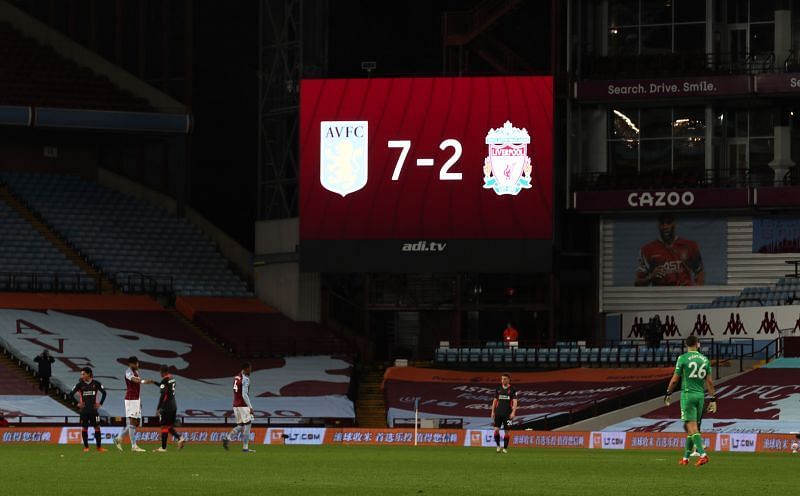 Aston Villa vs Liverpool
FA Cup
Aston Villa joined the 2020-21 FA Cup at the third round but was also immediately eliminated from this round. In the match with Liverpool on 8 Jan 2021, they lost 1-4 to Liverpool and were kicked off from the competition, which is quite a failure for a club that has won seven FA Cup titles.
EFL Cup
Their journey at the 2021 EFL Cup was also in a short time, within three rounds. Aston Villa started by a match with Burton Albion, a club from the small town of Burton upon Trent, Staffordshire in the second round. They won by 3-1 and got the right to the next round, in which they met Bristol City and greatly defeated them by 3-0. However, Aston Villa was eliminated from the Carabao Cup due to the loss in the match with Stoke City. They didn't have a chance to score any goal, and Stoke City easily won with just one goal ahead.
References
https://en.wikipedia.org/wiki/Aston_Villa_F.C.
https://en.wikipedia.org/wiki/List_of_European_Cup_and_UEFA_Champions_League_finals
https://en.wikipedia.org/wiki/2020%E2%80%9321_Aston_Villa_F.C._season