Brighton F.C. results in 2020-21 season review
A season of major football competitions in England has been closed. Brighton, with a stable manner, still finished three major tournaments with a moderate result, not their best, but not their worst either. Let's figure out what are the results of this club in this 2020-21 season in this article.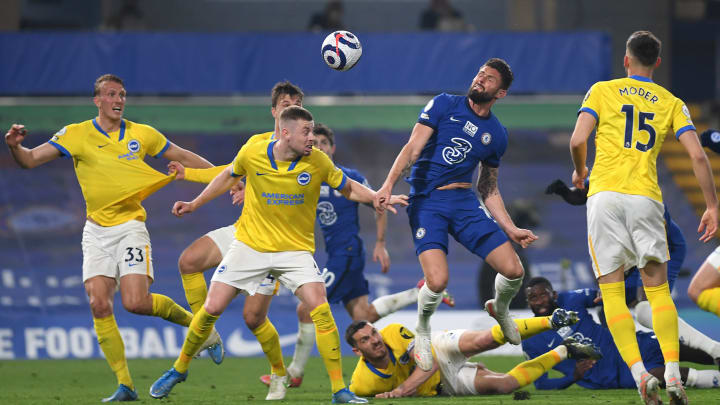 What are Brighton F.C.'s results in the 2020-21 season?
Overview
1. Premier League
In the 2020-21 Premier League, Brighton & Hove Albion were almost relegated to the EFL Championship. They finished 16th in the standing table (41 aggregated points), right below Southampton with two points in difference and above Burnley who obtained 39 points. The club won a total of nine matches in 38 games, including four home wins and five away wins, 14 tied matches, and were defeated in 15 games.
This result was not a surprise as since Brighton participated in the Premier League in the 2017-18 season, their rankings have been all below 15th (15th in 2017-18, 17th in 2018-19, 15th in 2019-20, and 16th in 2020-21).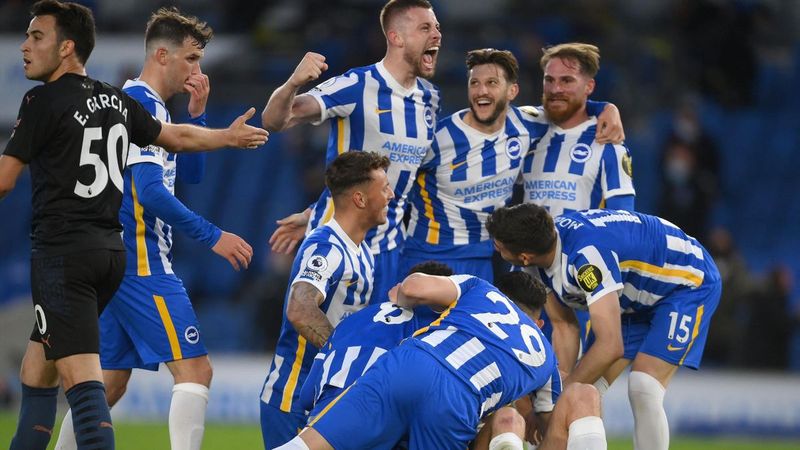 Brighton in a 3-2 win over Man City in the 2020-21 Premier League
2. FA Cup
Brighton F.C. was eliminated before the quarter-finals of the 2020-21 FA Cup. This South Coast club participated in three matches, starting from the third round, in a match against Newport County. In the official competing minutes, two teams ended up equal, and Brighton was the eventual winner by a 4-3 penalty win.
They joined the fourth round and were paired with Blackpool. Brighton & Hove Albion beat their opponent by 2-1. Thought the chance was open to Brighton in the FA Cup, but they were kicked out of the competition due to the 0-1 loss to Leicester City in the fifth round.
3. EFL Cup
Similar to the FA Cup, Brighton also joined three rounds of the EFL Cup this season, from the second round to the fourth round, but their wins and loss were more significant. On 17 September 2020, Brighton started their journey in the EFL Cup in a match against Portsmouth. They successfully finished the game with a 4-0 win. A week later, Brighton & Hove Albion entered the third round and once again won over Preston North End by 2-0. However, in the fourth round, Brighton met Manchester United and lost 0-3 to this English top-notch club.
Brighton & Hove Albion fundamentals
History
Brighton & Hove Albion Football Club, or simply known as Brighton, is an English professional football club based in the city of Brighton and Hove, hence the name. The club was founded on 24 June 1901 and started playing in the Football League 19 years later.
They are also known for their nicknames, as The Seagulls, or Albion, which are featured on the club's logo. As a seaside club, their crest and home color represent the specific blue color of the sea and the white. Despite currently playing in the top-flight Premier League, Brighton is at the top of underdog clubs.
The club played at the Goldstone Ground in Hove as their first and longest home ground for 95 years until the board of directors decided to sell it. After that, they played at Withdean Stadium, and currently playing in the third stadium called Falmer Stadium with a 31,800 capacity.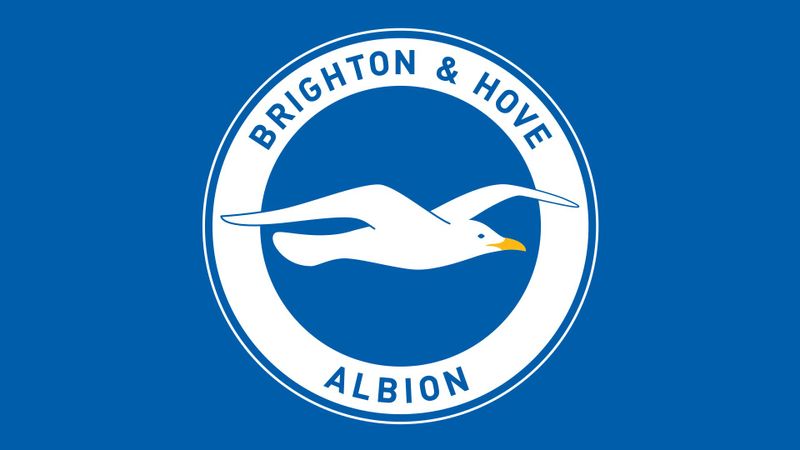 Brighton F.C. logo
Achievements
Brighton enjoyed their greatest prominence in the period of 1979-1983. During this time, they were promoted to the First Division as well as reached the final round of the 1983 FA Cup but finished in second place. Initially, they mainly played in the Southern League and were promoted and relegated to different levels of the Football League.
Brighton have been most successful in the knock-out cup competition in the county of Sussex with a total of 14 titles.
1. League
Football League Second Division/EFL Championship (Tier 2)
Runners up (2): 1978–79, 2016–17
Football League Third Division South/Football League Second Division/Football League One (Tier 3)
Champions (3): 1957–58, 2001–02, 2010–11
Football League Fourth Division/Football League Third Division (Tier 4)
Champions (2): 1964–65, 2000–01
Southern Football League
2. Cup
FA Cup
FA Charity Shield
Sussex Senior Challenge Cup
Winners (14): 1942–43, 1987–88, 1991–92, 1993–94, 1994–95, 1999–00, 2003–04, 2006–07, 2007–08, 2009–10, 2010–11, 2012–13, 2016–17, 2017–18
The Sussex Royal Ulster Rifles Charity Cup
Winners (2): 1959–60, 1960–61 (shared with Chichester City)
References
https://en.wikipedia.org/wiki/2020%E2%80%9321_Brighton_%26_Hove_Albion_F.C._season
https://en.wikipedia.org/wiki/Brighton_%26_Hove_Albion_F.C.