Wolverhampton Wanderers F.C. players: Who is the best player of Wolves?
Wolves have had numerous fantastic players throughout the previous century to the present, but some stand out as true quality players. Let's figure out more in this article. First-team squad

Wolverhampton Wanderers F.C.
Top five all-time legends of Wolverhampton Wanderers
The five below footballers are the legends of Wolverhampton since the founding of the club. They are all former players, some have died, but their names stay forever in the history of Wolves.
Billy Wright (1939-1959)
Billy Wright played as a defender for the Wolves and amazingly made 541 appearances for the club in his career. He was also the first footballer who reached 100 international caps for the England national team and captained the team for a record 90 times.
Wright was a part of the club to win three First Division titles from 1954 to 1959 with two Charity Shields and one FA Cup during his time. He was also awarded the Ballon d'Or in 1957 as the runner-up because of Real Madrid player Alfredo Di Stefano.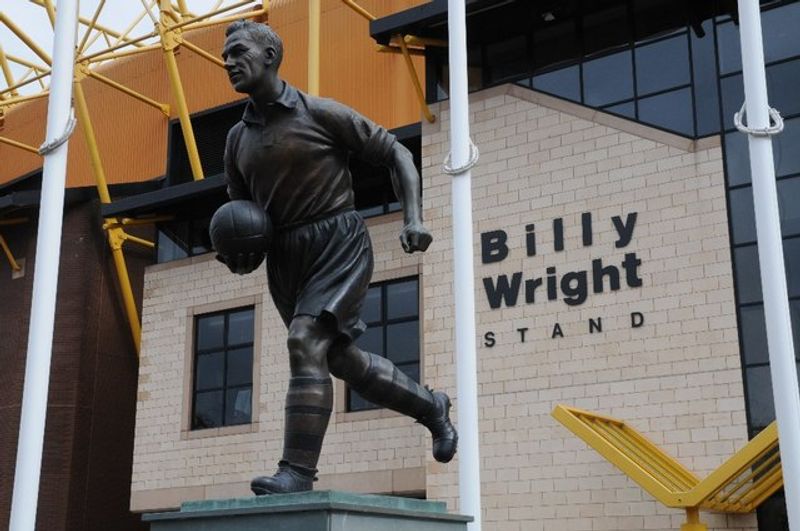 Billy Wright statue
Bert Williams (1945-1959)
Bert Williams was the greatest goalkeeper with 420 appearances with the Wolves in the period of 14 years and earning the nickname "The Cat". He made his first professional debut for The Wanderers in a 6-1 win against Arsenal. In his time, Wolves won two major trophies: the FA Cup in 1949 and League Cup in 1953-54. He received the MBE in 2010.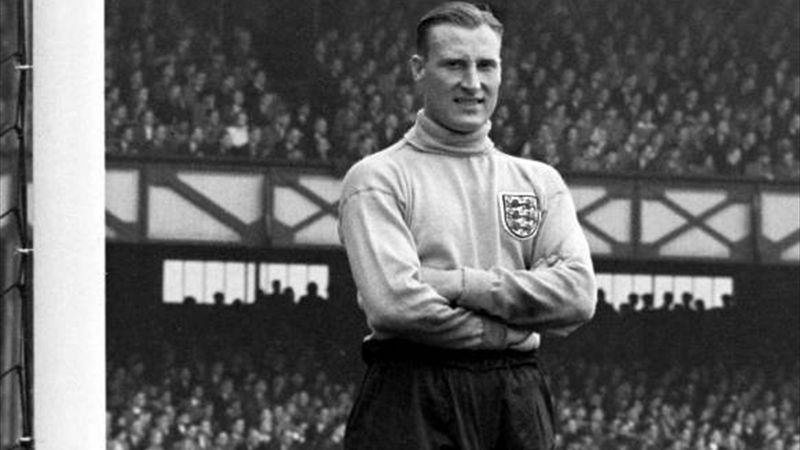 Bert Williams
John Richards (1969-1983)
This is one of the finest strikers of the Wolves during the 1970s. He scored a total of 194 goals for the club and won two league cups with Wolves over his 14 years. John was one of the all-time top scorers of Wolverhampton Wanderers, but he only made one cap for the national team.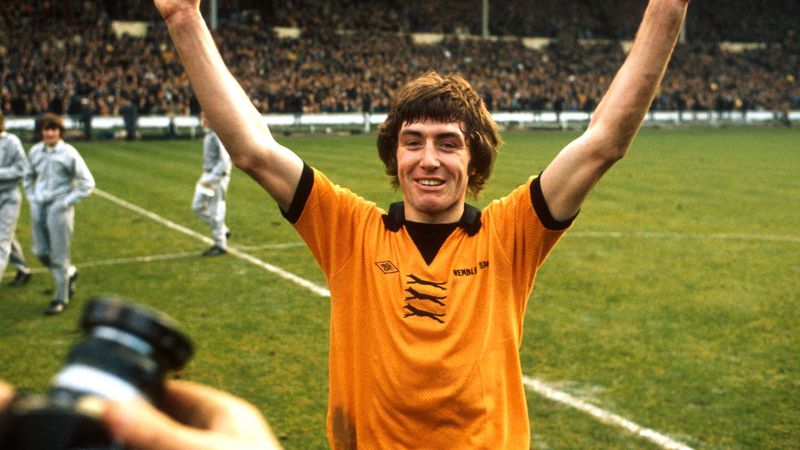 John Richards
Derek Dougan (1967-1975)
With only eight years playing for Wolves, Derek scored 123 goals, making him the club's ninth-highest goal scorer. He was a powerful muscular forward with an impressive height of 6ft3. Derek was called "The Doog".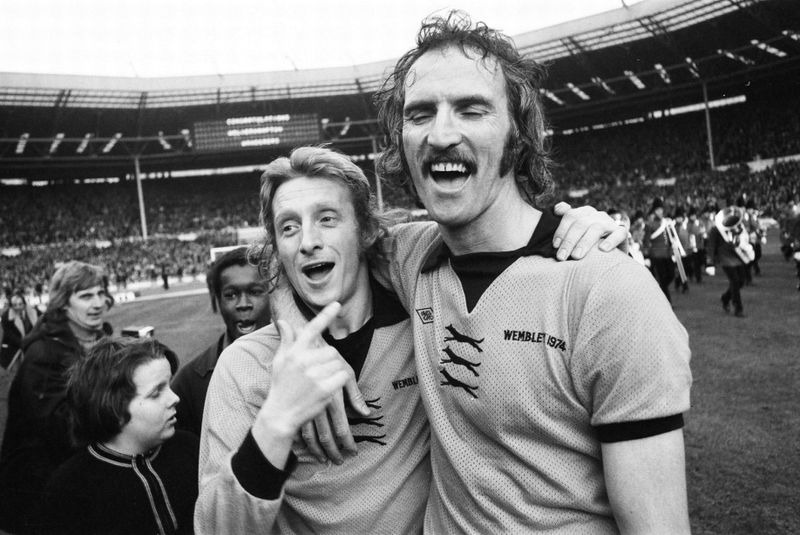 Derek Dougan on the right
Steve Bull (1986-1999)
Last but not least, Steve Bull, the all-time top scorer of Wolves with 306 goals in his career with this club, including 18 hat-tricks. His best season ever was in 1988 where he scored 52 goals in all competitions and assisted Wolves to win the Football League trophy.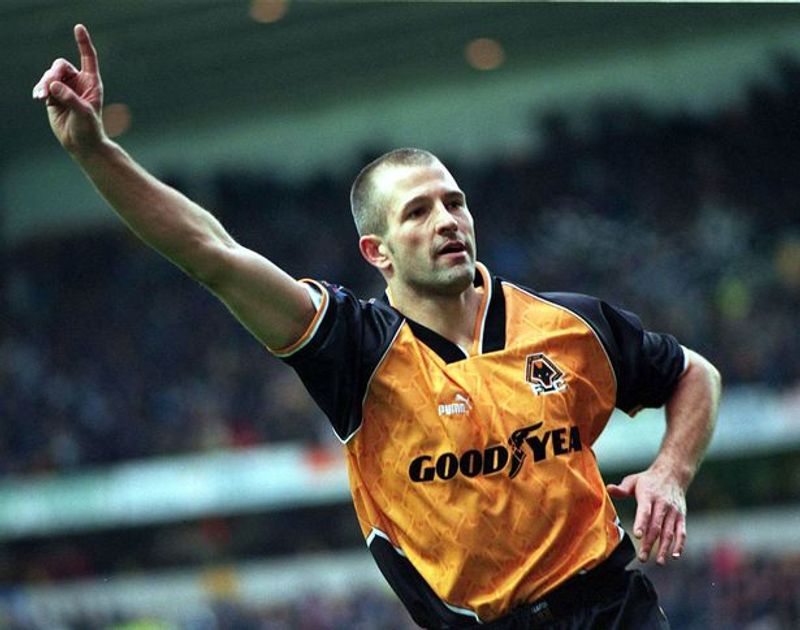 Steve Bull
A few things about Wolverhampton Wanderers F.C.
This section will give you a general overview of Wolverhampton Wanderers, from the origin of the club to their achievements so far.
Origin
Wolverhampton Wanderers Football Club, or simply called Wolves or The Wanderers, is a Premier League club based in the city of Wolverhampton in the West Midlands, England, hence the name. The club was established 144 years ago, in 1877 as St. Luke's F.C. With a rich history for more than 140 years, they were one of the founding members of the Football League in 1888.
Wolves have taken a new head coach since the 2020-21 season, so currently, Bruno Lage, a professional Portuguese football manager is in charge of this Premier League club, which is owned by Chinese holding company Fosun International.
League honors
Wolves have been in the top-flight division for 26 consecutive seasons between 1932 and 1965. During this period, they won three English football champions, under the era of manager Stan Cullis. They also won four FA Cup titles and other major leagues and cup competitions since their inception. Look below for detailed achievements of The Wanderers.
1. League
Football League First Division, superseded by the Premier League (First Division)
Champions (3): 1953–54, 1957–58, 1958–59

Runners-up (5): 1937–38, 1938–39, 1949–50, 1954–55, 1959–60
EFL Championship/Football League Second Division (1892–1992) (Second Division)
Champions (4): 1931–32, 1976–77, 2008–09, 2017–18

Runners-up (2): 1966–67, 1982–83

Play-off winners (1): 2002–03
EFL League One/Football League Third Division (Third Division)
Champions (3): 1923–24 (North), 1988–89, 2013–14
Football League Fourth Division (Fourth Division)
2. Cup
UEFA Cup
FA Cup
Winners (4): 1892–93, 1907–08, 1948–49, 1959–60

Runners-up (4): 1888–89, 1895–96, 1920–21, 1938–39
Football League Cup
Winners (2): 1973–74, 1979–80
FA Charity Shield
Winners (4): 1949*, 1954*, 1959, 1960* (* shared)

Runners-up (1): 1958
Football League Trophy
Football League War Cup
Texaco Cup
References
https://www.wolves.co.uk/teams/first-team/
https://en.wikipedia.org/wiki/Wolverhampton_Wanderers_F.C.