Lille vs Nantes Prediction, Odds & Betting Tips 27/05/2023
Who will reign supreme in the Lille vs Nantes showdown? Our prediction analysts provide betting tips and current odds for this highly anticipated match. [Ligue 1 Prediction] Lille vs Nantes Prediction: On Saturday, Nantes will come at The Decathlon Arena for the Ligue 1 matchup against the host team Lille. For all of our picks, poll results, facts, and current odds for the Lille vs. Nantes match, scroll down.
Lille vs Nantes Prediction: Recent Performance and H2H Stats
Lille's last 5 matches
Lille will be aiming to replicate their previous 2-1 victory over Marseille in the Ligue 1. During that match, Lille had 47% possession and took 12 shots at goal, with 3 of them hitting the target. Jonathan David (50') and Jonathan Bamba (72') were the goal-scorers for Lille, while Marseille had 8 attempts on goal, with 3 of them on target. Marseille's goal was scored by Jonathan Clauss (29').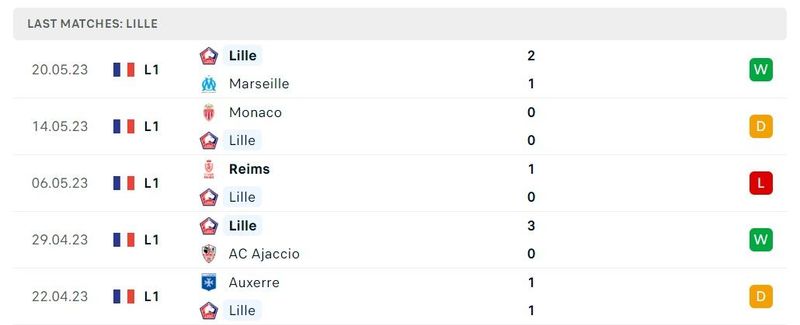 Lille's last 5 matches
Looking at their recent performances, Lille's defense has been impressive. They have been successful in keeping their opponents at bay, conceding only 4 goals in their last six matches. However, it remains to be seen if they can maintain this trend in the upcoming game. Lille's previous results highlight their dominance over Nantes in the league, as they have not suffered a defeat against them in their last 14 encounters. This is an impressive unbeaten streak. Additionally, Lille have not lost any of their previous 15 home league matches, which is truly remarkable.
Nantes's last 5 matches
After experiencing a defeat in their previous game against Montpellier in the Ligue 1, Nantes and their supporters are hoping for a better outcome this time around. In that particular match, Nantes had 43% of the possession and took a total of 13 shots at the goal, with 3 of them finding their mark. On the other hand, Montpellier made 13 attempts on goal, with 6 shots hitting the target. The goals for Montpellier were scored by Jordan Ferri (38'), Arnaud Nordin (47'), and Falaye Sacko (88').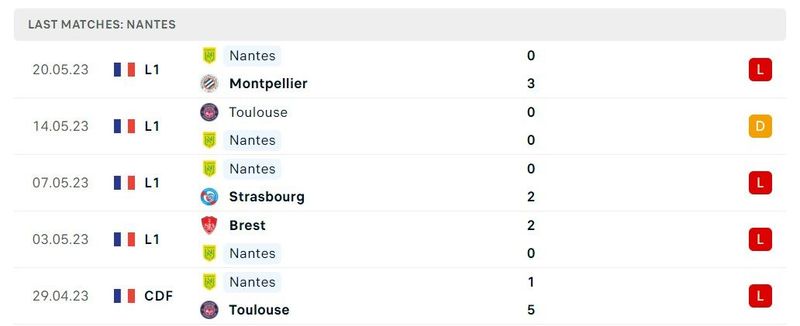 Nantes's last 5 matches
When we consider their recent performances, it becomes evident that Nantes has been conceding goals in 5 out of their last 6 games, allowing a total of 14 goals. It seems that Nantes has been vulnerable at the back. As we approach this upcoming clash, it's worth noting that:
Nantes hasn't managed to win any of their last 6 away games against Lille in the league. They will be eager to break this streak.
Additionally, Nantes hasn't secured a victory in their previous 6 league matches played away from home.
Lille vs Nantes H2H Stats
Looking back at their previous encounters since March 1, 2020, it's evident that Nantes has struggled against Lille. They haven't managed to secure a single victory, as Lille has consistently outperformed them, winning 67 percent of those matches. In total, there have been 10 goals scored in their head-to-head clashes, with 8 of them coming from Lille and only 2 from Nantes. This results in an average of 1.67 goals per game.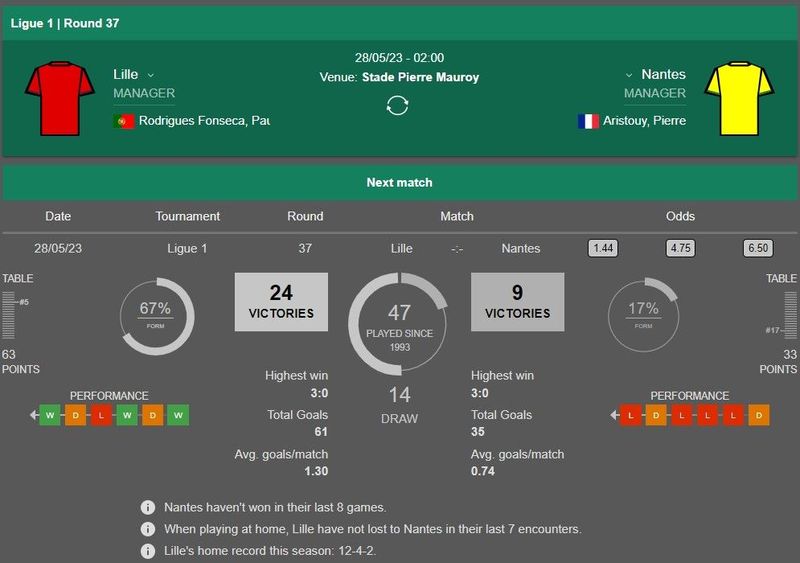 Lille vs Nantes H2H Stats
The most recent league match between these two teams took place on August 12, 2022, during Ligue 1 match day 2. The final score of that game was a 1-1 draw, with both teams finding the back of the net. During that match, Nantes had 30% possession and attempted 10 shots on goal, with only 1 of them on target. Moses Simon (28') was the scorer for Nantes. On the other hand, Lille had 16 shots on goal, with 5 of them on target. Ismaily (76') was the goal scorer for Lille. The referee overseeing the match was Bastien Dechepy.
Lille vs Nantes Current Odds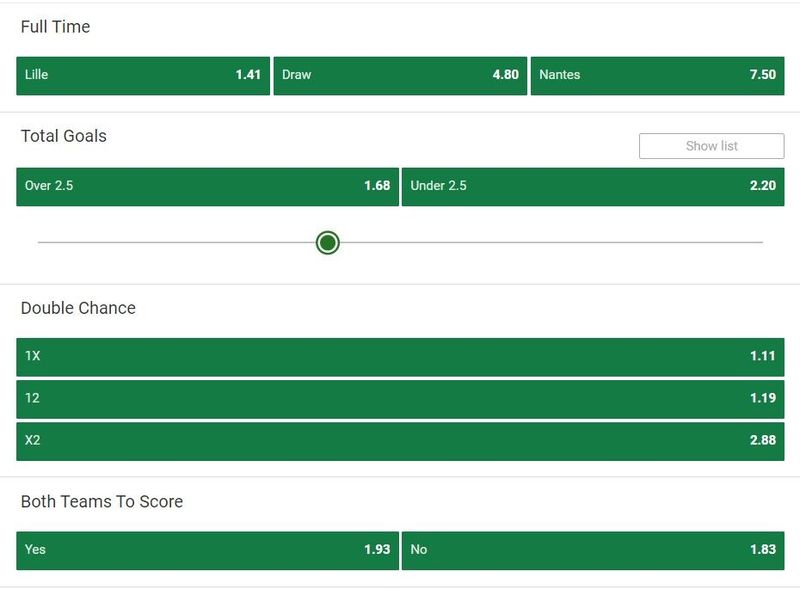 Lille vs Nantes Current Odds
Now, let us check a few of the other betting markets and top odds for this match:
Handicap Odds: Lille (1.91) / Nantes (1.88)
1x2 Odds: Lille (1.41) / Draw (4.80) / Nantes (7.50)
Over/Under Goals: Over 2.5 (1.68) | Under 2.5 (2.20)
According to the odds for the game in the win-draw-win market, betting on Lille to win is 1.41, betting on the game going evenly is 4.8, and betting on Nantes to win is 7.5. They are now the most affordable market prices available. Over 1.5 goals are the prediction of our expert partners for this game.
Lille vs Nantes Betting Tips
Lille vs Nantes Prediction 1: Lille to Win
Nantes has been facing some challenges since their victory in the Coupe de France last season. In their eight matches since then, they have achieved two wins, two draws, and four losses. It's important to note that Nantes failed to win any of their last three games, and what's even more concerning is that they didn't manage to score a single goal in those matches.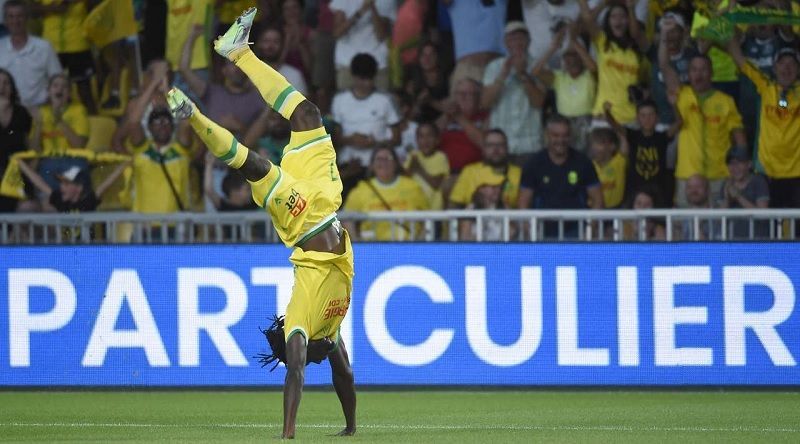 Lille vs Nantes Betting Tips
On the contrary, Lille has been in good form recently. They are coming off a convincing 4-1 victory against Auxerre and have only lost once in their last seven games. Additionally, Lille has had a strong hold over Nantes in recent years. They remain unbeaten in their last 14 encounters, having secured 11 wins and three draws. Considering all these factors, it's highly likely that Lille will come out on top and claim all three points in this match.
Lille vs Nantes Prediction 2: Under 2.5 goals
As was previously indicated, Nantes had gone three games without scoring, and as a result, the majority of their games had been low-scoring affairs. In fact, three of Nantes' past five games have been under 1.5 goals, while five of their last six games have been under the 2.5 goal threshold. Furthermore, Nantes and Lille have played each other frequently, with the majority of those games ending in draws. We shouldn't anticipate many goals in this matchup given that in all five of their previous encounters, these two teams have combined for fewer than three goals.
Lille vs Nantes Best Tips From Betimate
We believe Lille will maintain dominance for extended periods of time and should be able to convert some of the opportunities they create. Although Nantes will face tough odds, we believe that they have a very good chance of scoring here as well. As a result, Lille had a comfortable 3-1 victory at the end of the game.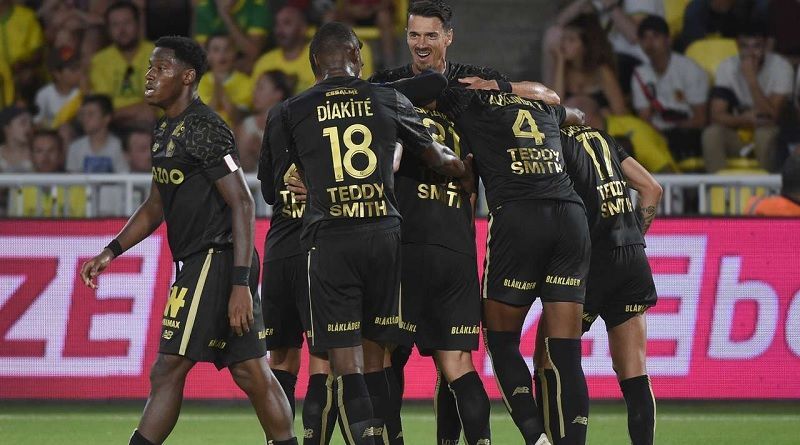 Lille vs Nantes Best Tips From Betimate
Lille vs Nantes Possible Lineups
Lille Predicted Lineup: Jardim, Zedadka, Fonte, Ribeiro, Djaló, André, Gomes, David, Cabella, Bamba, Bayo.
Nantes Predicted Lineup: Lafont, Appiah, Girotto, Pallois, Coco, Sissoko, Chirivella, Merlin, Blas, Guessand, Simon.
Lille vs Nantes: FAQs
Lille is the overwhelming favorite to win.

Lille 1-1 Nantes

19:00 GMT, 20:00 CET.
Enjoy your purchase? Buy our writer a coffee. Thank you
Category
Get out latest football predictions in your mailbox! Do not subscribe if you are not 18+