Real Madrid 0-0 Cadiz: Los Blancos held to shock goalless draw by bottom-ranked club
On Sunday 19 December, the 18th matchday of La Liga between Real Madrid vs Cadiz kicked off. Los Blancos played overwhelmingly in the whole game but they could not find a way to shoot clearly into Los Piratas's net and had to share points with the visitors regretfully. Real Madrid vs Predictions Predictions
After the game against Cadiz, Real Madrid would officially win the first leg of La Liga this season. As the favourite for the champion title, Real Madrid would definitely play hard to win with the best result. Having the home advantage as well as players' high form, Carlo Ancelotti's squad were considered to easily gain 3 points prior to their opponents who have been managing not to be relegated.
Bernabeu home team have been leading the 2021-22 La Liga with 42 points, having 8 points ahead of the second-ranked team Sevilla's. Since the beginning of the new season, they have been unbeaten in all games at their home stadium with 6 wins and 2 draws. Despite also being impacted by the Covid-19 pandemic as some main keys like Luka Modric, Marco Asensio could not play, manager Ancelotti had nothing to worry about because their substitute players' quality was also impressive.
While Real Madrid have been in high performances with 10 winning games in all competitions recently, Cadiz have been in their worst crisis. They were standing second from the bottom with just 13 points after 17 games. They were conceded up to 31 times with bad defence and the possibility for this number to increase was clearer than ever when their rivals have been the top team on the La Liga table with the best statistics.
It was predicted that Los Blancos would have a jubilant win at their home stadium when hosting Los Piratas to consolidate their dominance in the most prestigious club football league in Spain.
Real Madrid 0-0 Cadiz
Starting line-ups:
Real Madrid

: Thibaut Courtois, Lucas Vazquez, Éder Militao, David Alaba, Ferland Mendy (Nacho Fernandez 82'), Toni Kroos, Casemiro, Federico Valverde (Luka Jovic 70'), Eden Hazard, Karim Benzema, Vinicius Jr.

Cadiz

: Jeremias Ledesma, Carlos Akapo, Fali, Cala, Alfonso Espino, Alex Fernandez, Jens Jonsson (Álvaro Bastida 85'), Tomás Alarcon (Marcos Mauro 90'), Iván Alejo (Ivan Chapela 71'), Anthony Lozano (Álvaro Negredo 46'), Ruben Sobrino.
The home team attacked repeatedly right from the beginning time. In the 7th minute, Karim Benzema and Vinicius Jr coordinated to finish the ball but the Brazillian forward was chased and hindered by the visiting team's defenders.
10 minutes later, Benzema speeded up and managed to cross the ball. Goalie Ledesma pushed it away to Valverde's position but the midfielder failed to finish. In the 19th minute, a clear chance came to the home team when Ferland Mendy joined the attacking line. He kicked the ball rapidly but it was not strong enough to knock out Cadiz's goalkeeper. Real Madrid covered almost the pitch in the first half but they were less of sharpness when finishing, missing many tasty opportunities.
In the second half, Los Blancos still played aggressively. In the 55th minute, Toni Kroos passed the ball exactly to Eden Hazard's convenient position to make a header into Cadiz's net but Ledesma saved it perfectly. Vinicius continues threatening Cadiz's goal net just some minutes later but goalie Ledesma was really excellent in this game when protecting his domain successfully in all conditions.
In the 81st minute, Benzema took aim from the edge of the box. He picked up a defection but Ledesma saved the freekick clearly. Even in the 90+3rd minute, David Alaba's finishing was also not on target.
In the whole game, Real Madrid possessed the ball 82% of the time. They made up to 36 shots with 9 on target but there was no goal accepted. Whereas Cadiz just had 18% ball possession and 4 shots with 0 on target but they held back the home team impressively.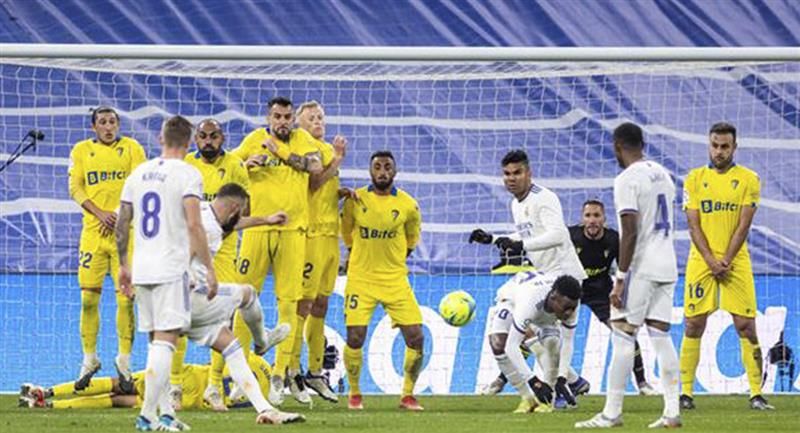 Real Madrid were held back regretfully
Some noticeable points about the match
Hazard was back
In the interview before the game, manager Ancelotti announced that Eden Hazard would play from the beginning of the match against Cadiz. The former Chelsea star was often on the bench due to his injuries and low form. He also did not play any minute in the latest 3 games of Real Madrid.
Therefore, this was the first match Hazard played in full 90 minutes. He was estimated with 7.1 points by Whoscored. This point was the same as Vinicius's and a bit better than Benzema's (7.0 points).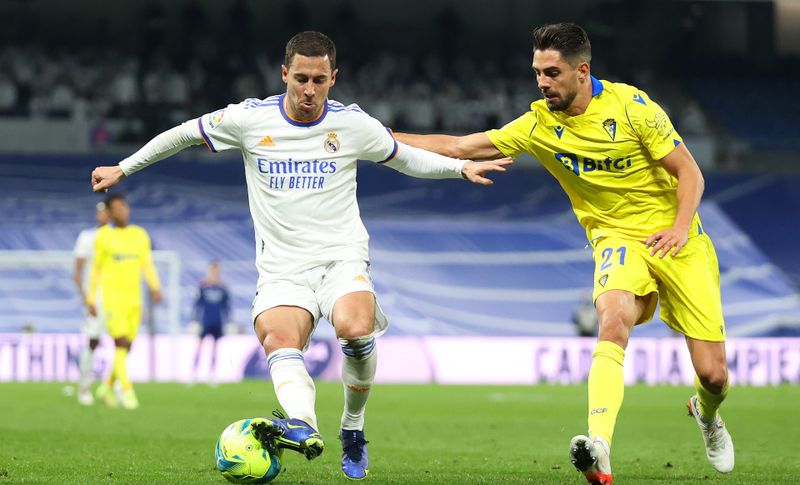 Hazard was in the starting line-up
Man of the Match
Cadiz's goalkeeper Jeremias Ledesma completed 9 saves prior to consecutive attacks from Real Madrid players. He got 8.6 points and became the MOTM in this game.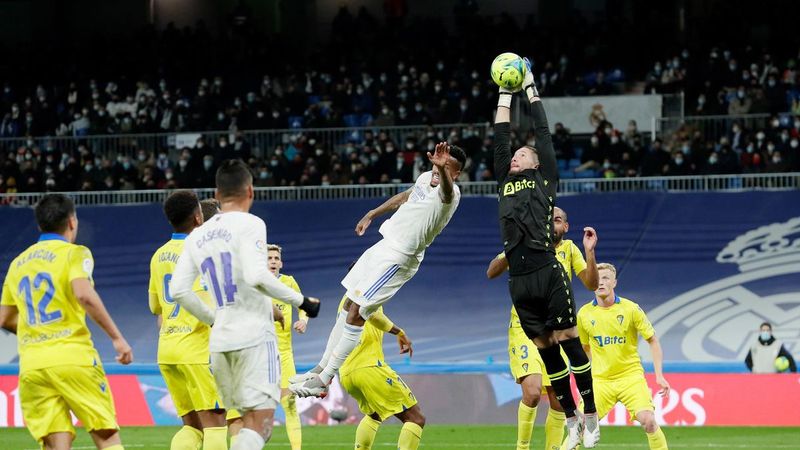 Ledesma saved goals impressively
Results after the match
Despite being shared points regretfully at home field, Real Madrid were still the top team in La Liga with 43 points after 18 games. Considering the first leg of the league, Los Blancos had 13 wins 4 draws and only 1 loss.
Cadiz have gained one more point but their achievement on the ranking table still remained second from the bottom. They had 14 points after 18 matches with only 2 wins, 8 draws and 8 losses.
Reference Sources