Real Madrid 2-0 Atletico Madrid: A deserved win for Los Blancos to secure their first place
Yesterday, Real Madrid and Atletico Madrid just had a derby La Liga match at Estadio Santiago Bernabéu. It was an excellent home game for Real Madrid, from the goalkeeper to the forwards and strikers, and they successfully surpassed their city rival Atletico Madrid with a 2-0 win. Lineups
Real Madrid: Courtois - Carvajal (Nacho 81), Militao, Alaba, Mendy - Modric, Casemiro, Kroos - Asensio (Valverde 85), Benzema (Jovic 46), Vinicius (Rodrygo 87)

Atletico: Oblak - Llorente, Felipe, Kondogbia, Hermoso - Correa (Suarez 60), Koke, De Paul (Herrera 69) - Carrasco (Lemar 46) - Griezmann (Felix 46), Cunha (Lodi 60)
Match preview
Real Madrid seem to be undefeatable this season. Within their first 17 La Liga games, they only suffered one loss (2-1) against Espanyol in an away match in early October and three draws. The other 13 games were their victories, including six home wins and seven away wins.
Real Madrid are leading the 2021-22 La Liga table for a while, with 39 points before the game between them and their city rival Atletico Madrid. Los Blancos are also the most successful club in the history of La Liga with 34 titles.
On the other side, the derby club Atletico Madrid are not bad in this campaign. They are in the top four of La Liga that is enough for them to qualify for the next UEFA Champions League. They have crowned 11 La Liga titles so far, and are currently the defending champion.
In general, we would say that Real Madrid are obviously superior to their city rival in this game due to their performances all that time and this match would be a home game for them too, but nothing can be sure until the match literally happens. Since Diego Simeone's students are showing great recently, Real Madrid also needed to play carefully with high attention.
The derby win for Real Madrid consolidates their table-leading position
Karim Benzema is currently the top scorer of this La Liga, and by having this player in the squad, Real Madrid already had many more advantages. It is no surprise that he scored the opening goal for the club in the 16th minute thanks to the assistance of Vinicius Junior from the right corner without having an off-side. They were playing at medium speed and then suddenly raised their pace to make a definite shot that the Atletico Madrid goalkeeper couldn't handle.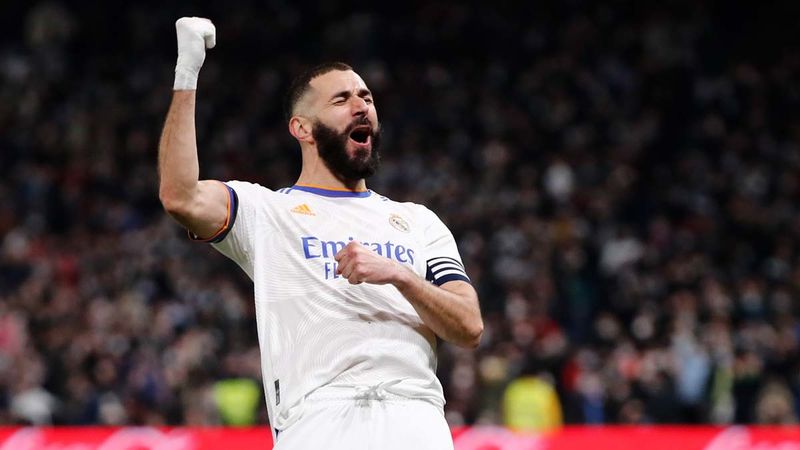 Karim Benzema scored the first goal for Real Madrid
In the 35th minute, Courtois did a really good job to fly into the air and save a loss for Real Madrid. The French forward Antoine Griezmann made a high-quality and hard shot with the hope to equalize the score, but the 2-meter goalkeeper from Real Madrid was just out of extraordinary.
The first half ended with a 1-0 win for Real Madrid. After the break, Benzema was replaced by Jovic, while Atletico Madrid substituted Felix and Lemar for Carrasco and Griezmann. In the 48th minute, Vinicius had a nice assist but Asensio was too hesitant to score, and they lost the chance soon with many Atletico Madrid players around.
But Asensio redeemed himself just nine minutes later by the second goal for Real Madrid. It was Vinicius again to assist this goal. Asensio this time had an accurate shot to break the net of Atletico that made goalkeeper Oblak show his impotence clearly on his face.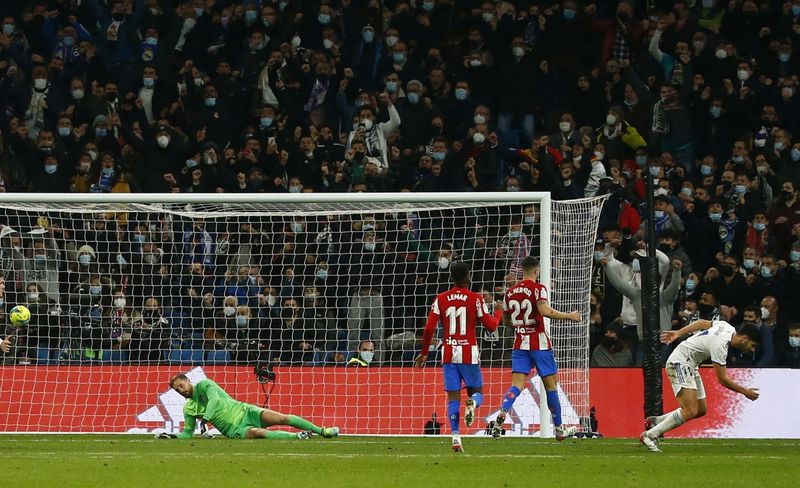 Asensio scored the second goal for Real Madrid
Vinicius lost his opportunity in the 78th minute to score the third goal for Los Blancos. In the last minutes of the game, Atletico tried to look for an honorable goal but all their attempts were blocked by the excellent goalkeeper from the home team.
The final result was 2-0 for Real Madrid, which increased their total points to 42, and the difference between them and the second-placed club Sevilla was increased to eight points. Atletico Madrid are standing fourth with 29 points, the same as the five-ranked team Real Sociedad, but they have a greater goal difference.
Man of the Match
Vinicius Junior started the game as the best player of the 2021-22 La Liga for November. This young Brazilian player has scored 12 goals for Real Madrid this season, including 10 La Liga goals and two Champions League goals. In this match, he made a double of assists for Benzema and Asensio to score and bring the victory for the club.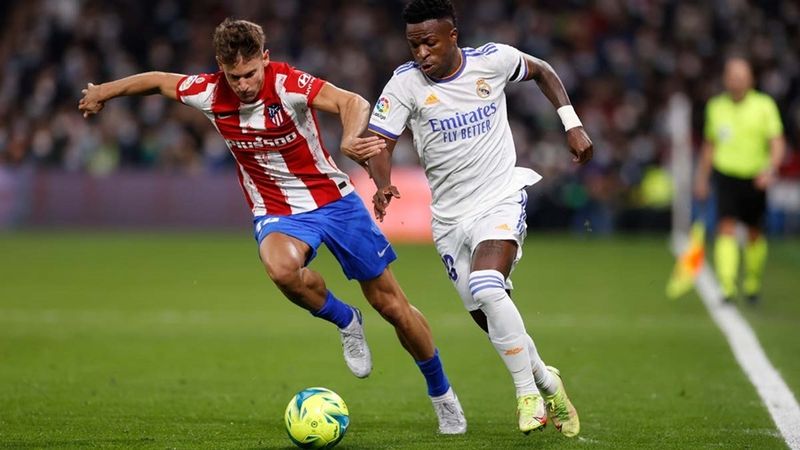 Vinicius created a double of assists in this game
However, in general, Thibaut Courtois is no doubt the King of the Match. He saved Real Madrid from many hard shots and kept their sheet cleaned.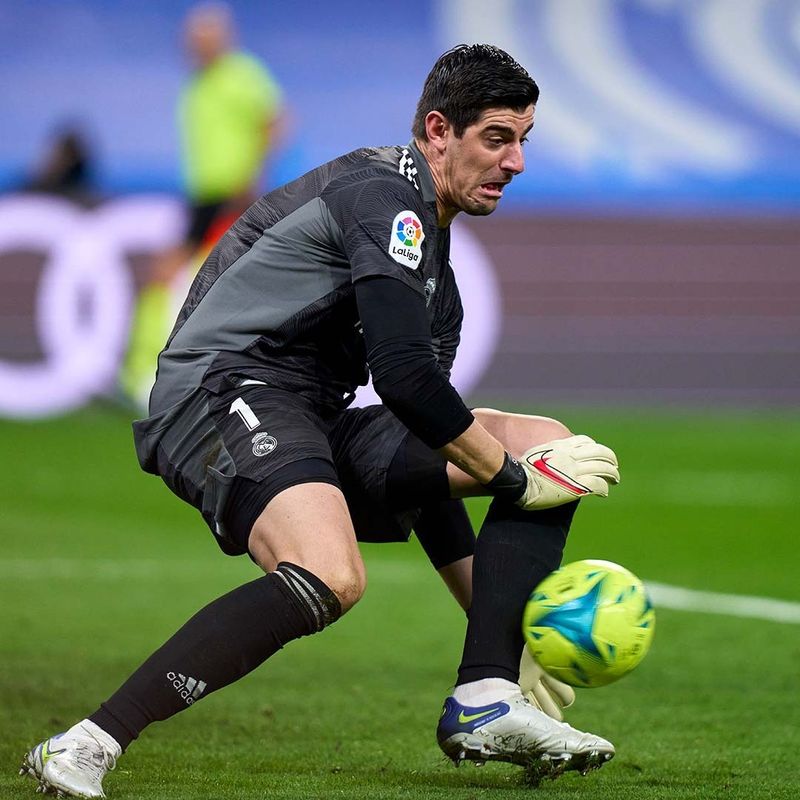 Thibaut Courtois- King of the Match
References
Wikipedia
Betimate.com
bbc.com