Real Madrid news: It has been 12 years since Benzema joined Los Blancos
Yesterday, June 9th, 2021, marked exactly 12 years since Benzema joined Real Madrid, and it has certainly been a rollercoaster journey. This Frenchman is one of the longest-serving players in the history of the Los Blancos club. 12 years of Benzema at Real Madrid FC
There are very few players who have played more games than Karim Benzema at Real Madrid. As of the present time, Benzema has had 559 appearances for the Spanish giants. He played only less than legend Santillana who had 654 games playing for the club.
Karim Benzema officially became a member of Los Blancos on 9 July 2009. He has played for the La Liga dominant club for 12 years until now. Real Madrid have tended to place him on the transfer list on some occasions but he still remains here.
Having no Christiano Ronaldo or Gareth Bale in the squad, Benzema has become the main factor for Los Blancos. He finished the 2020-21 season as the joint second-best goalscorer in La Liga with 23 goals in 34 appearances.
At the current Euro 2020 games, he scored 4 goals and finished just one goal behind Christiano Ronaldo, Harry Kane, Romelu Lukaku, and Emil Forsberg.
No matter whether Kylian Mbappe comes to Real this summer or not, Benzema will still be the club's attacking leader.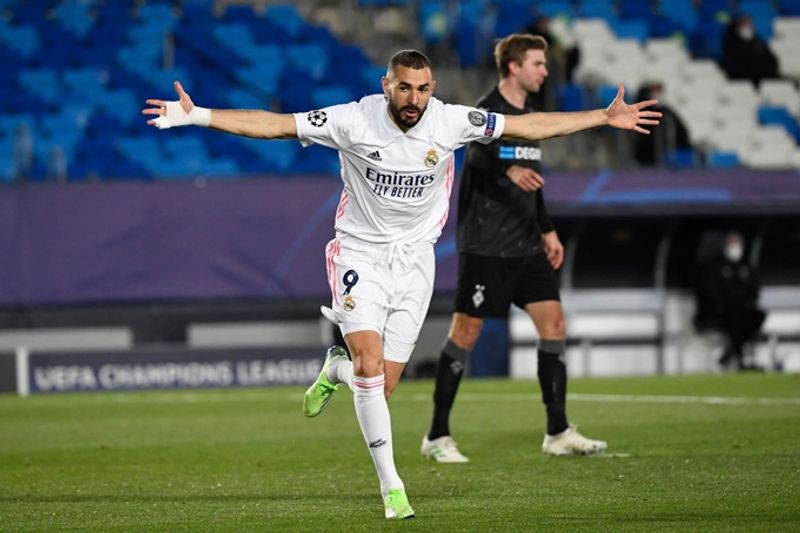 Karim Benzema had 12 years playing for Real Madrid
What should you know about Karim Benzema?
Who is Karim Benzema?
Karim Mostafa Benzema was born in Lyon, France on 19 December 1987. He is a French professional football player who serves as a striker for real Madrid FC in La Liga and the France national team.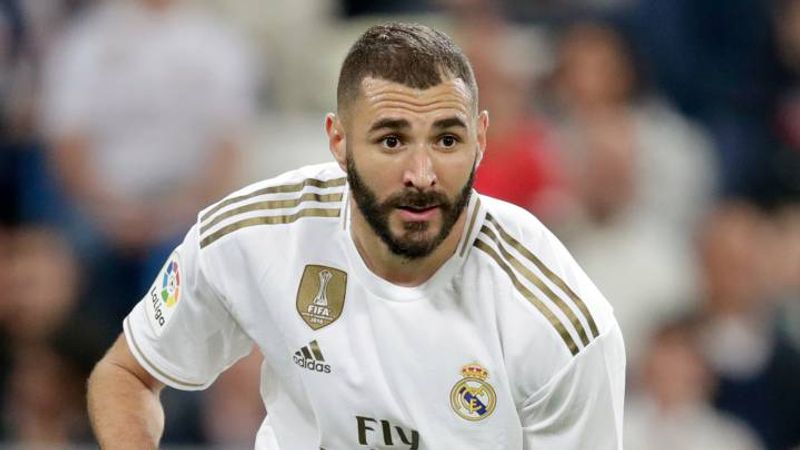 Karim Benzema
Karim Benzema's Club career
Early years
Karim Benzema started his football career at his hometown club Bron Terraillon SC when he was eight. he was then trained at Lyon academy from 1997 to 2005.
Karim Benzema Lyon
Youth career
Benzema quickly leveled up the youth categories in the academy. He was described as a "discreet and respectful" student.
Senior career
At the beginning of the 2004-05 season, Benzema was promoted to the club's reserve team- Lyon B and played in the Championnat de France amateur. During the break period to the second half of the season, he was called up to Lyon's first team for the first time under coach Paul Le Guen.
He then made his professional debut on 15 January 2005 in a 2-0 win over Metz, appearing as a subtitle for Pierre-Alain Frau.
Together with the whole team, Karim Benzema won 4 consecutive titles of Ligue 1 (2005-2008), 1 Coupe de France (2007-08), and 1 Trophee des champions (2006, 2007). Besides, he also owns many individual awards at Lyon named Bravo Award (2008), Ligue 1 top score (2007-08), UNFP Ligue 1 Player of the month ( Jan 2008, Apr 2008), UNFP Ligue 1 Player of the year (2007-08).
Karim Benzema Real Madrid
On 9 July 2009, Benzema successfully passed his medical test and signed the new 6-year contract with a fee of up to €35 million. He made his Real Madrid debut on 20 July in the friendly against Shamrock Rover as a substitute.
During 12 years, he had:
La Liga: 2011–12, 2016–17, 2019–20

Copa del Rey: 2010–11, 2013–14

Supercopa de España: 2012, 2017

UEFA Champions League: 2013–14, 2015–16, 2016–17, 2017–18

UEFA Super Cup: 2014, 2016, 2017

FIFA Club World Cup: 2014, 2016, 2017, 2018
He has also got many individual awards for his performances:
UNFP Best French Player playing Abroad: 2018–19, 2020–21

Étoile d'Or

: 2007–08

FIFA FIFPro World11:

3rd team: 2015, 2017

4th team: 2014, 2016

5th team: 2018

Nominee: 2009, 2011, 2012, 2019 (15th forward)

EDGE Performance of the Month: March 2011

UEFA Champions League Squad of the Season: 2020–21

UEFA Champions League top assist provider: 2011–12

La Liga Player of the Month: October 2014, June 2020, March 2021

French Player of the Year: 2011, 2012, 2014

Fastest goal in an El Clásico on 10 December 2011 (21 seconds)

Trophées UNFP for Best French Player playing Abroad: 2019, 2021

UEFA La Liga Team of the Season: 2019–20

Trofeo Alfredo Di Stéfano: 2019–20

MARCA's Best Player in 2019–20 (Voted by Fans)

L'Équipe's team of the year: 2020 (Voted by Fans)

Onze d'Or: 2020–21

ESM Team of the Year: 2020–21
Karim Benzema France team
Benzema won the 2004 UEFA European Under 17 Championship and had his first match for the France senior team in 2017 at the age of 19. He has earned over 80 caps and appeared in four major tournaments: 2008, 2012, 2020 European championships, and the 2014 FIFA World Cup. He did not play for the national team for over 5 years (2015-2020) after being criticized in a publicized scandal involving blackmail in 2015. He's just returned to the squad for Euro 2020.
Karim Benzema's style of play
Karim Benzema is known as an attacker who is creative, skillful, agile, and prolific on the pitch. He is good in the air and can play off the shoulders of the last defender. Benzema has been described as an " immensely talented striker" with a "strong and powerful" style. Although he is often deployed as a center forward, he can play well as an out-and-out striker or winger.
Reference Sources
Betimate.com

https://en.wikipedia.org/wiki/Karim_Benzema#Real_Madrid