Sevilla vs Barcelona: Barca miss their chance to join Top 4
On matchday 18 of La Liga kicking off yesterday evening (ET), Barcelona were held back 1-1 by the host team Sevilla. Having just 1 point after the game, Barcelona could not improve their rank much and missed the chance to enter the Top 4 of the highest football division in Spain this season. Follow us now to get the latest information about this match! Sevilla vs Barcelona Prediction
Barca look for their glorious time
The return of Xavi as the new manager of the club gave Barca's fans a lot of hope about the revival of the club. However, the Spaniard legend seemed to be at a standstill when managing the club at the 8th rank in La Liga. This result has not been different rather than Koeman's period.
Since Xavi returned to manage Barca, the club have not had any persuasive win in 7 games in all competitions. At the time before the clash vs Sevilla happened, Blaugrana were having 27 points, just 3 points less than Rayo Vallecano's result who were standing fourth on the standing table. The chance for the Catalant giants to join the Top 4 was right there.
Xavi put his trust in the young generation of the club with Gavi, Jutgla and Nico Gonzalez whose names were put on the scoresheet in the 3-2 win against Elche last week. However, young players' performances are often not stable and Xavi will need to improve his squad more and more to face strong rivals in the following games.
Facing Sevilla is exactly one of the hardest challenges of the team when they have been being the runners up in La Liga this season with 38 points. If Barca have a win against Los Nervionenses, they can yet not overcome this club but Catalant giants' spirit will increase a lot, dispelling their bad series with 3 losses, 1 draw and just 1 win recently.
Sevilla were not underdogs
Competing against Barca in this game is an in-form Sevilla. Julen Lopetegui's squad have been having an unbeaten run with 3 consecutive winning games in La Liga. Recently, they have defeated 2-1 over the defending la Liga champions Atletico Madrid impressively. They will have 40 points, just 3 points less than the top team Real Madrid's if continuing winning in the game against Barcelona.
Sevilla have a strong defence and clear tactics. Their attacking line has been also in good form with Lucas Ocampos, Papu Gómez. Despite their head-to-head statistics were not as good as Barca's in the past, they are now estimated better than the visitors' with impressive performances this season. In addition, having home advantage, Sevilla can make Catalant giants meet a lot of difficulties in the game.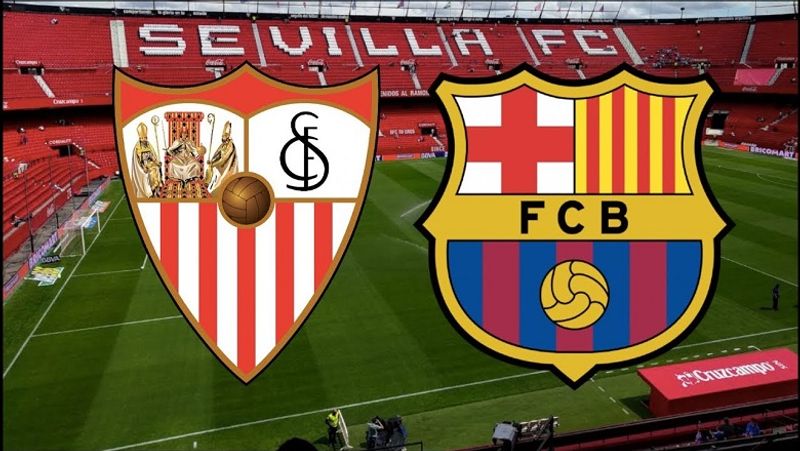 Sevilla vs Barcelona
Sevilla 1-1 Barcelona
Starting line-ups:
Sevilla

: Bono, Karim Rekik, Diego Carlos, Jules Kounde, Thomas Delaney, Fernando, Joan Jordan, Ivan Rakitic, Lucas Ocampos, Papu Gomez, Rafa Mir.

Barcelona

: Ter Stegen, Ronald Araujo, Gerard Pique, Eric Garcia, Jordi Alba, Sergio Busquets, Frenkie De Jong, Gavi, Abde Ezzalzouli, Ousmane Dembele, Ferran Jutgla.
From the beginning, Barcelona immediately attacked to possess the ball as much as possible. Meanwhile, Sevilla also played firmly with complete cooperation. Barca's Dembele played positively but his connection with the other 2 attackers, Jutgla and Abde, sounded to be not good. The French forward usually had to make long shots when having opportunities.
Sevilla players controlled the ball pretty well. They found gaps to apply surprising counterattack situations. In the 22nd minute, Rafa Mir celebrated his goal after knocking out Ter Stegen but his goal was denied due to an offside foul.
However, the Sanchez Pizjuan home team also did not have to wait too long for their first goal. In the 32nd minute, Sevilla opened the scoring for the game. Getting the pass from Ivan Rakitic, Papu Gomez rapidly caught his chance and finish, beating Barca's goalie.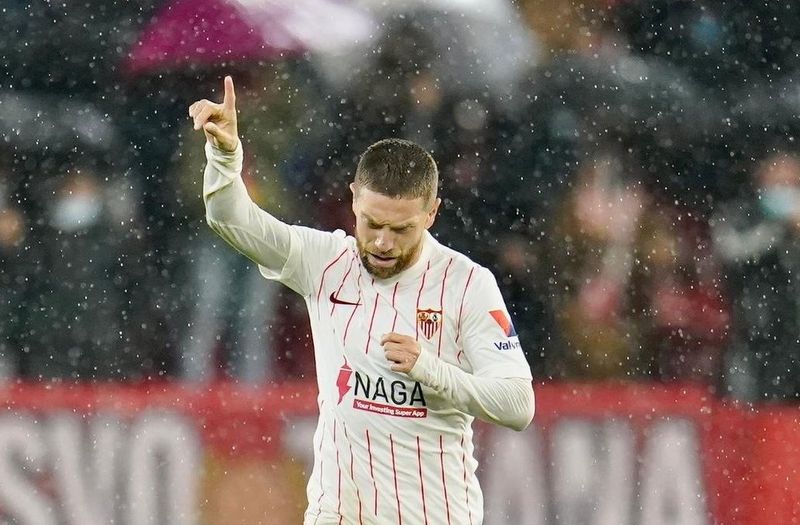 Papu Gomez opened the scoring
The visitors then attacked repeatedly in order to equalize the score. It was not until the 45th minute for them to create magic after 14 unsuccessful shots from the start of the game. Ronald Araujo made a perfect header from Dembele's assist to knock out Bono.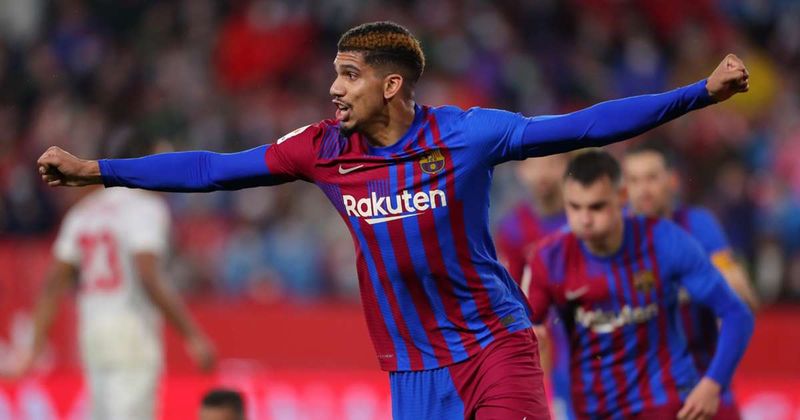 Araujo equalized the score for Barca
In the second half, Blaugrana continued to play overwhelmingly but they were always unlucky in the last shots. In the 64th minute, Sevilla's Jules Kounde got a straight red card after throwing the ball to Alba's face. The home team managed to play with just 10 players on the pitch.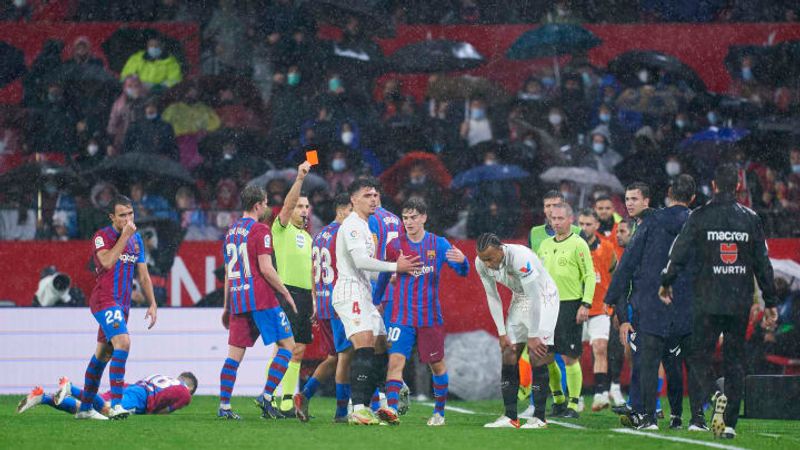 Jules Kounde got a straight red card
Taking that advantage, Barca attacked continually but their shots were easy for goalie Bono and Sevilla's defenders to guess and hinder. Gavi's header in the 81st minute was failed. 3 minutes later, Dembele had a dangerous shot but it was denied by the goal post.
Unluckily, despite having more opportunities than the home team, Xavi's squad did not earn the second goal in the game. The final score was 1-1 and both teams had to share points regretfully. Barca had 28 points and stayed seventh on the table, missing their rare chance to join the Top 4. Whereas, Sevilla had 38 points, still standing second but having 5 points less than the top team Real Madrid.
Reference Sources