What do you know about Barcelona's best president Joan Laporta?
After being elected as the president of Barcelona FC in March 2021, Joan Laporta has had many new steps in order to improve the current football teams as well as satisfy the club's supporters. This is the second time he holds this position and he is considered the most successful president in terms of trophies won per year. Let Betimate help you to understand more about this brilliant chairman! Who is Joan Laporta?
Laporta's full name is Joan Laporta i Estruch. He was born in Barcelona on 29 June 1962. He is a Spanish politician and currently the president of FC Barcelona.
Joan Laporta graduated from the University of Barcelona. He became a lawyer and served as MP in the Parliament of Catalonia between 2010 and 2012. The 59-year-old's first tenure as president of Barcelona was a success for the club. They set a new record for cups won in a 12-month period, winning 6 trophies in 2009. After departing in 2010, he was re-elected as Barcelona's incumbent president in 2021.
Joan Laporta wife is Constanza Echevarría but they are now divorced. They had 3 children named Pol, Guillem and Jan.
Barcelona President Joan Laporta
Joan Laporta President Career at Barcelona FC
1. First Tenure (2003-2010)
Laporta's first season in charge
In the 2003 elections, Laporta did not start as the favorite candidate, but his charisma increased quickly during the electoral campaign, and he finally won against the expected one, publicist Lluís Bassat. Having been supported by Sandro Rosell and some other businessmen, Laporta became a media star, even more than some players at that time.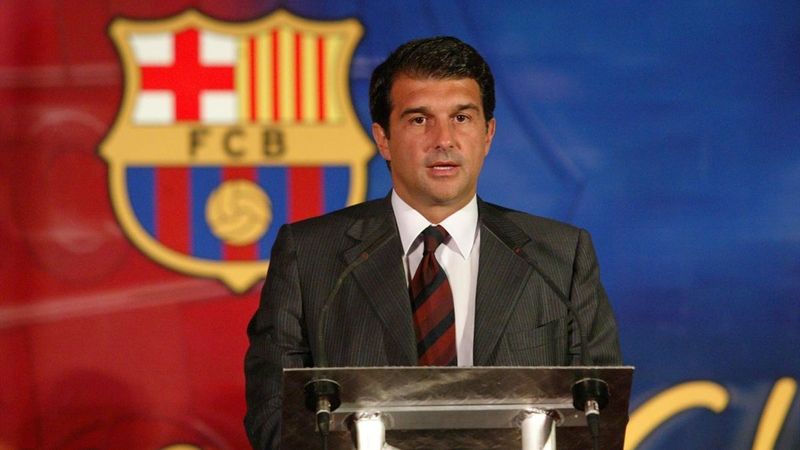 Joan Laporta - first president tenure
The arrival of coach Frank Rijkaard
Joan Laporta president brought superstar Ronaldinho to the Blaugrana after his target David Beckham decided to move to Real Madrid and Thierry Henry chose to stay at Arsenal. He also introduced Frank Rijkaard as a new manager.
The president also decided to fight against the threat of violence outside the Camp Nou stadium.
Laporta was continually pleading with the fans for patience and understanding when the club gradually phased away underperforming players from the old guard in order to establish a new-look team around Ronaldinho.
Joan Laporta demanded his board to foster creative business ideas to raise revenue, and that management's new style eventually worked well. The fortunes of the club were changed from the bottom team of the table in 2003-04 back into a strong team finishing top in the 2004-05 and 2005-06 seasons.
During his tenure, the massive financial debt of the club started to be cut down, and only two players remained from the original team. With new players like Deco, Samuel Eto'o, and Edmílson around Ronaldinho and a qualified core of home-grown players like Carles Puyol, Xavi, Andrés Iniesta, Víctor Valdés and Oleguer, Barca finally won the UEFA Champions League in 2006 as well as that year's La Liga title. Also in 2006, Barcelona announced a five-year sponsorship contract with UNICEF after a long history of avoiding shirt sponsors.
Re-election as Barcelona president
The new elections were supposed to take place on September 3, 2006, but they were canceled after Barcelona affirmed Laporta's presidency for another four years on August 22, after no other candidate secured the minimum 1,804 signatures.
Vote of No Confidence
In the next 2 seasons, Barca's results were poor. Exit polls showed that Laporta received 60.60 percent of the 39,389 ballots cast against him. Although he lost the popular vote, he fell short of the required 66 percent to force new elections. Laporta was speculated to resign due to pressures around but he dismissed that.
The return of Pep Guardiola
After firing coach Frank Rijkaard, Laporta appointed the untested and inexperienced Pep Guardiola, who captained Barca's team at the end of the "Dream Team" era. Barcelona then had the best season in its history when winning the treble of Copa del Rey, La Liga, and Champions League. In the same year, they also won more cups of Supercopa de España, UEFA Super Cup, and FIFA Club World Cup, all in 2009.
2. Second Tenure (2021-present)
In November 2020, Laporta officially announced his presidential candidacy for the 2021 elections. On March 7th, Laporta received 54.28% of the vote in the presidential election, beating over Victor Font and Toni Freixa, who received 29.99 percent and 8.58 percent of the vote, respectively. His candidacy was supported by many of Barcelona's lovers, including the genius striker Lionel Messi.
His predecessor was Josep Maria Bartomeu, who resigned in October 2020 to avoid a vote of no confidence by the club's members.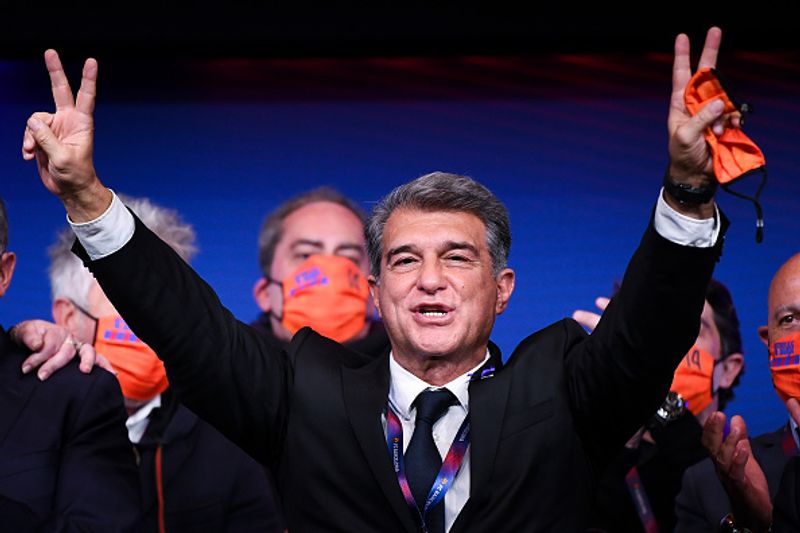 Joan Laporta - second president tenure in 2021
Joan Laporta political activities
Joan Laporta has long been involved in politics. In 1996, he joined the Independence Party which was formed by former members of the Republican Left of Catalonia Pilar Rahola and Àngel Colom.
Laporta has long wanted to enter Spanish politics after leaving his position as president of FC Barcelona. He supported Catalan independence but has been chastised by others who believe the club should remain politically impartial.
After the end of his second term as Barca's president, he formed the independence-seeking political party Democràcia Catalana, which was merged with other extra-parliamentary parties to form Catalan Solidarity for Independence. Laporta was selected to become its president. He was then also elected in the circumscription of Barcelona. In 2011, he left the Catalan Solidarity for Independence.
Reference Sources
Betimate.com

https://en.wikipedia.org/wiki/Joan_Laporta