Impressions of Karim Benzema with France.
Despite 6 years of absence, Karim Benzema still attended 4 major tournaments, won a title, and scored 37 goals in 97 matches before deciding to leave the French team on December 19.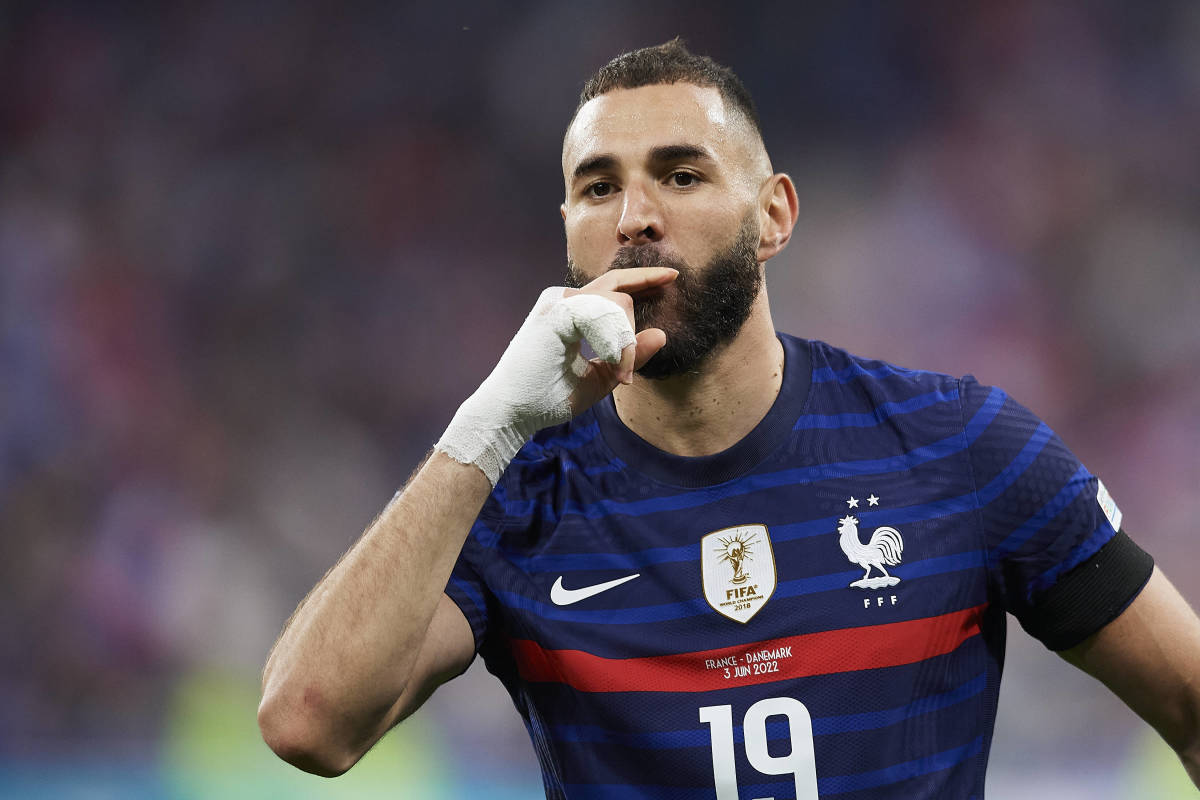 On March 28, 2007, Benzema made his debut for France, winning 1-0 against Austria. He was launched by coach Raymond Domenech in the second half, replacing senior Djibril Cissé. The 19-year-old striker then took only 7 minutes to make his mark, scoring the only goal of the game, after a free kick from Samir Nasri. This is the first of Benzema's 37 goals for "Les Bleus."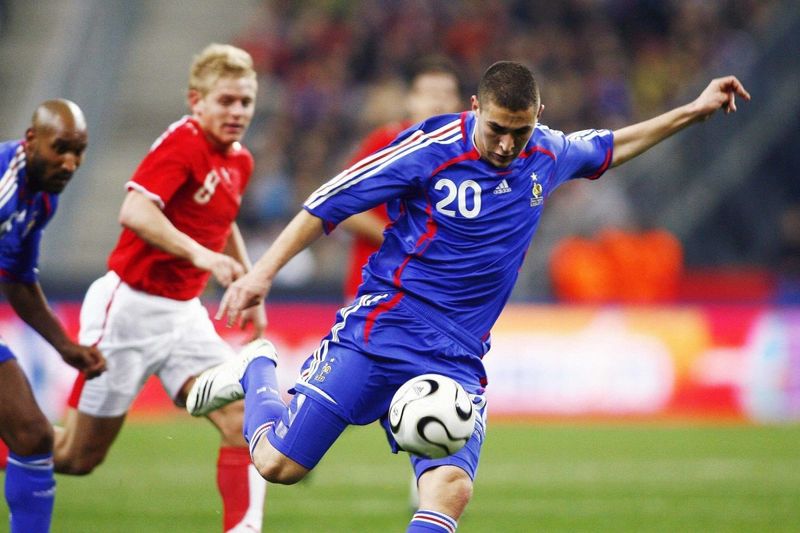 Benzema played his first match for France.
The 2022 Ballon d'Or winner's first match in a major tournament was on June 9, 2008, drew 0-0 with Romania. Benzema and the entire French squad were unable to get past the Romanian defense in this game, which served as the tournament's opening contest for France. By the 78th minute, he He was taken off the field. France also failed in that tournament when losing to the Netherlands 1-4 and then Italy 0-2 and was eliminated from the group stage.
EURO 2008 was the first major tounament of Benzema.
On June 2, 2012, Benzema and the French squad suffered their second consecutive defeat at the hands of Spain in the EURO quarterfinals. Benzema had moved to Real Madrid and was the number one star in the national team's attack at that time. But in the 90 minutes of competition at Donbass, Ukraine, he and "Les Bleus" were powerless before the tiki-taka style of Spain and lost 0-2 because of Xabi Alonso's brace. Benzema also failed to score in four matches in this tournament.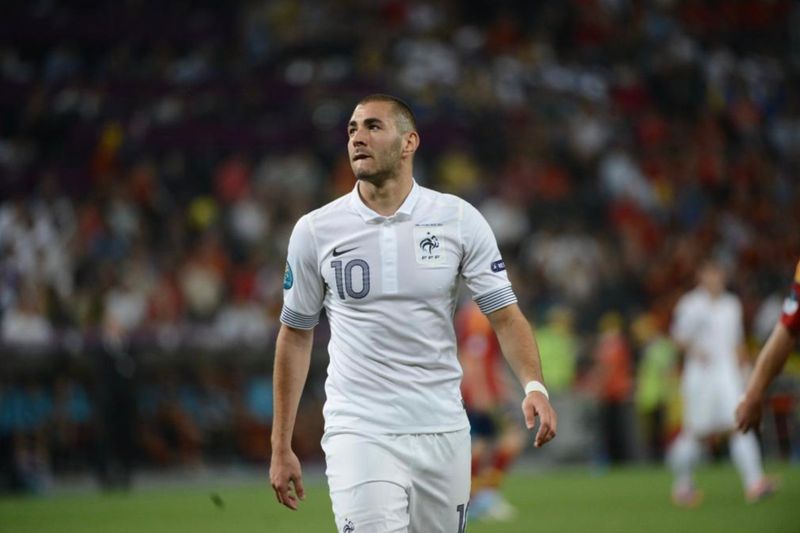 Benzema failed to score in his second EURO in 2012.
On October 11, 2013, after 1,222 minutes without scoring in the French team's shirt, lasting for 16 months, Benzema also "fired" again. "Les Bleus" attacking line flourished at Parc des Princes, and Benzema also contributed a goal, which made the score 6-0 in the 50th minute of the match against Australia.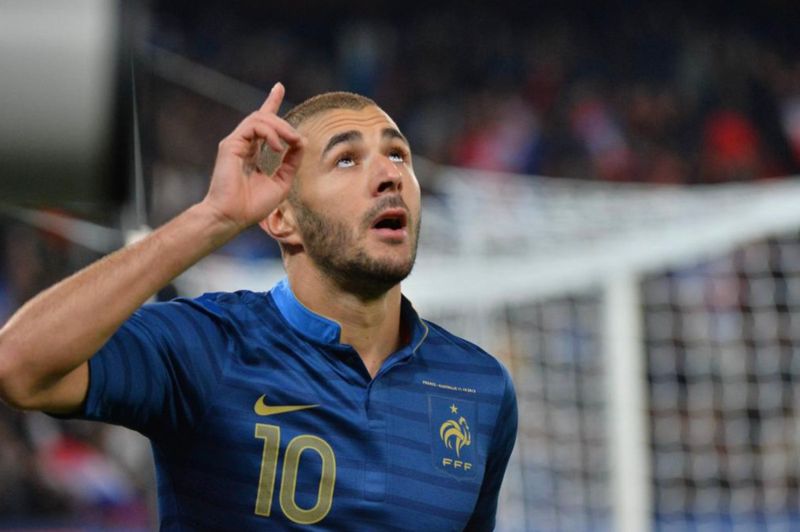 Benzema scored his first goal after 16 months against Australia in 2013.
The first time he scored in the World Cup was on June 15, 2014, beating Honduras 3-0. In his first World Cup, Benzema made a great impression, when he opened the scoring from the penalty spot in the 47th minute and then made the result 3-0 in the 72nd minute. This performance confirmed his leading position as the number one star of "Les Bleus" in the revolution the new coach Deschamps carried out when he succeeded Laurent Blanc after Euro 2012.
The 2014 tournament in Brazil was Benzema's first World Cup.
Real Madrid striker Karim Benzema made his debut as France's captain on March 27, 2015, in a prestigious friendly match against Brazil. Benzema was given the responsibility of replacing captain Hugo Lloris, who was absent. But this position didn't seem to suit him, as France was overwhelmed by Brazil and Benzema didn't have any chances for the whole game. France then lost 1-3.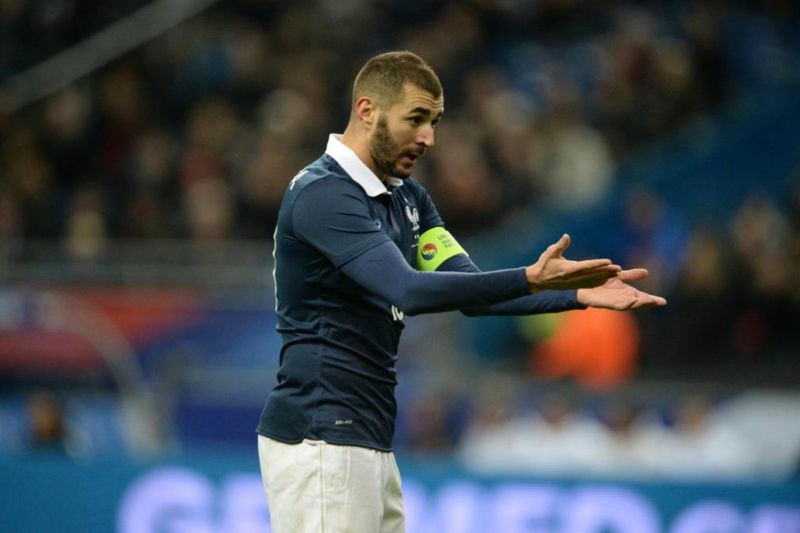 Benzema failed to score in the first match being France's captain.
Benzema's last match for France before the scandal of blackmailing teammates with sex tapes was on October 8, 2015, when France won 4-0 against Armenia. After scoring only 1 goal in 12 games back then, Benzema started the match badly and was booed by the crowd at the Allianz Riviera in Nice. But Benzema, with a double in 3 minutes, silenced those boos. However, after this match, the scandal of Benzema's participation in the use of sex tapes to blackmail teammate Mathieu Valbuena broke out, and he was banned from the French team for six years. Therefore, Benzema missed the opportunity to attend Euro 2016 and then the World Cup 2018—two tournaments in which France finished second and then won the world championship.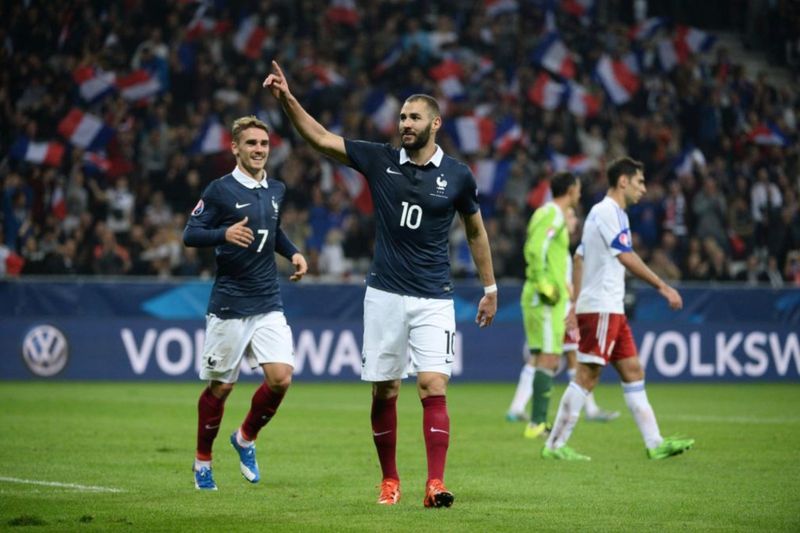 Benzema silenced all the boos in the match against Armenia with a brace.
In the process of preparing for Euro 2020, a tournament that took place a year late because of COVID-19, coach Didier Deschamps and the French Football Federation (FFF) agreed to put aside the past, summoning Benzema to return to the team in a friendly match with Wales on June 2, 2021. In attack that day, Benzema collaborated with Kylian Mbappe and Antoine Griezmann. Griezmann also let Benzema kick a penalty in this match, but the Real Madrid striker missed his chance. Benzema then joined France at Euro 2021, where he scored four goals, including a brace in a 3-3 draw with Switzerland, and then lost in a penalty shootout in the round of 16.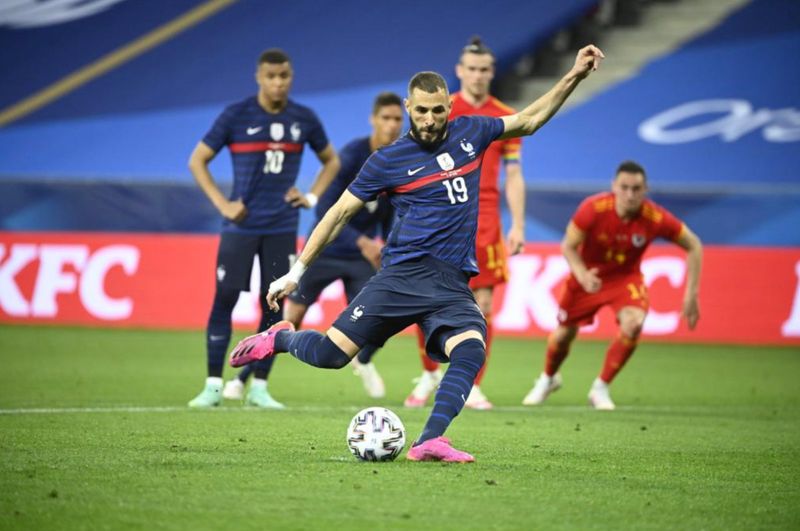 Benzema was called up after 6 years before EURO 2021.
Benzema exceeded Zidane's scoring record for France on October 7, 2021, beating Belgium 3-2. It was the semi-finals of the Nations League, and Benzema shone with a solo dribble, scoring a goal to shorten the score to 1-2. It was also his 32nd goal for "Les Bleus," surpassing his legendary senior Zinedine Zidane's record. Benzema's masterpiece also opened the way for France to beat Belgium 3-2.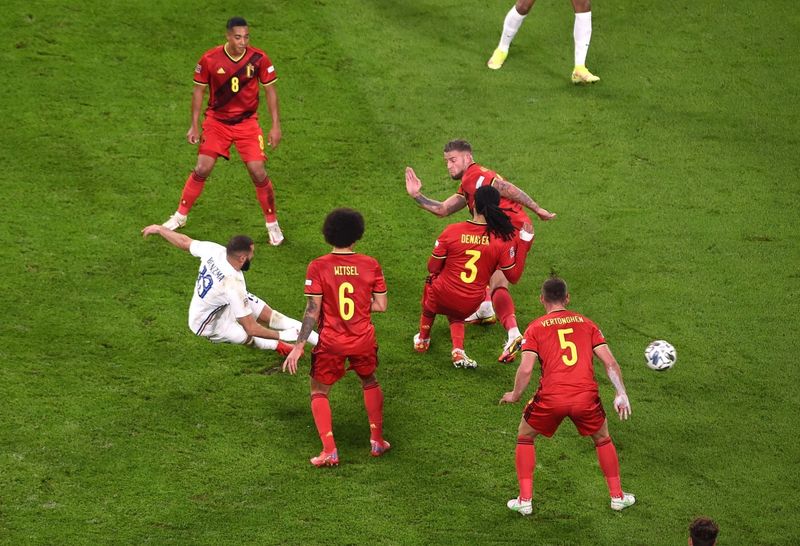 Benzema created a masterpiece in the match agaisnt Belgium.
Three days after the semi-final, on October 10, 2021, Benzema won the only title with France. In the 66th minute of the final versus Spain, he continued to score with a stunning curl to tie the game at 1-1 for France. The French squad won 2-1 thanks to a goal from Kylian Mbappe 14 minutes later, and Benzema won his first and only championship with them.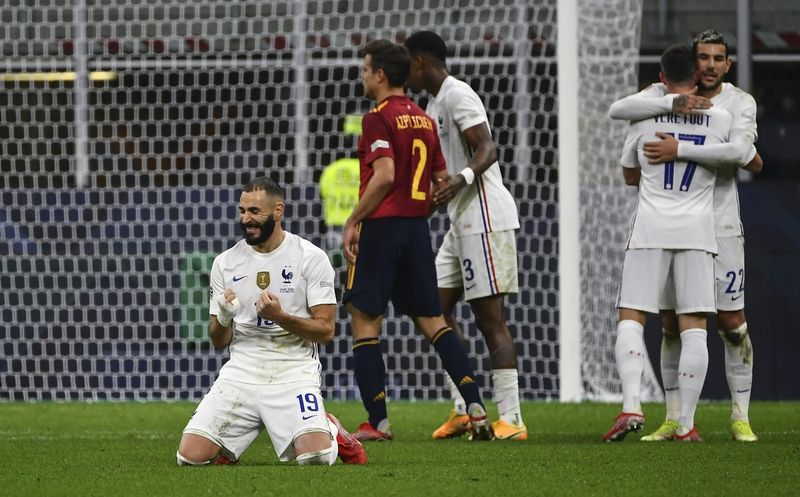 Benzema and France claimed the Nations League 2021 after defeating Spain.
On June 3, 2022, the former Lyon player played his final match for his country. At the Stade de France, Benzema continued to perform at his best and opened the scoring in the 51st minute of the opening match of Group A1 of the Nations League 2022–2023. This was his 37th goal for "Les Bleus", but the team that day lost 1-2 to Denmark.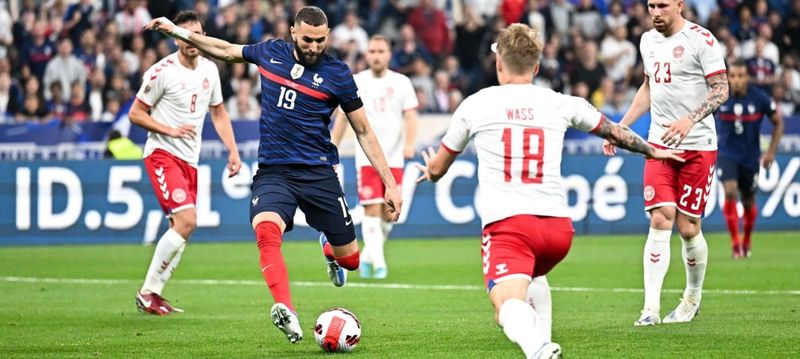 Benzema scored in his last match for France.
In spite of being selected for the French team for the 2022 World Cup, Benzema was diagnosed with a quadriceps recurrence just three days prior to the French team's opening match. Benzema was sent back to Madrid to be treated for his injury after meeting with coach Deschamps and the medical team. He swiftly healed in time for France to participate in the 2022 World Cup final, and as he was still on FIFA's registered list, he was still qualified to travel back to Qatar and play in the title game. On December 19, Benzema announced his departure from France after declining an offer to play or watch this game.
During his career, Benzema only attended Euro 2008, Euro 2012, Nations League 2020-2021, the 2014 World Cup, and closed his international career with 37 goals in 97 matches for France.