Roma FC players: Top five all-time greatest players
Betimate takes a look at the five players in the history of Roma who are considered the best players of all time. There are no players who are in the current squad of Roma that can jump to this list, but rather other footballers who were parts of this club during the 19th and 20th centuries.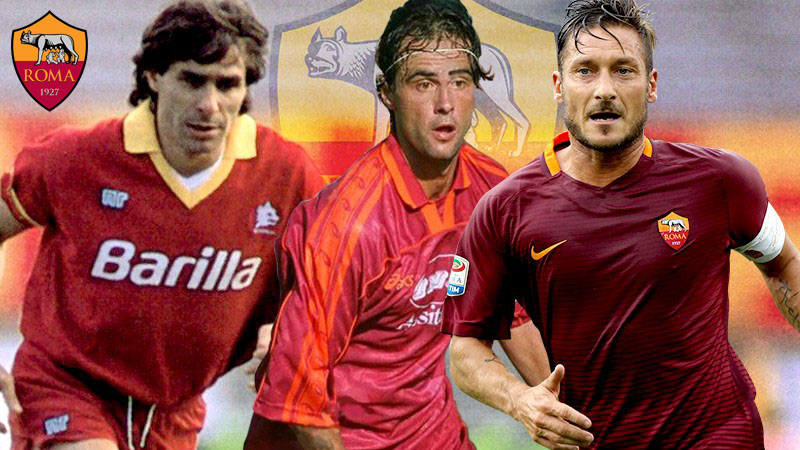 List of A.S. Roma first-team squad
After a dramatic transfer season, A.S. Roma completed their squad with 28 players, including two loaned players from Real Madrid and Verona. The above list of first-team players in Roma's squad was last updated in early September.
Accordingly, they have many foreign players, from Spain, Portugal, England, Brazil, or France to name a few in addition to hometown players. Midfielder Lorenzo Pellegrini, who has played for Roma for five seasons so far, is currently the captain of the club, followed by defender Gianluca Mancini as vice-captain and Bryan Cristante as the third captain.
There are also many players who temporarily leave Roma for other clubs, mainly for a season-long loaned deal. For further information, check the following table:
List of Roma captains and their statistics
Top five all-time greatest players of Roma
5. Paulo Roberto Falcão
The first player on this list is a foreign footballer who came from Brazil. This former midfielder played for A.S. Roma between 1980 and 1985 when the club won two Coppa Italia, one Serie A title, and finished second in the 1983-84 European Cup.
Paulo was included in the Brazil national team for a decade and used to be the manager of this top-flight football team too. He was awarded numerous rewards, notably the A.S. Roma Hall of Fame of both Italian football and Brazilian football, World Soccer's 100 Greatest Footballers of All Time, or the Golden Foot recently as a legend.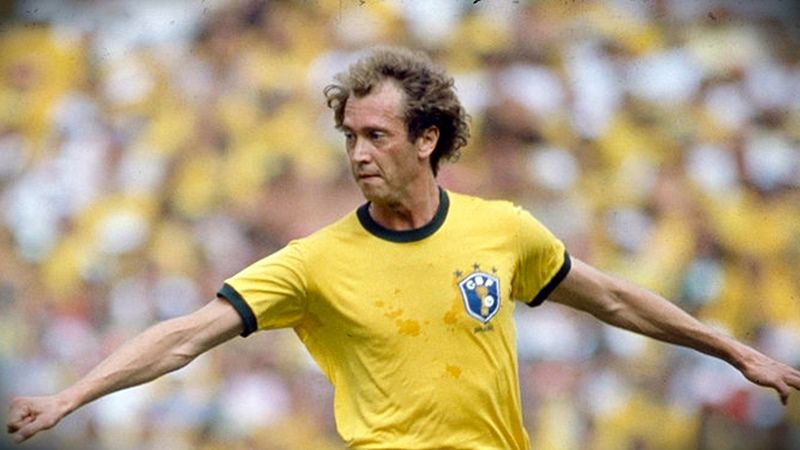 Paulo Roberto Falcão
4. Roberto Pruzzo
Roberto Pruzzo was prized for his ability to produce plenty of goals. Within 10 years playing for Roma, he scored 106 goals in 240 appearances. No wonder why Roberto received the Serie A top-scorer title in three seasons and the Coppa Italia top-scorer in one season. He was also included in the A.S. Roma Hall of Fame in 2012.
After retiring as a player, Roberto became a football manager of several Italian clubs which mainly play in Serie B, Serie C, and other minor domestic leagues. He was also the player who scored the equalizing goal against Liverpool in the final of the 1983-84 European Cup, but they, unfortunately, lost to the English side in the penalty shot.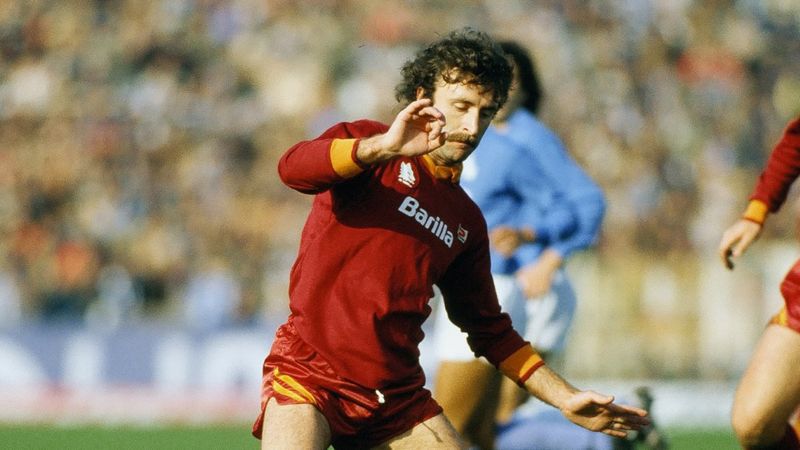 Roberto Pruzzo
3. Giuseppe Giannini
One of the symbols of Roma in the late 20th century. He spent his first senior years in Roma after being trained in the youth side of this club. Within 318 appearances with the club, Giannini brought 49 goals to Roma and was named in the A.S. Roma Hall of Fame in 2013.
He was also known by the nickname "The Prince" due to his beautiful, accurate, and skillful technique and style of playing.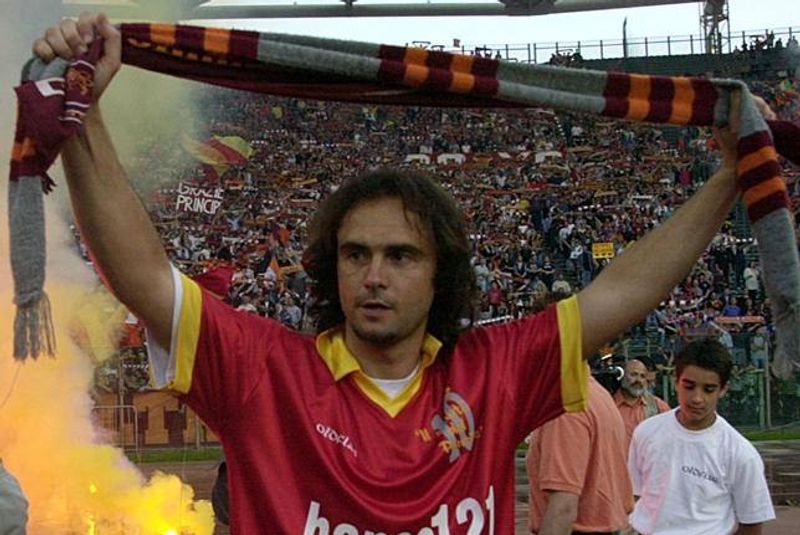 Giuseppe Giannini
2. Bruno Conti
This left-footed winger was versatile and one of the key players of Roma during the period from 1973 to 1991. He was not only successful in his club career but also in his international career when playing for the Italy national team that won the FIFA World Cup in 1982. He spent all of his senior time playing for Roma and for Genoa in a short time as a loaned player. After that, he became the manager of the youth side of Roma until 2005. Bruno was featured in the A.S. Roma Hall of Fame in 2012.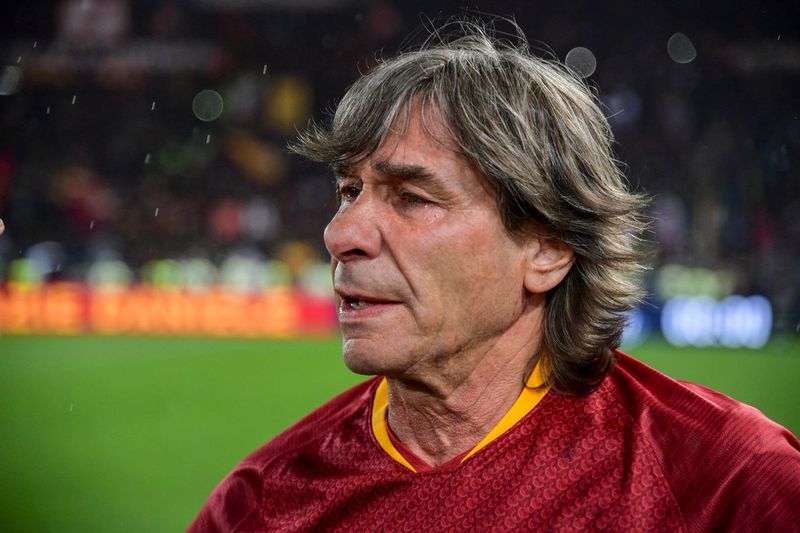 Bruno Conti
1. Francesco Totti
There is no wonder why Francesco Totti is the best Roma player of all time. He was proven with plenty of rewards for the club as well as his individual awards and records in top-flight leagues like Serie A, UEFA Champions League, or UEFA Europa League.
Totti was known as the goal machine of Roma during this time from 1992 to 2017. He scored more than 300 goals in 786 games. He was also a key member of the Italy national team in the late 20th century and the early 21st century. Unlike other Roma footballers on the list, Totti seems not to be interested in becoming a coach.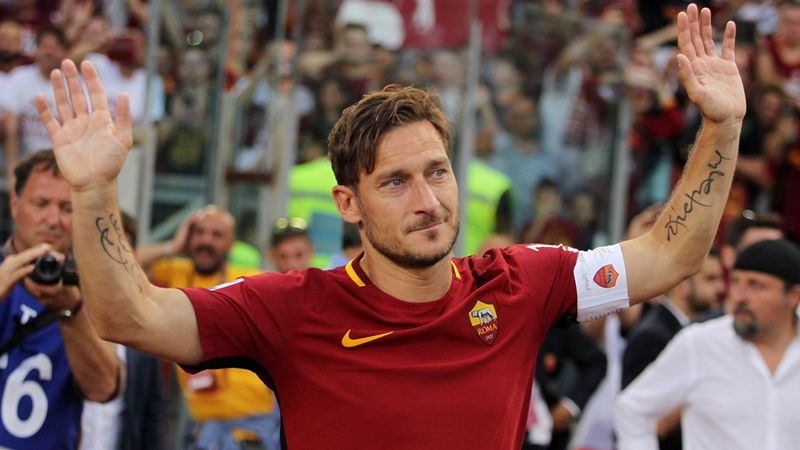 Francesco Totti
References
Wikipedia