Costa Rica vs. Germany Prediction, Odds & Betting Tips 01/12/2022
[World Cup 2022 Prediction] Costa Rica and Germany will encounter on December 1st in the last round of World Cup group stages in the hope of progressing.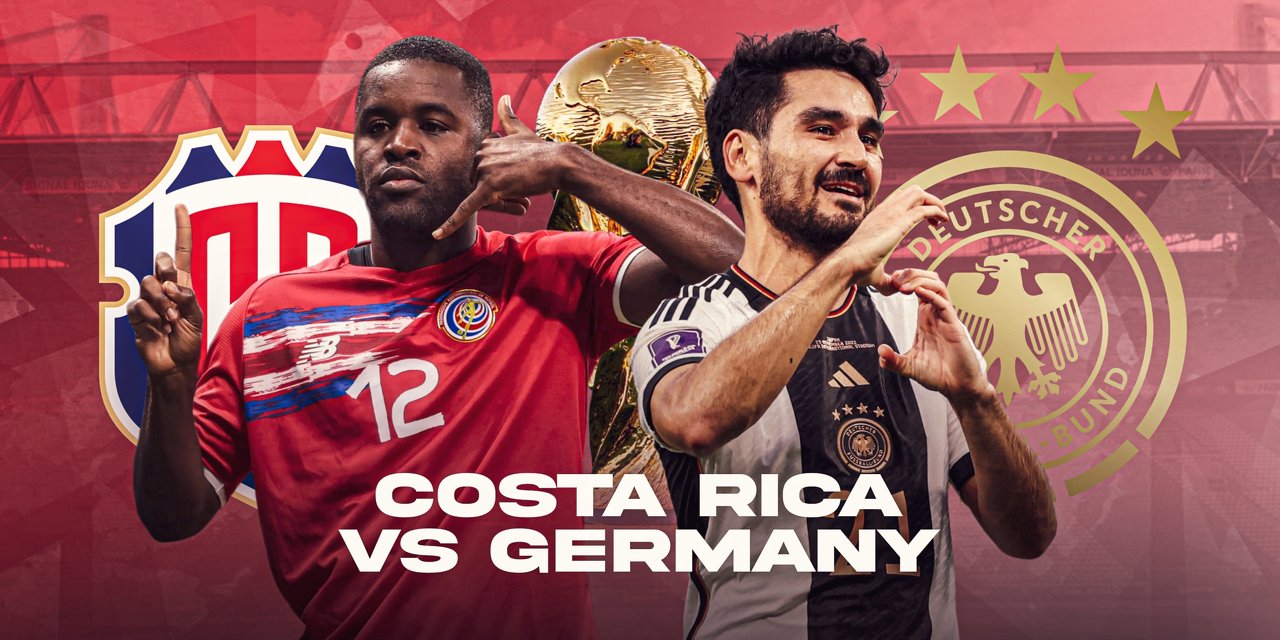 Costa Rica and Germany's Performances
Costa Rica's form: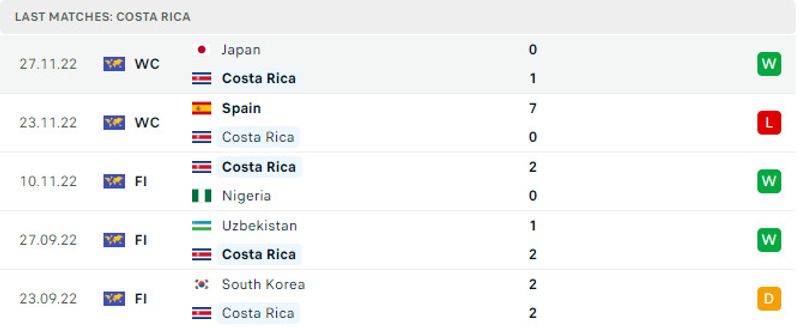 In terms of form, Costa Rica won 3, drew 1 and lost 1 in the last 5 matches.
They began the 2022 World Cup with a 0-7 loss against Spain. They expected to be eliminated shortly, but in the second round of Group E, this squad unexpectedly overcame Japan 1-0 and kept themselves in the hunt to progress to the next round. With 3 points obtained after 2 matches, coach Luis Fernando Suarez's team is even ranked above Germany before the last match.
As mentioned above, the South American representative still has the opportunity to go on. If they have points in the match against Germany and Japan loses to Spain, Keylor Navas and his teammates will be the next team to follow Spain to the next round. When there is a chance, Costa Rica will certainly not give up. However, in comparison to the quality and level of the squad, they are vastly underappreciated. It will not be surprising if Costa Rica plays with a low formation. They need to ensure certainty on the back line before thinking about scoring.
Germany's form: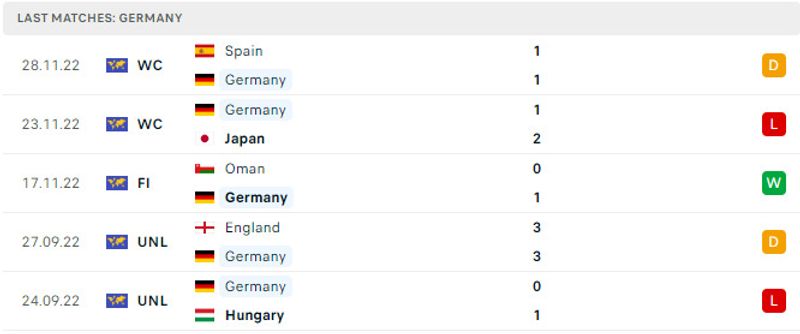 Germany won 1, drew 2 and lost 2 in their last 5 matches.
After 2 matches in Group E of the 2022 World Cup, Germany surprisingly find themselves at the bottom in Group E. In the opening match, Hansi Flick's squad stunned the world when they lost 1-2 to Japan. It was a game in which they took the lead, then produced several chances but failed to capitalize. Wasting too many opportunities and making many mistakes in defense caused the German tanks to lose against the representative of Asian football.
In the second match, Germany faced Spain. They let the opponent take the lead in the 62nd minute, but fortunately, 7 minutes before the match ended, Die Mannschaft found a goal to level the score at 1-1 thanks to striker Niclas Fullkrug. Having only 1 point after the first 2 matches is clearly an unacceptable achievement, especially when the German team has been playing quite impressively since coach Hansi Flick was appointed.
Four years ago, under the leadership of coach Joachim Low, the German team failed to advance to the round of 16 at the tournament in Russia, and in this year's finals in Qatar, they need to do everything to avoid the prospect of being eliminated from the group stage for two consecutive World Cups. In the last round of the group stage, Spain will face Japan, while Costa Rica will face Germany. The last chance for coach Hasin Flick's squad is a victory over Costa Rica. Even if they reach that goal, they still cannot have the right to decide their fate because the ticket to the first knockout round will depend on the outcome of the remaining match between Japan and Spain.
A win for the Die Mannschaft would secure their place in the last 16, while a draw or loss would see the mighty Germans exit the competition in the group stages once more.
Costa Rica vs Germany H2H Stats
In the only time they faced each other up to now, Germany beat Costa Rica at the 2006 World Cup with a score of 4-2. The judgment of Costa Rica vs. Germany is strongly in favor of Die Mannschaft, and in the "having nothing to lose" position, it is likely that the best of the four-time World Cup champion will be shown in the forthcoming clash.
Costa Rica vs Germany Current Odds
Handicap Odds:

Costa Rica (0.94) / Germany (0.98)

1x2 Odds:

Costa Rica (18.5) / Draw (10.5) / Germany (1.07)

Over/Under Goals:

Over 2.5 (1.07) | Under 2.5 (0.83)
The bookmakers give Costa Rica virtually no chance of defeating Germany in their final Group E outing. There are plenty of reasons for that.
Their 7-0 defeat to Spain is one thing, while Germany's squad depth is another. Although Flick's side has underperformed in their first two matches in this tournament, they simply have to win here to have a chance of progression, and we, along with the bookies, are backing them to claim three crucial points against Costa Rica.
But in the context of just a win to advance for both teams, this will be a tight match where both Costa Rica and Germany will give all they've got.
The total is juiced toward the Over, because Germany will likely push forward for goals to secure a victory in this match.
Costa Rica vs Germany Best Tips from Betimate
Germany to score in the first half
Germany may be faltering in this competition so far but they have enough quality to get over a Costa Rican side thrashed by Spain only a week or so ago.
As we mentioned right above, both Germany and Costa Rica want a win to reach the knockout stages. But with the difference in squad quality, we still appreciate Germany more than Costa Rica. It is possible that coach Hansi Flick's squad will attack from the beginning to find an early goal, and the Costa Rican defense will have a hard match.
With an attacking line consisting of many quality names playing at big clubs, Germany promises to successfully find Keylor Navas' net in the first 45 minutes.
Costa Rica certainly knows their position in this confrontation. So it is likely that the South American team will focus on defense and wait for the opportunity to counterattack, just like they did in the win over Japan.
--> Try out our Premium Tips right now if you want more best tips
Teamnews
Germany has the strongest force, but they promise to change many positions to refresh the gameplay. Accordingly, it is likely that Fullkrug will be nominated in the starting lineup today, replacing Mullera, who was slower compared to himself four years ago. Besides, Havertz is also completely trusted in the context of Sane's lack of competition.
Across the front line, Costa Rica will lose Francisco Calvo, their very important defender. This player got two yellow cards and was suspended. Without the second-most experienced defender on the team, the Costa Rican defense will be more fragile.
Predicted line-ups
Costa Rica: Navas, Fuller, Duarte, Chacon, Watson, Oviedo, Torres, Borges, Tejeda, Campbell, Contreras.
Germany: Neuer, Klostermann, Sule, Rudiger, Rau, Kimmich, Gundogan, Gnabry, Musiala, Sane, Fullkrug.