Croatia vs Brazil final score, result (World Cup 2022): Neymar's Tragedy
Croatia vs Brazil final score, result (Quaterfinals World Cup 2022): Rodrygo and Marquinhos failed in the penalty shootout, knocking Brazil out in the quarterfinals and giving Croatia the ticket to the semifinals.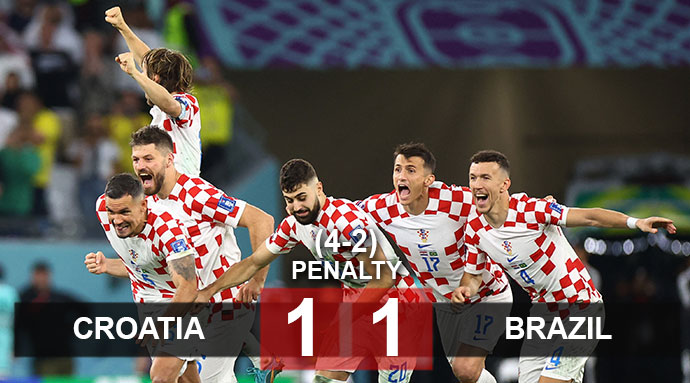 Croatia vs Brazil Summary
Brazil and Croatia created a tense and dramatic match. In the first half, to confront a quality Croatian midfield, coach Tite asked right-back Danilo to actively move into the center to support his teammates and control the game. However, this option does not really work. The mobility and fierceness of the Croatian players made Brazil difficult. The ball control ratio of the two sides is also very balanced, at 50%. The hopes of Brazil, such as Neymar or Vinicius, also could not do anything.
On the other hand, Croatia was in a position to shift the attack to the wings, allowing Juranovic or Perisic to escape.However, they have not had a good shot yet. Croatian players handle decision situations relatively hastily.
In the second half, Brazil accelerated the pace of the match. The wide array of active players like Neymar and Paqueta also attacked stronger. Therefore, Brazil created some dangerous opportunities. In particular, Neymar penetrated the penalty area to finish, but Livakovic won both times. After 45 minutes, the goal still did not come for either team. They had to go into extra time to decide the winner.
In the first extra time, Brazil focused on the attack and created a series of opportunities. It wasn't until the 105:1 minute that Neymar scored.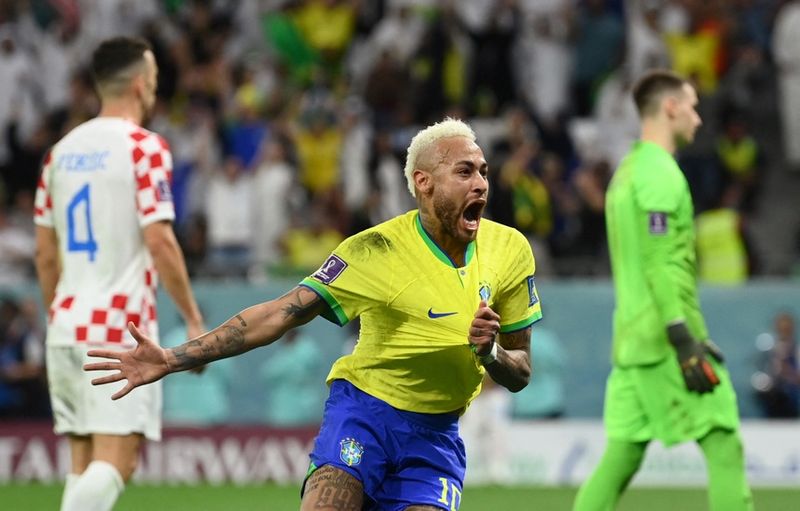 Football fans thought Croatia's journey had come to an end. However, Petkovic destroyed this thinking. In the 117th minute, in an exemplary counter-attack situation, Petkovic decisively finished the match to bring the game into the penalty shootout.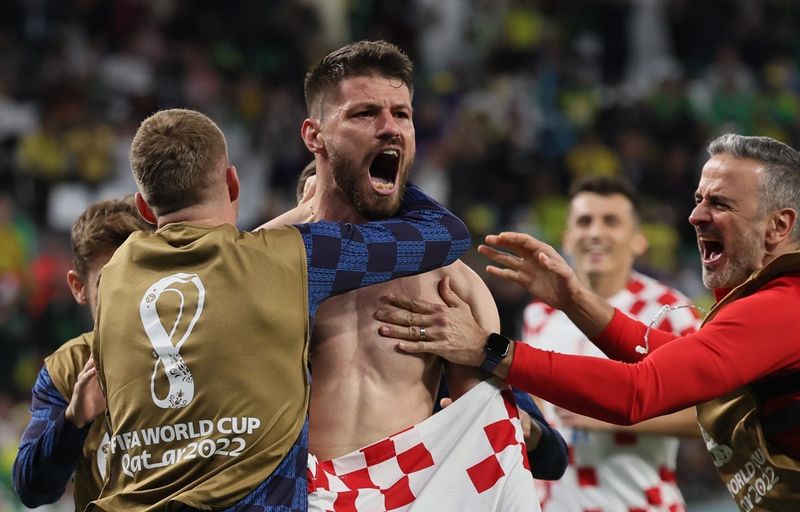 Croatia, which had much experience in this area, demonstrated their skill and spirit by winning all four legs of the penalty shootout, while two Brazilian players failed. As a result, Croatia easily qualified for the semifinals.
Brazil vs. Croatia final score
| | | | | |
| --- | --- | --- | --- | --- |
| | 1H | 2H | ET | Final |
| Brazil | 0 | 0 | 1 | 1 (2) |
| Croatia | 0 | 0 | 1 | 1 (4) |
Goals
BRA — Neymar (Pedro) — 105th min+1
CRO — Bruno Petkovic (Mislav Orsic) — 117th min
Confirmed line-ups
Brazil (4-2-3-1, right to left): 1. Alisson (GK) — 14. Eder Militao, 4. Marquinhos, 3. Silva, 2. Danilo — 5. Casemiro, 7. Paqueta — 11. Raphinha, 10. Neymar, 20. Vinicius Jr — 9. Richarlison
Croatia lineup (4-3-3, right to left): 1. Livakovic (GK) — 22. Juranovic, 6. Lovren, 20. Gvardiol, 19. Sosa — 10. Modric, 11. Brozovic, 8. Kovacic — 9. Kramaric, 14. Pasalic, 4. Perisic.
FULL TIME:

CROATIA WON 4-2 ON PENALTIES
Croatia vs. Brazil highlight
With its stable playing style, Croatia continued to make history in the World Cup competition. Their performance demonstrated the tenacity and spirit of a defending champion. The next challenge for Luka Modric and his teammates is Argentina.
For Brazil, their performance in the 2022 World Cup deserved to be appreciated. However, fate did not choose them. They were once again unseated by a European nation, following exits at the hands of France in 2006, the Dutch in 2010, Germany in 2014, and Belgium last time around. They'll have to wait four years to win the sixth gold trophy. The regrettable thing is that the World Cup of 2022 may be the final time for Neymar, and he could not fulfill the world champion dream.