FIFA World Cup 2022: Rules football fanatics should be aware of before entering Qatar
The World Cup is always the biggest football tournament in the world, attracting millions of people from different nations to visit the hosting country during the month the event is taking place. However, each country has its own customs and regulations that foreigners should follow if they want their visits to be safe and comfortable. And in Qatar, an Islamic nation, it is not an exception and is even stricter and more enigmatical than we thought. Allow Betimate to accompany you as you learn about the World Cup 2022 host's rules. Covid 19 rules
To enter Qatar for the FIFA World Cup 2022, visitors must have a COVID-19 test result that is negative. No matter if they have received a vaccine, the rule still holds true. Fans six years of age and older must have a clean PCR test that was completed no more than 48 hours before to their trip to Qatar. It is also feasible to enter with evidence of a negative fast antigen test, however this test must to be completed 24 hours before to travel. Face masks are also required in Qatar when using the public transportation system.
Hayya cards
Visitors must register for a Hayya card, a fan ID that serves as an entrance visa and provides free public transportation within Doha. To assist spectators at the Ali bin Hamad Al Attiyah Arena, the Supreme Committee for Delivery & Legacy developed a unique service center for Hayya card users. Fans who do not have a mobile phone but still wish to use transportation services or fan zones can pick up a physical copy of their digital Hayya card. Until December 23, the center will be open from 10 a.m. to 10 p.m. on all days except Fridays, when it will be open from 2 p.m. to 10 p.m.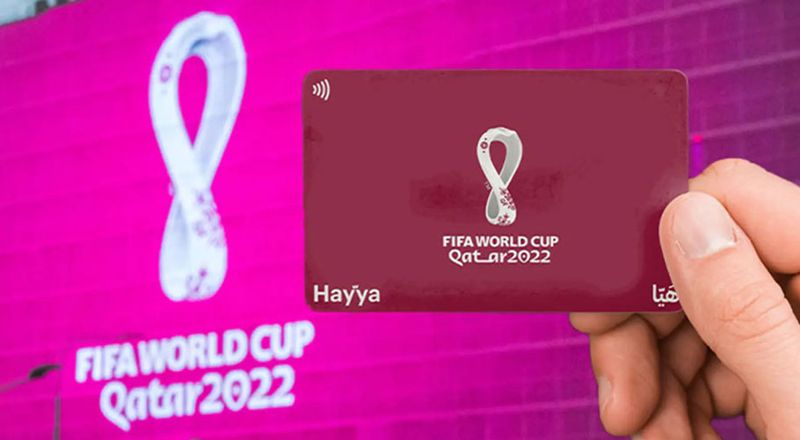 Hayya card
3 Clothing
Fans have been encouraged to wear "polite" clothing with covered shoulders. According to the Qatar Tourism Authority, shorts, sleeveless shirts, tight and transparent clothing are not advised. In general, bikinis are not permitted at public beaches, so you should absolutely check the dress code before going swimming there. However, women can typically feel comfortable to wear their bikinis at hotel pools.
4 Smoking
Although it is allowed to smoke cigarettes in Qatar, it is not permitted in any public areas, including museums, gyms, shopping centers, and eateries. Fines may be imposed on offenders. Since 2014, Qatar has outlawed the importation, purchase, and use of e-cigarettes. Violators face up to three months in jail and a fine of roughly $2,750. (QAR 10,000).
5 Photography
Being in the biggest football event in the world, perhaps fans will greatly desire to share their life-time experience on social media via pictures. However, the Qatar rigid rules on privacy and photograph my put them on the spot. Authority and organizers encourage fans to ask people permission before taking picture or filming them. Futhermore, Fans should be advised that it is completely forbidden to take photos within any government structures, including military bases, offices, and industrial regions.
6 Hand gesture
Hand gestures are a serious offense in Qatar and can result in penalties including fines or even imprisonment. The thumbs-up gesture is equivalent to using the middle finger in Qatar, unlike in Western nations. People are taught to use their palms and hands since using the finger has an insulting connotation.
According to a Sports Destinations article, crossing your legs might be seen as a sign of arrogance or disrespect, especially if you stand in front of an elderly person while pointing your index finger.