Poland vs. Argentina final score, result (World Cup 2022): Messi missed a penalty, two teams stepped into the Round of 16.
Although Lionel Messi missed the penalty, two goals from Mac Allister and Alvarez still helped Argentina beat Poland with a score of 2-0 on the evening of November 30, thereby entering the round of 16 as the top team in Group C.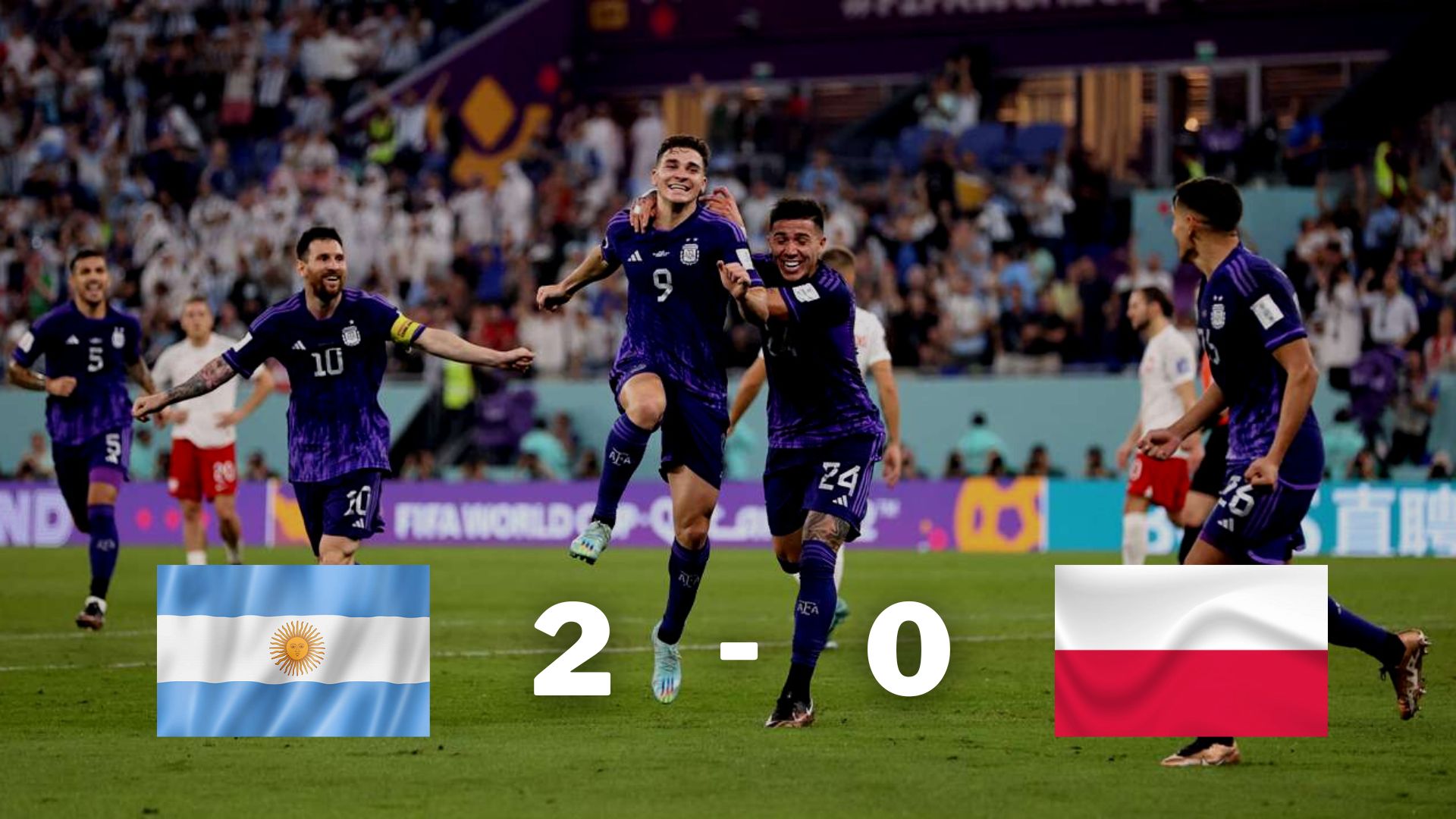 The game was completely one-sided, with Argentina completely dominating. They controlled 73% of ball possession and launched 19 shots, including 12 on target. In contrast, Poland nearly failed to get the ball to Argentina's half-field. They only had one attempt, which was an inaccurate heel strike by defender Kamil Glik in the first half.
The South American representative did not hide their intention to attack from the beginning, and Poland seemed to be prepared for that. But the European team had no specific plan for counterattacks. The Polish defense was also unreliable. Without the excellence of Szczesny, Poland would soon have conceded a goal. It could be mentioned that Angel Di Maria's corner kick went straight into the goal or that Alvarez escaped to face Poland's goalie.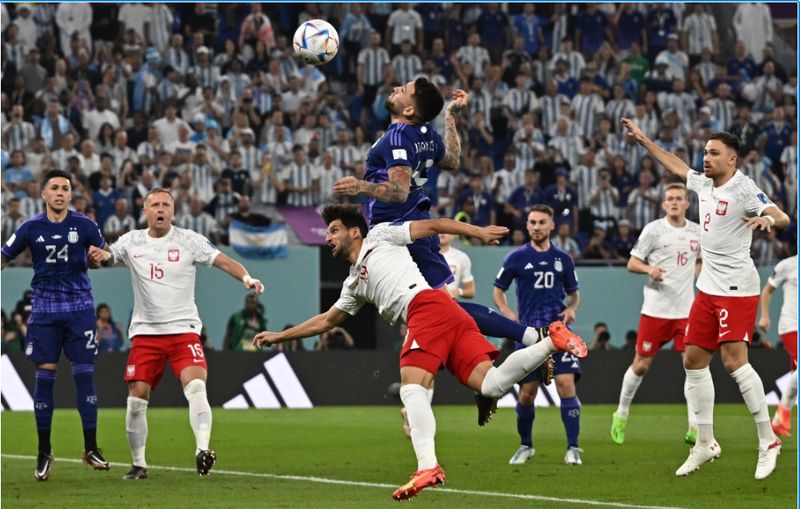 Poland kept their squad low in order to block Argentine strikers.
The long-awaited confrontation between Lionel Messi and Robert Lewandowski did not go as many fans expected when the balance was tilted in favor of the Argentine star. Messi had plenty of balls to play and was awarded a penalty by the referee after an unclear collision between himself and goalkeeper Wojciech Szczesny late in the first half. In an attempt to block a cross, Szczesny hit Messi's face with his hand, after El Pulga had headed but failed. This impact did not affect Messi's finish but it did leave the Argentine captain on the ground. Despite Poland's protestations, referee Makkelie pointed to the penalty spot after consulting the VAR. However, Messi could not beat the Polish goalkeeper on the white spot. Meanwhile, Lewandowski seemed to be "invisible", with only 36 touches in the whole game. Messi had the most shots on the pitch with seven, and Lewandowski didn't get any chances to show his best.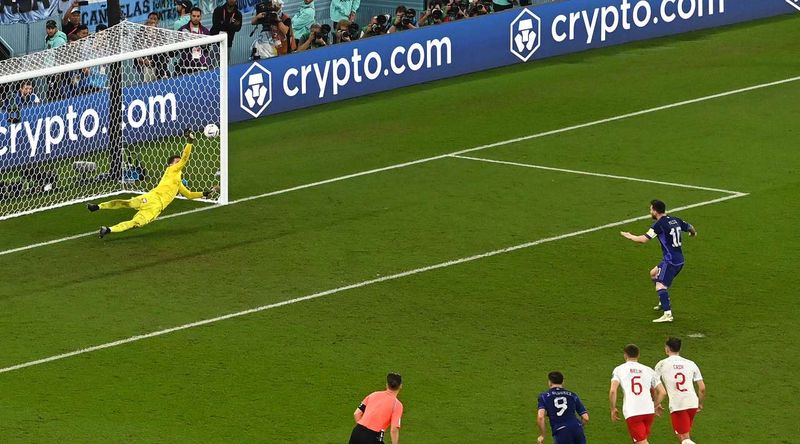 Messi had a chance to open the scoring but failed from the penalty spot.
Argentina played better in the second half, and the 47th-minute opening goal helped coach Scaloni start to think about their next match in the round of 16. Alexis Mac Allister finished quickly after Nahuel Molina's cross. The shot was not too powerful but dangerous enough to make Szczesny's long arms unreachable. The South American team kept up the pressure and doubled the lead 20 minutes later, when Alvarez demonstrated striker qualities with good ball holding and then shot into the roof of the opponent's net.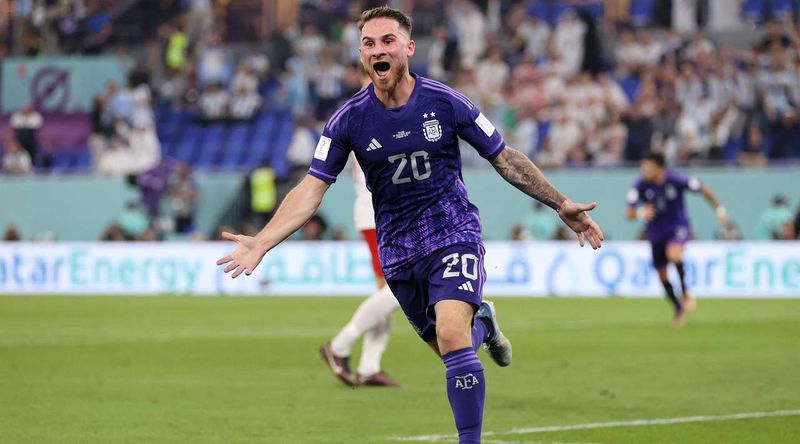 Mac Allister celebrated his opening goal.
Besides the developments on the pitch, the attraction of this match also came from the parallel developments, updated every minute, from the Mexico and Saudi Arabia match. After Poland lost the second goal and Mexico led Saudi Arabia 2-0, Lewandowski and his teammates kept their second position in Group C only by receiving two fewer yellow cards than Mexico. Therefore, although they were being led, Poland backed up the whole squad to defend Szczesny's goal.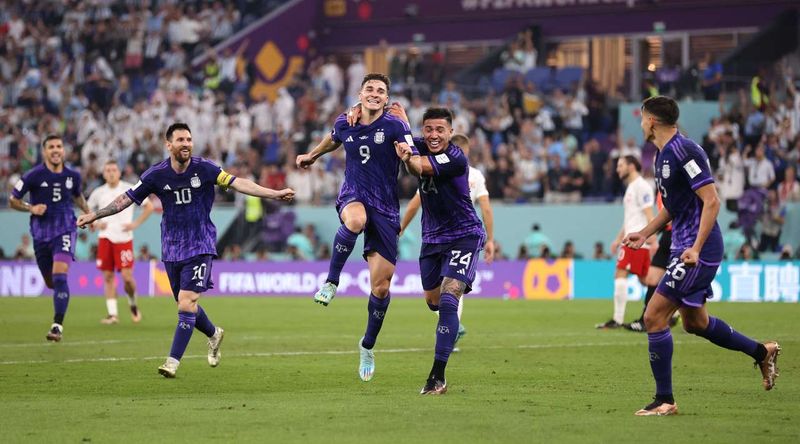 Argentine players celebrated their second goal.
When time flew to the last minutes, Argentina still managed to score more goals despite leading by a safe margin. The best opportunities come for substitute striker Lautaro Martinez. In two one-on-one situations with Szczesny, the Inter striker once missed the target. The other time, Martinez's chip eliminated the Polish goalkeeper but was stopped by Jakub Kiwior in front of the goal line. Alvarez or Messi also have a chance, but either they were blocked by Szczesny or they were inaccurate. Argentina's ungratefulness saved Poland because if they conceded one more goal, the opportunity to progress for coach Czeslaw Michniewicz and his players would be almost gone. When the referee blew the final whistle, Poland still did not know their fate. Only when Saudi Arabia shortened the score to 1-2 did the Polish fans in the stands breathe a sigh of relief.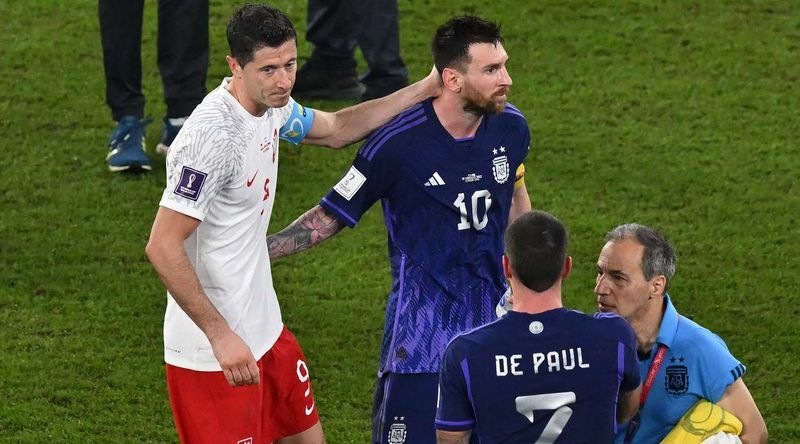 Lewandowski didn't have too many chances in this match.
Final score
| | | | |
| --- | --- | --- | --- |
| | 1st Half | 2nd Half | Final |
| Poland | 0 | 0 | 0 |
| Argentina | 0 | 2 | 2 |
ARG - A. MacAllister (46')

ARG - J. Alvarez (67')
Squad
Poland XI (4-4-1-1): Szczesny; Bereszynski (Artur Jedrzejczyk 72'), Glik, Kiwior, Cash; Frankowski (Jakub Kaminski 45'), Bielik (Damian Szymanski 62'), Krychowiak (Krzysztof Piatek 83'), Zielinski; Swiderski (Michal Skóras 45'); Lewandowski.
Argentina XI (4-3-3): Martínez; Molina, Romero, Otamendi, Acuña (Nicolás Tagliafico 59'); De Paul, Enzo Fernández (Germán Pezzella 79'), Mac Allister (Thiago Almada 84'); Messi, Álvarez (Lautaro Martínez 79'), Di María (Leandro Paredes 59').
Highlights
Finishing the group stage in first place helped Argentina avoid a strong opponent, defending champion France, in the first knockout round. Instead, they meet the second team in Group D, Australia, on December 3. As for Poland, after howling to win tickets to continue, Lewandowski and his teammates face a bigger challenge when they meet France on December 4.