WC2022: The World Cup trophy is taken to bed by Lionel Messi.
Inspiring Argentina to their incredible World Cup final victory against France on Sunday, Lionel Messi is taking full advantage of the festivities.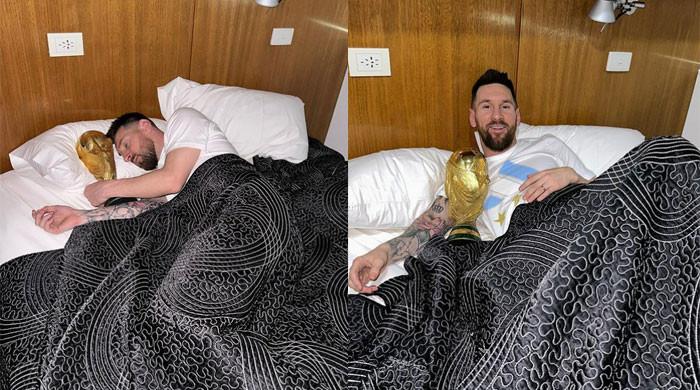 Following Argentina's amazing triumph over France in the World Cup final, Lionel Messi posted a photo of himself dozing off with the trophy. The Argentine great not only scored twice during the game, but also in the suspenseful penalty shootout that followed. The Paris Saint-Germain forward shattered several records in the championship game on his path to winning the trophy that had evaded him all along. Before guiding the South American country to their first World Cup victory since 1986 and taking home the FIFA Golden Ball for the tournament's top player, Messi had given the impression that this year's World Cup would be his last.
After Argentina won the tournament, the 35-year-old announced that he will not retire from playing, but he did not comment on rumors that he may return to the World Cup, where he has already been in more games (26) than any other player. The sorrow of not winning the World Cup persisted throughout the years since it was the only prize that had escaped Messi up to this point. Last year, Messi led Argentina to the Copa America triumph, their first major trophy in three decades. The 35-year-old posted a snapshot on Instagram of himself asleep in bed next to the trophy after Sunday's championship game, becoming the newest famous image. Messi added the emoji of a big smile and the remark, "Good morning!" to the picture.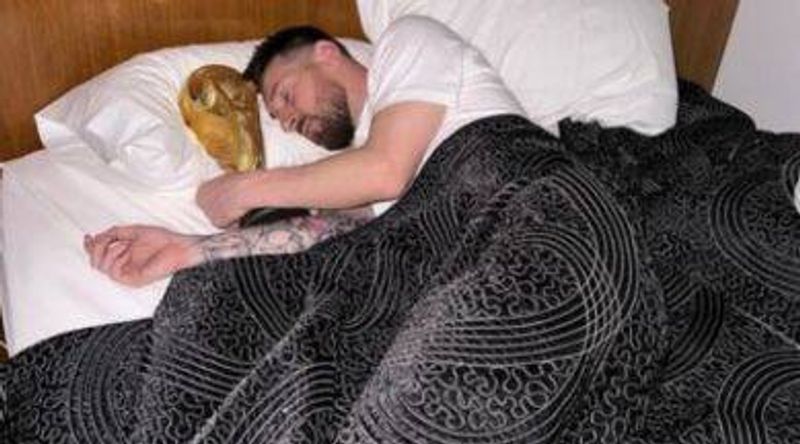 Messi took the WC trophy to bed
After winning the World Cup, Argentina made a euphoric return home, but things almost went horribly wrong during the open-top bus procession. At little after two in the morning local time on Tuesday, Messi and his teammates touched in at Buenos Aires' Ezeiza International Airport. Numerous thousands of spectators lined the streets in anticipation of them, hoping to catch a sight of the World Cup trophy. Along with colleagues Leandro Paredes, Rodrigo De Paul, Angel Di Maria, and Nicolas Otamendi, Messi was seated at the rear of the bus' upper deck as it traveled through fan-filled neighborhoods.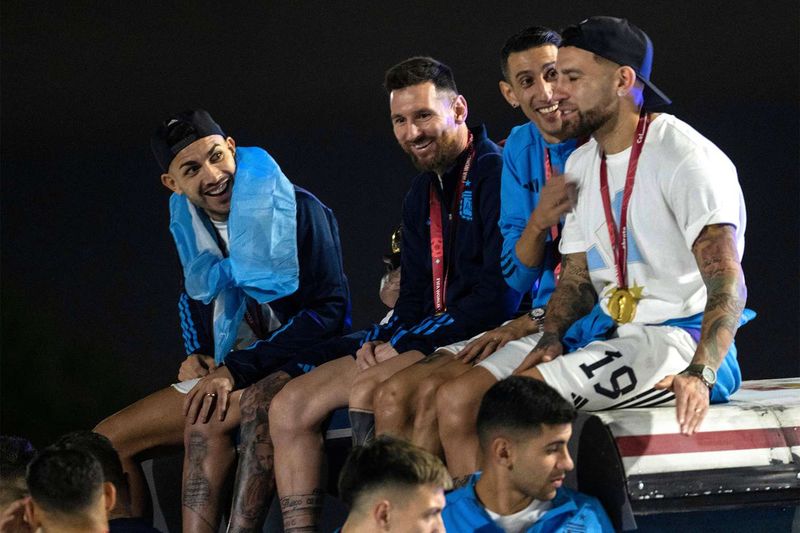 The famous players had to react fast to avoid colliding with the bus as it passed underneath an overhead cable and could have suffered serious injuries. Although Paredes' hat fell off during the event, all the players dove to escape the cable, demonstrating how a severe accident was nearly avoided. Around the well-known Obelisk monument in Buenos Aires, a sizable celebration will be held. With parades and other celebrations scheduled all week long, more than a million people showed out on Sunday night to salute the players following their miraculous victory.