Man United vs Southampton Pronóstico, Cuotas, Consejos de Apuestas 03/12/2023
Proporcione la predicción más precisa sobre el partido Man United vs Southampton (03/12/2023) junto con Betimate.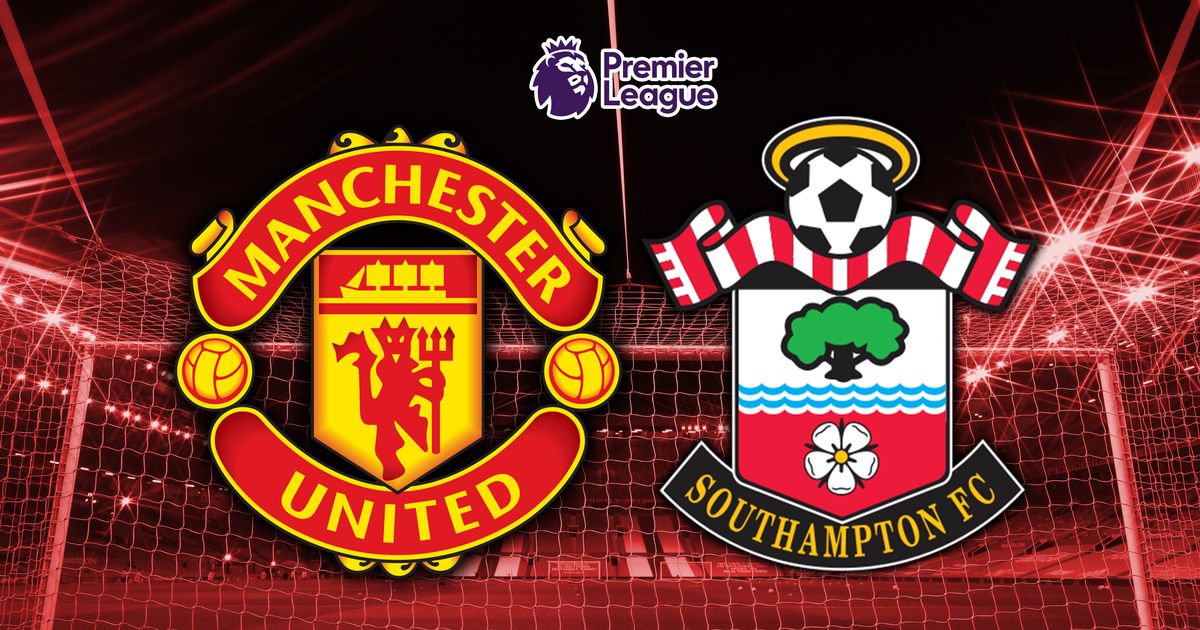 [Predicción de la Premier League] El sábado, Man United se enfrentará a Southampton en Old Trafford en un enfrentamiento de la Premier League.
Predicción Man United vs Southampton: rendimiento reciente y estadísticas H2H
Cuando el Manchester United juegue contra el Southampton el domingo por la tarde, esperarán recuperarse de su devastadora derrota por 7-0 ante el Liverpool. A pesar de que tuvieron varios problemas defensivos en el derbi de la Premier League, los Red Devils todavía se consideran grandes favoritos para derrotar al Southampton en casa. Por otro lado, los visitantes amenazados por el descenso necesitaban urgentemente una victoria contra el Leicester City, y lo lograron, y el equipo recuperó la confianza que tanto necesitaba.
Últimos 5 partidos de Man United
El Manchester United espera una nueva victoria en este partido después de derrotar al Real Betis por 4-1 en la Europa League. En el primer encuentro, el Manchester United tuvo un índice de posesión del 57% y 25 tiros a puerta, 13 de los cuales fueron a puerta. Marcus Rashford (6'), Anthony (52'), Bruno Fernandes (58') y Wout Weghorst (82') son los goleadores del Manchester United. El Real Betis, el equipo contrario, tuvo 6 intentos de tiro, dos de los cuales fueron acertados.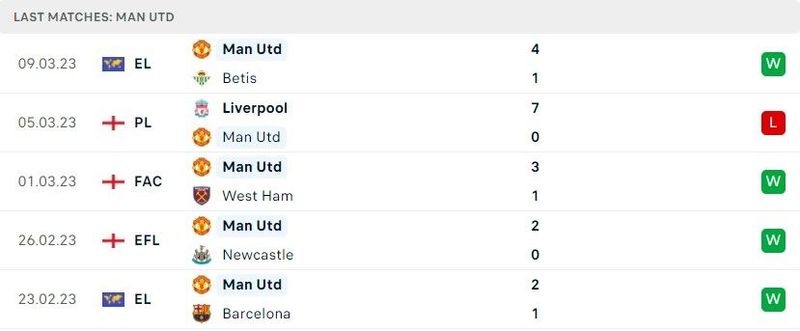 Últimos 5 partidos de Man United
Los últimos partidos del Manchester United han sido estimulantes. Hay una tendencia recurrente en estos partidos, que es un alto índice de goles marcados. Los dos equipos han marcado 24 goles (un promedio de 4 goles por partido) en sus últimos seis enfrentamientos directos, con 14 de esos goles provenientes del Manchester United.
5 últimos partidos de Southampton
Después de su victoria por 1-0 sobre el Leicester City en la Premier League, el Southampton está preparado para este enfrentamiento. Southampton tuvo 11 tiros a puerta, cinco de los cuales fueron a puerta, y un porcentaje de posesión de balón del 35% en el partido anterior. Apenas Carlos Alcaraz (35') logró un gol para el Southampton.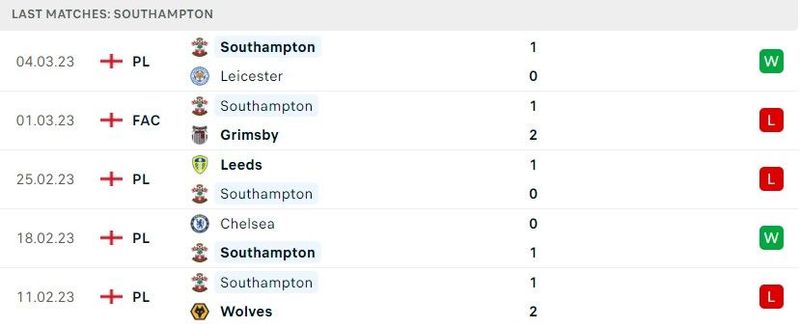 5 últimos partidos de Southampton
Southampton ha perdido recientemente muchas oportunidades de gol. En sus últimos seis juegos, el club solo ha marcado cuatro goles contra sus oponentes. Southampton permitió ocho goles en total en estos encuentros. Tendremos muchas oportunidades en esta conferencia para determinar si esta tendencia realmente continuará. Southampton ha perdido sus últimos seis partidos de liga fuera de casa contra el Manchester United antes de este partido. El equipo no se benefició de estas excursiones.
Estadísticas H2H Manchester United vs Southampton
Si examinamos sus encuentros más recientes, que datan del 13 de julio de 2020, vemos que Southampton no ha obtenido una victoria durante estos juegos, mientras que Manchester United ha ganado tres veces. El número de partidos en los que los dos clubes se repartieron el botín también fue de tres. Con 23 goles marcados en total, o 3,83 goles por partido, estos partidos fueron muy productivos para nosotros.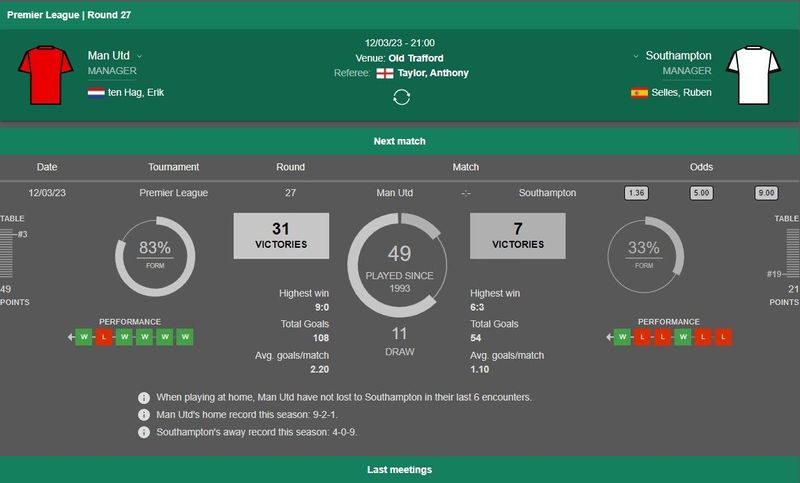 Estadísticas H2H Manchester United vs Southampton
Man United vs Southampton Cuotas actuales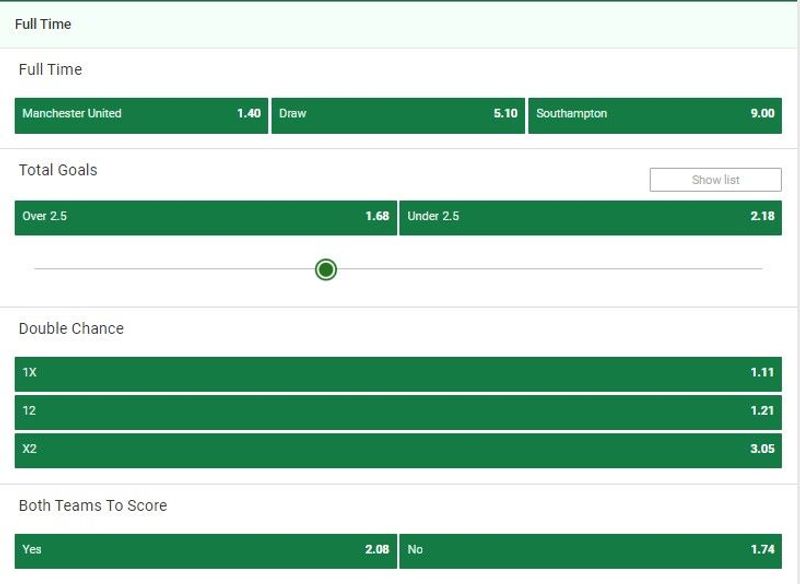 Man United vs Southampton Cuotas actuales
Ahora, veamos algunos de los otros mercados de apuestas y las mejores cuotas para este partido:
Probabilidades de hándicap: Man United (0.92) / Southampton (5.06)
Probabilidades 1x2: Man United (1.40) / Empate (5.10) / Southampton (9.00)
Más/Menos de goles: Más de 2.5 (1.68) | Menos de 2.5 (2.18)
Ambos equipos marcarán: Sí (2.08) | No (1,74)
Con el estado de forma actual y la ventaja de jugar en casa, el Man United tiene una calificación más alta que el equipo visitante en este partido por parte de algunas de las mejores casas de apuestas. Al apostar a que Man United gana, empata o pierde este partido, las casas de apuestas ofrecen las siguientes probabilidades 1x2: 1,40/ 5,10/ 9,00
Manchester United vs Southampton Pronósticos Apuestas
Man Utd y más de 2.5 goles
Over 2.5 goals have been scored in three of the previous five encounters between Man United and Southampton, who have combined for 13 straight victories. Southampton has made progress since being humiliated by Tottenham on opening weekend, but given ten Hag's team defeated Liverpool last time out, we're betting on an away victory in Saturday's early kick-off. You can understand why we anticipate goals in this match considering that Southampton and Manchester United have both had at least three goals scored in each of their past six games across all competitions.
Both teams to score
As both sides have scored in five of the previous six meetings between Southampton and Manchester United, it seems likely that this weekend's matchup between the two clubs will include goals from both ends of the field. In five of Southampton's most recent six games in all competitions, both teams have scored, whereas this is also true of four of Manchester United's most recent six games.
Man United vs Southampton Best tips from Betimate
Man United 2-1 Southampton
Southampton should have the talent to score against this Manchester United team, but this won't likely be enough to prevent a loss. As a result, it is predicted that after 90 minutes of play, there will be a close match and Manchester United will win 2-1.
Man United vs Southampton Probable Line-ups
Posible alineación inicial de Southampton: Bazunu, Walker-Peters, Salisu, Bella-Kotchap, Elyounoussi, Ward-Prowse, Aribo, Djenepo, Lavia, Adams y Mara
Posible alineación inicial del Man United: De Gea, Varane, Dalot, Malacia, Martínez, Eriksen, Fernandes, McTominay, Rashford, Sancho y Elanga
Preguntas frecuentes - Man United vs Southampton
¿Quiénes son los favoritos para ganar? Southampton es el gran favorito para ganar.
¿Cuál fue el marcador cuando estos dos equipos se enfrentaron por última vez? Man United 1-0 Southampton
¿A qué hora es el saque inicial? 13:00 GMT, 14:00 CET.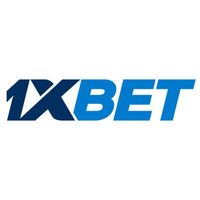 100% bonus on the 1st deposit up to 100$
Looking for a great way to kickstart your online betting experience? Look no further than 1xBet, where you can enjoy a fantastic 100% bonus on your first deposit of up to $100! With this amazing promotion, you'll have double the funds to play with when you sign up and make your first deposit.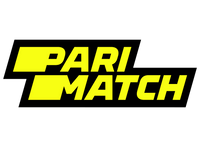 WE DOUBLE YOUR FIRST DEPOSIT - TOP UP $100, GET $200!
Take advantage of our Parimatch promo and double your first deposit! Simply top up your account with $100, and we'll give you an extra $100, for a total of $200 to play with. Don't miss out on this fantastic offer!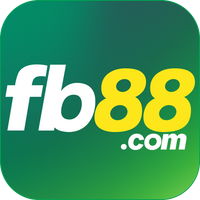 Enjoy 100% Bonus upto 100$
Looking for a great way to boost your online gaming experience? Look no further than FB88! For a limited time, we're offering an incredible promotion that's sure to put a smile on your face. When you sign up and make your first deposit, you'll receive a 100% bonus of up to $100!