Asia - World Cup Qualifying predictions, the most accurate football prediction
Round 10
Predictions 1X2
Under/Over 2.5
Both To Score
Handicap
2022 FIFA World Cup Asian qualifier
The World Cup Qualification Asia Predictions are what millions of Asian football fans are looking for whenever a World Cup season comes. We are going to provide you with fundamental knowledge about this qualifier in our article and there are also many useful tips on our website too.
The Asian portion of the 2022 FIFA World Cup qualification serves as a qualifier for national teams that are part of the Asian Football Confederation (AFC) for the 2022 FIFA World Cup, which is held in Qatar. Apart from Qatar (who qualified automatically as hosts), the AFC has 4.5 slots in the final tournament (4 direct slots and 1 inter-confederation play-off slot).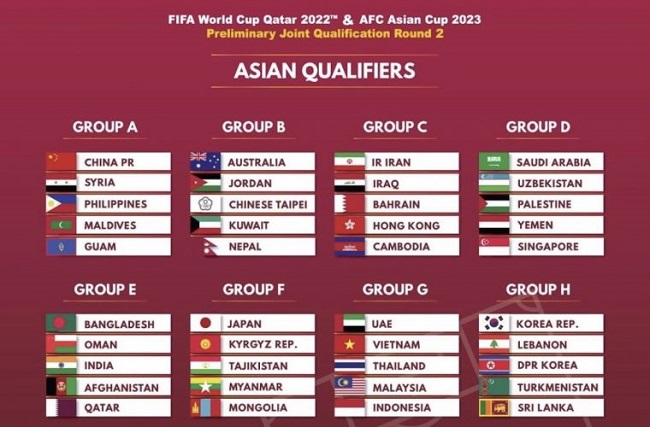 Asian World Cup Qualifiers
Format
The qualification goes as follow:
First Round:

12 teams (ranked 35-46) played home-and-away over two legs. The six winners will advance to the second round
Second Round:

40 teams (ranked 1-34 and the six first-round winners) were divided into eight groups of five teams to play home-and-away in a round-robin system. The eight group winners and the four best group runner-ups advance to the third round of FIFA World Cup qualification as well as able to qualify for the 2023 AFC Asian Cup finals. In case Qatar finish as group winners or one of the best four runners-up, the fifth-best runners-up will take their place in the third round.

Third Round:

The two third-placed teams from the third round will play home and away over two legs. The winner will advance to the inter-confederation play-offs
The competing teams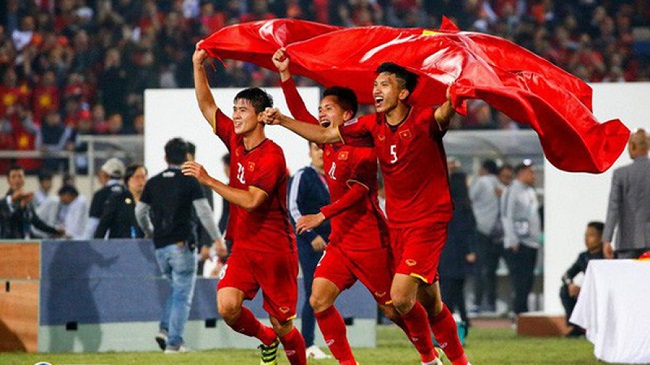 Vietnam Football National Team
Scheduling
Due to the COVID-19 pandemic, FIFA and the AFC declared on March 9, 2020, that the second round matches on matchdays 7–10 scheduled for March and June 2020 have been postponed, with new dates to be reported.
The matches can, however, be played as planned, subject to FIFA and AFC consent and consensus by all member associations provided that the welfare of all persons concerned meets the appropriate criteria.
On the 5th of June, AFC announced that matchdays 7 and 8 will be held on the 8th and 13th of October, respectively, while matchdays 9 and 10 will be held on the 12th and 17th of November. FIFA announced on August 12 that the matches scheduled for October and November 2020 would be moved to 2021.
First round
Second round
Third round
Don't forget to find more about the 2022 World Cup Asian qualifiers Predictions and Results from our website Betimate.com!
Reference Sources
The-AFC.com

FIFA.com

Dawn.com




Betimate.com
Qualification, AFC, Round 2, Group H
Qualification, AFC, Round 2, Group A
Overall table
PTS
GP
W
D
L
GF
GA
+/-
1
Syria
21
8
7
0
1
22
7
15
2
China PR
19
8
6
1
1
30
3
27
3
Philippines
11
8
3
2
3
12
11
1
4
Maldives
7
8
2
1
5
7
20
-13
5
Guam
0
8
0
0
8
2
32
-30
Qualification, AFC, Round 2, Group B
Qualification, AFC, Round 2, Group C
Overall table
PTS
GP
W
D
L
GF
GA
+/-
1
Iran
18
8
6
0
2
34
4
30
2
Iraq
17
8
5
2
1
14
4
10
3
Bahrain
15
8
4
3
1
15
4
11
4
Hong Kong
5
8
1
2
5
4
13
-9
5
Cambodia
1
8
0
1
7
2
44
-42
Qualification, AFC, Round 2, Group D
Qualification, AFC, Round 2, Group E
Overall table
PTS
GP
W
D
L
GF
GA
+/-
1
Qatar
22
8
7
1
0
18
1
17
2
Oman
18
8
6
0
2
16
6
10
3
India
7
8
1
4
3
6
7
-1
4
Afghanistan
6
8
1
3
4
5
15
-10
5
Bangladesh
2
8
0
2
6
3
19
-16
Qualification, AFC, Round 2, Group F
Qualification, AFC, Round 2, Group G