Belgium Super League Women Belgium predictions, the most accurate football prediction
Round 14
Predictions 1X2
Under/Over 2.5
Both To Score
Handicap
Round 15
Predictions 1X2
Under/Over 2.5
Both To Score
Handicap
Round 13
Predictions 1X2
Under/Over 2.5
Both To Score
Handicap
Round 12
Predictions 1X2
Under/Over 2.5
Both To Score
Handicap
Belgian Women's Super League- where women are praised in sports
Despite a fewer number of competitions in football, there are still numerous women's football tournaments around. The Belgian Women's Super League is one of the leagues for Belgian Women as a qualifier for the Champions League. Betimate also offers the Belgian Women's Super League Predictions that might be very helpful for your next bet.
What is the Belgian Women's Super League
The Belgian Women's Super League is the top-flight women's football competition in Belgium. This is a young league with its inception in 2015. It was founded after the ending of the BeNe League, in which Be refers to Belgium and Ne indicates Netherland, the highest football league for women in these two European countries that only lasted for three seasons.
How does the Belgian Women's Super League work?
The format and number of participants of the Belgian Women's Super League have varied from season to season. In the first season, there were eight teams participating in the league, which was divided into two phases. The first stage was the round-robin tournament and a scoring system ranked teams in positions from the top to the bottom based on their aggregate points. The second phase (or called the championship group) was the championship playoff that comprised the top four teams from the first stage. However, only half of the points were transferred to this stage.
The remaining teams played another double round-robin, and the last-place team would be relegated to the Belgian Women's First Division, while the eventual winner of the league qualified for the UEFA Women's Champions League.
In the 2016-17 edition, there were only seven squad participants and the league occurred without the presence of the second stage. Each team played with the other four times, which meant each of them had to join 24 matches in total. In case they ended up equal on points, the number of wins and goal difference used to break the tie, as in the men's Belgian First Division A.
In the next season, the number of teams continuously decreased with only six teams participating. The championship playoff was played again as in the first season. This year, the Belgian Women's Super League gathers 10 women's football teams.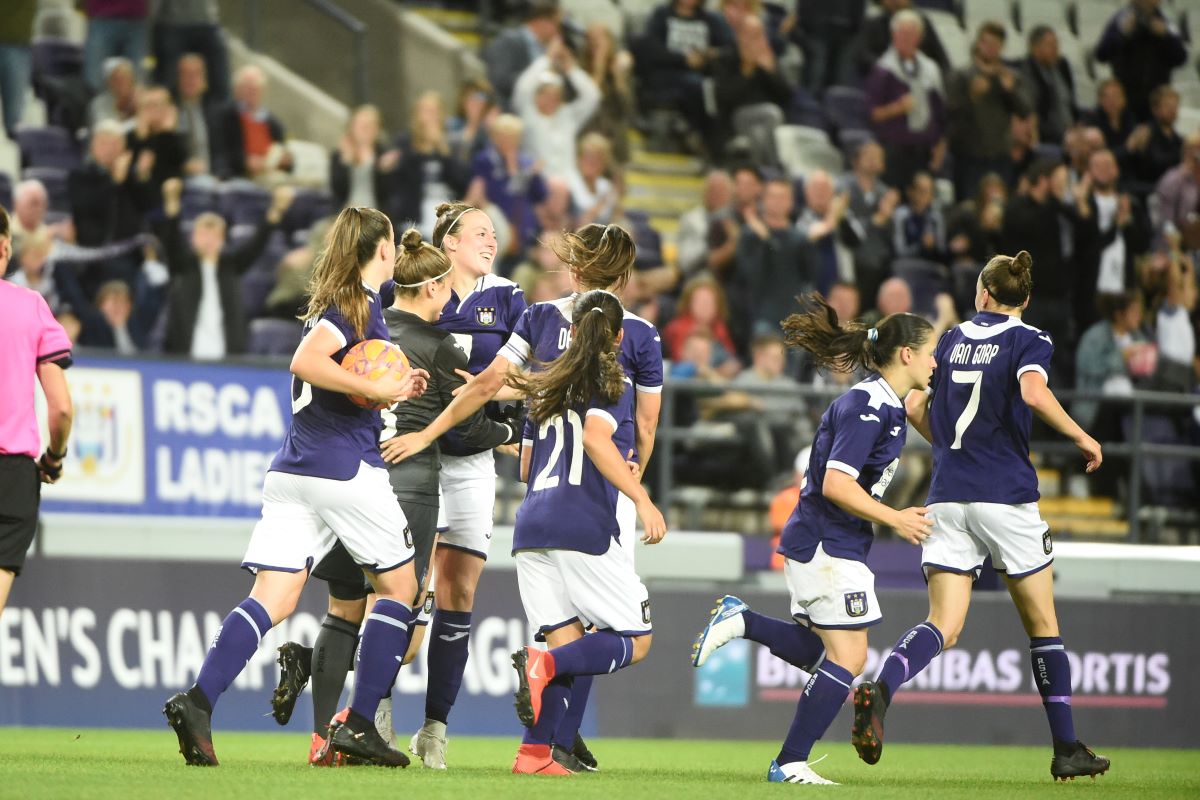 Belgian Women's Super League
Result statistics in the Belgian Women's Super League's history
Since the Belgian Women's Super League has just existed for six seasons, it only featured two champions, which are Standard Liège (two titles), and RSC Anderlecht (four titles).
2021-22 Belgian Women's Super League standings
First stage (regular season)
The Belgian Women's Super League this season has finished its regular season with 18 match days completed. The below table shows us the positions of 18 teams with their respective points. Accordingly, the top five teams, which are Anderlecht, Standard Liège, Gent, OH Leuven, and Club Brugge will be eligible for the championship group.
2021-22 Regular Season's Standings

Anderlecht Women FC
Second stage (play-off)
References
https://en.wikipedia.org/wiki/Belgian_Women's_Super_League