England League 2 England predictions, the most accurate football prediction
Round 21
Predictions 1X2
Under/Over 2.5
Both To Score
Handicap
Round 22
Predictions 1X2
Under/Over 2.5
Both To Score
Handicap
Round 20
Predictions 1X2
Under/Over 2.5
Both To Score
Handicap
EFL League 2: the Foundation of EFL Football
The lowest division of the English Football League, but absolutely not the worst.
For more updates about the league's matches, click England League 2 Predictions right now!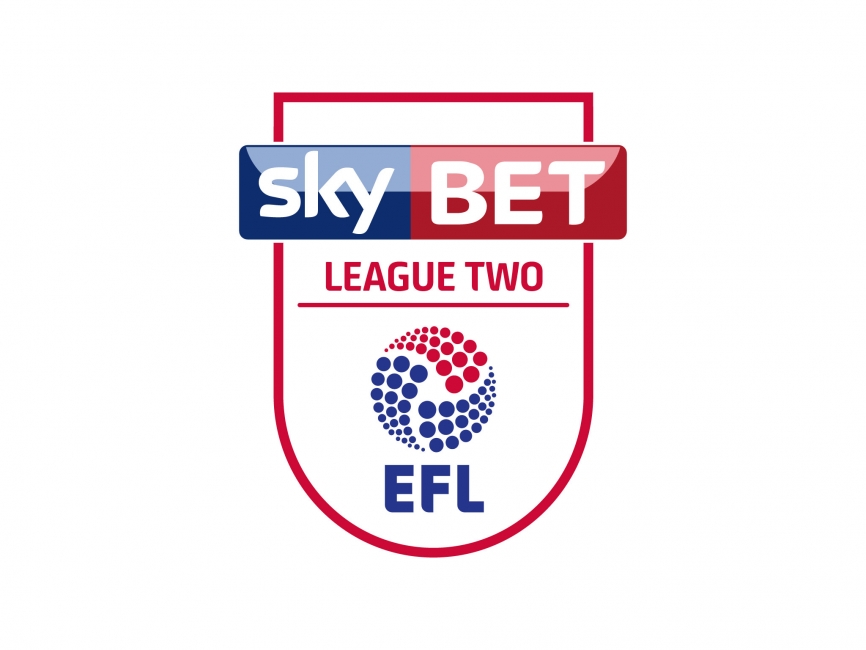 EFL League Two logo
1. List of teams in the 2021-22 EFL League 2
2. The basics of the EFL League 2
Like its precedent league, there are 24 teams in the EFL League 2 that will play in a round-robin system, which means each team will play each other twice (once at their home field and once at their respective opponents'). The league's standing is based on points, teams get 3 points per win, 1 point is awarded to both teams when they draw, and naturally, none is given to the loser. In the rare case of two teams sharing a standing, the standing will be decided based upon their GD, Head to Head record and in the unlikely state where it still has not been decided, they will have to play a play-off match to settle the standings.
3. Chances and Hopes
Sitting at the bottom of the hierarchy, most teams want to fight for the first and second place of the standing. To get the promotion to League 1 and possibly the Premier League. Getting promoted means more financial benefits. Basically, it's a life-changing experience if you manage to get to the PL.
Teams promoted from League 2
| | | | | | | | | |
| --- | --- | --- | --- | --- | --- | --- | --- | --- |
| Winner | Points | Runner-up | Points | Third place | Points | Promoted via play-off | League position | Points |
| Yeovil Town | 83 | Scunthorpe United | 80 | Swansea City | 80 | Southend United | 4th | 78 |
| Carlisle United | 86 | Northampton Town | 83 | Leyton Orient | 81 | Cheltenham Town | 5th | 72 |
| Walsall | 89 | Hartlepool United | 88 | Swindon Town | 85 | Bristol Rovers | 6th | 72 |
| Milton Keynes Dons | 97 | Peterborough United | 92 | Hereford United | 88 | Stockport County | 4th | 82 |
| Brentford | 85 | Exeter City | 79 | Wycombe Wanderers | 78 | Gillingham | 5th | 75 |
| Notts County | 93 | Bournemouth | 83 | Rochdale | 82 | Dagenham & Redbridge | 7th | 72 |
| Chesterfield | 86 | Bury | 81 | Wycombe Wanderers | 81 | Stevenage | 6th | 69 |
| Swindon Town | 93 | Shrewsbury Town | 88 | Crawley Town | 84 | Crewe Alexandra | 7th | 72 |
| Gillingham | 83 | Rotherham United | 79 | Port Vale | 78 | Bradford City | 7th | 69 |
| Chesterfield | 84 | Scunthorpe United | 81 | Rochdale | 81 | Fleetwood Town | 4th | 76 |
| Burton Albion | 94 | Shrewsbury Town | 89 | Bury | 85 | Southend United | 5th | 84 |
| Northampton Town | 99 | Oxford United | 86 | Bristol Rovers | 85 | AFC Wimbledon | 7th | 75 |
| Portsmouth | 87 | Plymouth Argyle | 87 | Doncaster Rovers | 85 | Blackpool | 7th | 70 |
| Accrington Stanley | 93 | Luton Town | 88 | Wycombe Wanderers | 84 | Coventry City | 6th | 75 |
| Lincoln City | 85 | Bury | 79 | Milton Keynes Dons | 79 | Tranmere Rovers | 6th | 73 |
| Swindon Town | 88.32 | Crewe Alexandra | 85.56 | Plymouth Argyle | 84.64 | Northampton Town | 7th | 72.22 |
| Cheltenham Town | 82 | Cambridge United | 80 | Bolton Wanderers | 79 | Morecambe FC | 4th | 78 |
Sources