Israel Premier League Israel predictions, the most accurate football prediction
Round 14
Predictions 1X2
Under/Over 2.5
Both To Score
Handicap
Round 15
Predictions 1X2
Under/Over 2.5
Both To Score
Handicap
Round 13
Predictions 1X2
Under/Over 2.5
Both To Score
Handicap
Round 12
Predictions 1X2
Under/Over 2.5
Both To Score
Handicap
Israel Premier League: the highest division of Israeli football
Israel Premier League is the most anticipated competition in Israel football. So we understand that the Israel Premier League Predictions are what millions of football fans in this country care about. You don't have to pay for anything but still get the closely accurate predictions that will be helpful for your next bet.
What is the Israel Premier League?
The Israel Premier League, also known as the Tel Aviv Stock Exchange League due to sponsorship reasons, is the top-flight division in the Israeli Football League. The competition was founded 22 years ago, in 1999.
The Israel Premier League was created based on the decision of the Israel Football Association to establish a new league that replaced the Liga Leumit (which now is the second division) and comprised professional football clubs. This competition has ranked 21st in the UEFA Coefficients over the last five years.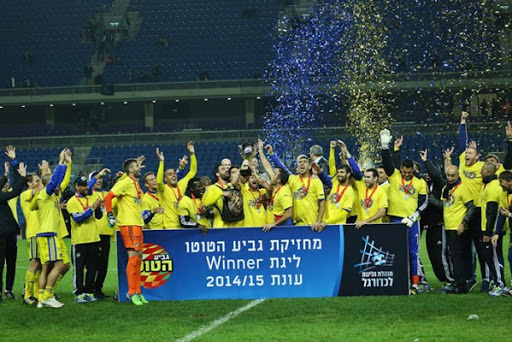 Israel Premier League
The format of the Israel Premier League
A season of Israel Premier League typically runs from August to May like most of the other domestic competitions. It consists of 14 teams since the 2013-14 season. The tournament is separated into two stages, the regular season, followed by the play-off.
The first stage is played under the round-robin format, in which each team will meet every other team twice. Teams will obtain three points by winning a match, one point for a draw, and zero points if they lose the game. After that, the top six teams will enter the Championship round, while the bottom eight teams compete with each other in the Relegation round.
The same format is applied. Eventually, the team that finishes with the highest point will win the title of the Israel Premier League and qualify for the UEFA Champions League qualifiers, while the two teams with the lowest points in the relegation round will be relegated to the lower division, the Liga Leumit.
Titles and top goalscorers by seasons
According to the table above, Maccabi Tel Aviv, the oldest football club in Israel, is currently the most successful club in the Israel Premier League with 23 times winning this title. Also, player Eran Zahavi from this team is the all-time top scorer in this league. He was named for this award in three consecutive seasons, the 2013-14, 2014-15, and 2015-16 seasons, with 29, 27, and 35 goals respectively.
Maccabi Tel Aviv F.C.
Maccabi Haifa has just finished this season of the Israel Premier League as the champions. This is also their 13th title in the history of this league.
References
https://en.wikipedia.org/wiki/Israeli_Premier_League