Scotland Championship Scotland predictions, the most accurate football prediction
Round 18
Predictions 1X2
Under/Over 2.5
Both To Score
Handicap
Round 19
Predictions 1X2
Under/Over 2.5
Both To Score
Handicap
Round 17
Predictions 1X2
Under/Over 2.5
Both To Score
Handicap
Round 16
Predictions 1X2
Under/Over 2.5
Both To Score
Handicap
What to know about the Scottish Championship?
The Scottish Championship is the second division of the Scottish National Football League, which is the league level for Scotland's men's professional football clubs.
The Scottish Championship was formed in July 2013 after the establishment of the Scottish Professional Football League by the merging of the Scottish Premier League and the Scottish Football League. A team earns three points for a victory and one point for a tie. A defeat results in no points being awarded. Find more about Scotland Championship Predictions on our website!
Scottish Championship logo
How is the Format of the Scottish Championship?
Teams are ranked first by total points, then by goal difference, and finally by goals scored. The team with the most points at the end of any season is crowned league champion. If the goals are equal, the winner is decided by the goal difference. If this does not produce a winner, the tied teams must compete in a playoff game at a neutral site to decide the final standings.
Promotion and relegation
The winners are promoted straight to the Scottish Premiership, switching positions with the Premiership's bottom-ranked team. The clubs finishing second, third, and fourth reach a two-leg Premiership play-off. The third-placed club plays the fourth-placed club, and the champion plays the second-placed club. The winner of that game will face the Premiership club currently in 11th place.
If the Championship play-off winner wins, the club is promoted and the Premiership club is relegated; otherwise, the Premiership club stays in its league and the Championship club is not promoted. The Championship play-off structure similarly resembles that of the Premiership in terms of promotion and relegation — the bottom-ranked team in the Championship is automatically relegated, while the 9th-placed club competes in a play-off with the 2nd, 3rd, and 4th-placed clubs from League One.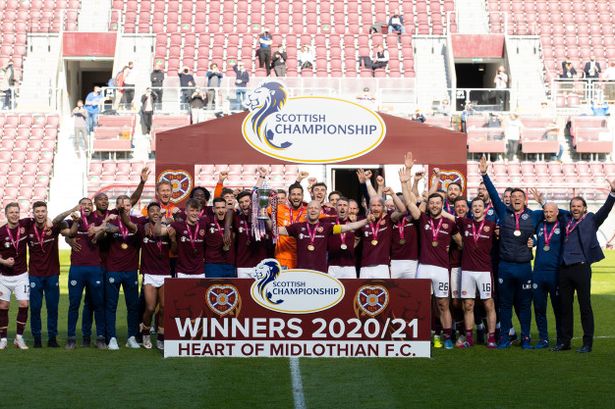 Heart of Midlothian are the winners of the 2020-21 Scottish Championship
2021–22 Scottish Championship Teams
Champions of the Scottish Championship
We know that the Scottish Championship Predictions are also what football fanatics from this country or all over the world care about. So visit our website regularly to not miss any information!
Sources