South America - World Cup Qualifying predictions, the most accurate football prediction
Round 18
Predictions 1X2
Under/Over 2.5
Both To Score
Handicap
Round Qualification round 4
Predictions 1X2
Under/Over 2.5
Both To Score
Handicap
South America is one of the top-flight regions for football. WC Qualification South America Predictions are frequently updated on our website for every match. Refer to our website to not miss any useful information. Now, it's time to learn more about this league.
Overview of the 2022 FIFA World Cup Qualification in South America
The South American section of the 2022 FIFA World Cup Qualifying round serves as a qualifier for national teams from the South American Football Confederation (CONMEBOL) for the 2022 FIFA World Cup, which will be hosted in Qatar. CONMEBOL teams have a total of 4.5 berths available in the final tournament (4 direct slots and 1 inter-confederation play-off slot).
On October 8, 2020, the qualifying procedure began. Luis Suárez of Uruguay scored the first round-robin's goal. Suárez set a record by scoring the first goal in CONMEBOL's World Cup qualifications for the third time (after 2010 and 2014) and the fourth time in a row for an Uruguayan player.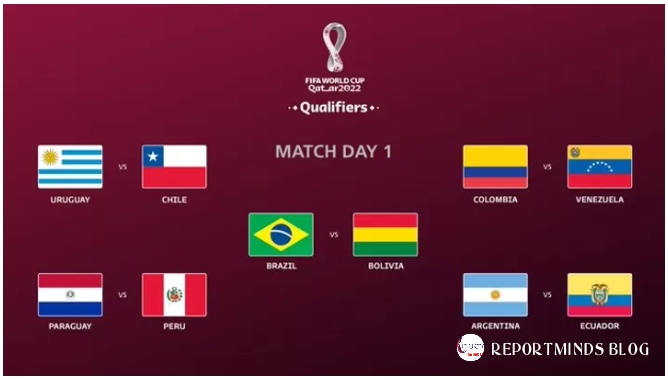 South America- 2022 World Cup Qualifying
How is the format of the South America-FIFA World Cup Qualifying?
The CONMEBOL Council voted on January 24, 2019, to keep the same qualification process as the previous six editions. A league of home-and-away round-robin matches will be played amongst the ten teams.
A draw was held at the Bourbon Asunción Convention Hotel in Luque, Paraguay, on December 17, 2019, at 10:00 PYST (UTC3) to decide the fixtures. In this World Cup season, CONMEBOL Council approved the use of a video assistant referee system (VAR) to bring the fans the clearest live matches with the most precise results.
Schedule of the 2022 World Cup Qualification (CONMEBOL)
Due to the outbreak of the Covid-19 pandemic all over the world, the initial plan of the 2022 FIFA World Cup-CONMEBOL was changed. At the present, the South American teams have been practising as well as possible to compete for this highest title in the football world.
2022 FIFA World Cup-CONMEBOL Schedule
Standings of the 2022 World Cup Qualification in CONMEBOL
(updated on July 5th 2022)
CONMEBOL qualified all ten national teams. The below information was updated on 8th June 2021. Please visit Betimate often to have more details about all matchdays of the 2022 FIFA World Cup as well as the South America World Cup qualifications Predictions every day!
Reference Source
https://en.wikipedia.org/wiki/2022_FIFA_World_Cup_qualification_(CONMEBOL)