Spain Tercera Group 17 Spain predictions, the most accurate football prediction
Round 14
Predictions 1X2
Under/Over 2.5
Both To Score
Handicap
Round 15
Predictions 1X2
Under/Over 2.5
Both To Score
Handicap
Round 13
Predictions 1X2
Under/Over 2.5
Both To Score
Handicap
Round 12
Predictions 1X2
Under/Over 2.5
Both To Score
Handicap
SPAIN TERCERA GROUP 17
Spain Tercera Group 17 is one of the groups which has the most participating clubs in the Tercera Division. Aragon warriors of the league haven't made fans disappointed with progressing achievements through seasons. For more information about this group, don't ignore this post by Betimate!


Spain Tercera Group 17
SPAIN TERCERA DIVISION
What is Spain Tercera?
The official name of Spain Tercera is Tercera División. This is the fourth tier of the Spanish football league system. Its higher levels are the semi- professional Segunda División B, the professional Segunda División ( La Liga Smartbank), and the Primera División ( La Liga Santander). Also in the league system, Tercera Division is the highest level of non-professional leagues which is above Regional Divisions (Divisiones Regionales).
From the 2021-22 season onwards, Spain Tercera will be renamed the "Tercera División RFEF". It will also be down-leveled to the fifth tier due to the creation of a new third-level called the "Primera División RFEF".
How is the format of the Tercera Division?
According to the current format of the Tercera Division, there are 397 teams joining the league. They are split into 18 geographical groups. Each group features from 21 to 24 teams and is administered by a regional football federation.
Tercera Division matches are calculated by round-robin format's regulation. At the end of the season, the four leading teams of each group will have the right to take part in play-offs to compete for tickets to the Segunda Division B. The 18 group championships will also qualify for the next season of Copa del Rey. The last-ranked teams of groups will be relegated to the Regional Divisions.
From the 2021-22 season, the Tercera División RFEF will contain 18 regional groups of 18 teams each.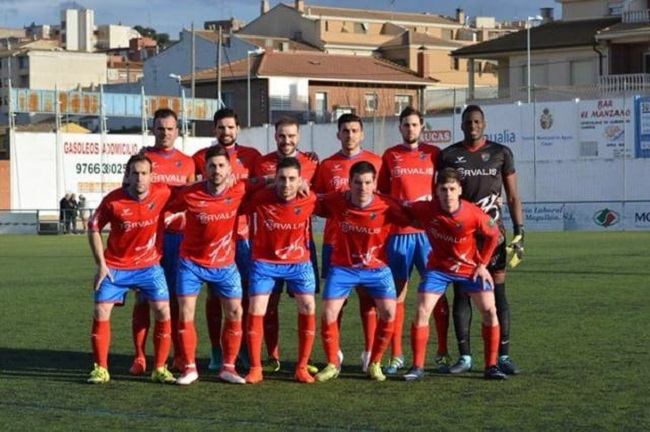 CD Teruel- Group XVII
SPAIN TERCERA GROUP 17
Which teams are playing in the Spain Tercera Group 17?
Clubs in Group 17 are from the Aragon region of Spain. There are a total of 24 teams participating in this group. The below table shows all of their names, cities, and home grounds.
Teams in Tercera Group 17
Spain Tercera Group 17 Standings ( 2020-21)
Like other groups, Group 17 is also divided into 2 subgroups ( A&B) to compete in the most convenient way. In the following tables, the results of teams are updated on 25 March 2021.
In subgroup A, Teruel is now the leading team with 49 points in 22 matches. Whereas, San Juan is disqualified due to the team's minus points.
In Group B, the points of teams are more stable. The best club at present is Brea with 42 points in 2 matches. Cuarte and Utebo are following with very close points.
Subgroup A of Spain Tercera Group 17
Subgroup B of Spain Tercera Group 17
To get the updated Tercera Division Group 17 Predictions, please visit Betimate frequently! Our information is always quick and precise.
REFERENCE SOURCES
https://en.wikipedia.org/wiki/2020%E2%80%9321_Tercera_Divisi%C3%B3n

https://en.wikipedia.org/wiki/Tercera_Divisi%C3%B3n