Skor akhir Bayer Leverkusen vs Ferencvaros, hasil (Liga Eropa UEFA): Kelas perwakilan Jerman
Bayer Leverkusen vs Ferencvaros skor akhir, hasil (UEFA Europa League): Di babak 16 besar Liga Eropa UEFA, Bayer Leverkusen menyebabkan kekalahan leg pertama 2-0 pada juara Hongaria, mengakhiri rekor 11 pertandingan tak terkalahkan Ferencváros semua kompetisi (UEL).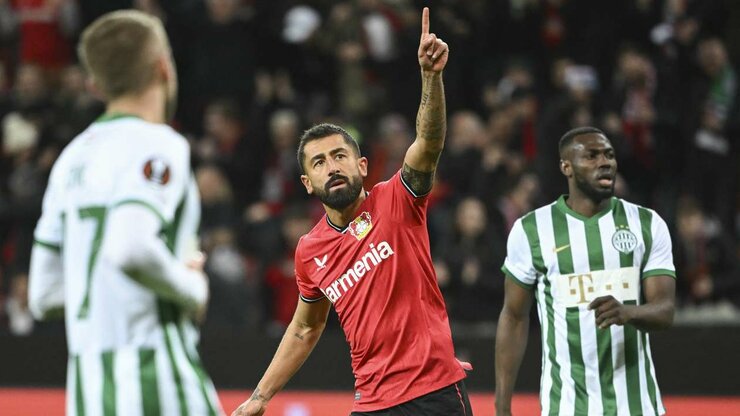 Sorotan Bayer Leverkusen vs Ferencvaros
Bayer Leverkusen mengamankan kemenangan 2-0 atas Ferencvaros dalam pertandingan leg pertama babak 16 besar Liga Eropa UEFA di BayArena dengan gol dari Kerem Demirbay dan Edmond Tapsoba. Meskipun harus membalikkan defisit leg pertama di babak play-off untuk mengalahkan Monaco melalui adu penalti, Leverkusen adalah orang-orang yang memimpin lebih awal melawan Ferencvaros ketika Demirbay mencetak gol setelah tembakan awal Piero Hincapie diblok menyusul kesalahan penjaga gawang Denes Dibusz . Ferencvaros memiliki peluang untuk menyamakan kedudukan ketika Kristoffer Zachariassen membentur mistar gawang, tetapi Leverkusen mempertahankan keunggulan 1-0 mereka memasuki babak pertama.
Di babak kedua, Leverkusen bertahan dengan baik untuk menahan Ferencvaros, dengan upaya jarak jauh Eldar Civic gagal mencapai target. Moussa Diaby memiliki peluang untuk menggandakan keunggulan Leverkusen, tetapi ia melewatkan tembakannya dari sudut sempit setelah umpan cerdik dari Florian Wirtz. Pertandingan sebagian besar tanpa peluang bersih sampai Tapsoba mencetak gol dari rebound dari mistar gawang dari tendangan bebas yang diambil oleh pemain pengganti Adam Hlozek, memberi Leverkusen keunggulan yang nyaman dalam pertandingan tersebut.
Sorotan Bayer Leverkusen vs Ferencvaros
Rangkuman Bayer Leverkusen vs Ferencvaros
Hal terakhir yang ingin dilakukan Ferencváros adalah tertinggal lebih awal setelah kalah enam dari tujuh pertandingan tandang UEL mereka sebelumnya menjelang malam ini. Tapi, orang Hongaria menemui takdir itu dan menguasai kehancuran mereka sendiri dalam prosesnya. Florian Wirtz memanfaatkan beberapa permainan buruk dengan bertukar umpan dengan Kerem Demirbay sebelum yang terakhir dari pasangan tersebut membuat Leverkusen unggul.
Namun, Ferencváros tidak kehilangan momentum setelah gol itu, dan mereka dapat menganggap diri mereka kurang beruntung karena tidak langsung merespon ketika Kristoffer Zachariassen membentur umpan luar biasa Bálint Vécsei membentur mistar gawang. Di ambang turun minum, tim tamu hampir menyesali kesempatan yang hilang, tetapi Demirbay, yang sudah mencetak satu gol, tidak mampu mengarahkan tembakannya dari tepi kotak ke gawang.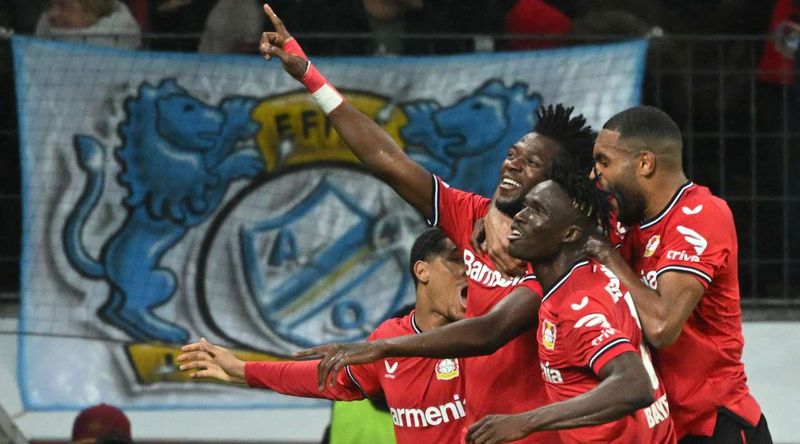 Tapsoba mencetak gol pada menit ke-86
Tekanan ada pada Ferencváros untuk keluar setelah jeda dan entah bagaimana menekan tuan rumah, tetapi mereka berjuang untuk menghasilkan banyak peluang yang jelas. Pada kenyataannya, Die Werkself nyaris mencetak gol kedua permainan, tetapi Wirtz, yang memiliki peran kunci dalam gol pertama permainan, melakukan percobaan yang melebar dari gawang ketika dia benar-benar bisa melakukannya lebih baik.
BayArena tegang saat tim Xabi Alonso semakin dekat untuk mengamankan keunggulan leg pertama, datang dari tuan rumah tiga pertandingan tanpa kemenangan di Eropa. Terlepas dari kerugian mereka, Ferencváros menunjukkan sedikit ketergesaan untuk menemukan sesuatu untuk dibawa kembali ke Hongaria, dan Edmond Tapsoba akhirnya menghukum mereka karena kurangnya niat. Saat ia membawa pulang rebound dari tendangan bebas Adam Hloek yang kejam untuk menambah awal yang buruk bagi Ferencváros yang pertama kali terjun di babak penyisihan grup di kompetisi Eropa, bek Leverkusen meletakkan permainan, dan bahkan mungkin imbang.
Skor akhir Bayer Leverkusen vs Ferencvaros
| | | | |
| --- | --- | --- | --- |
| | 1H | 2H | Terakhir |
| Bayer Leverkusen | 1 | 1 | 2 |
| Ferencvaros | 0 | 0 | 0 |
Sasaran
Bayer Leverkusen : 1-0 Demirbay (9'), 2-0 Tapsoba (86')
Susunan pemain yang dikonfirmasi Bayer Leverkusen vs Ferencvaros
Leverkusen: Hradecky (c) - Tapsoba, Tah, Kossounou - Frimpong, Amiri, Demirbay, Hincapie - Wirtz (Schick 89') - Diaby (Hlozek 71'), Azmoun (Adli 60')
Ferencvaros : Dibusz (c) - Botka (Wingo 87'), Knoester, Abena, Civic - Esiti, Vecsei - Traore (Frederiksen 87'), Zachariassen, Marquinhos (Gojak 78') - R. Mmaee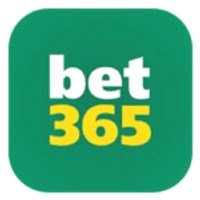 Soccer Accumulator Bonus!
Up to 70% bonus for accumulators on selected leagues at bet365. Applies to pre-match accumulators of 3+ selections on the standard Full Time Result, Both Teams to Score or Result/Both Teams To Score markets only. Bonus percentage is dependent on number of selections. Bonus capped at £100k and applied to returns.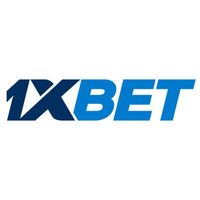 100% bonus on the 1st deposit up to 100$
Looking for a great way to kickstart your online betting experience? Look no further than 1xBet, where you can enjoy a fantastic 100% bonus on your first deposit of up to $100! With this amazing promotion, you'll have double the funds to play with when you sign up and make your first deposit.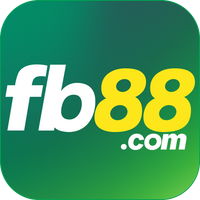 Enjoy 100% Bonus upto 100$
Looking for a great way to boost your online gaming experience? Look no further than FB88! For a limited time, we're offering an incredible promotion that's sure to put a smile on your face. When you sign up and make your first deposit, you'll receive a 100% bonus of up to $100!