FC Porto vs Inter Pronostico, Quote, Consigli Scommesse 14/03/2023
Chi regnerà supremo nella resa dei conti FC Porto-Inter? I nostri analisti di previsione forniscono consigli sulle scommesse e quote attuali per questa partita tanto attesa.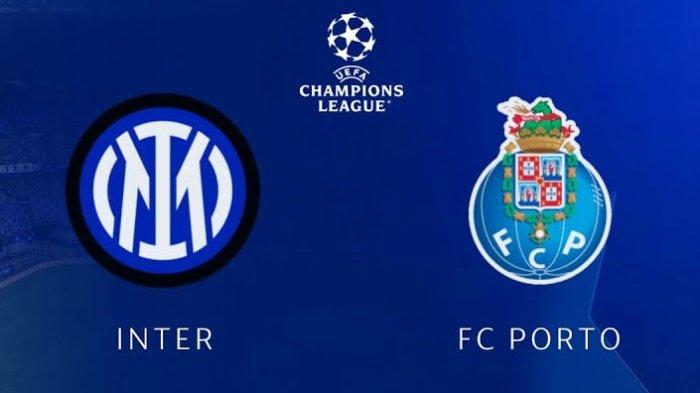 [Pronostico UEFA Champion League] Martedì, l'FC Porto affronterà l'Inter all'Etihad in un match di Champions League.
Pronostico FC Porto vs Inter: prestazioni recenti e statistiche H2H
Il ritorno degli ottavi di finale di UEFA Champions League tra Porto e Inter si giocherà martedì all'Estádio do Drago. Il gol di Romelu Lukaku all'86' ha regalato all'Inter la vittoria per 1-0 nell'andata del match tra le due squadre, disputatosi a San Siro il mese scorso. Otavio ha ricevuto la sua seconda ammonizione ed è stato espulso al 78', lasciando il Porto con 10 uomini. È ancora squalificato per il ritorno.
Ultime 5 partite di FC Porto
L'FC Porto spera in un'altra vittoria in questo incontro dopo aver sconfitto l'Estoril 3-2 nella Primeira Liga. L'FC Porto aveva una percentuale di possesso palla del 63% e 12 tiri in porta nella partita precedente, di cui 5 sono finiti in rete.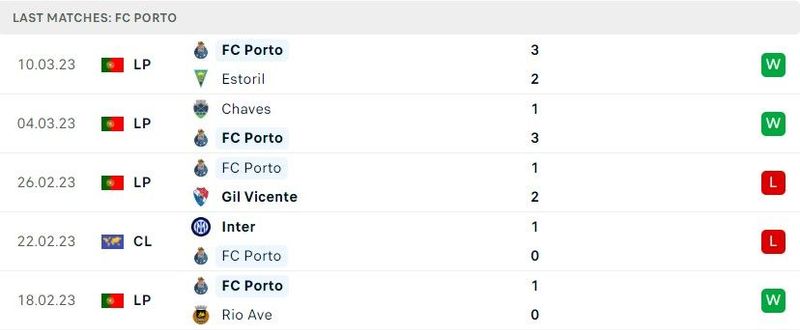 Ultime 5 partite di FC Porto
Marko Gruji (9'), André Franco (31') e Mehdi Taremi (73') hanno segnato i gol per l'FC Porto. L'FC Porto non ha subito gol in relativamente poche delle ultime partite. Secondo le statistiche, l'FC Porto ha subito gol in cinque delle ultime sei partite, per un totale di sette gol in quel periodo.
Le ultime 5 partite dell'Inter
L'Inter cercherà di espiare la sconfitta contro lo Spezia Calcio nell'ultimo incontro di Serie A vincendo questa partita. L'Inter ha avuto una percentuale di possesso palla del 69% nel primo incontro e ha effettuato 28 tentativi di tiro, di cui 7 sono finiti in rete. Per l'Inter l'attaccante era Romelu Lukaku (83').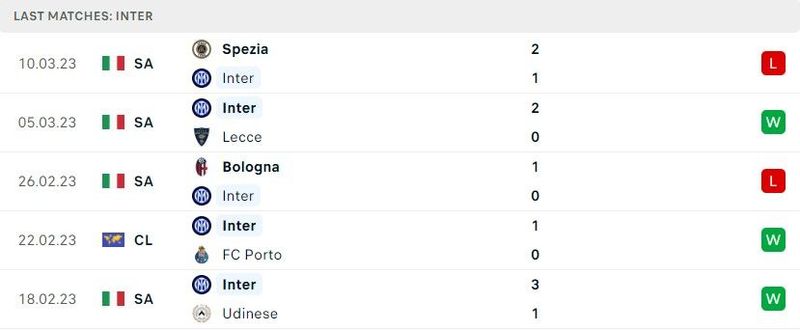 Le ultime 5 partite dell'Inter
Il loro rivale Spezia Calcio è riuscito a tirare fuori 4 tiri, di cui 2 a rete. Grazie a una serie di grandi sforzi del loro terzino, l'Inter ha rinunciato solo a quattro gol in ciascuna delle ultime sei partite. Anche i suoi attaccanti sono riusciti a segnare sette gol in questo periodo. Se questo schema continua durante questo vertice, dovremo aspettare e guardare.
FC Porto vs Inter H2H Statistiche
Si sono già disputati sei incontri tra i due club, tutti in Champions League. Con tre vittorie, l'Inter ha un record superiore in queste gare. Il Porto ha avuto solo una vittoria e una partita finita in pareggio. Curiosamente, San Siro è stata la sede di tutte e tre le vittorie degli ospiti contro i padroni di casa. Dalla stagione 2010-11, gli ospiti non sono passati ai quarti di finale di Champions League. Mentre gli ospiti hanno ottenuto solo una vittoria nelle ultime otto trasferte contro squadre portoghesi, i padroni di casa hanno vinto le ultime quattro gare casalinghe contro squadre italiane. Nelle 10 partite casalinghe, il Porto ha perso solo una volta vincendo le altre nove. Nelle ultime tre trasferte l'Inter non ha vinto e non ha segnato.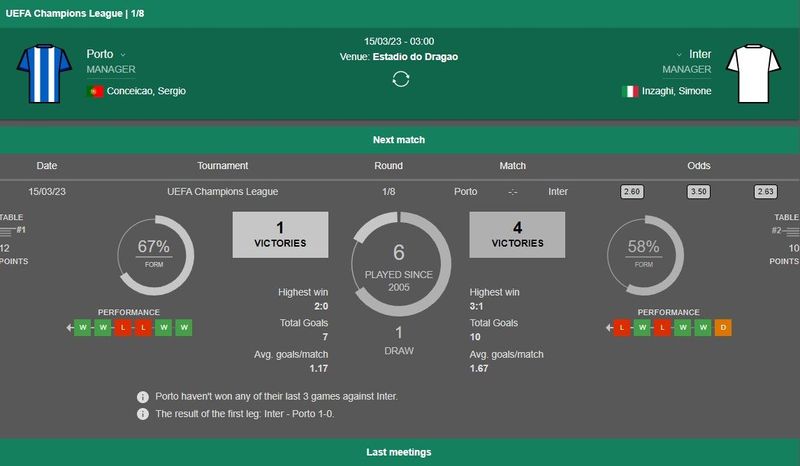 FC Porto vs Inter H2H Statistiche
Quote attuali FC Porto vs Inter
Ora, controlliamo alcuni degli altri mercati di scommesse e le migliori quote per questa partita:
Quote handicap: FC Porto(2.20) / Inter(2.66)
Quote 1x2: FC Porto(2.65 / Pareggio (3.35) / Inter(2.85)
Più/meno gol: Più di 2.5 (1.80) | Meno di 2.5 (2.02)
Entrambe le squadre segnano : Sì (2.35) | No (1.98)
Con lo stato di forma attuale e il vantaggio in casa, l'Inter è valutata più in alto rispetto alla squadra in trasferta in questa partita da alcuni dei migliori bookmaker. Quando si scommette sull'Inter per vincere, pareggiare o perdere questa partita, i bookmaker danno le seguenti quote 1x2: 2.65 /3.35/ 2.85
FC Porto vs Inter Suggerimenti per le scommesse
Meno di 2,5 gol
La squadra portoghese ha sfruttato i suoi vantaggi nell'andata di questo pronostico Porto-Inter, cadendo solo sul gol di Romelu Lukaku negli ultimi secondi. A causa del cartellino rosso, anche Otavio è stato eliminato per gli ultimi 15 minuti di gioco del Porto. Il modo in cui il Porto intendeva giocare ha impedito al suo avversario, che aveva il vantaggio offensivo più forte, di segnare abbastanza gol per sentirsi sicuro in vista della rivincita. Durante la stagione, l'Inter ha giocato 10 partite di Serie A con meno di 2,5 gol, di cui tre nelle ultime cinque partite. Il Porto ne ha undici in campionato, anche se questi numeri non contano molto in questa partita specifica.
Risultato esatto primo tempo: 0-0
In questa partita tra Porto e Inter puntiamo al punteggio più basso, proprio come nella partita d'andata. Sono le squadre che hanno la capacità di segnare gol, ma in una partita come questa si tratta solo di giocare in difesa solida. Essendo l'Inter la squadra che va a Porto con il vantaggio di aver segnato per prima, ci sarà un po' meno pressione. Tutto dipende da come reagirà la squadra di casa. In questo incontro, il Porto giocherà in modo diverso rispetto a come fa spesso nel campionato locale, dove è quasi sempre favorito.
FC Porto vs Inter I migliori consigli da Betimate
Porto-Inter 1-1
Pensiamo che Inter e FC Porto abbiano buone possibilità di segnare entrambi i gol e giocare una partita abbastanza equilibrata. Resta da vedere l'esito della partita, anche se potrebbe finire in parità. Quindi, prevediamo una gara leale e un risultato di 90 minuti di 1-1.
>>> Prova subito i nostri Suggerimenti Premium se desideri altri migliori suggerimenti <<<
Probabili formazioni Porto-Inter
Possibile formazione titolare del Porto: Costa; Mario, Pepe, Cardoso, Sanusi; Grujic, Uribe; Franco, Pepe, Galeno; Taremi
Inter, possibile formazione titolare: Onana; De Vrij, Acerbi, Bastoni; Dumfries, Barella, Calhanoglu, Mkhitaryan, Dimarco; Martinez, Lukaku
FAQ - FC Porto-Inter
Chi sono i favoriti per la vittoria? L'Inter è leggermente favorita per la vittoria.
Qual è stato il punteggio quando queste due squadre si sono incontrate l'ultima volta? Inter FC - Porto 1-0 A
che ora è il calcio d'inizio? 19:00 GMT, 20:00 CET.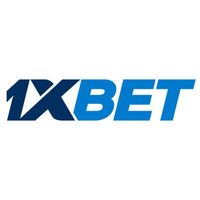 100% bonus on the 1st deposit up to 100$
Looking for a great way to kickstart your online betting experience? Look no further than 1xBet, where you can enjoy a fantastic 100% bonus on your first deposit of up to $100! With this amazing promotion, you'll have double the funds to play with when you sign up and make your first deposit.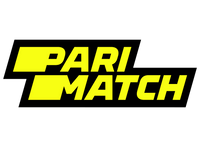 WE DOUBLE YOUR FIRST DEPOSIT - TOP UP $100, GET $200!
Take advantage of our Parimatch promo and double your first deposit! Simply top up your account with $100, and we'll give you an extra $100, for a total of $200 to play with. Don't miss out on this fantastic offer!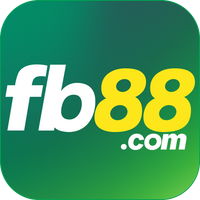 Enjoy 100% Bonus upto 100$
Looking for a great way to boost your online gaming experience? Look no further than FB88! For a limited time, we're offering an incredible promotion that's sure to put a smile on your face. When you sign up and make your first deposit, you'll receive a 100% bonus of up to $100!