Al Nassr vs Abha Hightlights Video - Il superbo gol e la spettacolare rimonta di Ronaldo (Saudi Pro League)
(Al Nassr 2 - 1 Abha, round 21 della Saudi Pro League) Cristiano Ronaldo ha segnato un gol superbo per aiutare la sua squadra ad allentare la pressione contro un avversario duro nel tentativo di tenere il passo con la capolista. Cinque giorni dopo la vittoria per 3-1 contro l'Abha nei quarti di finale della King Cup del 14 marzo, Al Nassr ha affrontato lo stesso avversario nel round 21 della Saudi Pro League. La squadra di Cristiano Ronaldo aveva bisogno di tutti e 3 i punti per continuare la corsa al campionato contro la capolista Al Ittihad.
Tuttavia, Al Nassr ha incontrato difficoltà giocando contro una squadra che non vinceva da 7 partite consecutive su tutti i fronti. Al 7 ', la punizione di Saad Bguir ha impedito al portiere Nawaf Al Aqidi di prendere la palla prima che Amine Atouchi segnasse sulla ribattuta. Tuttavia, questo gol è stato annullato dall'arbitro Fernando Rapallini per fuorigioco di Atouchi.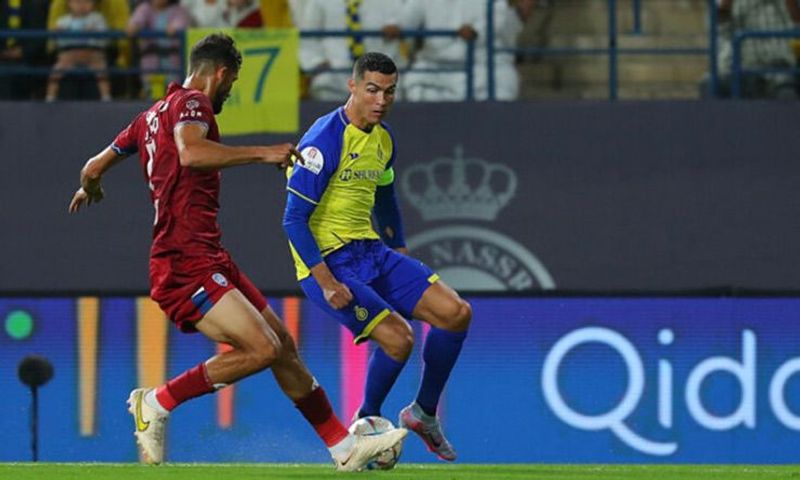 Ronaldo e compagni hanno giocato contro l'Abha per la seconda volta in meno di una settimana, questa volta in una competizione diversa.
Al Nassr - Abha 2-1, 21° turno della Saudi Pro League.
Al 26 ', il tiro dalla fascia destra di Abdulfattah Adam ha sorpreso la sua ex squadra Al Nassr, aprendo le marcature per Abha. Nei minuti successivi gli ospiti continuano a mettere in difficoltà la squadra di Rudi Garcia.
Le difficoltà continuano per Al Nassr nella ripresa. Nel bel mezzo della loro lotta, Cristiano Ronaldo ha dimostrato la sua classe da superstar. Al 78', il 38enne attaccante ha sferrato un bellissimo calcio di punizione basso, attraversando il muro prima di sconfiggere il portiere Devis Epassy per pareggiare 1-1 per Al Nassr.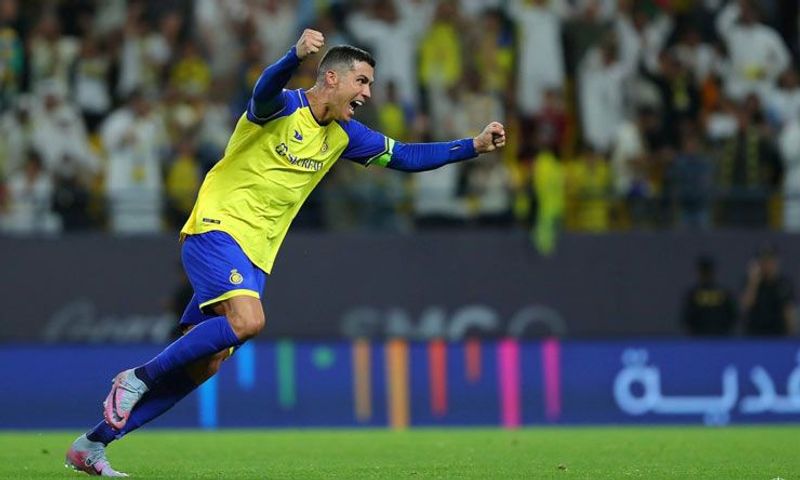 Nella partita tra Al Nassr e Abha della mattina del 19 marzo, Cristiano Ronaldo ha segnato uno splendido gol su punizione.
Solo 2 minuti dopo, Abha è stato ridotto a 10 uomini dopo che il centrocampista centrale Zakaria Al Sudani ha ricevuto il suo secondo cartellino giallo per aver spinto Abdulelah Al Amri a impedire un contropiede.
La fortuna ha continuato a sorridere ad Al Nassr quando all'81 'Adam è passato da eroe a cattivo per Abha maneggiando la palla in area di rigore mentre saltava per una sfida con Alvaro Gonzalez. Il VAR è intervenuto prima che l'arbitro assegnasse un rigore alla squadra di casa.
Ronaldo ha passato la responsabilità di tirare il rigore al suo compagno di squadra Anderson Talisca, che ha segnato per suggellare una vittoria in rimonta per 2-1 per la squadra di casa al Msool Park all'86 '.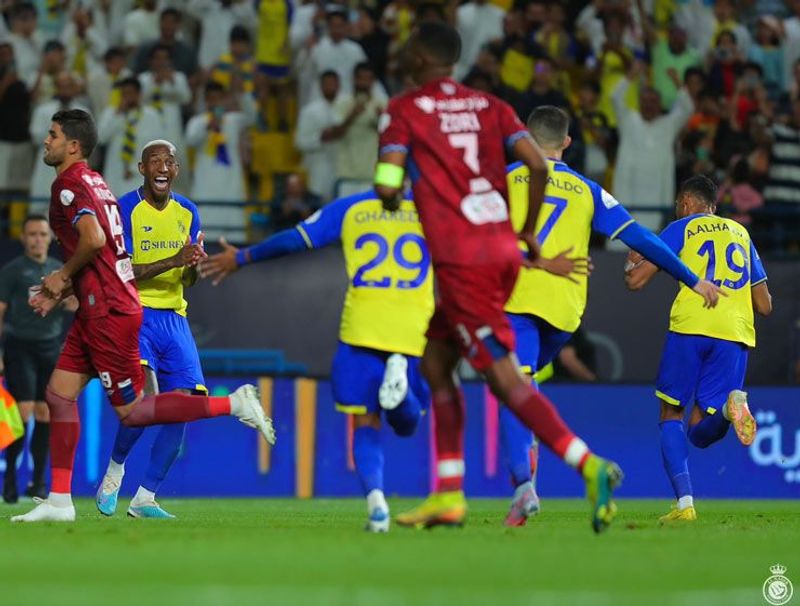 Dopo la partita, Ronaldo ha festeggiato con Anderson Talisca quando l'attaccante brasiliano ha trasformato con successo un calcio di rigore per assicurarsi la vittoria.
Con questo risultato, Al Nassr ha 49 punti dopo 21 partite nella Saudi Pro League, ancora secondo e un punto dietro la capolista Al Ittihad. Nel frattempo, Abha ha 23 punti dopo 21 turni, posizionandosi solo al 12° posto, con un distacco di 6 punti dal gruppo della MS League a rischio di retrocessione.
Punteggio finale : Al Nassr 2-1 Abha (Punteggio primo tempo: 0-1)
Marcatori :
Al Nassr: Ronaldo 78', Talisca (rigore) 86'
Abha: Adamo 26'
Espulsione: Al Sudani (Abha) 80'
Formazioni iniziali :
Al Nassr: Al Aquidi; Alvaro González, Al Ghannam, Konan, Al Amri; Al Khaibari, Ghareeb, Al Sulaiheem, Luiz Gustavo, Talisca; Ronaldo
Abha: Epassy; Al Hamsal, Natiq, Atouchi, Al Doussary; Bguir, Al Sudani, Saddiki, Al Salouli; Adamo, Caicedo
Statistiche partita :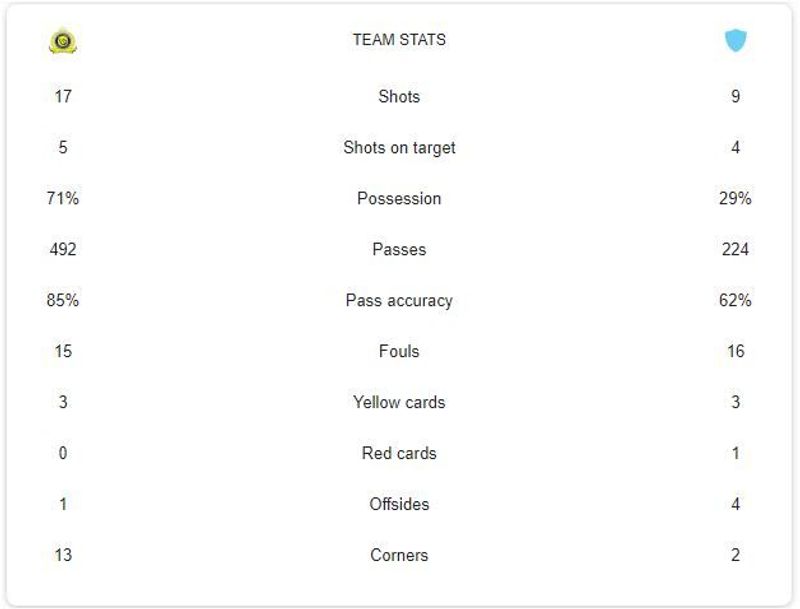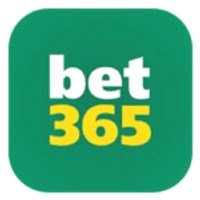 Soccer Accumulator Bonus!
Up to 70% bonus for accumulators on selected leagues at bet365. Applies to pre-match accumulators of 3+ selections on the standard Full Time Result, Both Teams to Score or Result/Both Teams To Score markets only. Bonus percentage is dependent on number of selections. Bonus capped at £100k and applied to returns.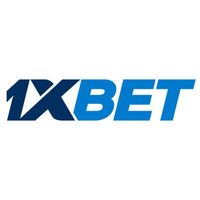 100% bonus on the 1st deposit up to 100$
Looking for a great way to kickstart your online betting experience? Look no further than 1xBet, where you can enjoy a fantastic 100% bonus on your first deposit of up to $100! With this amazing promotion, you'll have double the funds to play with when you sign up and make your first deposit.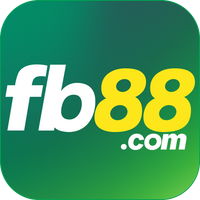 Enjoy 100% Bonus upto 100$
Looking for a great way to boost your online gaming experience? Look no further than FB88! For a limited time, we're offering an incredible promotion that's sure to put a smile on your face. When you sign up and make your first deposit, you'll receive a 100% bonus of up to $100!