Fulham vs Arsenal Football Match Video: tripletta di assist e un'intensa battaglia (punti salienti EPL)
(Fulham 0 - 3 Risultato Arsenal - EPL Highlights) Nel 27° turno della Premier League inglese, l'Arsenal ha dominato la partita, con Trossard che ha brillato con una tripletta di assist.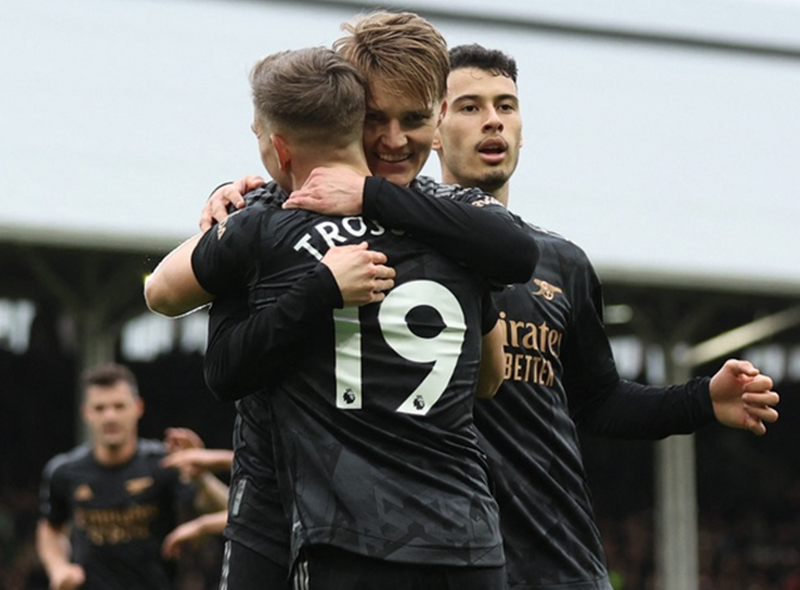 Nella giornata 27 della Premier League inglese, il Fulham ha guardato impotente mentre le stelle dell'Arsenal abbagliavano sul terreno di casa al Craven Cottage. Subito dopo il fischio d'inizio, l'Arsenal ha alzato il ritmo e ha messo il Fulham sotto forte pressione. Al 16' il difensore del Fulham Robinson realizza un maldestro autogol, ma il successivo gol di Martinelli viene annullato per fuorigioco.
Gli uomini di Mikel Arteta non si sono pentiti a lungo dell'occasione mancata. Al 21 ', su calcio d'angolo sulla fascia sinistra preso da Trossard, Gabriel si alza alto per mandare di testa la palla in fondo alla rete del Fulham, aprendo le marcature per l'Arsenal. I Gunners non si sono fermati qui. Al 26' Trossard ancora una volta regala a Martinelli un cross mirato che segna di testa il raddoppio della sua squadra.
Fullham 0 - 3 Arsenal Highlights:
Per il resto del primo tempo, l'Arsenal ha creato numerose occasioni per segnare, ma il Fulham è riuscito a difendersi solo con il portiere Bernd Leno come ultima linea di difesa. Tuttavia, l'ex portiere dell'Arsenal non ha potuto impedire alla sua vecchia squadra di "punire" il Fulham. Nel secondo minuto di recupero, Trossard ha completato la sua "tripletta" di assist preparando Odegaard a segnare il terzo gol dell'Arsenal.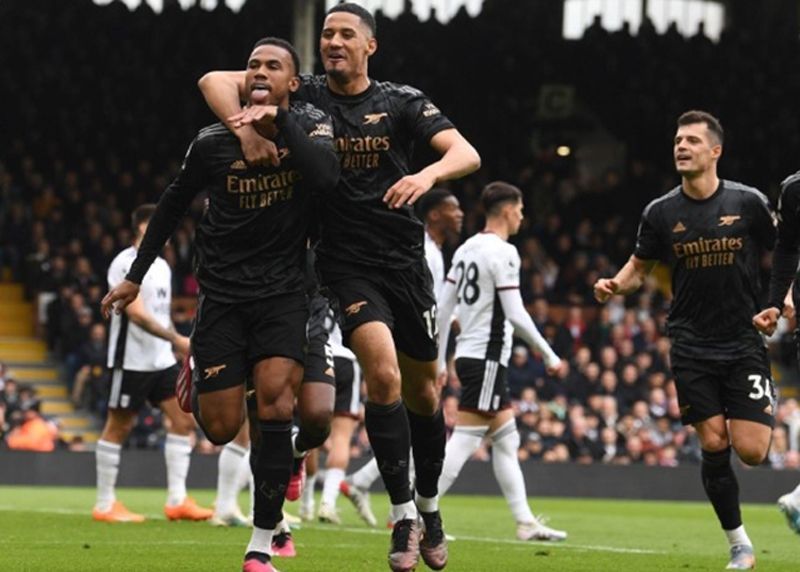 L'Arsenal ottiene una facile vittoria sul Fulham per consolidare la propria posizione al vertice. Immagine: betimate.com
Entrando nel secondo tempo, il Fulham ha reagito con forza, sperando di ridurre il deficit. Nel frattempo, l'Arsenal ha attaccato meno frequentemente, ma ha comunque fatto valere ciascuno dei suoi attacchi, costringendo il Fulham a trattenere il respiro ogni volta che i Gunners avanzavano.
La partita si è conclusa con una vittoria per 3-0 per l'Arsenal. Questo risultato ha aiutato la squadra di Arteta (66 punti/27 partite) a consolidare la propria posizione in testa alla classifica della Premier League, cinque punti di vantaggio sul Man City, secondo.
Punteggio finale : Fulham 0-3 Arsenal
Marcatori : Gabriel 21', Martinelli 26', Odegaard 45+2'
Formazione iniziale :
Fulham: Leno, Tete, Tosin, Ream, Robinson, Reed, Lukic, Decordova-Reid, Pereira, Solomon, Mitrovic
Arsenale: Ramsdale, White, Saliba, Gabriel, Zinchenko, Xhaka, Partey, Odegaard, Saka, Trossard, Martinelli
Statistiche partita :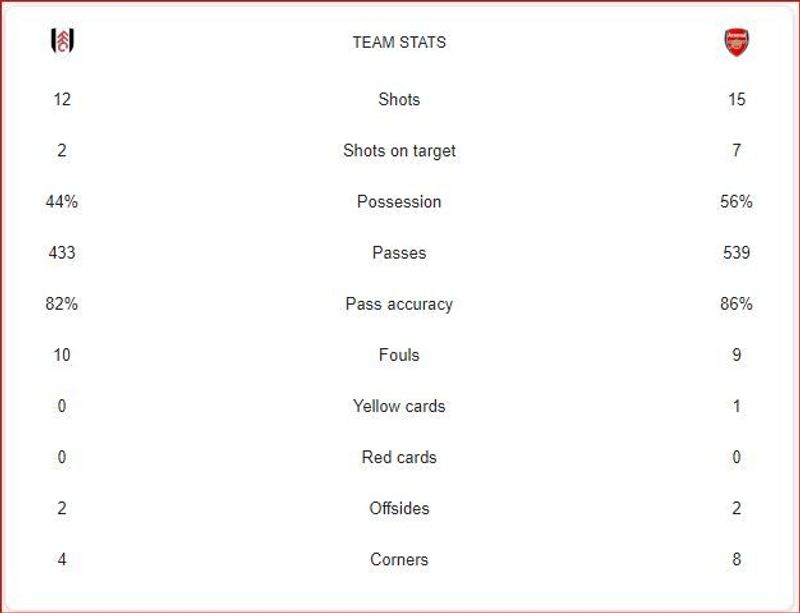 Classifica Premier League dopo il 27° turno: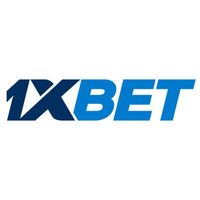 100% bonus on the 1st deposit up to 100$
Looking for a great way to kickstart your online betting experience? Look no further than 1xBet, where you can enjoy a fantastic 100% bonus on your first deposit of up to $100! With this amazing promotion, you'll have double the funds to play with when you sign up and make your first deposit.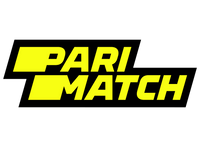 WE DOUBLE YOUR FIRST DEPOSIT - TOP UP $100, GET $200!
Take advantage of our Parimatch promo and double your first deposit! Simply top up your account with $100, and we'll give you an extra $100, for a total of $200 to play with. Don't miss out on this fantastic offer!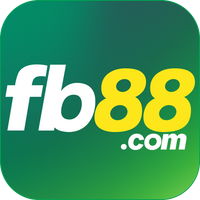 Enjoy 100% Bonus upto 100$
Looking for a great way to boost your online gaming experience? Look no further than FB88! For a limited time, we're offering an incredible promotion that's sure to put a smile on your face. When you sign up and make your first deposit, you'll receive a 100% bonus of up to $100!