Brest vs PSG Prognoza, kursy, typy bukmacherskie 12.03.2023
Zapewnij najdokładniejszą prognozę meczu Brest vs PSG (12.03.2023) wraz z Betimate.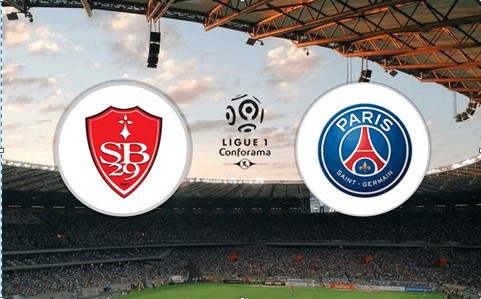 [Premier League Prognoza] W sobotę Brest zmierzy się z PSG na State Francis Le Ble w pojedynku Ligue 1.
Brest vs PSG Prognoza: Ostatnie wyniki i statystyki H2H
Wysokie loty Gdy PSG zmierzy się z Brestem w 27. rundzie Ligue 1, będą chcieli mocno zająć pierwsze miejsce w rankingu. Les Parisiens prawdopodobnie nadal będą grać ofensywnie, ponieważ ostatnio strzelali bramki z radości. Z drugiej strony Les Pirates musieli bardzo mocno pokonać Strasbourg i byli w stanie to zrobić. W każdym razie należy wziąć pod uwagę zwycięstwo wyjazdowe, ponieważ PSG pokonało Brest w każdym z poprzednich dwunastu spotkań we wszystkich rozgrywkach.
Ostatnie 5 meczów Brześcia
Stade Brestois chce ponownie odnieść zwycięstwo w tym meczu po pokonaniu Strasbourg 0:1 w Ligue 1. We wcześniejszym meczu Stade Brestois miał 38% posiadania piłki i osiem strzałów, z których jeden był celny.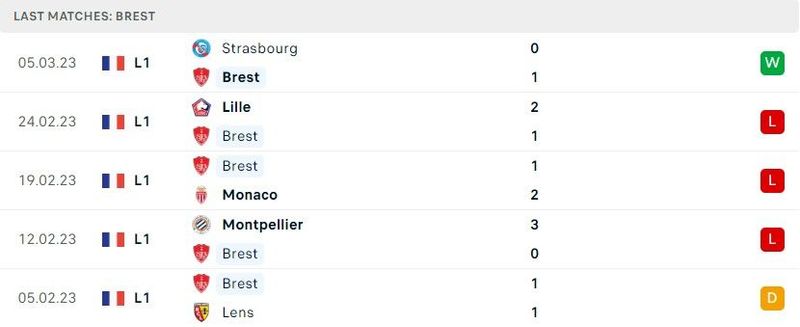 Ostatnie 5 meczów Brześcia
Z przodu i na środku widać wyraźnie, że Stade Brestois miał problemy ze znalezieniem tylnej bramki w sześciu poprzednich meczach, strzelając tylko cztery gole – dość żałosny wynik. Stadion Brestois pozwolił również przeciwnym stronom na umieszczenie 8 we wszystkich i dla wszystkich w tych meczach. Niezależnie od tych liczb okaże się, czy trend ten zostanie potwierdzony na kolejnej konferencji. Stade Brestois nie wygrał ani jednego meczu u siebie w poprzednich dwóch ligowych rozgrywkach przed tym pojedynkiem.
Ostatnie 5 meczy PSG
Paris Saint-Germain spróbuje odpokutować swoją porażkę w Lidze Mistrzów z Bayernem Monachium w poprzednim starciu, wygrywając ten mecz. Paris Saint-Germain miało 55% posiadania piłki w pierwszym spotkaniu i 10 strzałów, z których cztery były celne.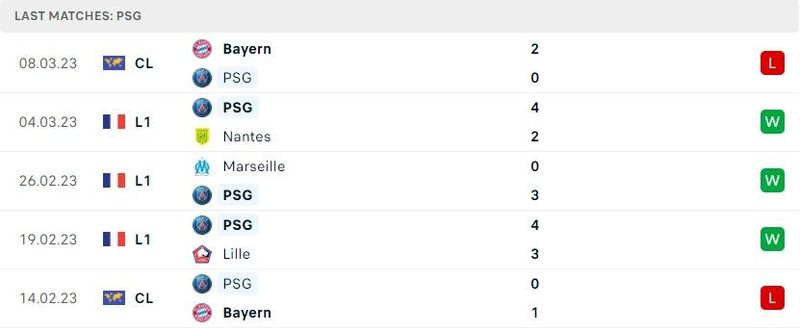 Ostatnie 5 meczy PSG
Bayern Monachium, ich przeciwnik, miał 12 strzałów na bramkę, z czego 5 zakończyło się sukcesem. Według statystyk, stracili gole w pięciu z poprzednich sześciu meczów, co daje w sumie 11 bramek. Paris Saint-Germain walczył z tyłu.
Brześć vs PSG Statystyki H2H
Analizując ich ostatnie mecze, które odbyły się do 9 stycznia 2021 roku, widzimy, że Stade Brestois nie był w stanie wygrać żadnego z nich, podczas gdy Paris Saint-Germain pokazało wszystkie swoje umiejętności i triumfowało w każdym z nich. W tych meczach rywale zdobyli łącznie 17 bramek, które zostały rozdzielone w następujący sposób: 2 dla Stade Brestois i 15 dla Paris Saint-Germain. Według naszych obliczeń uzyskujemy średnią 2,83 gola na mecz.
Ostatni ligowy mecz pomiędzy tymi klubami odbył się 9 października 2022 roku, siódmego dnia rozgrywek Ligue 1. Paris Saint-Germain pokonało 1:0 Stade Brestois 29. Paris Saint-Germain miało 61% posiadania piłki w trakcie meczu i oddało 14 strzałów na bramkę, z których cztery były celne. Neymar strzelił gola w meczu w 30 minucie. Z drugiej strony Stade Brestois oddał 6 strzałów na bramkę, z czego 3 były celne.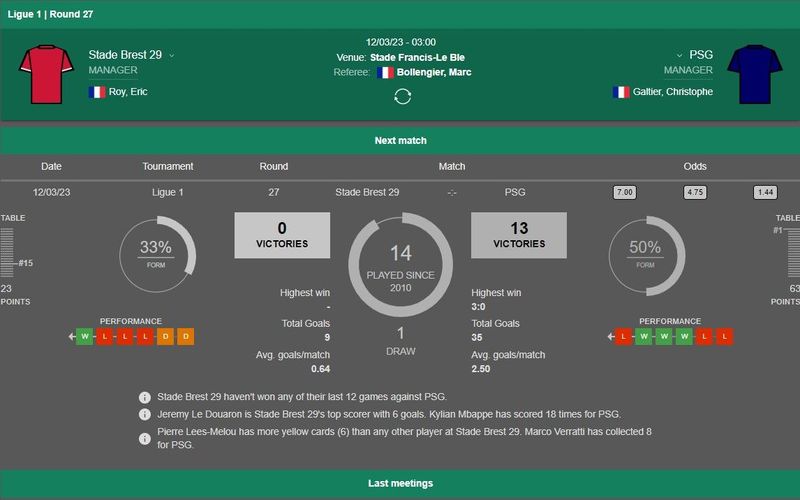 Brześć vs PSG Statystyki H2H
Aktualne kursy Brześć vs PSG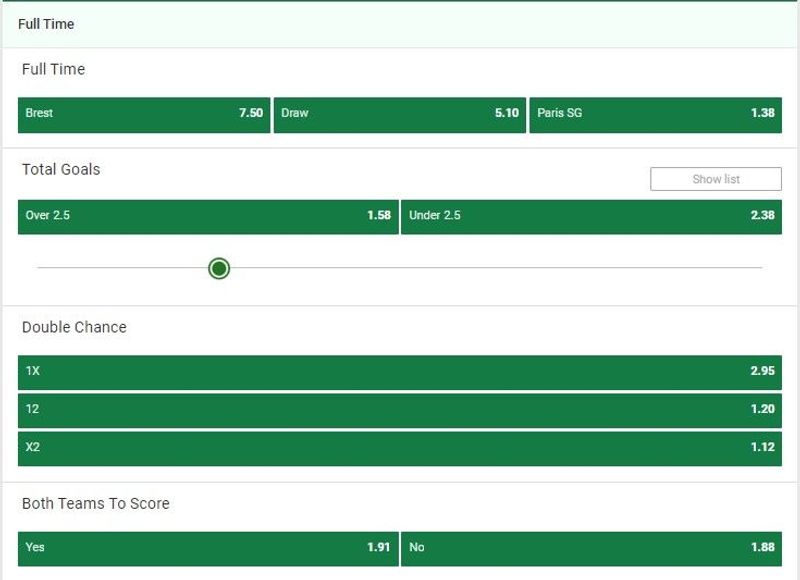 Aktualne kursy Brześć vs PSG
Sprawdźmy teraz kilka innych rynków bukmacherskich i najlepsze kursy na ten mecz
Kursy z handicapem: Brest (9,85) / PSG (1,35)
1x2 Kursy: Brest (7,50) / Remis (5,10) / PSG (1,38)
Gole powyżej/poniżej: powyżej 2,5 (1,58) | Poniżej 2,5 (2,38)
obie drużyny strzelą: Tak (1,91) | Nie (1,88)
Przy obecnej formie i przewadze gospodarzy PSG jest oceniane wyżej niż drużyna gości w tym meczu przez niektórych czołowych bukmacherów. W przypadku zakładów na PSG, aby wygrać, zremisować lub przegrać ten mecz, bukmacherzy dają następujące kursy 1x2: 7,50/ 5,10/ 1,38
[[top_bukmacherzy]]
Brześć - PSG Typy bukmacherskie
Remis do przerwy
Moja prognoza Brest vs PSG opiera się na założeniu, że drużyna Paryża jest teraz zbyt zajęta, aby skupić się na weekendowym meczu ze słabym Brestem. Możemy spodziewać się mistrzowskiej klasy defensywnej drużyny gospodarzy, która będzie zawierała większe umiejętności ofensywne ich wysoko cenionych przeciwników. Podczas gdy PSG powinno odpocząć niektórym swoim najlepszym graczom przed wyjazdem do Brestu, Kylian Mbappe powinien mieć trochę czasu na grę teraz, gdy Neymar skończył rok. Boston chce utrzymać dobrą passę przeciwko najlepszemu klubowi w kraju po rozegraniu pięciu remisów u siebie.
Ekitike zdobędzie gola w dowolnym momencie
Hugo Ekitike powinien odgrywać rolę początkową w tej grze, dlatego wybranie go do zdobycia bramki jest rozsądnym wyborem. 20-latek rozegrał 17 meczów ligowego sezonu i strzelił trzy gole oraz zanotował dwie asysty. Jego statystyki są godne szacunku, biorąc pod uwagę liczbę rozegranych minut, biorąc pod uwagę, że grał tylko kilka minut za najlepszymi strzelcami PSG, Mbappe, Messim i Neymarem. Podczas gdy Brest ma jedną z najsłabszych defensyw w Ligue 1, wciąż istnieje duża szansa, że ​​Ekitike zdobędzie bramkę, a młody napastnik PSG powinien mieć na to wiele okazji.
Brest vs PSG Najlepsze typy od Betimate
Brześć 1-2 PSG
Nasze badanie wskazuje, że Stade Brestois z pewnością stworzy wystarczająco dużo okazji do zlokalizowania fundacji przeciwko tej drużynie Paris Saint-Germain. Jest jednak mało prawdopodobne, aby jedno osiągnięcie wystarczyło do zwycięstwa. W związku z tym spodziewamy się zaciętego meczu, w którym Paris Saint-Germain ostatecznie wygra 1:2. W trakcie gry wszystko może się zdarzyć.
Brest vs PSG Najlepsze typy od Betimate
>>> Wypróbuj nasze Porady Premium już teraz, jeśli chcesz uzyskać więcej najlepszych wskazówek <<<
Prawdopodobne składy Brest - PSG
Brest (3-5-2): Bizot, Fadiga, Dari, Brassier, Duverne, Lees-Melou, Honorat, Magnetti, Belkebla, Le Douaron, Mounie.
PSG (3-4-2-1): Donnarumma, Marquinhos, Ramos, Pereira, Mendes, Ruiz, Zaire-Emery, Vitinha, Mukiele, Soler, Ekitike.
FAQ - Brześć vs PSG
Kto jest faworytem do zwycięstwa? PSG jest zdecydowanym faworytem do zwycięstwa.
Jaki był wynik ostatniego spotkania tych dwóch drużyn? PSG 1:0 Brześć
O której godzinie rozpocznie się mecz? 19:00 GMT, 20:00 CET.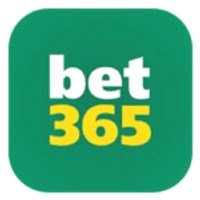 Soccer Accumulator Bonus!
Up to 70% bonus for accumulators on selected leagues at bet365. Applies to pre-match accumulators of 3+ selections on the standard Full Time Result, Both Teams to Score or Result/Both Teams To Score markets only. Bonus percentage is dependent on number of selections. Bonus capped at £100k and applied to returns.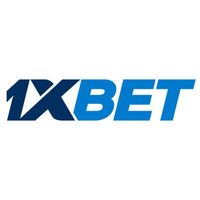 100% bonus on the 1st deposit up to 100$
Looking for a great way to kickstart your online betting experience? Look no further than 1xBet, where you can enjoy a fantastic 100% bonus on your first deposit of up to $100! With this amazing promotion, you'll have double the funds to play with when you sign up and make your first deposit.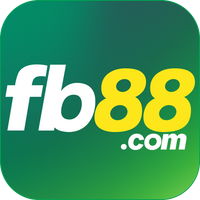 Enjoy 100% Bonus upto 100$
Looking for a great way to boost your online gaming experience? Look no further than FB88! For a limited time, we're offering an incredible promotion that's sure to put a smile on your face. When you sign up and make your first deposit, you'll receive a 100% bonus of up to $100!