Punteggio finale Roma-Sassuolo, risultato (Serie A): i Neroverdi esauriscono la Roma
Punteggio finale Roma-Sassuolo, risultato (Serie A): il Sassuolo ha sconfitto la Roma in casa con un margine piuttosto ampio; i locali, pur avendo un giocatore in meno, sono riusciti ad avvicinarsi ma non sono riusciti a pareggiare la partita.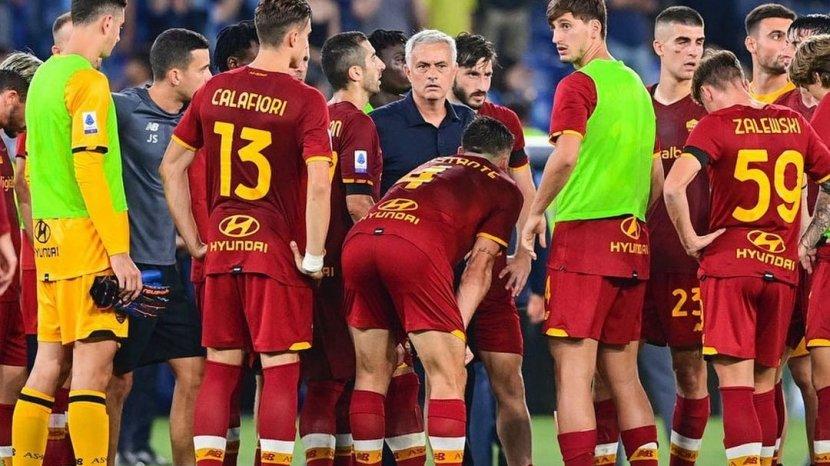 Highlights Roma-Sassuolo
I neroverdi dell'US Sassuolo Calcio hanno vinto la terza partita consecutiva in Serie A (SA) con un'emozionante vittoria per 4-3 sull'AS Roma in 10 uomini allo Stadio Olimpico, grazie a tre gol nel primo tempo. Anche se la Roma ha risposto in modo impressionante con un gol di Nicola Zalewski, si è ridotta a 10 uomini dopo il calcio petulante di Marash Kumbulla su Berardi in area, con conseguente rigore trasformato dall'esterno del Sassuolo. Il subentrato Paulo Dybala ha segnato un sublime gol dalla distanza per dimezzare lo svantaggio della Roma, ma il Sassuolo ha ripreso il controllo e ha allungato il proprio vantaggio con un gol di Pinamonti, siglando tre punti preziosi e portando a cinque partite l'imbattibilità esterna in SA, nonostante un'ultima Minuti di consolazione da Wijnaldum.
Highlights Roma-Sassuolo
Riepilogo Roma-Sassuolo
A seguito del suo cartellino rosso diretto nella sconfitta della squadra contro la Cremonese nel 24 ° turno di Serie A il 28 febbraio, l'allenatore Jose Mourinho è stato squalificato per due giornate dagli ufficiali di campionato. Non ha supervisionato questo gioco.
Football Italy afferma che invece di guardare la partita dagli spalti, lo "Special One" è nel pullman della squadra o negli spogliatoi. Può conversare liberamente con i suoi assistenti evitando "sguardi indiscreti" da parte dei media e dei fan in questa location.
Il Sassuolo ha giocato meglio ieri sul campo dell'Olimpico, andando addirittura in vantaggio per 2-0 grazie a un paio di reti dalla distanza ravvicinata di Armand Lauriente. Questi sono stati i primi gol subiti in casa della Roma nel 2023. Il primo gol segnato da un romanista è arrivato al 25' quando Nicola Zalewski ha intercettato il tiro al volo e ha colpito a terra il portiere Andrea Consigli.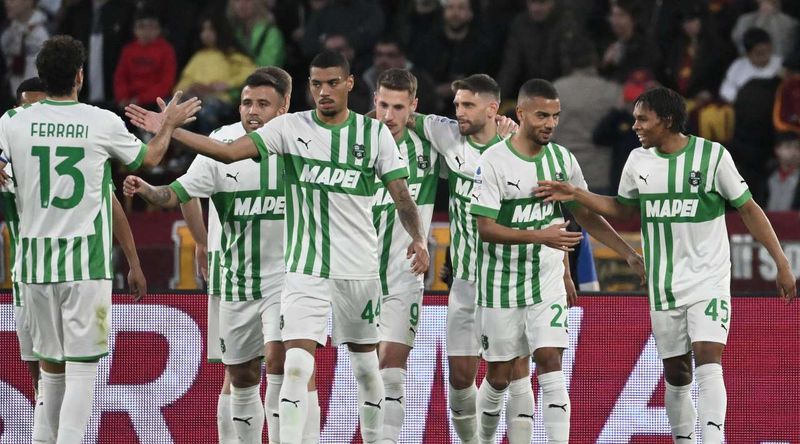 Armand Lauriente (Sassuolo) segna da quasi sulla linea di porta dopo che un fortunato rimbalzo gli è caduto ai piedi
La presa di Rui Patricio sul tiro basso di Domenico Berardi negli ultimi secondi ufficiali del primo tempo è stata la svolta. Marash Kumbulla, per tutta risposta, ha calciato capitan Sassuolo. L'arbitro Michael Fabbri ha prontamente emesso un cartellino rosso a Kumbulla dopo aver visto il video sulla linea laterale e aver assegnato un rigore alla squadra avversaria. Patricio scorre a destra mentre Berardi finisce a sinistra all'11 metri.
L'arbitro Luca Marelli ha notato su DAZN che la Roma è stata costretta a tirare un rigore perché il possesso palla di Patricio e il fallo di Kumbulla su Berardi in area di rigore erano entrambi considerati situazioni di palla viva. "Patricio aveva il possesso della palla e l'arbitro ha scelto di non fischiare per terminare il gioco. Il calcio era abbastanza evidente quando il VAR ha ordinato all'arbitro di guardare il film", ha rimarcato Marelli.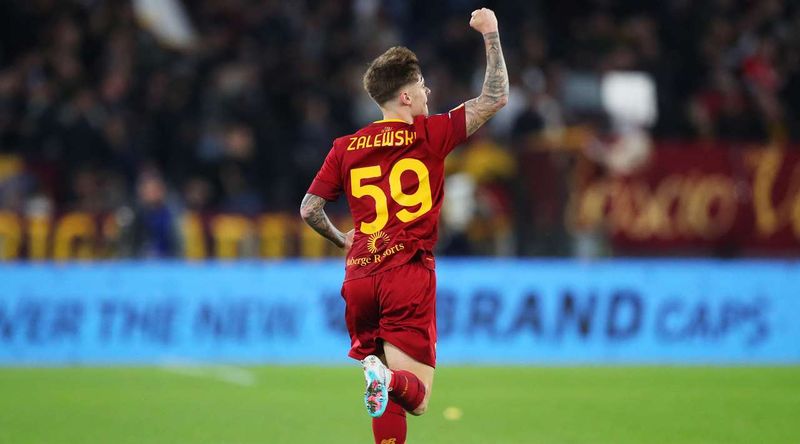 Zalewski ha segnato il primo gol per la Roma
Dybala ha tagliato il vantaggio sul 2-3 all'inizio del secondo tempo, cinque minuti dall'inizio del gioco, con un tocco finale su passaggio di Stephan El Shaarawy che ha mandato la palla nell'angolo più lontano. Dopodiché, quando l'arbitro ha fatto esplodere Nemanja Matic in collisione con Frattesi e Mady Camara in una lite con Rogerio, la Roma è rimasta sconvolta dai suoi giudizi. Giovanni Marra, analista della Roma, ha reagito furiosamente fuori dal campo e ha ricevuto un cartellino rosso diretto.
Ogni squadra ha segnato un gol in più nei minuti rimanenti, con Andrea Pinamonti che ha restituito al Sassuolo il vantaggio di due gol e Georginio Wijnaldum ha segnato il 3-4 al terzo minuto di recupero. A causa di questa sconfitta, la Roma è ora al quinto posto con 47 punti, a pari merito con il Milan e due punti dietro la Lazio, mentre il Sassuolo è al tredicesimo.
Mourinho farà il suo ritorno nella gara di ritorno del primo turno contro la Real Sociedad in Spagna il 16 marzo, ma gli sarà comunque impedito di dirigere il derby contro la Lazio nel 27° turno di Serie A il 19 marzo.
Il punteggio finale di Roma-Sassuolo
| | | | |
| --- | --- | --- | --- |
| | 1H | 2H | Finale |
| Roma | 1 | 2 | 3 |
| Sassuolo | 3 | 1 | 4 |
Obiettivo
Roma : Zalewski (26'); Dibala (50'); Wijnaldum (90+4')
Sassuolo : Lauriente (13', 18'); Berardi (pen 45+4'); Pinamonti (75')
Confermate le formazioni di Roma-Sassuolo
Roma : Patricio, Smalling, Kumbulla, Ibanez, Matic (56' Camara), Bove (46' Dybala), Spinazzola (46' Karsdorp), Zalewski (77' Volpato), Abraham (77' Majchrzak), El Shaarawy, Wijnaldum.
Sassuolo : Consigli, Ferrari, Ruan (Erlic 64), Rogerio (Marchizza 87), Toljan, Lopez (Obiang 64), Henrique, Frattesi, Pinamonti, Lauriente (Defrel 76), Berardi (Bajrami 76).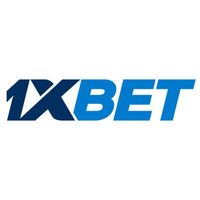 100% bonus on the 1st deposit up to 100$
Looking for a great way to kickstart your online betting experience? Look no further than 1xBet, where you can enjoy a fantastic 100% bonus on your first deposit of up to $100! With this amazing promotion, you'll have double the funds to play with when you sign up and make your first deposit.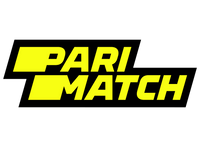 WE DOUBLE YOUR FIRST DEPOSIT - TOP UP $100, GET $200!
Take advantage of our Parimatch promo and double your first deposit! Simply top up your account with $100, and we'll give you an extra $100, for a total of $200 to play with. Don't miss out on this fantastic offer!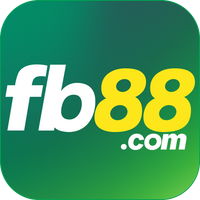 Enjoy 100% Bonus upto 100$
Looking for a great way to boost your online gaming experience? Look no further than FB88! For a limited time, we're offering an incredible promotion that's sure to put a smile on your face. When you sign up and make your first deposit, you'll receive a 100% bonus of up to $100!