FC Porto vs Inter Pronostics, Cotes, Conseils de paris 14/03/2023
Qui régnera en maître dans la confrontation entre le FC Porto et l'Inter ? Nos analystes de prédiction fournissent des conseils de paris et les cotes actuelles pour ce match très attendu.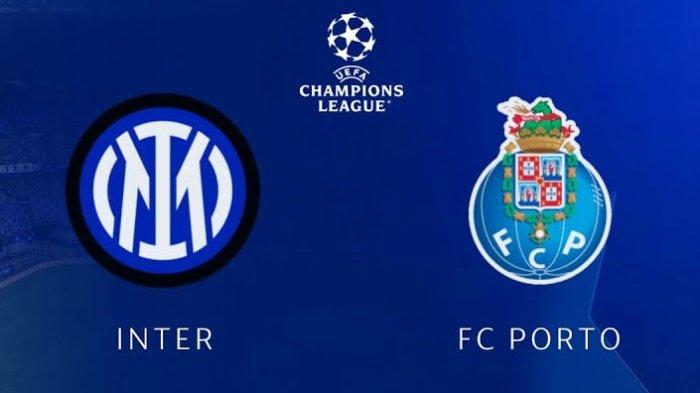 [Prédiction Ligue des champions de l'UEFA] Mardi, le FC Porto affrontera l'Inter à l'Etihad dans un match de Ligue des champions.
Pronostic FC Porto vs Inter: Performances récentes et statistiques H2H
Le match retour des huitièmes de finale de l'UEFA Champions League entre Porto et l'Inter Milan aura lieu mardi à l'Estádio do Drago. Le but de Romelu Lukaku à la 86e minute a offert à l'Inter une victoire 1-0 lors du match aller entre les deux clubs, qui s'est déroulé à San Siro le mois dernier. Otavio a reçu son deuxième avertissement et a été expulsé à la 78e minute, laissant Porto avec 10 hommes. Il est toujours suspendu pour le match retour.
Les 5 derniers matchs du FC Porto
Le FC Porto espère une nouvelle victoire dans cette rencontre après avoir battu Estoril 3-2 en Primeira Liga. Le FC Porto avait un taux de possession de balle de 63% et 12 tirs au but lors du match précédent, dont 5 tirs au fond des filets.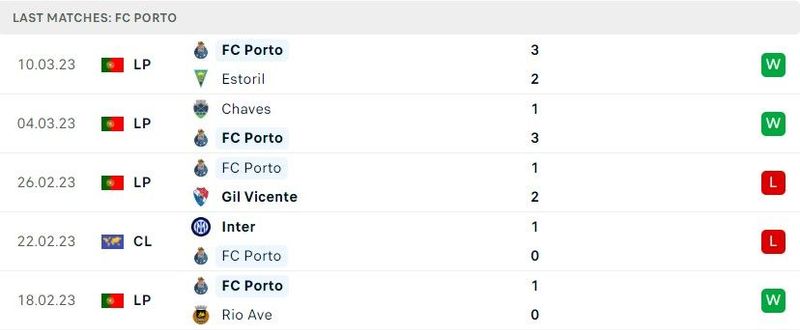 Les 5 derniers matchs du FC Porto
Marko Gruji (9'), André Franco (31') et Mehdi Taremi (73') ont marqué les buts du FC Porto. Le FC Porto n'a pas accordé de but dans relativement peu de ses matchs récents. Selon les statistiques, le FC Porto a laissé tomber des buts lors de cinq de ses six derniers matchs, totalisant sept buts pendant cette période.
Les 5 derniers matchs de l'Inter
L'Inter Milan tentera d'expier sa défaite face au Spezia Calcio lors de sa dernière rencontre en Serie A en remportant ce match. L'Inter Milan avait un pourcentage de possession de 69% lors de la première rencontre et a fait 28 tentatives de tir, dont 7 ont trouvé le fond du filet. Pour l'Inter Milan, l'attaquant était Romelu Lukaku (83e).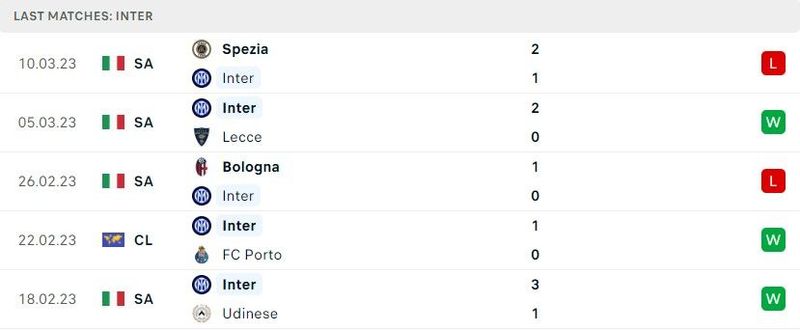 Les 5 derniers matchs de l'Inter
Leur rivale Spezia Calcio a réussi à décrocher 4 tirs, dont 2 ont trouvé le fond des filets. Grâce à une série d'efforts soutenus de son arrière latéral, l'Inter Milan n'a concédé que quatre buts lors de chacun de ses six derniers matchs. Ses attaquants ont également réussi à marquer sept buts tout au long de cette période. Si cette tendance se poursuit tout au long de ce sommet, nous devrons attendre et observer.
Stats FC Porto vs Inter
Six rencontres entre les deux clubs ont déjà eu lieu, toutes en Ligue des champions. Avec trois victoires, l'Inter Milan a un bilan supérieur dans ces compétitions. Porto n'a remporté qu'une seule victoire et un seul match nul. Curieusement, San Siro a été le site des trois victoires des visiteurs sur les hôtes. Depuis la saison 2010-11, les invités ne se sont pas qualifiés pour les quarts de finale de la Ligue des champions. Alors que les visiteurs n'ont remporté qu'une seule victoire lors de leurs huit derniers matches à l'extérieur contre des équipes portugaises, les hôtes ont remporté leurs quatre derniers matches à domicile contre des équipes italiennes. En 10 matchs à domicile, Porto n'a perdu qu'une seule fois tout en remportant les neuf autres. Lors de ses trois derniers matchs sur la route, l'Inter n'a pas gagné et n'a pas marqué.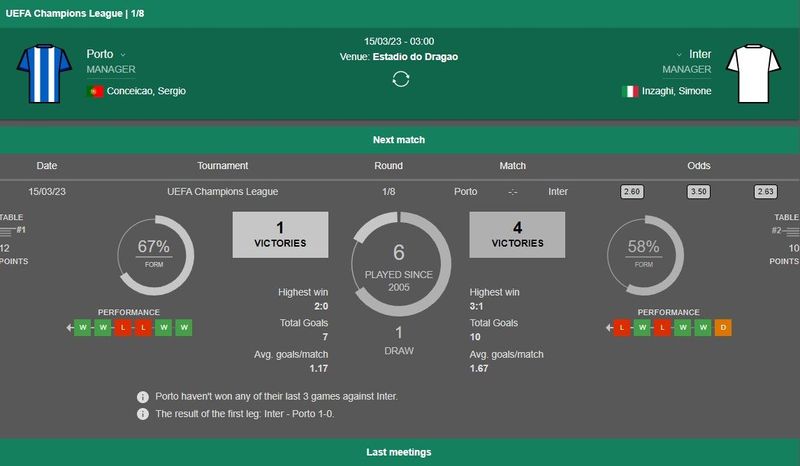 Stats FC Porto vs Inter
Les cotes actuelles du FC Porto contre l'Inter
Voyons maintenant quelques-uns des autres marchés de paris et les meilleures cotes pour ce match :
Cotes de handicap : FC Porto (2,20) / Inter (2,66)
Cotes 1x2 : FC Porto (2,65 / Nul (3,35) / Inter (2,85)
Plus de/Moins de buts : Plus de 2,5 (1,80) | Moins de 2,5 (2,02)
Les deux équipes marquent : Oui (2.35) | Non (1.98)
Avec la forme actuelle et l'avantage à domicile, l'Inter est mieux classé que l'équipe à l'extérieur dans ce match par certains des meilleurs bookmakers. Lorsque vous pariez sur l'Inter pour gagner, faire match nul ou perdre ce match, les bookmakers donnent les cotes 1x2 suivantes : 2,65 /3,35/ 2,85
FC Porto vs Inter Pronostics
Moins de 2,5 buts
L'équipe portugaise a utilisé ses avantages lors du match aller de cette prédiction Porto contre l'Inter Milan, ne tombant que sur le but de Romelu Lukaku dans les dernières secondes. En raison du carton rouge, Otavio était également absent pour les 15 dernières minutes de jeu de Porto. La manière dont Porto avait l'intention de jouer a empêché son adversaire, qui avait le meilleur avantage offensif, de marquer suffisamment de buts pour se sentir en sécurité avant le match revanche. Au cours de la saison, l'Inter a disputé 10 matchs de Serie A avec moins de 2,5 buts, dont trois au cours des cinq derniers matchs. Porto en a onze dans sa ligue, bien que ces chiffres n'aient pas vraiment d'importance dans ce match spécifique.
Score correct en première mi-temps : 0-0
Dans ce match Porto vs Inter Milan, nous visons un faible nombre de buts, comme lors du premier match. Ce sont les équipes qui ont la capacité de marquer des buts, mais dans un match comme celui-ci, il s'agit de jouer une défense solide. Comme l'Inter est l'équipe qui se déplace à Porto avec l'avantage d'avoir marqué en premier, il y aura un peu moins de pression sur eux. Tout dépend de la réaction de l'équipe à domicile. Dans cette rencontre, Porto jouera différemment de ce qu'il fait souvent dans sa ligue locale, où il est presque toujours favori.
FC Porto vs Inter Les meilleurs pronostics de Betimate
FC Porto 1-1 Inter
Nous pensons que l'Inter Milan et le FC Porto ont de bonnes chances de marquer les deux buts et de jouer un match assez égal. Le résultat du match reste à voir, même s'il peut se terminer par une égalité. Nous prévoyons donc un concours équitable et un résultat de 1-1 en 90 minutes.
>>> Essayez nos Conseils Premium dès maintenant si vous voulez plus de meilleurs conseils <<<
FC Porto vs Inter Compositions Probables
Composition de départ possible pour Porto : Costa ; Mario, Pepe, Cardoso, Sanusi ; Grujic, Uribe; Franco, Pepe, Galeno ; Formation de départ possible de Taremi Inter Milan: Onana; De Vrij, Acerbi, Bastoni ; Dumfries, Barella, Calhanoglu, Mkhitaryan, Dimarco ; Martinez, Lukaku

FAQ - FC Porto vs Inter
Qui sont les favoris pour gagner ? L'Inter est le léger favori pour gagner.
Quel était le score lors de la dernière rencontre de ces deux équipes ? Inter FC 1-0 Porto
A quelle heure est le coup d'envoi ? 19h00 GMT, 20h00 CET.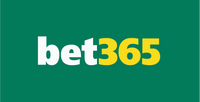 Soccer Accumulator Bonus!
Up to 70% bonus for accumulators on selected leagues at bet365. Applies to pre-match accumulators of 3+ selections on the standard Full Time Result, Both Teams to Score or Result/Both Teams To Score markets only. Bonus percentage is dependent on number of selections. Bonus capped at £100k and applied to returns.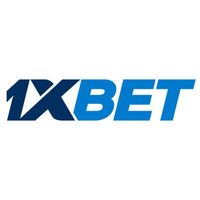 100% bonus on the 1st deposit up to 100$
Looking for a great way to kickstart your online betting experience? Look no further than 1xBet, where you can enjoy a fantastic 100% bonus on your first deposit of up to $100! With this amazing promotion, you'll have double the funds to play with when you sign up and make your first deposit.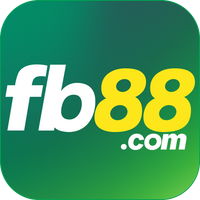 Enjoy 100% Bonus upto 100$
Looking for a great way to boost your online gaming experience? Look no further than FB88! For a limited time, we're offering an incredible promotion that's sure to put a smile on your face. When you sign up and make your first deposit, you'll receive a 100% bonus of up to $100!
Pos

#

Team
PTS
GP
W
D
L
GF
GA
+/-
1
PSG
66
28
21
3
4
68
28
40
2
Marseille
59
28
18
5
5
53
28
25
3
Lens
57
28
16
9
3
47
21
26
4
Monaco
54
28
16
6
6
57
37
20
5
Rennes
50
28
15
5
8
47
29
18
6
Lille
49
28
14
7
7
51
36
15
7
Nice
44
28
11
11
6
37
25
12
8
Lorient
44
28
12
8
8
41
37
4
9
Reims
43
28
10
13
5
36
28
8
10
Lyon
41
28
11
8
9
43
32
11
11
Montpellier
36
28
11
3
14
44
47
-3
12
Toulouse
35
28
10
5
13
43
48
-5
13
Clermont Foot
34
28
9
7
12
27
40
-13
14
Nantes
30
28
6
12
10
30
37
-7
15
Strasbourg
26
28
5
11
12
34
46
-12
16
Brest
24
28
5
9
14
30
46
-16
17
Auxerre
23
28
5
8
15
23
51
-28
18
Troyes
21
28
4
9
15
38
61
-23
19
AC Ajaccio
21
28
6
3
19
20
50
-30
20
Angers
10
28
2
4
22
21
63
-42