Free football predictions and tips for Indonesia Liga 2
Round Final
Predictions 1X2
Under/Over 2.5
Both To Score
Handicap
Indonesia Liga 2: The former top-flight division
The origin of the Indonesia Liga 2
Liga 2, or League Two in English is the second tier of the Indonesian football league system. It was founded 27 years ago, in 1994 as the first tier. However, in 2008, the Indonesian Super League (now known as the Liga 1) was created, and the Liga 2 became the second tier. In the first stage since its inception, from 1994 to 2007, this competition was called the Liga Indonesia Premier Division. The governing body of this league competition is the Football Association of Indonesia, known as PSSI. The Indonesia Liga 2 Predictions are also offered on our website so that you can refer to them before your next bet.
How does the Indonesia Liga 2 work?
The current format features 24 teams participating in the Indonesia Liga 2. They are divided into several groups depending on geographic positions and the number of participants. Normally, like other previous seasons, there are two regions of West and East, each including 12 teams.
In each group, teams will play in a round-robin format. They will receive three points for winning a match, one point for a draw, and zero points if their opponents win. The following order will determine the standings of 12 teams in each regional group: points, head-to-head, goal difference, goals scored and drawing.
The top four teams from each group will qualify for the second round, while the bottom three teams are relegated to the lower division, the Liga 3. In addition, the top two teams in each group will also be eligible for the Liga 1.
In the next round, a total of eight teams are separated into two small groups of four to play in a single round-robin format. The top and runner-up of each group will advance to the semi-finals. The two best teams that stay until the last round will compete with each other to find out who will be the champion, while the third and fourth
Top goalscorers of the Indonesia Liga 2
Above is the table of the top goalscorers of the Indonesia Liga 2 by season. Accordingly, Peri Sandria and Udo Fortune are two footballers who scored the most in a single season, with 34 goals each. Peri Sandria played for Bandung Raya in the Liga 2. He achieved a total of 71 goals for the club during the period of 1994-1997, and especially 34 goals within the 1994-95 season. Peri was also a member of the Indonesia national football team that played in the 1996 Tiger Cup. Now he is a football manager of PS Siak, an Indonesian football club playing in Liga 3.
Peri Sandria
Udo Fortune is a Nigerian professional football player. After scoring for Persiba Bantul 34 goals in the 2010-11 season, he moved to another country (Vietnam), Becamex Bình Dương, and now Đồng Tháp club.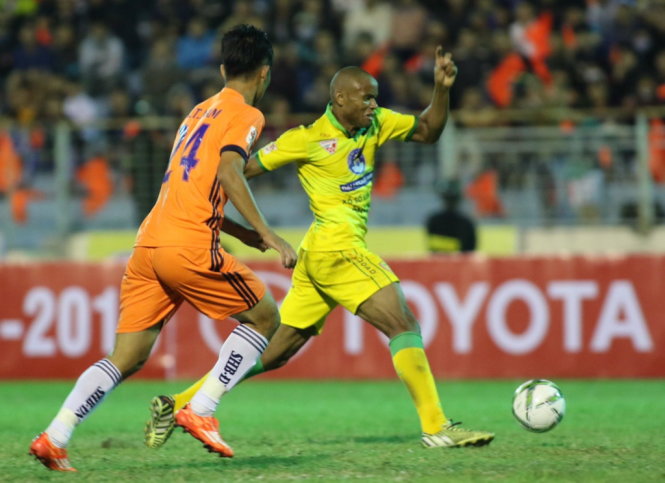 Udo Fortune
References
https://en.wikipedia.org/wiki/Liga_2_(Indonesia)
https://en.wikipedia.org/wiki/2019_Liga_2_(Indonesia)
https://en.wikipedia.org/wiki/Peri_Sandria
https://en.wikipedia.org/wiki/Udo_Fortune