Free football predictions and tips for Andorra Segona Divisio
Round Round 6
Predictions 1X2
Under/Over 2.5
Both To Score
Handicap
Away
-10
0 - 10
14.44
1.81
What is Andorra Segona Divisió?
Andorra Segona Divisió is the Second Division of the Andorra football league system. It is also known as Lliga UNIDA for sponsorship reasons. The competition was established in 1999 under the administration of the UEFA Confederation.
The best team of the league will be promoted to the Andorran First Division called Primera Divisio. Former FC Santa Coloma reserve team gained access to the Lliga Nacional de Fútbol ( Primera Divisio) after finishing the top position. In the 2019-20 season, Penya Encarnada were the champions. They became the eighth team of the 2020-21 Andorra Premier Division.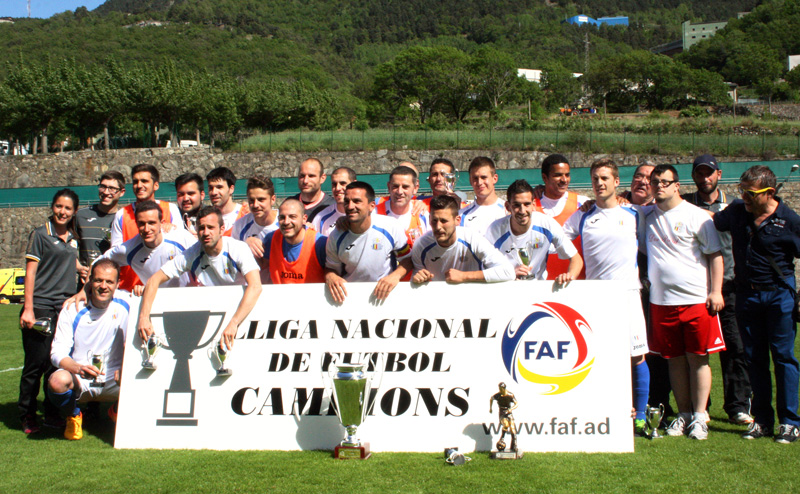 Penya Encarnada win Segona Divisio

2020-21 Andorra Segona Divisió
Teams taking part in the 2020-21 Segona Divisio
The 2020-21 season of the league includes the participation of 8 Andorran teams with 2 reserve teams. The Andorran Football Federation organized the matches of Segona Divisio in the stadiums owned by the local federation.
For more Andorra Segona Divisió Predictions and results, let's visit Betimate frequently!
Teams in the 2020-21 Segona Divisio
2020-21 Segona Divisió Standings
At the present, La Massana and FC Ordino have the same result with 35 points in 14 matches. They and the following two teams will take part in the Promotion play-offs to find out the winners as well as the team joining the First Division in the next season. The last season's runners-up La Massana are trying their best to remain in the highest position. Whereas, FC Ordino, and Encamp, who have got the most winning titles will also never allow themselves to be subdued by other teams.
2020-21 Segona Divisio Standings
Best clubs of the Andorra Segona Divisio
FC Encamp is considered the strongest team in the league with 3 times becoming the champion. Atlètic Club d'Escaldes, CE Benfica, UE Engordany, FC Ordino, and Penya Encarnada d'Andorra are having the same 2 titles through seasons of the Andorra Second Division. The quality of football teams in the competition is more and more increasing so as to meet the satisfaction of Andorran fans.
Performances by Clubs in the Andorra Segona Division
Reference Sources
https://en.wikipedia.org/wiki/Segona_Divisi%C3%B3