De Bruyne: "Haaland can score 800 goals"
Midfielder Kevin de Bruyne believes teammate Erling Haaland can set an impressive scoring record in the future. Kevin De Bruyne's opinion about Haaland
Before Sergio Aguero left the Etihad Stadium in 2021, playmaker Kevin De Bruyne and Manchester City's all-time leading scorer had a good working relationship. He has also worked effectively with Romelu Lukaku for Belgium, and in his earlier years at Chelsea, he briefly collaborated with Samuel Eto'o and Fernando Torres. In addition to Julian Alvarez, who recently won the World Cup, Bruyne also had opportunities to play with Gabriel Jesus, Christian Benteke, and Nicklas Bendtner. De Bruyne has also occasionally played with all of these strikers.
However, for Kevin De Bruyne, Earl Haaland is a special case. Although De Bruyne claims he doesn't want to rank any of them, Haaland's incredible influence at Manchester City implies he may be the most productive of the group.
"It is very hard to compare because they are all totally different. They play in the same position but some are physical players, some are speed demons and they can all score goals for fun. Erling hasn't because of his age, but they have all scored 300 or 400 goals. Erling is so obsessed with goals he can maybe go beyond that. He already has about 200 goals, so he can probably go to 600, 700 or 800 if he stays fit and does the things that he does. I don't really compare them because that is not the way I look at football but Erling is a top-level striker." -Kevin De Bruyne said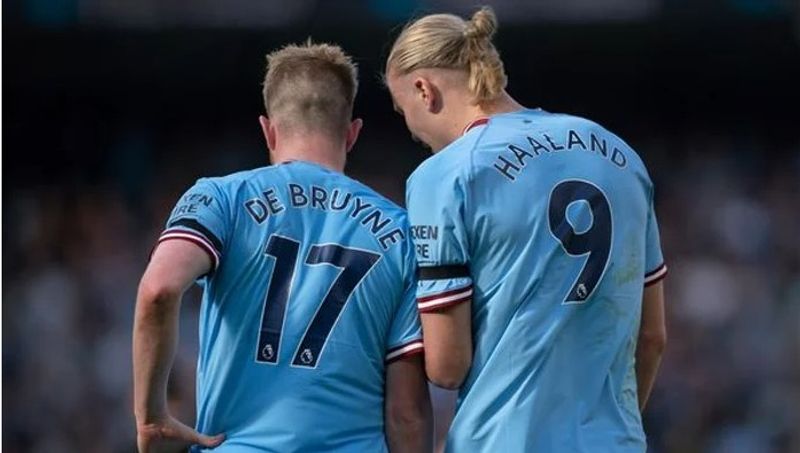 Haaland and Kevin De Bruyne created the strong duo
Haaland has scored 24 goals in his first 19 games for City since joining the club in the summer. Due to Norway not participating in the 2022 World Cup, the 22-year-old striker spent four weeks without playing. On December 22, when Man City played their first match after the World Cup, Haaland contributed a goal in a 3-2 victory over Liverpool in the fourth round of the League Cup. At 22 years old, the Norwegian has already scored more than 200 goals in senior football during prior stints with Bryne, Molde, RB Salzburg, Dortmund, and his country.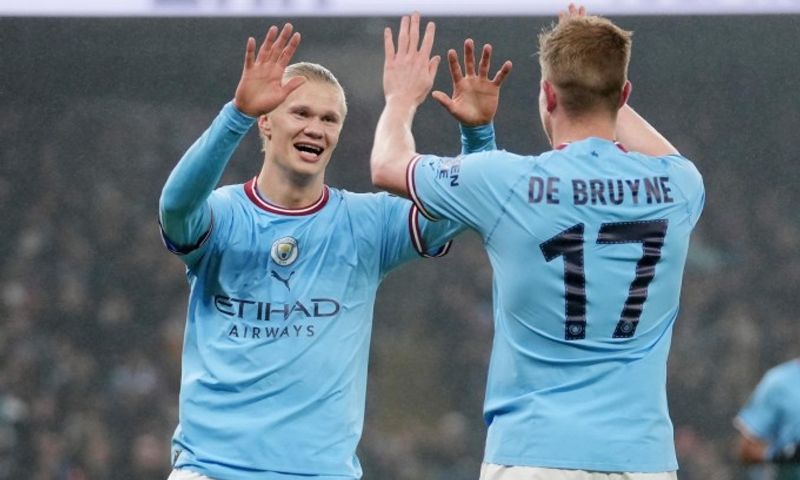 Haaland congratulated De Bruyne after scoring against Liverpool in the League Cup on December 23
Keivn De Bruyne also added:
"I don't see Erling as different to a lot of people. He is still a young boy enjoying his life and he takes his football very seriously. He loves scoring goals, so I think that is the most unique thing he has."
The possibility of a combination between him and Haaland the next time
De Bruyne and Haaland have played well since the beginning of the season and are expected to shine when Man City hosts Leeds in the round of 16 of the Premier League on the evening of December 28. But now, coach Pep Guardiola has another option for the striker position: Julian Alvarez. The 22-year-old striker has just shone, helping Argentina win the World Cup with four goals.
Alvarez joined Manchester City in January 2022 but remained on loan at River Plate in Argentina.In July, he came to England to play for Manchester City. Initially, the 22-year-old striker played a backup role for Haaland. However, Alvarez's impressive performance at the World Cup could change his position at Manchester City, and Guardiola is forced to consider using the striker more in the face of a tug-of-war from other clubs.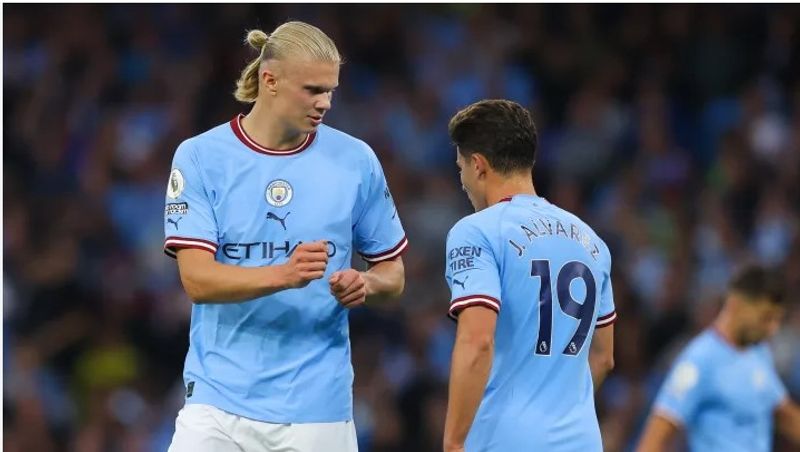 Haaland and Alvarez
It is not impossible that Alvarez will pair with Haaland when he returns to Manchester City. "From the very beginning, we recognized Julian's talent," commented De Bruyne. "You never know what will happen to players from South America. But Julian impresses with maturity. I'm happy for him. Maybe he feels he needs to play more. But the more seasons go by, the more Julian will get to play. In fact, he's already scored a few times."