Southampton F.C. results in 2020-21: A moderate season
This 2020-21 season of Southampton F.C. has finished with moderate success. They finished 15th in the Premier League, reached the semi-finals of the FA Cup and the second round in the EFL Cup.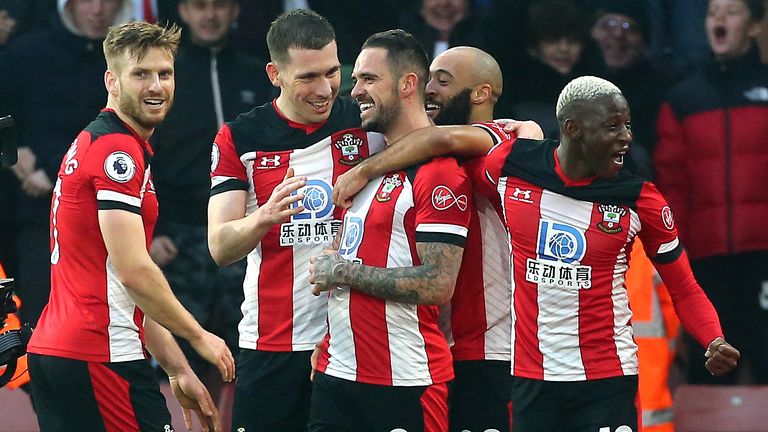 What did Southampton achieve in the 2020-21 season?
Overview
In the top-flight competition Premier League, Southampton finished in 15th place with 43 points, after Crystal Palace in 14th and Brighton & Hove Albion in 16th rank. This South Coast club won 12 matches in a total of 38 Premier League games, lost 19 matches, and seven draws. This result was quite similar to their finishes in recent seasons of the Premier League (11th in the 2019-20 season and 16th in the 2018-19 season). However, it is definitely not the best of them. Southampton did finish second in the 1983-84 season of the First Division (which was the top division of English football at that time, and became the Premier League in the 1992-93 edition), or seventh in the 2014-15 Premier League.
The Saints ended up with the semi-finals round and lost to Leicester City by 0-1 in the 2020-21 FA Cup. They started the cup in the third round and won a total of four matches (in the third, fourth, fifth, and quarter-finals each). Despite not being crowned the championship, Southampton amazingly knocked out Arsenal in the fourth round by 1-0.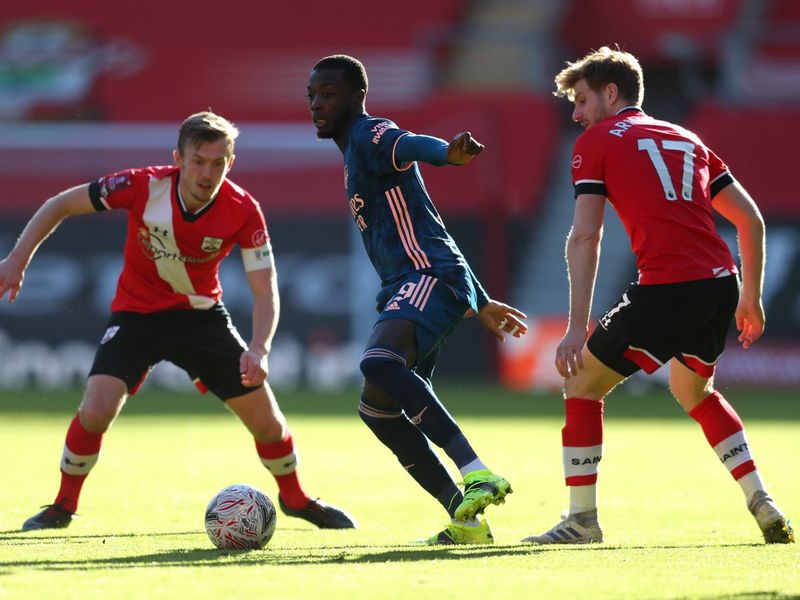 A moment in the FA match between Southampton and Arsenal
In the EFL Cup, they entered the second round on 16 September 2020 as a Premier League club and only had one chance to play in a single match of this round against Brentford. They were defeated with a 0-2 loss and eliminated from the competition.
The next section will summarize the top 10 goalscorers of Southampton in three major competitions: Premier League, FA Cup, and the EFL Cup in the 2020-21 season.
Top goalscorers of Southampton in the 2020-21 season
A few things about Southampton
Origin
Southampton Football Club is a professional football club based in Southampton city, Hampshire, in Southeast England. The club was established on 21 November 1885 at St. Mary's Church, hence their religious nickname The Saints. Their original name was St. Mary's Young Men's Association F.C (abbreviated to St. Mary's Y.M.A).
They used to play at The Dell until 2001. Since August 2001, St Mary's Stadium has become Southampton's home ground.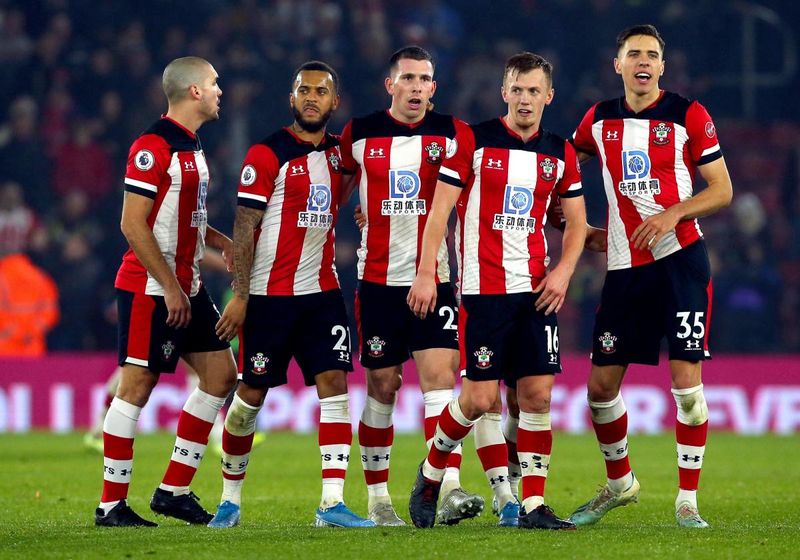 Southampton in their home color
League honors
Southampton has spent most of their senior time in the top-flight First Division, which is the Premier League later on since they got the promotion to it in 1966. However, the South Coast club only once finished as the runner-up in the 1983-84 season of the First Division. Since the First Division became the current Premier League, their highest standing was seventh.
Their greatest achievement in the domestic English football league system was the championship in the 1959-60 Division Three, or actually the League One now. For further information about the achievements of Southampton, look below:
Football League Division One / Premier League
Football League Division Two / Football League Championship
Runners-up: 1965–66, 1977–78, 2011–12
Football League Division Three / Football League One
Champions: 1959–60

Runners-up: 1920–21, 2010–11
Football League Third Division South
Southern League
Champions: 1896–97, 1897–98, 1898–99, 1900–01, 1902–03, 1903–04
Western League
Runners-up: 1903–04, 1905–06, 1907–08

Section A Winners: 1907–08
FA Cup
Winners: 1975–76

Runners-up: 1899–1900, 1901–02, 2002–03
League Cup
Runners-up: 1978–79, 2016–17
Full Members Cup
FA Community Shield
Football League Trophy
Texaco Cup
Anglo-Italian League Cup
Anglo-Franco Friendship Cup
Hampshire Senior Cup
Winners: 1890–91, 1891–92, 1894–95

Runners-up: 1892–93, 1893–94, 1895–96
National Fives Tournament
Winners: 1971, 1983

Runners-up: 1981
London Fives Tournament
References
https://en.wikipedia.org/wiki/2020%E2%80%9321_Southampton_F.C._season
https://en.wikipedia.org/wiki/Southampton_F.C.