Atletico Madrid results 2020-21: The 11th La Liga championship
The 2020-21 season has finished with a moderate result for Atletico Madrid. They have won their 11th La Liga but failed to attempt winning the UEFA Champions League for the first time in their career.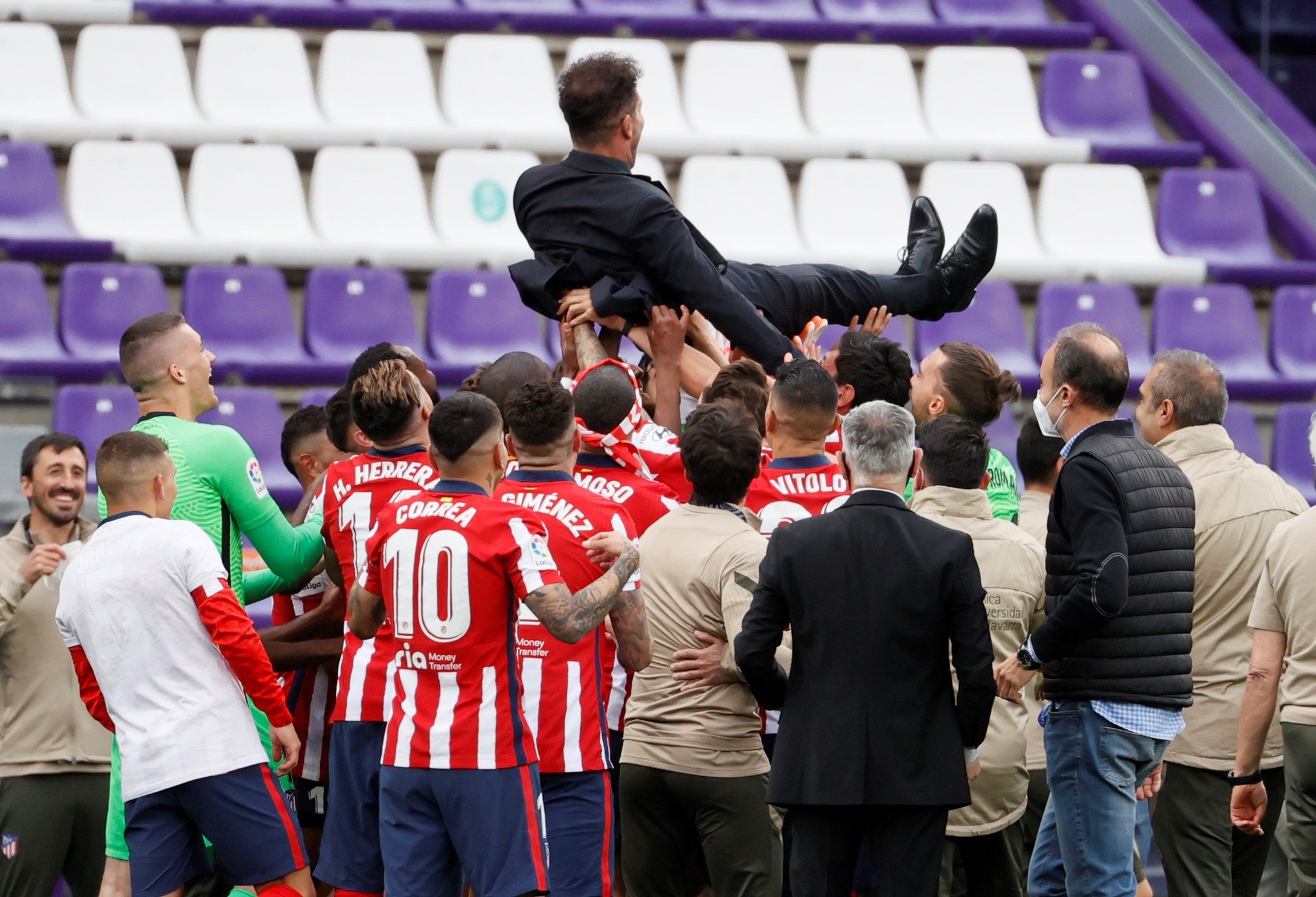 What are the Atletico Madrid results in the 2020-21 season?
Overview
The below table will give you an overview of what Atletico Madrid have achieved in the 2020-21 season.
1. La Liga
Atletico Madrid were the champions of the 2020-21 La Liga. They only lost in four matches out of 38 La Liga games. Indios won a total of 26 matches, including 15 home wins and 11 away wins, and finished the competition with eight draws.
Atletico Madrid obtained 86 points, only two points greater than the second-placed club Real Madrid. This small difference has helped Diego Simeone's students to be crowned the 2020-21 La Liga title. Along with the second to fourth clubs: Real Madrid, Barca, and Sevilla, the top four of La Liga including Atletico Madrid are qualified for the group stage of the Champions League next season.
Atletico Madrid had a great start with a 6-1 win over Granada, which eventually ended up with the ninth position. Their only four losing matches were against Real Madrid on 12 December 2020 (by 0-2), Atlético Madrid on 20 February 2021 (by 0-2), Sevilla (by 0-1), and Athletic Bilbao on 25 April 2021 (by 1-2).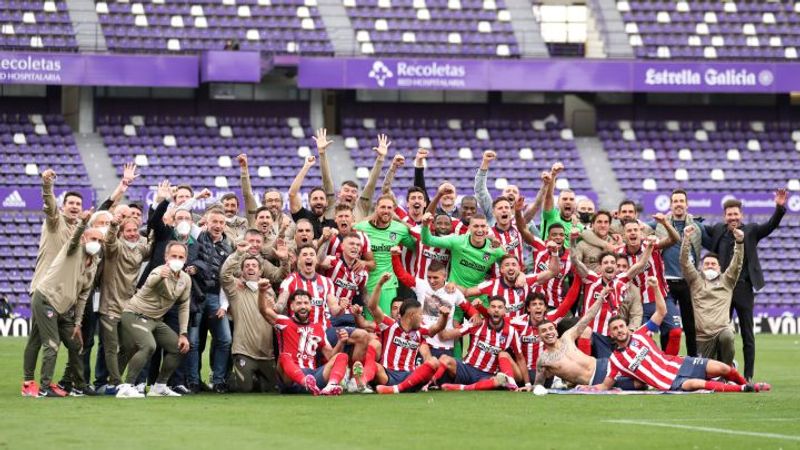 Atletico's La Liga championship in 2020-21
2. Copa del Rey
Copa del Rey, the oldest national knockout cup in Spain, seems not to be a successful arena of Atletico Madrid. They are not in the top three clubs that achieved the most titles of the Copa del Rey (Barca is the most successful club with 31 titles, followed by Athletic Bilbao with 23 and Real Madrid with 19 times winning the cup). Atletico Madrid won this competition ten times, the most recent was in the 2012-13 season.
In the 2020-21 season, they had a very short time in the Copa del Rey because being eliminated right in the second round with a 0-1 loss to Cornella. Although the club had three goals winning in the first round against Cardassar, luck didn't smile at Atletico Madrid.
3. UEFA Champions League
Atletico Madrid entered the group stage of the Champions League as the qualified club from the previous season of the La Liga. They were ranked in the third of the 2019-20 La Liga, after Real Madrid and Barcelona.
They were placed in Group A, with Bayern Munich, Red Bull Salzburg, and Lokomotiv Moscow. Bayern Munich was successful by winning five out of six games in Group A and ranked in the top position, and Atletico Madrid, by winning two matches, were in the second. These two clubs advanced to the knockout phase. In the round of 16, Atletico Madrid were paired with Chelsea and eliminated by a 0-3 loss to Chelsea. So eventually, Atletico once again lost their chance to win this prestigious competition. They only reached the second position of the UEFA Champions League three times, in 1974, 2014, and 2016.
A few things about Atletico Madrid
History
Club Atlético de Madrid, commonly referred to as Atletico Madrid, Atletico, or Atleti, is a professional Spanish football club based in Madrid, Spain. The club was founded on 26 April 1903 as Athletic Club Sucursal de Madrid. They have played at Wanda Metropolitano Stadium since the 2017-18 season. Their home venue has been expanded from 20,000 to 68,000 capacity after it hosted the 2016 Summer Olympics.
The club is also known under other nicknames, such as Colchoneros (Mattresses) and Indios (Indians) with some stories behind each name. Their manager is Diego Simeone, who has had a long time working with them from 2011 to the present.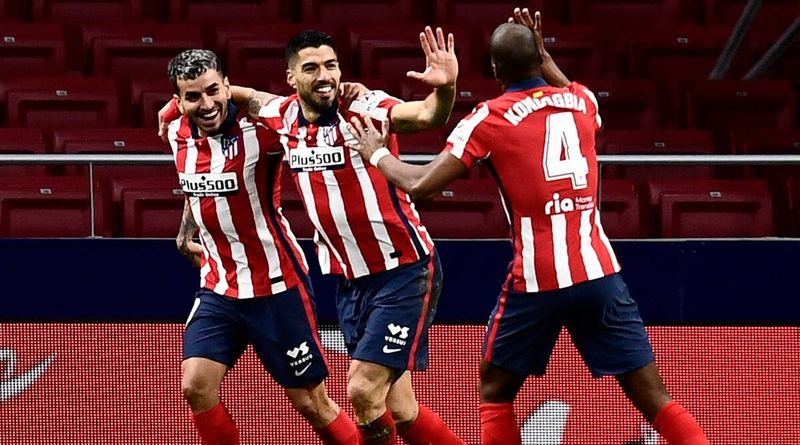 Atletico Madrid FC in their home kits
Achievements
Atletico Madrid are playing in one of the Big Five competitions in European football, the La Liga. They have achieved plenty of titles in both league and cup competitions inside their country, continent, and worldwide. The detailed honors are as below:
1. Domestic competitions
La Liga
Winners (11): 1939–40, 1940–41, 1949–50, 1950–51, 1965–66, 1969–70, 1972–73, 1976–77, 1995–96, 2013–14, 2020–21
Copa del Rey
Winners (10): 1959–60, 1960–61, 1964–65, 1971–72, 1975–76, 1984–85, 1990–91, 1991–92, 1995–96, 2012–13
Supercopa de España
Copa de los Campeones de España
Copa Presidente FEF
Copa Eva Duarte
2. International competitions
European Cup / UEFA Champions League
Runners-up (3): 1973–74, 2013–14, 2015–16
European Cup Winners' Cup
Winners (1): 1961–62

Runners-up (2): 1962–63, 1985–86
UEFA Europa League
Winners (3): 2009–10, 2011–12, 2017–18
UEFA Super Cup
Winners (3): 2010, 2012, 2018
Intercontinental Cup
Awards & recognitions
Globe Soccer Special Award: 2014

Globe Soccer Best Club of the Year: 2012, 2018

IFFHS The World's Club Team of the Year: 2018
References
Wikipedia
Betimate.com