Which factor does Arsenal want to add to compete for the Premier League title?
The remainder of the season will be fierce, so it is necessary for Arsenal to purchase players to retain their first place in the Premier League's table. Arsenal's transfer target is Declan Rice.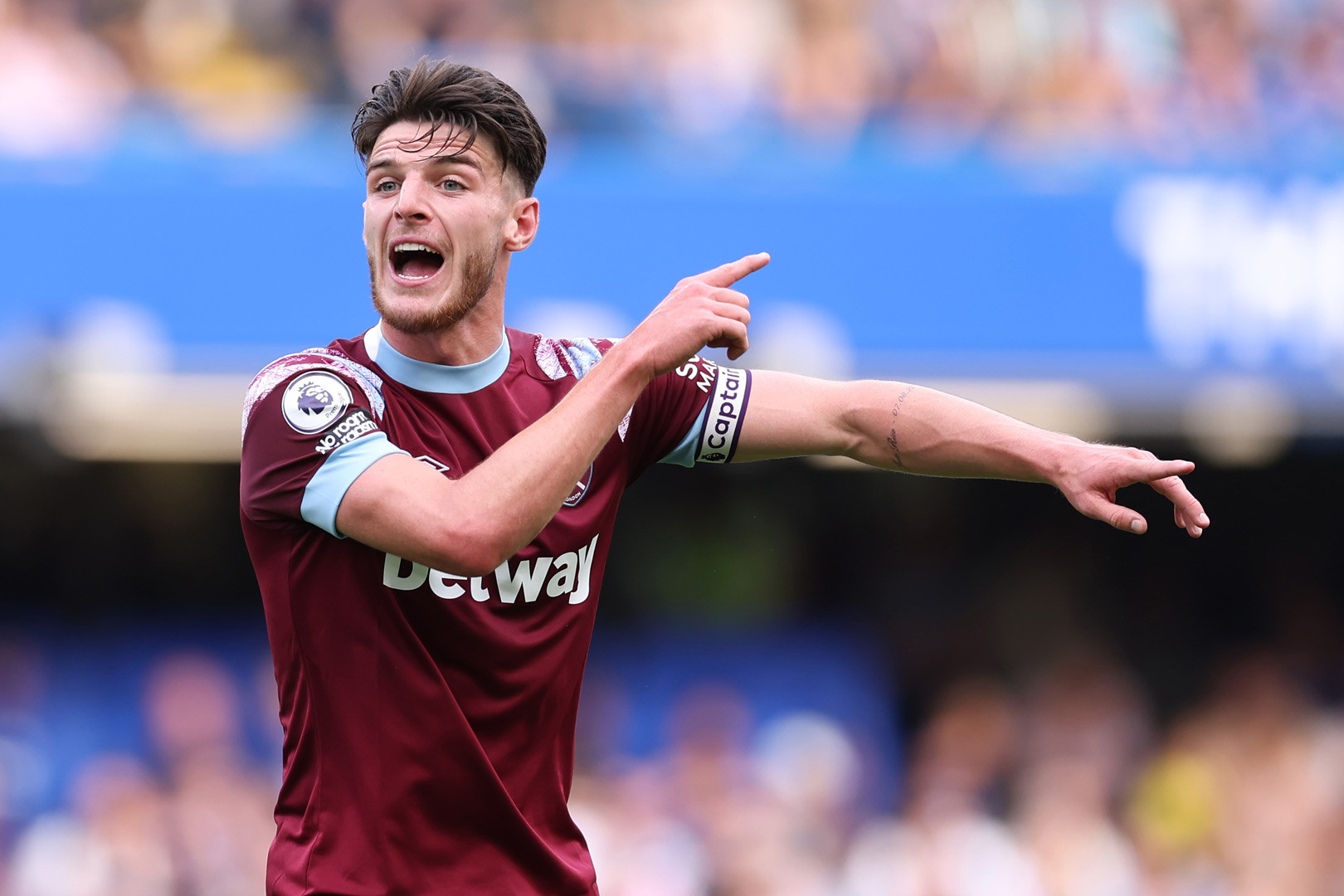 Declan Rice's deal
Arsenal wants to own Declan Rice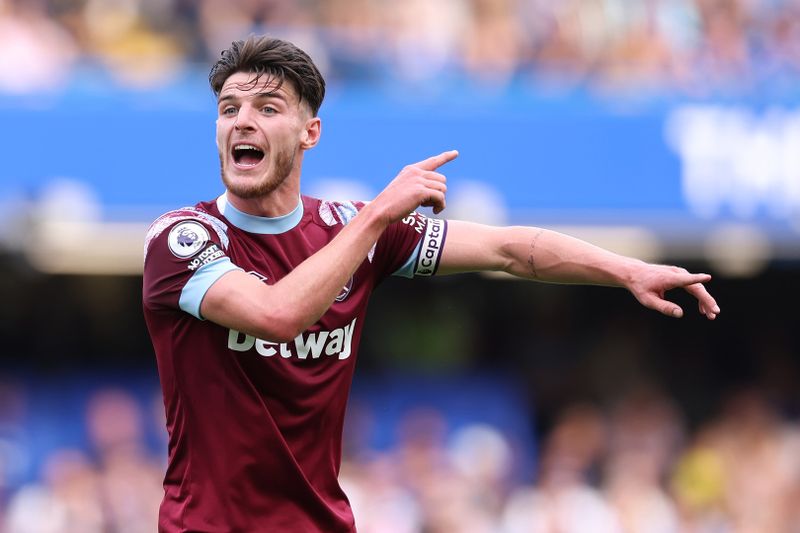 Declan Rice
Declan Rice, an England international, is reportedly Arsenal's top transfer target for the next summer. The England international is reportedly a big fan of Mikel Arteta and would undoubtedly suit the Spaniard's desired age profile for the young, talented team he is assembling at the Emirates. In recent weeks, Rice has been especially appreciative of the Arsenal manager, calling him a "great coach" after Arsenal's Boxing Day victory over the Hammers.
Awkward reunion if Declan Rice joins Arsenal
After a particularly heated disagreement with Gunners forward Eddie Nketiah last season, Rice's arrival in the red section of North London might not make everyone grin. During the final seconds of Arsenal's 2-1 triumph at the London Stadium in May last year, the couple had to be separated.
Nketiah and Rice's West Ham teammate Aaron Cresswell actually got into the first altercation because Cresswell believed Nketiah had intentionally booted the ball away with the game about to conclude. A massive brawl quickly broke out, but Rice kept it going with the record-setting goal for England's Under-21 team.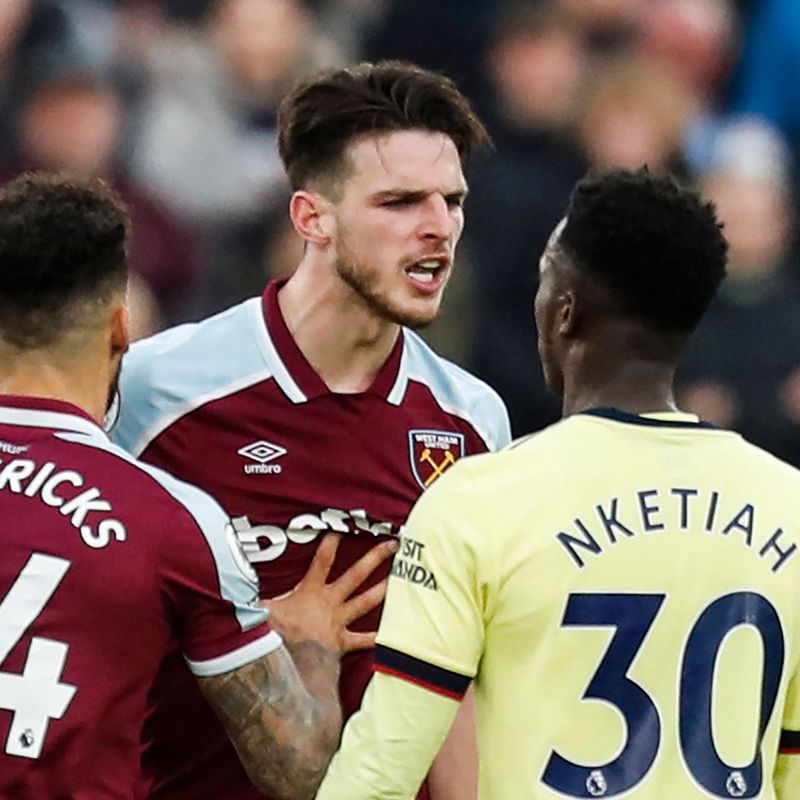 Declan Rice and Eddie Nketiah
While Rice proceeded to yell in the face of a player he could now refer to as a teammate as early as next summer, Nketiah walked away from the large group of players. Nketiah and Rice were really teammates throughout their time together in the Chelsea youth system, which makes the fallout even worse.
Rice has also previously described how the two were so close that, while they were at the Blues, they would share meals prepared by Nketiah's mother on the bus for away games.
"When we were at Chelsea, we used to go on long trips and used to travel on the coach. Eddie used to bring a massive bowl, like a big bowl of jollof rice, to feed the whole team. The lads used to be buzzing over it."
Arsenal has only faced the Hammers once. In that match, Nketiah scored with a beautiful finish to give the Gunners a 3-1 victory at the Emirates. Nketiah and Rice clasped hands as usual after the altercation before the latter went down the tunnel, showing that there were no hard feelings or leftovers from their prior fallout.
Gary Neville's opinion about the possibility that Arsenal could become the Premier League's champion
Mikel Arteta is poised to enter the elite group of managers, according to Gary Neville, as his Arsenal team competes for the Premier League championship.
After winning at the home of their neighbors on Sunday, the Spaniard witnessed his team beat Tottenham twice. Following Manchester City's setback in the derby the previous day, Arsenal opened up an eight-point lead at the top of the table with their 15th victory in 18 games.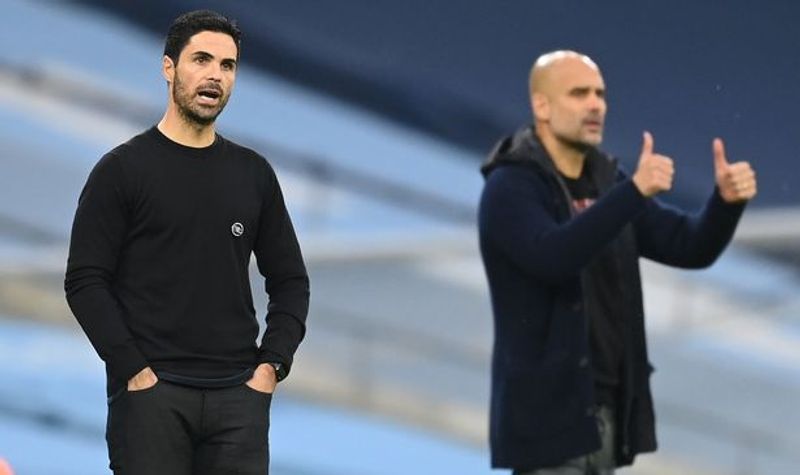 Mikel Arteta
After being given time by the board, Arteta is flourishing in his third full season as manager. After receiving his schooling under Pep Guardiola, he is making his first effort at being a head coach in his position at the Emirates. The former City No. 2 has now shown that he can compete with the best.
"It's so difficult for young managers to break that [Antonio] Conte, [Jurgen] Klopp, [Carlo] Ancelotti, [Pep] Guardiola, and [Jose] Mourinho mold and become one of those super managers. You can't break them. If Arteta wins the league this season, he breaks into that bunch. He's doing it anyway because his football is fantastic. But he needs to win that trophy. So, fingers crossed that they do win it if Manchester United can't, which I don't think they can, because I'd rather have that for the Premier League. Man City have won too many titles for me," he said, showing his opinion about Arsenal's place.
Neville praises Arteta, but he doesn't think he can bring about the league's first championship since 2004. For a number of years, Arsenal was unable to mount a serious challenge, so many people were surprised by their efforts this year.
Another league triumph for Manchester City, which would have been their third straight, was predicted to be theirs. They still have to play the Gunners twice, and Neville predicted both Manchester clubs would finish ahead of them because he thinks they will slump in form.
"They won't win the league." "Manchester City will win the league, and I think Manchester United will finish second, and I know that will annoy Arsenal fans!" he claimed